TEAZUR: You Can Still Rock in East Texas!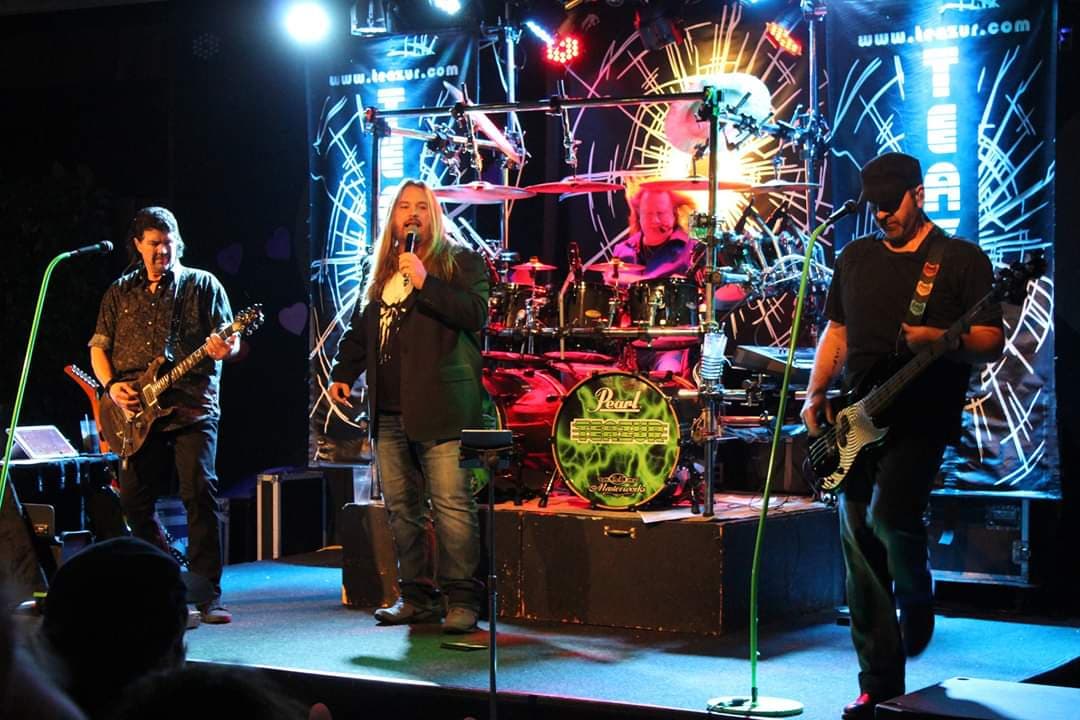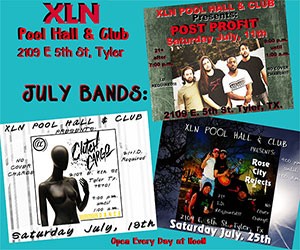 It's the weekend.
You want to go out and unwind from the work week.  
You want to hear some live music but want to make sure you have a good time and get your money's worth in the process.  
And you want a show!
Ladies and gentlemen, I give you TEAZUR.
The brainchild of founding member Mike Reiner, TEAZUR has been a mainstay on East Texas stages for 13 years and are still going strong.  Through several lineup changes and plenty of challenges along the way, TEAZUR has continually supplied people with their fix of good old fashioned Rock and Roll with all the trimmings to go along with it and find audiences still wanting more.  I sat down with current vocalist/keyboardist Tobie Turner this month to get some insight on how they've maintained the magic consistently for this long.
Johnny: When did TEAZUR first form and what was the original lineup? Who is in the current lineup?
Tobie: TEAZUR was formed in 2006 by drummer Mike Reiner, who is the only remaining original member. The original lineup consisted of Mike Reiner on drums, Jon Morrow on bass, John Bedinghaus on guitar, and Jeff Cross on Lead Vocals.  The 2019 version of TEAZUR is; Founding Member Mike Reiner on drums, Clint McMullen on bass and keyboards, Scott Cothran on guitar, and myself on Lead Vocals and keys
Johnny: Where was the first gig as TEAZUR?
Tobie: TEAZUR's first show was at Cat's Place on Hwy 64, east of the loop. I actually had to ask Mikey, because he is the oldest, and only, remaining member that was actually there!
Johnny: How did the name originate?
Tobie: Mike came up with the name and Jon Morrow changed the spelling to what it is today.
Johnny: Did you guys initially decide to focus primarily on 70's, 80's, and 90's rock intentionally or did it just gravitate that way out of what you all preferred to play?
Tobie: We have always wanted to be the band that played music you didn't hear from every other house band or jukebox when you walked into your favorite watering hole. As much as we love Clapton, Skynyrd, SRV, and Bob Seger, that is pretty much what makes up "The Standards," that local bands always seem to load their setlists with. People still ask us to play tunes from those artists, but I generally tell them we try to stay away from content that you hear everywhere else. If you're looking for Freebird or Turn The Page, you're not gonna find it at a TEAZUR show.
Johnny: What have been some of the consistent challenges you've had to deal with as a band over the life of TEAZUR?
Tobie: This is another question that would be better suited for Mike to answer, but I know he'd say that the numerous line-up changes the band has gone through in its 13 year existence, and the constant effort to stay fresh with our setlist are the two biggest ones. There are people that come to see us that rarely miss a show. To keep them coming back, we are constantly updating what we play to be able to bring a mix of the favorite classics, as well some of the more popular dance music.
Johnny: How would you say the band has evolved from a performance standpoint over the years? How about musically?
Tobie: From the beginning, TEAZUR has always wanted to stand out and give the people more than just "something for their ears." Mike added a full light show, fog and backdrops to the stage set that has been a staple for us over the years. When people walk into a venue where we are set up to play that night, they can't help but notice the stage. To go along with that, we are all very engaging and try to interact with the crowd throughout the show. A couple of things that we do that are different from any other local band you see is;
We usually only take one break a night. It's pretty standard practice for a band to play an hour and take a break. I noticed early on in my tenure with the band, that people generally take the second break of the night as their cue to head for the exits. To keep people in the venue, we typically play two extended sets with one break that is a bit longer than you'd normally see a band take. During that break we make ourselves as accessible as possible and visit with as many people as we can. People like the band more when it's a band of nice guys that are very approachable.
We open every show the way any sporting event or show in the good ole USA should start. (In our humble opinion…) We ask the room to join us in honoring this great nation of ours with the singing of our National Anthem. We feel honored and very blessed to be able to do what we do night after night, and we pay our respects to those that have, and continue to, put themselves in harm's way so that we have the freedom and liberty to do so. This is probably the one thing that I am proudest of that we do.
The tradition started at a Halloween show we were playing in 2014 at Barefoot Bay Marina just outside of Pittsburg, Tx. We were all dressed in costume, and backstage before the show. The lights were down, and we were about to open the show with the Night Ranger tune, You Can Still Rock In America. We are all wireless, and were geared up and about to take the stage when I told Mike, "We should stay off stage and sing the National Anthem acapella and go right into Rock In America with a bang!" The guys thought it was a great idea, so I start singing the Anthem. I've always used wireless in-ear monitors, which really shuts out the ambient noise. I was about halfway through the song when I realized the entire room was singing with me so loudly, I could hear them coming through the open mics on stage. We exploded onto the stage with Rock In America, and the place went nuts. I told Mike during the break that night, that we should start every show with The Anthem from then on. We have, and people remember and comment on that one aspect of the show more than anything else we do.
Johnny: About how many shows a month are you guys doing these day?
Tobie: TEAZUR is booked almost every Saturday night, with just a handful of exceptions, for 2019. We always try to schedule a week off after we make a circuit of the normal venues we frequent, but it doesn't always work out. Folks usually see the breaks in our schedule and want us to play their private party, or a festival.
Clint and I also have an acoustic side project called BlakboX where he plays guitar, and I play bass. It's a very laid back gig with he and I on barstools playing a mix of rock, country, Motown, and whatever else strikes our fancy. Every now and then, a venue wants us to play a full "Plugged-In" show, and we'll add Mike to the mix and play as BlakboX Plugged-In.
It's NOT a TEAZUR show. LoL We rarely cross over any of the material we do between the two projects.
Johnny: Anything on the radar for 2019 that excites you as a band?
Tobie: We just went through another lineup change at the end of 2018, and brought on my old friend Scott Cothran on guitar. Our previous guitarist was looking for a change, and was very busy in his professional life outside of TEAZUR and decided to move on. I had played with Scott in a start-up band just prior to my joining TEAZUR in 2012. It was a seamless transition, and we are still currently adding to our ever-growing and expanding playlist. We have hinted at possibly doing some writing later this year. Other than that, we look forward to continuing to bring our brand of Rock & Roll party to the masses in East Texas, and the surrounding region.
Johnny: How much original stuff creeps into the set list?
Tobie: We're not ashamed to say that we are primarily a cover band. People typically go see live bands to hear them play their favorite tunes. We know where our bread is buttered. The previous 2 lineups of the band had a string of originals. Just before I joined the band in 2012, TEAZUR recorded a full album, and after I had been in the band for a little over a year, and we went through another lineup change, we had started another album, and had a couple of the tunes played on the radio promoting upcoming events, but everyone got busy in their everyday lives, and we never finished it. Anytime someone specifically requested that we play one of our originals, we'd oblige. It's been a while since we've put any of them in the nightly setlist, but if we're able to find the time, we'd love to write and record some new music. It's very difficult with everyone's schedule to find the time to get together and create new music, but that, of course, is at the top of our wish list.
Johnny: What would you say the secret is to staying together like TEAZUR has, and not just playing, but consistently being rated as one of the top bands in the area?
Tobie: I am constantly reminded of how fortunate I am to be surrounded by such quality musicians that constantly work at honing their craft. We know what each other is capable of, and we know what we expect of ourselves, and of each other, every time we take the stage. You never know when someone is seeing you for the first time, so we go out every night and perform like no one in the room has ever experienced a TEAZUR show, and we set out to make the best of first impressions. We take pride in giving every show the same effort, whether there are 10 people in the audience, or 10,000. We owe it to the people that chose to come spend their evening letting us entertain them, as well as ourselves. This is a fun job! We want the crowd to have as much fun as we're having!
Johnny: How would you describe a Teazur show to someone who has never seen you, but is thinking about coming out for the first time?
Tobie: I'd say that you're not going to see a local band perform at a local venue. You're going to a concert. A concert that you'd hope and expect to see at your choice of concert hall or arena from Liberty Hall in Tyler, to Madison Square Garden in New York City. We want and expect the folks that come to see us play to say that very thing to any of their friends or family when they describe what they experienced after it was over and they've made their way home after the show. "Those TEAZUR guys put on a Show!" We end every show with me telling everyone, "Thank you for choosing to spend your evening with TEAZUR. We know there plenty of great bands out there for you to choose from. Please always be kind to one another,and if you have been drinking, Do NOT Drive! We want to see you all again next time we come back here!"
Follow TEAZUR on the World Wide Web: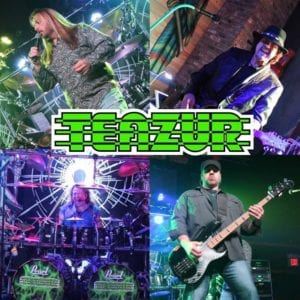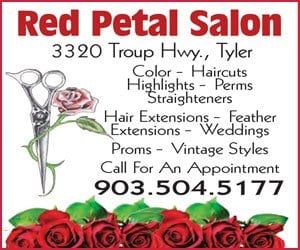 Rose City Strong: Buy Cool Swag & #supportlocal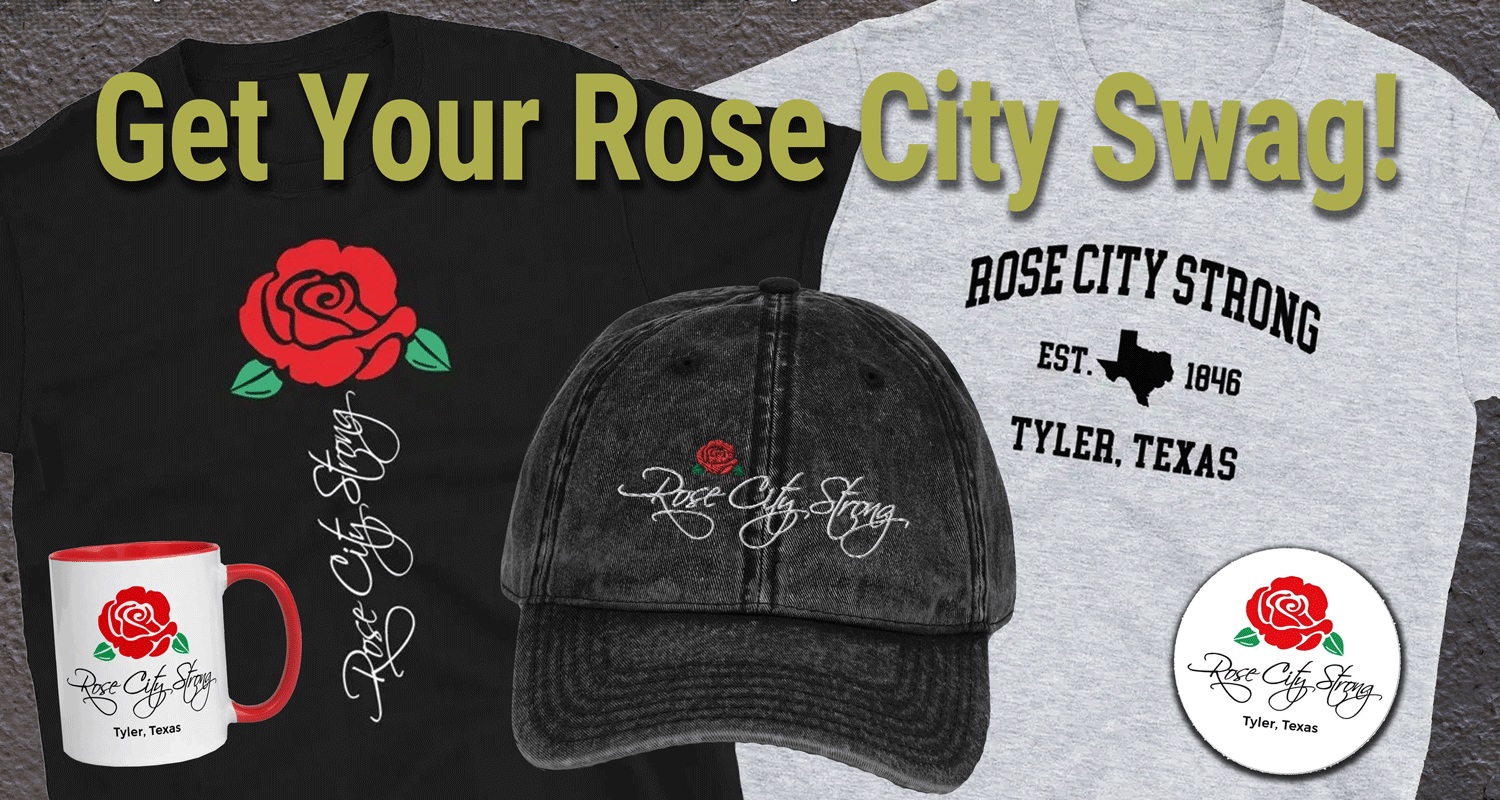 In these trying times, everyone wants to help and do their part. One way is to support local businesses. You can do so and get a cool t-shirt in the process!
VisitTyler and EGuideMagazine.com have teamed up and created a cool line of t-shirts, mugs, stickers, caps, and more!
Check out this cool swag and #supportlocal by being #rosecitystrong!

Live Music Guide, Tyler TX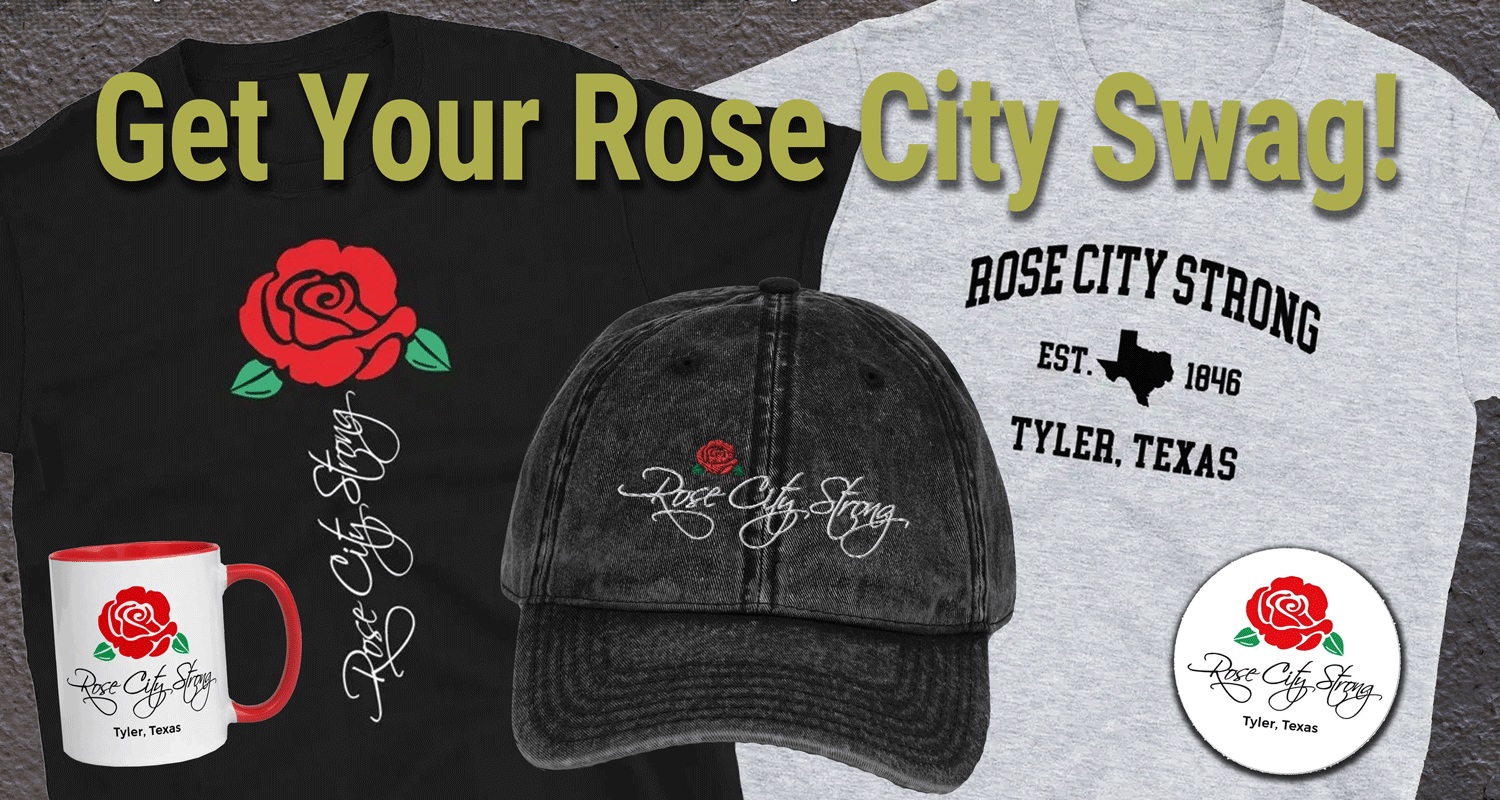 In the constantly changing world of Covid-19 pandemic, we at EGuideMagazine.com are making every attempt to keep our Big Calendar updated. However, we suggest that you still double-check with the businesses to confirm that the events are still happening.
To list or make any changes to this Live Music Gig Guide for #tylertx, please e-mail to eguidemagazine@gmail.com or text 903-530-2041.



---
XL'N on Fifth: We're Back & Rockin'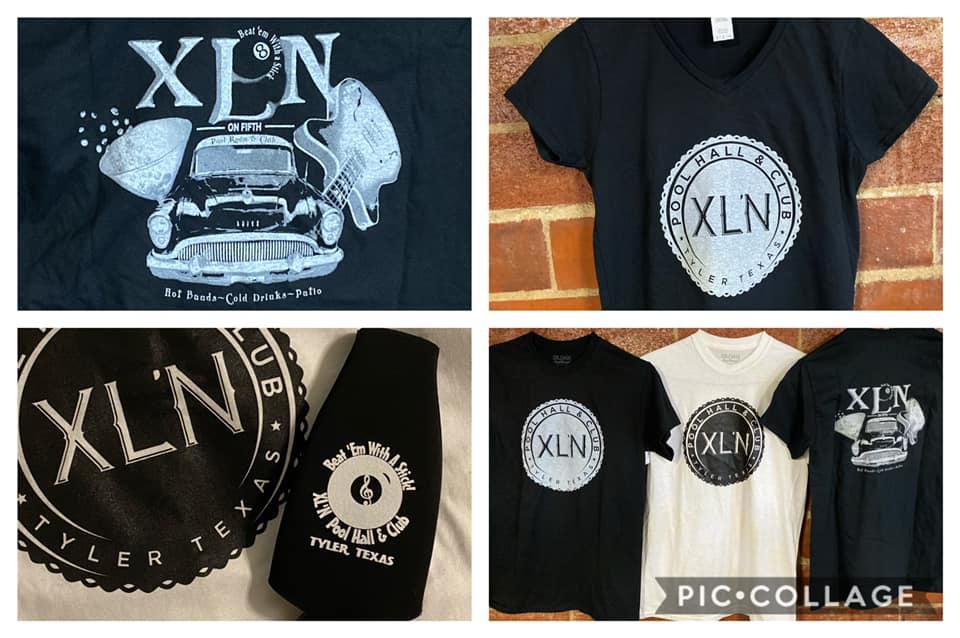 Order T-shirts, Koozies & More HERE!
---
XL'N Events & More:
---
By Amanda Main
Some patrons have dubbed XL'N On Fifth the "Cheers" of Tyler. The club started out of a love for billiards, but out of necessity grew to include a members-only bar and live music venue.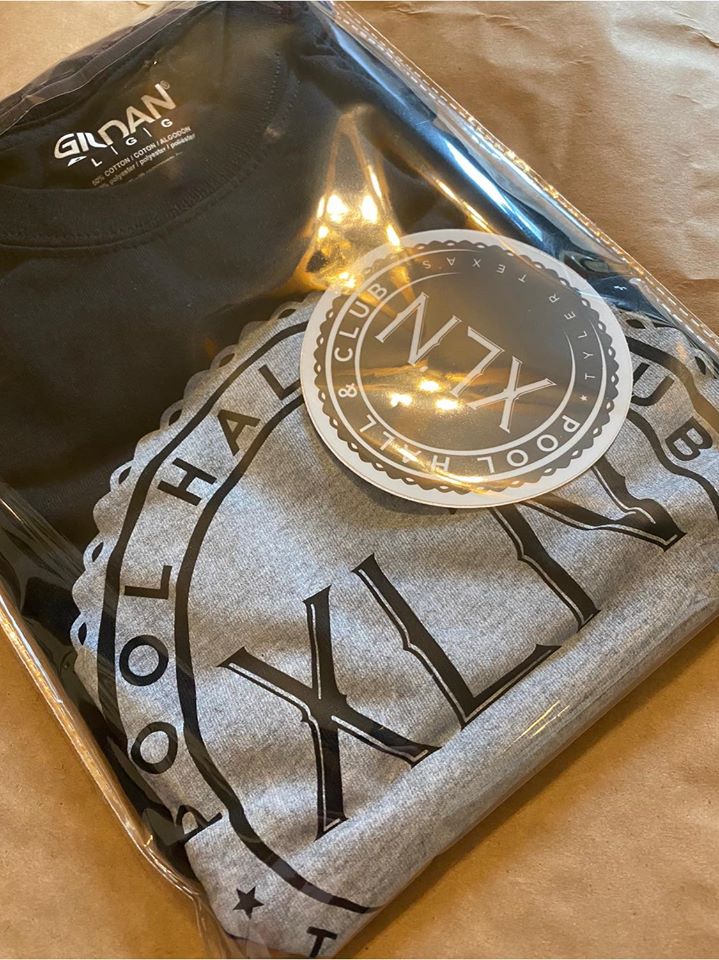 Owners Donald Griffith and his wife, Robin, opened the club and pool hall in January 2006.
"Neither of us have backgrounds in running a bar. This was our first rodeo," Robin says. "He's big into pool — he plays in a pool league, but the pool hall is not the main business, it's the club."
Donald chose the name XL'N, which stands for 'Excellin'.
"We didn't want a cute little name like 'Corner Pockets' or 'Side Pockets' or 'Rack 'Em,' or anything like that," Donald says. "I told her that it doesn't matter what the name is, if you have a good place, then the name won't matter."
Robin chimes in with sarcasm: "I think it proved it, didn't it? 'XL'N.' Yeah, I think you proved that theory."
Robin says the business was a huge undertaking for the couple to open. In the beginning, the only thing she liked about the building when Donald first showed it to her was the painted wall, where musicians now play. That's because the wall is the original, outside wall of an old lumber yard from, she estimates, the 1950's. When they purchased the building she says, "there was a pile of lumber with nails in it and there were no lights. There was an extension cord with light bulbs on it, but somebody had come in and taken all the copper out to sell. They just stripped all the wiring out of the place. It was just a gutted mess of a place, and we spent three months working on it before we opened."
But that was many years ago and the business has come together nicely. What makes the establishment truly special, the Griffiths says, is the people — the people who work there and the people who frequent there.
"It's a family of friends," Robin says. The business' motto is "Where Good Friends and Good Times Come Together." Robin says they consider their regular customers like family, as well. "We're a comfortable, laid-back place. Anybody can come here. A woman can come in by herself and not feel weird."
On another note, she also adds, "I don't like to be called a mom and pop joint, but I guess we really are. We are about the people, our customers, our friends. As with any business or club, if you don't like the people that hang out there, you're not going go there but that's not the case for us. We have lots of great regulars. And we don't allow any craziness. Our regulars know that if you cause any problems you will be banned from here. I'm like the mama hen when it comes to keeping XL'N fun for everyone."
Never a Cover
"Always free" meaning there is never a cover charge, except on one night of the year: New Year's Eve, when Robin will fix up a big feast including shrimp, black-eyed peas, and cabbage, among other foods. But even that night, the cover is only $10, and she says it's well worth it since it includes her home-cooked delicious (and legendary) food.
The Pool and Drinks
Happy hour starts early at XL'N from 12 noon to 5pm.
XL'N is home to six custom, 8-foot Olhausen pool tables. The playing rates are a super deal from 12 noon to 5pm. Two people can play unlimited games for a total of $5 between those hours. After 5pm the pool rate is $6 per hour for two players.
Robin and Donald are proud to host amateur American Poolplayers Association (APA) Leagues at their bar. They meet to play at 2pm on Sundays and about 7:30pm on Monday and Tuesday evenings. XL'N has been featured in the APA Magazine as the best place to play pool in East Texas.
The league players play "8-ball and 9-ball," Robin says. "There are always teams that are looking for someone to play. They need all skill levels, from beginners to put-your-kid-through-college kinds. They rank them because a team can not have too many high-rankers."
More Info
XL'N is located at 2109 E. Fifth St., Tyler, (903)535-7956. You can
follow them on Facebook at facebook.com/XLN.Pool.Hall.
XL'N is open 12 noon to 12 midnight Sundays – Fridays and 12 noon to 1am on Saturdays. All ages are allowed before 7pm; 21 and older only after 7pm.