TEAZUR: You Can Still Rock in East Texas!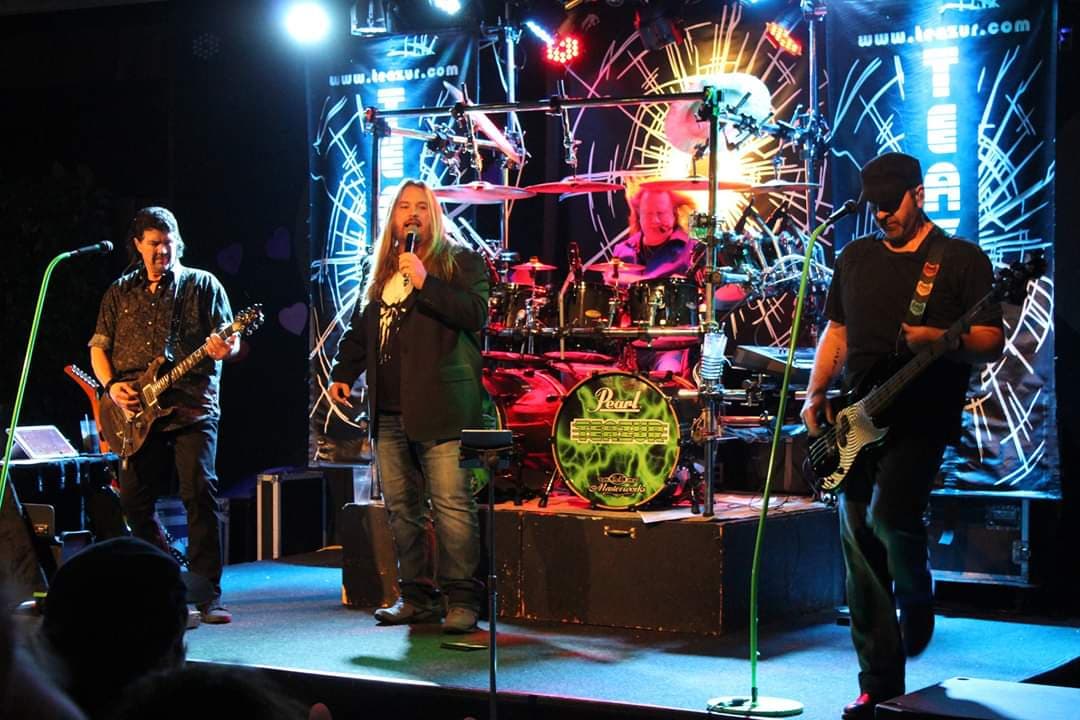 It's the weekend.
You want to go out and unwind from the work week.  
You want to hear some live music but want to make sure you have a good time and get your money's worth in the process.  
And you want a show!
Ladies and gentlemen, I give you TEAZUR.
The brainchild of founding member Mike Reiner, TEAZUR has been a mainstay on East Texas stages for 13 years and are still going strong.  Through several lineup changes and plenty of challenges along the way, TEAZUR has continually supplied people with their fix of good old fashioned Rock and Roll with all the trimmings to go along with it and find audiences still wanting more.  I sat down with current vocalist/keyboardist Tobie Turner this month to get some insight on how they've maintained the magic consistently for this long.
Johnny: When did TEAZUR first form and what was the original lineup? Who is in the current lineup?
Tobie: TEAZUR was formed in 2006 by drummer Mike Reiner, who is the only remaining original member. The original lineup consisted of Mike Reiner on drums, Jon Morrow on bass, John Bedinghaus on guitar, and Jeff Cross on Lead Vocals.  The 2019 version of TEAZUR is; Founding Member Mike Reiner on drums, Clint McMullen on bass and keyboards, Scott Cothran on guitar, and myself on Lead Vocals and keys
Johnny: Where was the first gig as TEAZUR?
Tobie: TEAZUR's first show was at Cat's Place on Hwy 64, east of the loop. I actually had to ask Mikey, because he is the oldest, and only, remaining member that was actually there!
Johnny: How did the name originate?
Tobie: Mike came up with the name and Jon Morrow changed the spelling to what it is today.
Johnny: Did you guys initially decide to focus primarily on 70's, 80's, and 90's rock intentionally or did it just gravitate that way out of what you all preferred to play?
Tobie: We have always wanted to be the band that played music you didn't hear from every other house band or jukebox when you walked into your favorite watering hole. As much as we love Clapton, Skynyrd, SRV, and Bob Seger, that is pretty much what makes up "The Standards," that local bands always seem to load their setlists with. People still ask us to play tunes from those artists, but I generally tell them we try to stay away from content that you hear everywhere else. If you're looking for Freebird or Turn The Page, you're not gonna find it at a TEAZUR show.
Johnny: What have been some of the consistent challenges you've had to deal with as a band over the life of TEAZUR?
Tobie: This is another question that would be better suited for Mike to answer, but I know he'd say that the numerous line-up changes the band has gone through in its 13 year existence, and the constant effort to stay fresh with our setlist are the two biggest ones. There are people that come to see us that rarely miss a show. To keep them coming back, we are constantly updating what we play to be able to bring a mix of the favorite classics, as well some of the more popular dance music.
Johnny: How would you say the band has evolved from a performance standpoint over the years? How about musically?
Tobie: From the beginning, TEAZUR has always wanted to stand out and give the people more than just "something for their ears." Mike added a full light show, fog and backdrops to the stage set that has been a staple for us over the years. When people walk into a venue where we are set up to play that night, they can't help but notice the stage. To go along with that, we are all very engaging and try to interact with the crowd throughout the show. A couple of things that we do that are different from any other local band you see is;
We usually only take one break a night. It's pretty standard practice for a band to play an hour and take a break. I noticed early on in my tenure with the band, that people generally take the second break of the night as their cue to head for the exits. To keep people in the venue, we typically play two extended sets with one break that is a bit longer than you'd normally see a band take. During that break we make ourselves as accessible as possible and visit with as many people as we can. People like the band more when it's a band of nice guys that are very approachable.
We open every show the way any sporting event or show in the good ole USA should start. (In our humble opinion…) We ask the room to join us in honoring this great nation of ours with the singing of our National Anthem. We feel honored and very blessed to be able to do what we do night after night, and we pay our respects to those that have, and continue to, put themselves in harm's way so that we have the freedom and liberty to do so. This is probably the one thing that I am proudest of that we do.
The tradition started at a Halloween show we were playing in 2014 at Barefoot Bay Marina just outside of Pittsburg, Tx. We were all dressed in costume, and backstage before the show. The lights were down, and we were about to open the show with the Night Ranger tune, You Can Still Rock In America. We are all wireless, and were geared up and about to take the stage when I told Mike, "We should stay off stage and sing the National Anthem acapella and go right into Rock In America with a bang!" The guys thought it was a great idea, so I start singing the Anthem. I've always used wireless in-ear monitors, which really shuts out the ambient noise. I was about halfway through the song when I realized the entire room was singing with me so loudly, I could hear them coming through the open mics on stage. We exploded onto the stage with Rock In America, and the place went nuts. I told Mike during the break that night, that we should start every show with The Anthem from then on. We have, and people remember and comment on that one aspect of the show more than anything else we do.
Johnny: About how many shows a month are you guys doing these day?
Tobie: TEAZUR is booked almost every Saturday night, with just a handful of exceptions, for 2019. We always try to schedule a week off after we make a circuit of the normal venues we frequent, but it doesn't always work out. Folks usually see the breaks in our schedule and want us to play their private party, or a festival.
Clint and I also have an acoustic side project called BlakboX where he plays guitar, and I play bass. It's a very laid back gig with he and I on barstools playing a mix of rock, country, Motown, and whatever else strikes our fancy. Every now and then, a venue wants us to play a full "Plugged-In" show, and we'll add Mike to the mix and play as BlakboX Plugged-In.
It's NOT a TEAZUR show. LoL We rarely cross over any of the material we do between the two projects.
Johnny: Anything on the radar for 2019 that excites you as a band?
Tobie: We just went through another lineup change at the end of 2018, and brought on my old friend Scott Cothran on guitar. Our previous guitarist was looking for a change, and was very busy in his professional life outside of TEAZUR and decided to move on. I had played with Scott in a start-up band just prior to my joining TEAZUR in 2012. It was a seamless transition, and we are still currently adding to our ever-growing and expanding playlist. We have hinted at possibly doing some writing later this year. Other than that, we look forward to continuing to bring our brand of Rock & Roll party to the masses in East Texas, and the surrounding region.
Johnny: How much original stuff creeps into the set list?
Tobie: We're not ashamed to say that we are primarily a cover band. People typically go see live bands to hear them play their favorite tunes. We know where our bread is buttered. The previous 2 lineups of the band had a string of originals. Just before I joined the band in 2012, TEAZUR recorded a full album, and after I had been in the band for a little over a year, and we went through another lineup change, we had started another album, and had a couple of the tunes played on the radio promoting upcoming events, but everyone got busy in their everyday lives, and we never finished it. Anytime someone specifically requested that we play one of our originals, we'd oblige. It's been a while since we've put any of them in the nightly setlist, but if we're able to find the time, we'd love to write and record some new music. It's very difficult with everyone's schedule to find the time to get together and create new music, but that, of course, is at the top of our wish list.
Johnny: What would you say the secret is to staying together like TEAZUR has, and not just playing, but consistently being rated as one of the top bands in the area?
Tobie: I am constantly reminded of how fortunate I am to be surrounded by such quality musicians that constantly work at honing their craft. We know what each other is capable of, and we know what we expect of ourselves, and of each other, every time we take the stage. You never know when someone is seeing you for the first time, so we go out every night and perform like no one in the room has ever experienced a TEAZUR show, and we set out to make the best of first impressions. We take pride in giving every show the same effort, whether there are 10 people in the audience, or 10,000. We owe it to the people that chose to come spend their evening letting us entertain them, as well as ourselves. This is a fun job! We want the crowd to have as much fun as we're having!
Johnny: How would you describe a Teazur show to someone who has never seen you, but is thinking about coming out for the first time?
Tobie: I'd say that you're not going to see a local band perform at a local venue. You're going to a concert. A concert that you'd hope and expect to see at your choice of concert hall or arena from Liberty Hall in Tyler, to Madison Square Garden in New York City. We want and expect the folks that come to see us play to say that very thing to any of their friends or family when they describe what they experienced after it was over and they've made their way home after the show. "Those TEAZUR guys put on a Show!" We end every show with me telling everyone, "Thank you for choosing to spend your evening with TEAZUR. We know there plenty of great bands out there for you to choose from. Please always be kind to one another,and if you have been drinking, Do NOT Drive! We want to see you all again next time we come back here!"
Follow TEAZUR on the World Wide Web: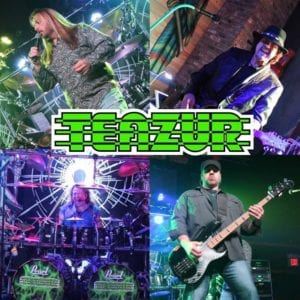 Just The Way She Is: Elfin Paige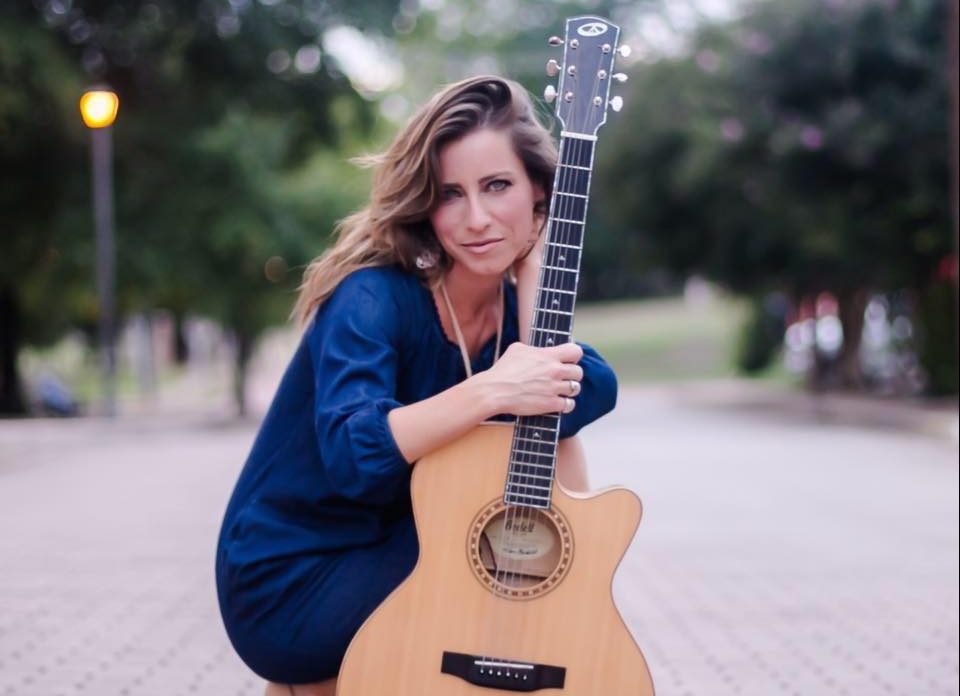 By Johnny Griffith
Some people are just blessed with what seems like an endless well of creativity, and there are the rest of us who have to work to get the ideas flowing. From the moment you meet Elfin Paige, you get this calm, laid-back evening breeze vibe that belies the creative hurricane going on inside her head, and for good reason … this single mom wears a lot of hats. She is a part time photographer and a writer, publishing two books already, with a third on the way in September, oh, and she's a really good singer/songwriter who has found her way to many stages in the East Texas area already.

I ran across her recently while she was getting ready to play a show, and sat down to get to know her a little better. 
Johnny: You're not originally from this area. Where were you born and what brought you out this way?
Elfin: I was born at St. Joseph's Hospital in Stockton, California, but I grew up mostly in and around San Diego until my early teens, when my family moved to East Texas. Mom and dad decided to move back to Lindale when I was 13. So on Thanksgiving Day, 1994, we unloaded the U-Haul into that first rental house on FM 16. Mom and dad had been in a ministry called The Agape Force here in the 1970's. At that time they were close friends with Keith Green, Winkie Pratney, and many other well known people in the local ministry circuit. They moved back to serve with Winkie in his ongoing ministry.
 Johnny: What do you feel was the biggest cultural adjustment when you came out this way?
Elfin: People burning things in their front yards and strangers waving from their cars.
 Johnny: What is your earliest memory of music?
Elfin: My parents are singer-songwriters, so all my life. There was never much money, but I grew up with mom and dad's gold and platinum records hanging on our trailer house walls. I was in the recording studio for the first time at age 6. 
 Johnny: At what point did you take more than a passing interest and whom do you credit for fostering that spark?
Elfin: It was never NOT a thing. Like I mentioned, it was my family culture. At family get togethers you get together and sing Beach Boys songs with all the harmonies for fun.
 Johnny: When did you feel the desire to begin writing your own music as opposed to just playing other people's stories?
Elfin:Well, I am, first and foremost, a writer. I was 8 years old the first time I wrote a song that was actually recorded and used for a kids project my parents were working on at the time.
 Johnny: What do you enjoy writing about the most, or do the songs just take a life of their own?
Elfin: I can do either/both. Sometimes I write out of necessity, as a way to process pain and emotion. But other times I've had a friend call me and ask, "Can you give me two songs for this children's project about such and such," and the next day I'm like, "Actually, here's three." 
 Johnny: You're also creative in other outlets besides music. Do you find the different mediums influencing each other or blending together at times?
Elfin: Certainly it's all intertwined. I am, I guess, what they would call "a creative." So I can transition very easily from one medium to another. It's less about being good at X, Y or Z, more about the way my brain works, I think. I am also very tenacious, so if I don't do something creative excellently right at first, well we can't have that, give me just a minute. 
Johnny: A big part of your outlet as a writer was inspired by your son. Can you tell us a little about that part of your life?
Elfin: My second to youngest of my 5 children, Trey, was born with severe health problems, and I spent the 3 years he was with us either in the hospital with him, or caring for him at home, while also doing all-the-things. When he passed, I started doing photography part time, and nannying a special needs little girl and her brother for several years. I also served as the children's pastor, and one of the worship leaders at Bethesda Church, in Lindale. In 2017 my autobiographical book, "From Ashes," about our many adventures, and life with (and then without) Trey, was released. That same year the first children's book I co-authored with my friend, best selling thriller novelist Jennifer Jaynes, was also released. It's called "I Care About Me." Jennifer and I have been working together on a second kids book entitled "Just The Way I Am." It's set to drop in September. Additionally, I have been collecting interviews for a documentary project over the last few years. It's about parents, and the aftermath of abortion. 

 Johnny: What do you remember about the first show you ever played?
Elfin: So I've been singing all my life and I don't really have a memory of the first time I did that publicly. Probably a play at church as a small child. I have zero nerves singing in public. But the first time I started playing my guitar publicly I was already in my thirties, and my palms would sweat every dang time for a solid year! 
Johnny: Do you typically play solo or do you ever collaborate with others on stage?
Elfin: Both. I have spent the bulk of my time as a singer backing up other people, singing harmonies, or being part of group acts. I am pretty adept at hearing what's already there and knowing how to complement that without overpowering it or taking over. However, I'm a pretty strong lead vocalist, and I think I've become a little restless always being everybody's backup girl. So I'm playing more on my own now. 
Johnny: Who would you say had the biggest impact musically on you?
Elfin: Being raised by creatives and songwriters has to count for something. But beyond that, I had a very eclectic set of music I was exposed to. As a kid I would pull CD's from my dad's collection and listen to The Beatles, The Beach Boys, Frankie Valli and the Four Seasons, Todd Rundgren, The Zombies, you name it. Mostly stuff that was before my time. But then I also listened to current stuff as I was growing up in the 80's and 90's. I'd take my boom box, lock myself in the bathroom, and practice hitting notes with Celine Dion and Mariah Carrey for hours on end when I was 12. As a teenager, my best friend loved country music, so I was introduced to that whole scene, but my favorites were the ones who were sort of mocked for not being "country enough," like Faith Hill and Shania Twain. I don't know if there are very many Shania songs I wouldn't know every word to if you put them on.
Johnny: So that being said, how would you describe your sound/style? 
Elfin: That's a good question, which I have asked myself on numerous occasions. I never quite know how to answer me, but I've begun saying Americana/Folk, for lack of a better description.
Johnny: About how many shows do try to play a month?
Elfin: As many as I can manage right now, since I don't have a regular job to pay the bills.
Johnny: What's coming up during the rest of the year that has you excited?
Elfin: It's very cool the locals in the music scene have nominated me for best female vocalist in the upcoming ETX Music Awards in September. "Just The Way I Am" releasing the same month is also exciting! Beyond that I'm just sort of flying by the seat of my pants, waiting to see what the Lord will do, trusting, moving when I feel I'm supposed to, being still and trying not to panic when it doesn't feel like things are happening like I'd hoped or thought they would.
Follow Elfin at facebook.com/elfinpaigemusic/.

Making His Own Way: Jonathon Allen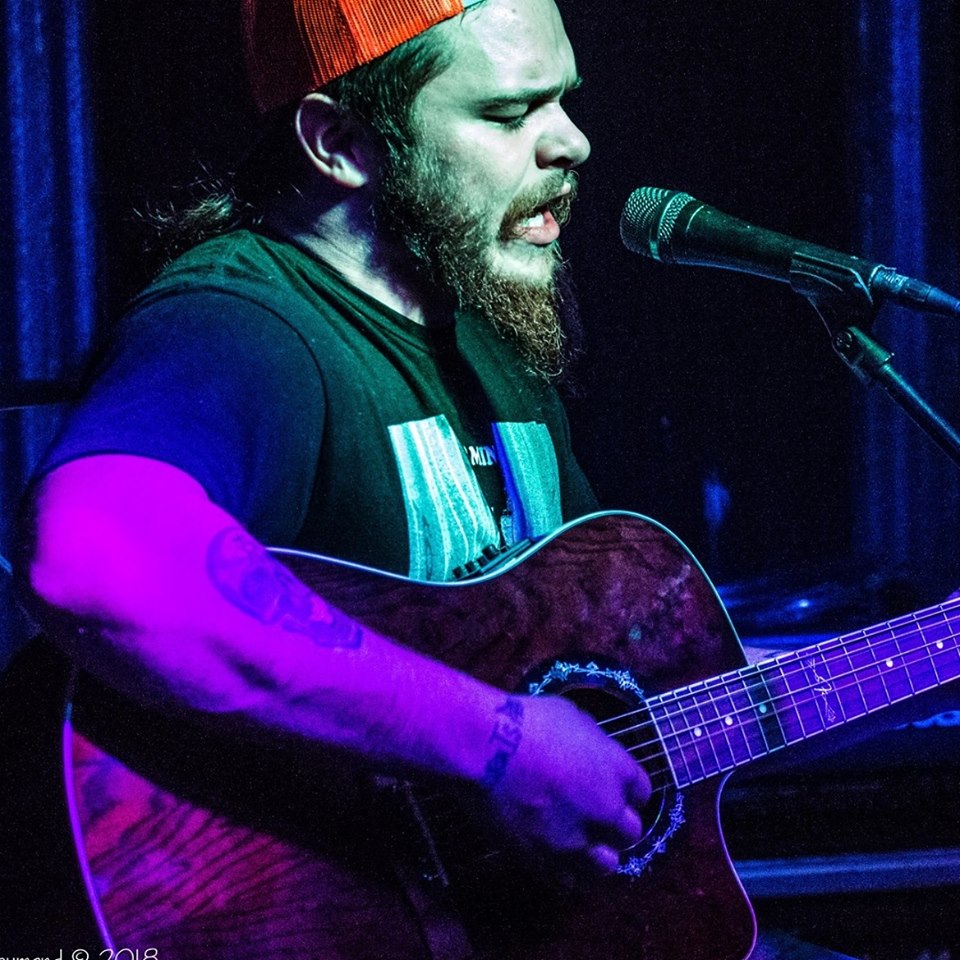 By Johnny Griffith
Life isn't exactly fair, and it certainly is full of challenges, pitfalls, and plenty of circumstances that can be used as excuses for failure or opportunities to rise above those challenges and use them as stepping stones to where you want to be. Local East Texas singer/songwriter Jonathon Allen has certainly had plenty of those challenges along the way, and has decided to use those moments as inspiration for songs he hopes will provide others the same opportunity. With raw, passionate, honest music that is a mirror reflection of his personality, Allen pulls no punches, makes no apologies for being that way, and bares his soul through the lyrics and soulful delivery of his songs on stages around the area. He stopped and gave us a chance to get to know him better this month:
Johnny: Where are you from originally?
Jonathon:I grew up moving between Gladewater, Texas and a small town in northern Michigan called Cheboygan. My dad's from here and my mom's family is from Cheboygan but I call East Texas home these days.
Johnny: What got you started in music?
Jonathon: Well, I grew up in a drug-ridden area and almost everyone I was related to was doing meth or heroin and they would never listen to the kids, you know. I had noticed when a good song came on they would always be like "listen to the words, listen to the meaning," so I thought to myself "that's how I can get through to them." When I was 14 I wrote a song called "My Demons" about my parents' drug abuse. I walk in their room and tell them I wrote this song, and it's the usual "Shut up get out." Well, I said fine don't listen to it, but it's about your drug habit, and at that time they thought I didn't know about their habits. My dad came and listened to it and went and got my step mom who came and listened to it, and a few weeks after that they were off drugs and stayed clean for 6 years. At a point I thought to myself, "If I can help someone that far into addiction with music then imagine how many other people I could help get through it," and that's a big reason why music is my passion.
Johnny: Who were your early influences musically?
Jonathon: Definitely Pantera because that was the band that I always gravitated towards. Eventually I started to get more into Tool and Pink Floyd because of the lyrics. I was infatuated with the structure of the lyrics and how they could explain what message they were trying to get across in the most efficient way so it would make the biggest impact on the listener.
Johnny: When was the moment you felt that you could do this as more than just a hobby?
Jonathon: I always wanted to. When I started it was my goal to support myself with music only, and try to make it as far as I can possibly go. 
Johnny: You tend to do more rock than country during your shows. Was that just where you gravitated due to your personal preference in music or was it more of a conscious choice?
Jonathon: Yeah I'm more of a rock, heavy metal and blues guy. I like outlaw country but most of those country covers are the songs people wanna hear, and I'm a man of the people.
Johnny: What have been some of the biggest personal challenges in pursuing this as a career?
Jonathon: Honestly just building my name up. I lived in the woods for a while and started playing in front of Hastings in Longview and got myself out of the gutter by doing that, and shortly after Hastings shut down I met Donnie from the White Trash Wannabees and he helped me get my start in the local bar scene.
Johnny: What show has stuck out to you from what you've done so far?
Jonathon: Probably the show when I opened for Post Profit, They Were Giants, and To Whom It May. It was a pretty awesome show and the crowd was just awesome that night.
Johnny: Are you typically a one-man show or do you pair up with other musicians during live sets?
Jonathon: Most of the time it's just me. Every once in a while someone will come up and jam with me but for the most part it's just me, my voice, and a guitar.
Johnny: How many originals do you have? Do you have a favorite cover song you like to include in your sets?
Jonathon: I have about 13 originals that I still play. I have a lot more in the archives that I plan to reanimate. As far as covers go, I love playing "She Talks To Angels" by The Black Crowes. It's just a fun song to play and people love it.
Johnny: If you could share the stage with any living artist, who would it be?
Jonathon: As of right now I would love to share the stage with A Perfect Circle, or Chevelle. I've been listening to those guys a lot lately and I love their sound .
Johnny: What kind of experience do you want people seeing your set live for the first time to go away with?
Jonathon: Well I love it when people don't know who I am because my style is bluesy soul. I'm a powerhouse vocalist and it always catches their ears. I love when they aren't paying attention and when I hit that right note they turn around and become a fan. Then they start listening to my originals, and they listen to the message because it's important to me that people understand why I do this, and I think that's what I want them to take away from it.
Johnny: Who do you listen to when you're not learning a new cover or writing an original?
Jonathon: That's a long list, but to shorten it; A Perfect Circle, Chevelle, Thy Art Is Murder, White Chapel, Otis Redding, Al Green, Sam Cooke and many more. I listen to a lot of different music. It just depends on what kind of day it is.
Keep track of upcoming Jonathon Allen shows at facebook.com/jonathon.allen.925.
A Unified Musical Assault:  We Divide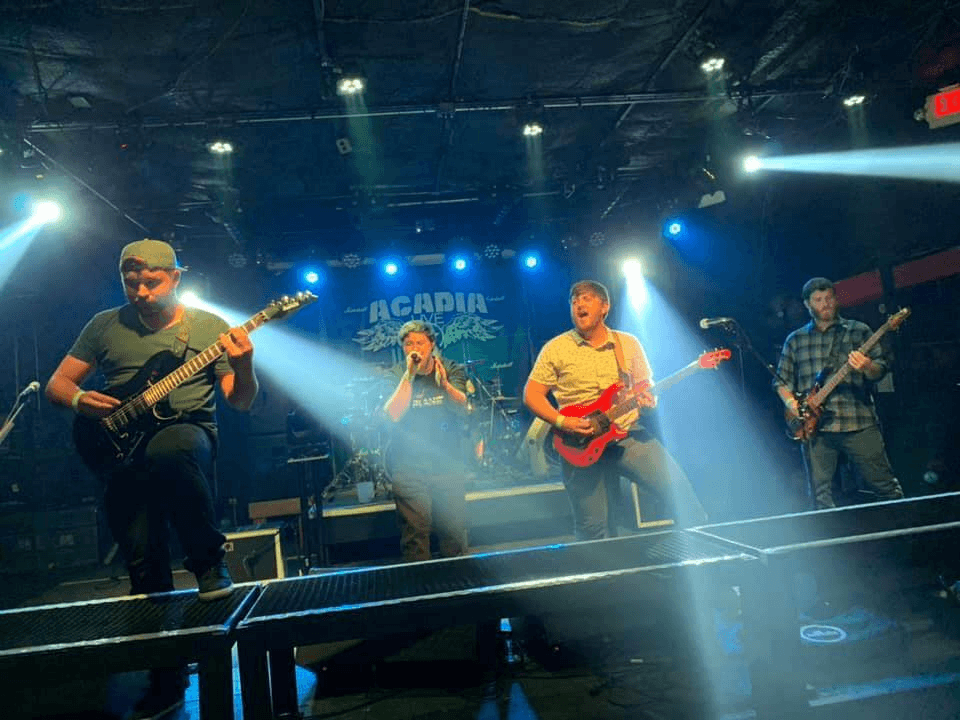 By Johnny Griffith
It's an easy assumption to make, based on what tends to get the most stage time around this area, that the East Texas music scene is pretty homogenous. In addition to being an easy assumption, it would be an incorrect assumption as East Texas boasts a diverse group of musicians catering to an equally diverse group of music lovers in the region. For those out there who are fans of metal and metalcore, you have a new source to get your sonic fix: We Divide.
Formed in 2017, We Divide brings a heavy punch to the metalcore arena with musical precision and vocal pyrotechnics. The five piece band masquerades as normal nine to fivers while walking around town, but once they take the stage no one mistakes them for anything other than a bunch of talented musicians that can compete with anyone in the genre. 
They took some time to give us some more background on the band this month:
Johnny: So what is the current lineup of We Divide?
WD: Jacob Pyle – Vocals; Kelby Youngblood – Guitar; Michael Wooddell – Guitar; Jerod Blue – Bass Guitar; and Jordan Blue – Drums.
Johnny: Give us a brief synopsis of your individual musical backgrounds?
WD: Michael was heavily influenced by blues and classic rock such as Hendrix, Led Zeppelin, Stevie Ray Vaughan; later on thrash and groove metal, but metalcore bands such as Killswitch Engage, As I Lay Dying, Bullet For My Valentine had the biggest influence on his writing style, with more recent influences being progressive bands such as After the Burial and Novelists.
Kelby was inspired early on by hair metal bands such as Motley Crue, Ratt, and Winger and is heavily influenced by virtuosos, melodic death metal, and metalcore. A lot of his lead work is inspired by guys like Steve Vai and Jeff Loomis. Writing influence comes heavily from Killswitch Engage, As I Lay Dying, Unearth, After the Burial, and Novelists.
Jacob is a huge metalcore/progressive metalcore fan as well. Phil Labonte (All That Remains), Garrett Russell (Silent Planet, and Anthony Notarmaso (After the Burial) are among his top vocal influences. Garrett Russell has been a big inspiration lately, especially in lyric writing.
Jordan gets a lot of musical inspiration from Lamb of God, Slayer, and Shadows Fall. His favorite drummers include Chris Adler (LoG), Gene Hoglan (Testament and Strapping Young Lad), and Dave Lombardo (Slayer). 
Jerod's influences come from a range of punk and alternative to metalcore. Tool and Norma Jean are his favorite bands. He is also inspired a lot by bands such as August Burns Red, Parkway Drive, and Lamb of God
Johnny: How did you guys all meet and when did the idea of the band begin to take shape?
WD: Michael and Kelby grew up together and have founded/ been involved with different projects from cover bands to rock, and most recently have settled into the true metalcore sound as We Divide. Michael and Jacob went to college together where Jacob was recruited for a rock project in 2014 because of his ability with harsh vocals as well as good cleans. After a few member changes, including Jacob leaving and returning to the band, Jordan was added to the lineup in late 2017 as the drummer, finalizing the transition into metalcore and the establishment of We Divide. Our most recent addition was Jordan's brother, Jerod, on bass. Although Jerod is a guitarist first, he's been helping with the band for a while, so when the spot came open he bought a bass and jumped in!
Johnny: When and where was the first gig as We Divide? What do you remember from that gig that has stuck with you?
WD: Our first show as We Divide was at Phil Brady's in Baton Rouge, LA in August of 2017. Our music was still evolving some at the time, and we had just brought back Jacob and added Jordan to drums a couple weeks before, and had just recently come up with the name. We were the only metalcore band on the lineup, headlining after a "garage rock" band and a "psychedelic country rock" band. We had a really small set at the time and as an out of town band had no intention of headlining, but that's where they put us. In fact, we played so late that the bartender tried getting us off the stage like halfway through the set. I (Michael) remember looking at her, saying "okay," then just finishing the set. We didn't make any money and it was a bizarre lineup but we had fun, got a good reaction, and we realized that we had something really cool going. 
Johnny: What's the story behind the name?
WD: We were trying to find a solid name that wasn't too long or hard to remember and someone just said "We Divide" sounds cool. It's concise and can be interpreted however, so we ran with it. 
Johnny: So you guys have a style that is most easily described as melodic metalcore with some apparent influences from bands such as As I Lay Dying, Demon Hunter, and Killswitch Engage to name a few. Was the choice to pursue that style conscious or was it the love of that genre what brought you together in the first place?
WD: All of us are huge metalcore fans of groups such as KSE and AILD and have been since we were teenagers. Kelby is definitely the more advanced guitarist, and as Michael was playing catch up in different techniques and scales, we realized that melodic metalcore was the best platform to hone our ability and also challenge one another to improve and innovate. We are always searching for a way to become heavier but also more technical and melodic. We came to a point in early 2018 that we had to have "a sound," and narrowing our focus helped us a lot. After releasing our first EP, we have been thinking about ways to evolve, and have even started writing with 7 strings for our full length album that we're working on. We think this second studio project will offer some new sounds and styles that we just didn't have in our arsenal on the EP.
Johnny: There aren't just a ton of venues in the area that will give real estate to a metalcore band. What have been some of the challenges you guys have encountered finding gigs in the area, and what's the farthest you've had to travel for a gig so far?
WD: Our hotspot in East Texas has definitely been Clicks in Tyler. They accommodate all kinds of rock and metal which is really cool. It's hard to find metal/metalcore lineups anywhere else so we have to go out of town. We've driven as far as Baton Rouge, Lafayette, and Houston for shows. We love to travel and meet new people though, so we have a lot of fun. We plan on playing in DFW soon and look forward to some new opportunities coming to Longview. 
Johnny: So I have to admit, the picture you guys present on stage and the sound that comes from the stage when you start performing is a little unexpected at first. Do you enjoy seeing the look on people's faces when you're at a new venue, or when you spot new people at venues you've previously played?
WD: We actually get that a lot: "Whoa! I didn't expect you guys to sound like that!" I guess we're pretty average looking guys, so it's always funny when we hear that and we just take it as a compliment. We don't plan on going out of our way to look "more metal" so I guess we'll continue to bring that surprise. We just let our sound speak for itself and we have a lot of fun talking to people after the show.
Johnny: About how many shows are you guys playing a month now?
WD: We're all pretty busy working full time, but we are trying to play at least one show a month. We've also been working on an album which is recorded in Fort Worth, as well as working with some different local radio shows/stations to get our sound out there. 
Johnny: You've done some studio work in the past and have some material out that sounds pretty phenomenal, both production-wise AND execution. Anything you took away from that experience that has served you well moving forward, and about how many originals do you currently have in the arsenal?
WD: Even though we played our first set in August of 2017 as We Divide, we actually kind of reset after dropping our first single in April 2018. We had some songs that didn't really fit where we were heading. We realized this once we started working in the studio. The experience just molded our view and made us want to focus on music that was great. We didn't want filler songs or music that didn't represent who We Divide was going to be. Since then we have tracked a few more songs but we don't add them to the set until they're released. We've released and added one single after the EP, and will be adding a couple more this year before the album drops (early 2020). Right now we have a 6 song set lined up plus some intros and occasionally a breakdown encore to finish a set. We hope to add a cover song in the future but we focus on original music. 
Johnny: Speaking of moving forward, what is coming up on the horizon that you guys are looking forward to?
WD: We are dropping a single and accompanying music video on September 6th. It's our first music video so we are really excited about it. We have some more tracking to do, but we are working hard to have a full album release in early 2020. Our sound is definitely evolving so we look forward to improving our set and bringing something fresh to our listeners.
Johnny: Individually, what's your favorite original that you perform?
WD: Michael – Antitype; Kelby – Antitype; Jacob – Buried; Jordan – Solidarity; Jerod – Buried or Solidarity.
Johnny: Okay, try to describe for someone coming to their first WD show what they're in for?
WD: We are a melodic metalcore band, so definitely expect a lot of heavy vocals, good melodies, harmonized guitars, pretty singing, and of course big breakdowns. We think our music is pretty high energy and a lot of fun, so even people who don't listen to much metal can enjoy it. Lyrics and stage presence are clean so our music is safe for all ages. We have fun, we don't take things too seriously, and we try to put on a good show.
Find We Divide at facebook.com/WeDivide/.