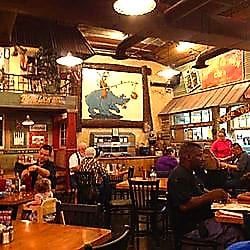 Written and Photographed by Barbara King
Take a much deserved break from the frantic Christmas season and pay a visit to Daniel Boone's for a old country meal that will fill you up and keep you going.
Daniel Boone's has been feeding Tyler and East Texas mouth-watering, made from scratch, country cooking for over ten years. From the minute you walk in the door, the home cooking aromas will compete with the visual cornucopia of collectibles and memorabilia everywhere you look.
The walls are filled with country frontier memorabilia that will evoke lots of childhood memories from John Wayne film posters to old film reels from the Fess Parker Daniel Boone TV show.
Why do loyal customers keep on coming back? According to owner Daniel Boone (and yes, that is his real name!) it's the unrushed family atmosphere, good food and good service. This is no buffet, but down home friendly people serving hearty, large portions of food like your mother used to make.
"We are home to the free bean bar (pinto and chili) and free Blue Bell ice cream desserts. We usually have at least ten different flavors to choose from," explains Boone.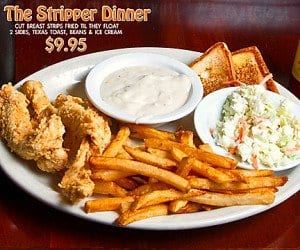 The huge main dining room features tons of table space with comfy, padded booths to enjoy your meal and a no pressure, just stay and visit atmosphere. You can start with choosing from over 40 menu items starting with "Appetizures-Starters 'n stuff" with creative country names like "Basskit of Fried Taters" to "Stuffed Hallipeners".
Then dig into one of "Dan'ls Countryside Dinners" featuring selections of "Chicken Fried Stake," bone-in pork chops, or one pound hamburger steak or a rib eye. The portions are large, and every entrée comes with a choice of two sides and Texas Toast.
The meat is always fresh at Daniel Boone's, and there is a great selection of "Burgers and Dawgs" on the menu, including the new spicy pepper-bite ranch cheeseburger or the "Yankee Dawg" topped with sauerkraut.
The price is right for families, and kids can enjoy "Young'uns Vittles" featuring kid's freeto pie, dawg on a stick or a "Kiddie Kat" which is two pieces of catfish filets, fried taters and hush puppies. Boone says a family of four can eat at the restaurant for about $35.00. Kids under 12 eat free Monday and Thursdays 5-9pm and Saturdays 11-5pm and all kid's meals include a small drink.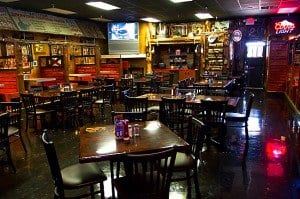 Speaking of catfish, Wednesday is all you can eat catfish for $10.95 from 5-9 and both Friday and Sunday all day long. Saturday night features smoked pork ribs "starting at 5pm until we run out!" says Boone.
The "Grazin' and Taters Pasture" presents the lighter side choices of a taco salad, frontier chicken salad, grilled yard bird salad (grilled chicken breast) and big stuffed taters. Danl's cornbread meal is a one-of-a-kind taste treat of 3 cornbread muffins and a trip to the bean bar to fill the bowl to the brim.
Monday through Friday they feature Blue plate specials for only $7.95, with a choice between two entrées, two veggies, and of course, the bean and ice cream bars. For the young at heart ,over 60 crowd, the restaurant features Pioneer plates, all for $7.95 with choices including chicken fried steak, grilled chicken, pork chops, and the infamous catfish.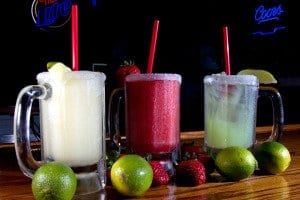 The Priddy family were enjoying a hearty lunch at the restaurant "where we have been eating forever," said Samuel Priddy. "The service is great, from the chefs to the waitresses, and we love the all you can eat catfish." Amy Priddy and her daughter Haylee, a TJC student, raved about the Yard Bird salad, while Mr. Priddy settled in to tackle his second helping of catfish.
Wanting to book a special event, corporate get-together or larger dining party? Or, as Daniel says "Got a herd of hungry people to feed?" The frontier dining room is ready and waiting and Daniel Boone's can host your private party or come to you for a special event. They also accept reservations if you're worried about seating a larger group.
Tucked away in the back of the restaurant is the tavern part of the experience, a fully stocked bar, with big screen TVs and even more memorabilia…a juke box and a collection of over 500 matchbox racing cars. There is full service available in the tavern area, and you can enjoy a chicken fried steak, a drink and watch your favorite sports.
Long-time friends, Esther Rightmyer and Mary Buckalew were finishing up their meal and commented on the fact that they never felt rushed or hurried and the atmosphere was "super friendly and we had great table service" the ladies agreed. Mrs. Buckalew added that her high school- aged grandchildren from Houston love to visit Daniel Boone's "because of the ice cream."
You won't leave hungry and you might even leave with a quote or two from Daniel Boone himself, "I have never been lost, but I will admit to being confused for several weeks."
Go online at www.danielboones.net and join the VIP club for the latest specials sent directly to your phone or email. Gift cards are also available and make great gifts. Daniel Boone's is open Monday through Thursday from 11am to 9pm, Friday and Saturday from 11am to 10pm and Sunday from 11am to 8pm. The restaurant is located at 1920 ESE Loop 323. For more info, call (903)595-2228. You can also find them on Facebook at Facebook.com/danielboonesgrill.