By Gini Rainey
Take if from this Norwegian/German girl who really knows her spuds, there's some mighty good eating out there if you are looking for variety and great tastes – not to mention the terrific nutritional value of the lowly potato. Did you know the average-sized potato only has 110 calories and is absolutely sodium, fat, and cholesterol free? It's all the yummy stuff we pile on them that add the calories, etc.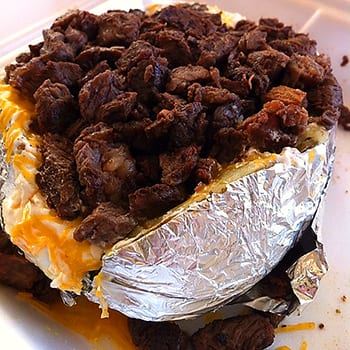 However, when lunch time rolls around our office, the usual question is, "What's for lunch?" Well, at least once a week or so, Regio's pops up as the definitive answer. This franchised chain, started in Austin by Juan Bazaldua, has 47 locations across Texas, and Tyler's restaurant is located at 614 Valentine Street – basically a block from where Gentry Parkway dead-ends into Beckham/271 N. Although their main claim to fame is their grilled chicken, our favorite remains the Papas Regio – Regio's baked potato. Loaded up with your choice of carne asada or chicken, they also make sure you have plenty of butter, cilantro, onions, sour cream, cheese, and one big ol' grilled jalapeño. There is also a side of crème y jalapeño just in case you need a little more fire to go with your potato.
If BBQ is more up your alley, you might want to stop by Rudy's Country Store and BarBQue. Rudy's got its start in the Texas Hill Country and our location in Tyler is at 1410 SSW Loop 323. Although primarily known for excellent barbecue, you really need to try their Jumbo Smoked Potato. Smoked right in the pit with the meat, these babies are filled through and through with a good old smokehouse flavor. Topped with your choices of butter, chives, cheese, and onions, you can also have your pick of smoked beef, pork, or chicken added on top.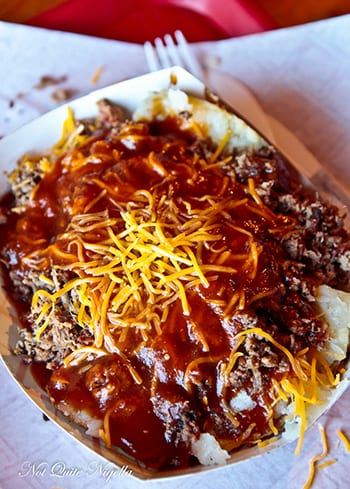 Not to be outdone, Stanley's Famous Pit Bar-B-Q at 525 S. Beckham in Tyler, has a baked potato offering, too. This baby, over-stuffed with brisket, cheddar cheese, barbecue sauce, and butter, is just one more way you can enjoy their melt-in-your-mouth pit-smoked beef. Take a seat in their unpretentious joint and dig into some good eating.
Alongside these unusual choices in baked potatoes, you can also get some mighty fine eating on with one of the many choices at McAlister's Deli, 4325 Old Bullard Road. Their Spuds menu has so many choices on it, from Spud MaxiTM to Justaspud©, you might have a hard time trying to decide which one you want to try first. One thing is for sure – when you sit down to one of these babies, you aren't going to go away hungry.
A long-time favorite in Tyler, Jason's Deli, located at 4913 S. Broadway, has a couple of good potatoes on their menu: The Plain Jane – which isn't so plain, and the Pollo Mexicano. Although Jason's generally cuts the ends of two potatoes and merges them into one ginormous tater, it does make it easier to ask for a lighter portion and be accommodated.
Daniel Boone's at 1920 ESE Loop 323 in Tyler has a mucho grande potato on their menu that would stop a bear in its tracks. The Big Stuffed Baked Tater is a "might-near one pound tater that is topped with butter, sour cream, cheddar cheese, ham, & bacon." If that's not enough to fill your tummy up, for a buck more you can have grilled chicken or seasoned ground meat added to the top.
Perhaps you would prefer to have a nice, quiet sit down meal in a pleasant atmosphere with your friends and would like to add option of great salad bar to your lunch potato. Then The Potpourri House would be the place for you to go. Located at 3320 Troup Highway in Tyler, The Potpourri House has been serving great meals to Tylerites for decades. Not only can you enjoy a quiet lunch, but you can also shop in their unique boutique for gifts, jewelry, clothing and more.
If you're looking for a baked potato that's not too hard on your calorie intake or your wallet, try one of Wendy's (several locations in Tyler) spuds on for size. From the Sour Cream and Chive Potato on their value menu to a plain baked potato or the Broccoli Cheese Potato, you can hardly beat the tasty, light fluffiness of these spuds. For a bit of an extra kick, get a small chili and pour it on the plain baked potato – it will definitely kick it up a notch.
So, why are you just sitting there? Why don't you help yourself, please, to some good nutrition and yummy eating by picking up a spud for lunch today?