True Vine Brewery: Three Men on a Mission of Integrity, Love and Community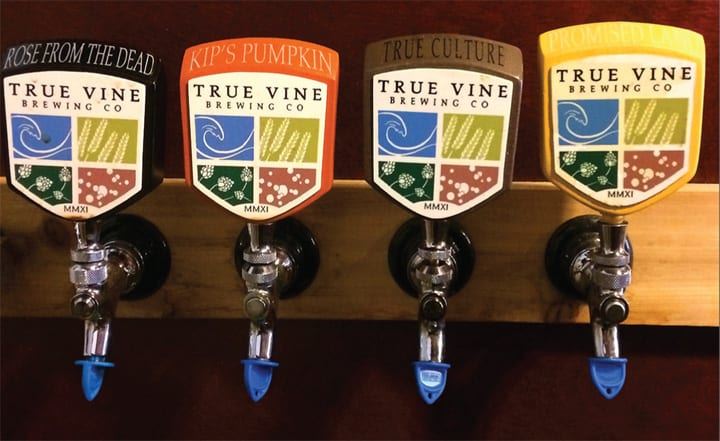 ---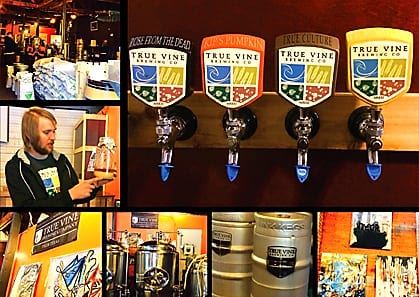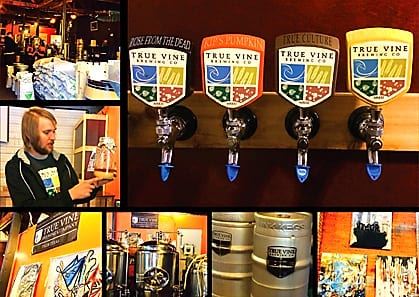 By Barbara King
You won't find a big flashy sign on the front or any glimpse of a thriving small business inside. Just off the beaten path in a warehouse district just west of downtown Tyler, is a full-on tiny beer factory with a difference.
You will find three young, dedicated men with a mission, hence the aptly named True Vine Brewing Company. As co-founder Ryan Dixon explains, "we began with the three of us and a silent partner. As Jesus said, 'I am the true vine, apart from me you can do nothing.'" The three friends in life and in business have taken the bull by the horns, and with vision and purpose have begun a growing partnership centered on God, beer and family. It might seem a strange combination, but the trio brings all the core elements of integrity, love and community to the crafting and distribution of their one-of-a-kind brews.
Ryan Dixon, Stephen Lee and Dan Griffith have a unique partnership grounded in faith, family and hard work. Each of them have their own "real pay-the-bills" full time jobs and originally considered opening a brew pub with food service, deciding instead to concentrate on their passion to open as a production brewery.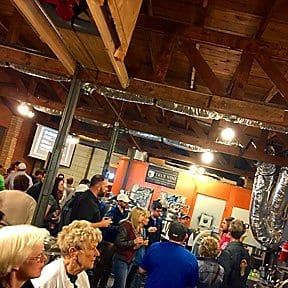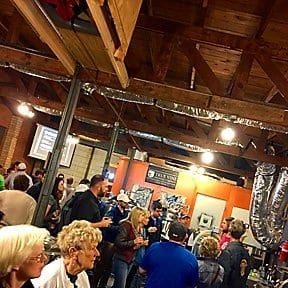 In April of 2013, they established the brewery in a warehouse Ryan describes as "a derelict, unloved space full of old wood and dust" that now houses the tiny beer factory consisting of a one barrel system and three barrel fermenters, but as Ryan says "this is just the beginning of our branching out to Phase II." Recently purchasing the building, the men have big hopes and plan to "add equipment and grow the brewery to double its size," explains Dixon.
With a world-view on beer, the end result is to "never settle, and keep producing a product of excellence," Dixon says. The history of beer throughout the ages is a fascinating look at a drink that equalizes, bonds and brings people together in times of joy and sorrow. The labor of love that is True Vine Brewery includes a vow to produce the best quality hand crafted brews, to educate and to promote the sense of the "cool community and to bring a piece of Tyler to our beers."
Crafting beer is a painstaking and arduous process, but the results can be incredible. With the smell of wheat and hops filling the warehouse space, the brewing process is in full swing. Recipes are in constant flux, with taste-testing, changes and tweaks throughout the process. "The three steps in brewing always consist of combining water, some kind of cereal grain, hops for balance and, of course, yeast," explains Dixon.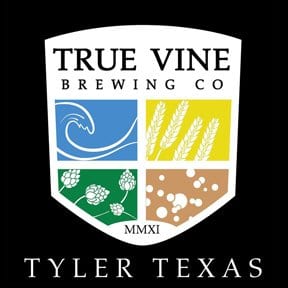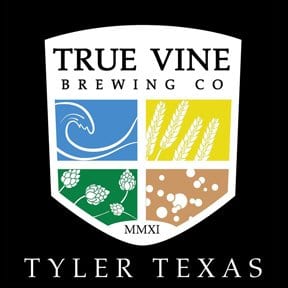 Dixon is taste-testing a new batch of sour beer, while proudly explaining the virtues of True Vine's flagship beer, the Rose City Pale Ale, a homage to the city they call home. The citrusy brew appeals to all genders, and is a mellow smooth ale.
Also on the shelves is a unique collaboration with a neighboring business, Porch Culture Coffee Roasters, resulting in a coffee-infused porter accurately monikered, the "True Culture Coffee Porter."
The trio released a Belgian strong blend, The Promised Land, paying homage to the land flowing with milk and honey. This creamy blend also adds the sweetness of milk, sugar and local East Texas honey.
Kip's Pumpkin Ale pays homage to one of Ryan's personal heroes, his late father-in-law. Part of the "Hero Series," this seasonal favorite is a spicy malt, based on the classic Octoberfest/Marzen style. Pumpkin ales are noted back in history as one of the first ales brewed in America by the early settlers and still very popular today.
Yearning for a beer while out and about in Tyler? You can savor one of True Vine's specialties featured on tap at Stanley's, Juls, Soju, Fresh by Brookshire's, BJ's Brewhouse, Wasabi, or Breakers – so literally in all areas of town.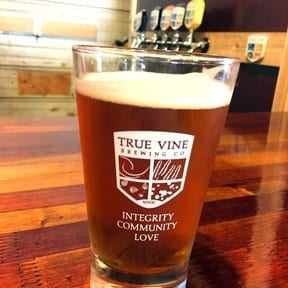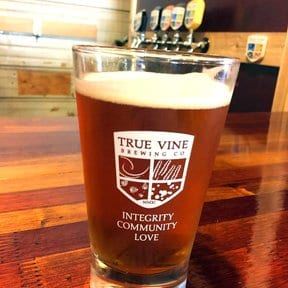 Building community is core to the expanded vision of the enterprise and a walk out the back door will give you a look at what the next step is all about.
Currently, the trio hosts a "cool community Open Taps event the last Saturday of every month," explains Dixon. Bring a chair and a friend (or 20) and join the vibe at the brewery. Every Open Taps night is chock full of music, food, local art and, of course, beer. The fun starts at 5pm and it is a family event, with root beer made on-site for the kids. For a mere $10 in advance, guests can enjoy two different beers, go home with a unique True Vine Brewing Company glass and be part of a vibrant, fun community.
"Last month we had over 350 people join us outside with live music, a food truck and great beer to taste," says Dixon. "Our monthly Taps just keeps growing and growing and we are so honored to be a part of the Tyler community and make people aware of what's happening in other areas of the city."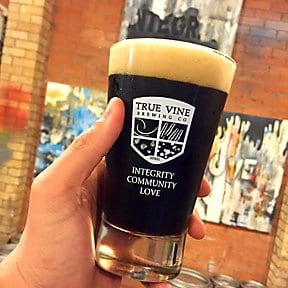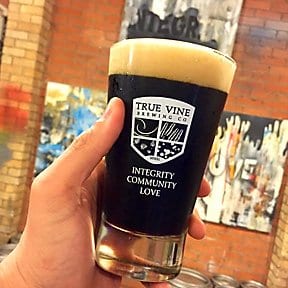 Plans for the backyard include an expanded patio, additional seating and a stage to host some of the local artists who love being part of the event. A tap room and outside beer garden are part of the Phase II dream for the beer trio. Food and fellowship make these Taps nights unique to Tyler.
The tiny brewery 'that could' is growing…but with a purpose. True Vine's passion is to give back to the community, grow in faith and vision and continue to distribute a product to be proud of.
True Vine Brewery is located at 219 S. Englewood Ave., west of downtown Tyler, just off Front St. Come early to get a parking spot close by.
For more information about the brewery, Open Taps night or about beer in general, visit them at truevinebrewing.com or on Facebook at truevinebrewing.


Max McRuiz: No Labels Please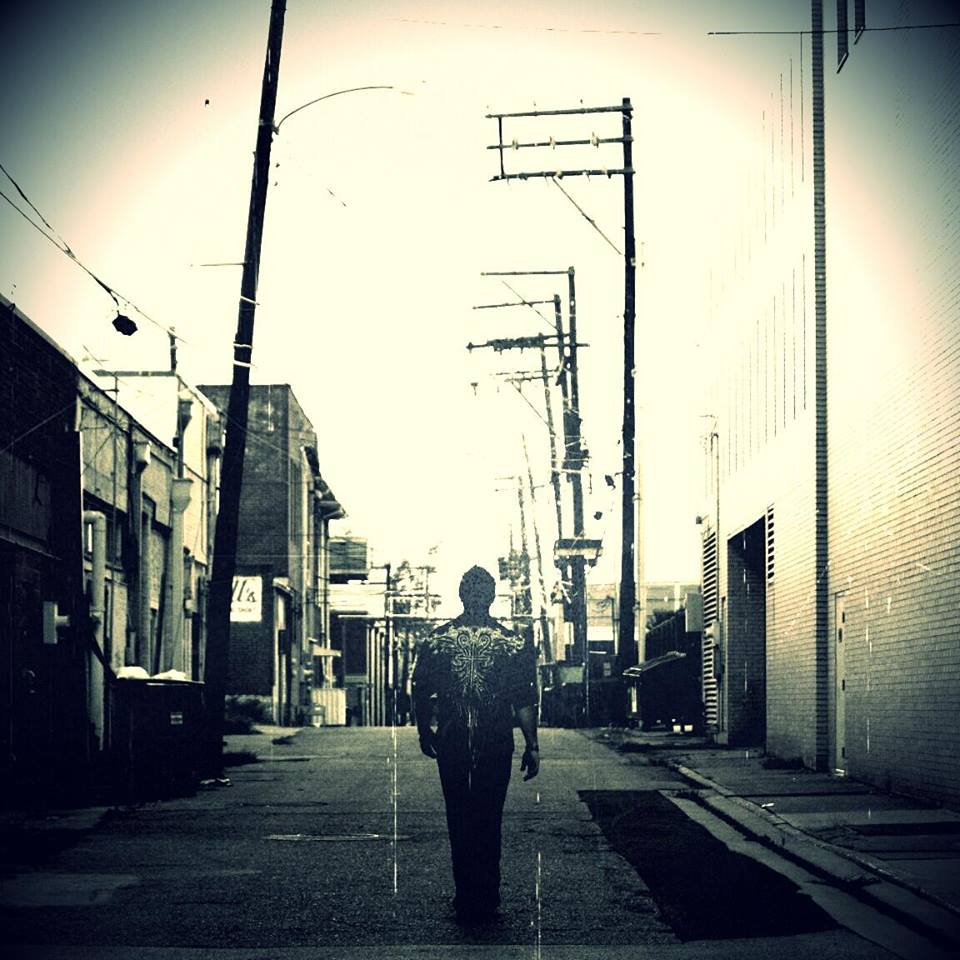 By Johnny Griffith
In the music world there are all sorts of labels for musicians: guitarist, drummer, keyboardist, country artist, pop artist, R&B artist, etc. Then there are those people who transcend any attempt to be put into a box and are constantly evolving their skill and style as they grow.
Allow me to introduce you to Max McRuiz.
Born in Lindale, and raised in Longview, Max inherited a musical past from his grandparents on both sides of his family. Max attended Spring Hill high school where he excelled in the music program. A four-time All Area 1st Chair, and three-time State 1st Chair winner in drums, his passion for music translated into several scholarships and the opportunity to continue his education in music at the collegiate level where he continued to develop skills on several instruments. After studying music education/performance at Kilgore College as well as SFA, Max was a student teacher at Kilgore High School. It was during this time that he realized he probably wasn't destined to be a band director so he started teaching music on the side as a hobby to keep his skills sharp and fresh on his mind.
A veteran of several successful musical projects in the area, Max has recently devoted more time to solo projects and building a new trio for local gigs across the area. I sat down with Max recently for a chat.
Johnny: When did you first start to develop an interest in music?
Max: I developed a love for music at a very young age. My parents would place my crib next to the TV when I was only 8 months old so I could stand up and dance to The California Raisins as they would sing old Motown hits like "Heard it Through The Grapevine" and "Sign Sealed Delivered." My love for music has only grown stronger as the years progressed.
Johnny: You're a multi-instrumentalist. What were you first drawn to, and what do you consider your best instrument at this point in your life?
Max: I started playing drums and guitar around 1999 when my brother bought an old Samick electric guitar and Laney amp and it came pretty easy to me. As the years went on, I picked up the piano and played by ear until college where I had proper instruction on theory and reading sheet music. Although I would admit that the piano is my favorite instrument to play and compose with, I think drums are my forte. I pride myself in the fact that I am a 'Jack of All Trades,' so I try not to become too unbalanced as far as which instrument I am better on.
Johnny: What was your first public performance?
Max: I first took the stage when I was 7 years old for a talent show. I continued doing talent shows throughout school but it wasn't until 2006 when I started a country cover band named Pocket Aces and I started gigging and playing shows. Once in college at SFA, I started my most successful band, Westbound 21, with friends Cody Wayne, Lyndsey Torrez, and Jason Skidmore.
Johnny: You've been involved in several successful local music projects. When did you decide to do more solo work?
Max: In September 2013, I decided to leave Westbound 21 and the big country music scene to play music at my local church. I just started playing solo gigs by myself and with my trio about a year ago. This time around I have the freedom to play exactly what I want without having to stay within the confines of a specific genre or style. My shows have a very wide variety from MoTown to John Mayer to Michael Jackson to Goo Goo Dolls and many more. There is something for everyone.
Johnny: How would you describe your current style?
Max: I would say my current style is easy-listening/Adult contemporary. I play with a loop station so obviously Ed Sheeran has had a big influence on my music.
Johnny: Are you creating much original content or is it primarily covers at this point?
Max: With my last band, we focused a lot on original content but now I just play what moves me. I pick songs for my set that have meaning and are fun to listen to. I play a lot of covers but tend to play them with my own style.
Johnny: About how many gigs a month are you playing at this point?
Max: Between private events, charity gigs, coffee house shows, and big shows with my trio, I play around 3-4 times a month.
Johnny: Is this still in the hobby stage for your or are you looking at a more serious push for a musical career? And if so, what direction would you like to see that path take if up to you?
Max: I have "been there and done that!" My last band played four gigs a week for five years and it burned me out. Now that I am older and have a wife, I enjoy picking and choosing the gigs that I take. Music is an avenue that allows me to express myself but I don't want to ever make it into a "job" again. It takes most of the fun out when you start to try and make a living while attempting to make it big.
Johnny: Anything noteworthy coming up in February or March the readers might catch you at to enjoy your talents?
Max: I've got a couple of gigs coming up in February that will be fun nights.
February 16th (7-9pm) – Bridge 281 Coffee Shop in Longview
February 17th (7:30-10:30pm) –  Central Station in Gladewater
Stay tuned to my Facebook page for other specific dates and times.
Johnny: What has been your best memory so far in your musical career?
Max: December 30, 2013, I got to play at The Dallas Cowboys Stadium for a 30-minute pre-game show. That was a great experience and memory that I will never forget. More recently I got to share the stage with my childhood hero Bryan White a few months ago at The Central Station in Gladewater. That was very surreal and great experience.
Johnny: Besides your own music, what do you listen to currently that gets you excited?
Max: I am a huge fan of Marc Broussard, Ed Sheeran, John Mayer, Dave Barnes, Earth Wind and Fire, Michael Jackson, and Journey to name a few.
Fine Mac McRuiz on the web:
ETX Brewing Company: Good Times Are Brewing Downtown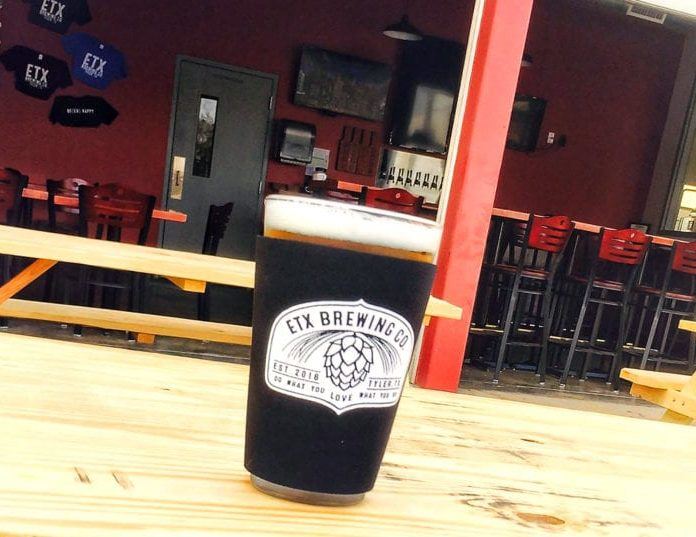 By Johnny Griffith
If you ask ten different people on the street what comes to mind when they hear the word "beer," odds are you'll get ten distinctly different answers. Ask the same question of Brian and Matt Gilstrap and you'll get one answer: family.
Brian and Matt, along with Brian's wife Annie, are the founders and operators of ETX Brewing Company, Tyler's second brewery to open and the newest addition to the growing downtown rebirth here in the Rose City.
Originally born in Arlington, both the brothers Gilstrap moved around Texas over the years after attending Texas State University in San Marcos. Brian and Annie met in college where he majored in Business Finance, and Matt majored in Computer Science. Following a move by Brian and Annie to Tyler in 2005 due to a promotion and now living in different parts of the state, Matt and Brian would come together to hang out for the weekend and began brewing beer as a hobby. Twelve years later, they realized their longtime vision of transforming the hobby into a business and now genuinely live their motto for ETX Brewing, "Do What You Love, Love What You Do."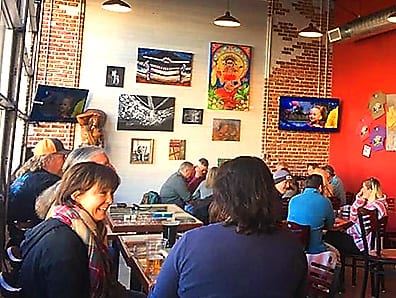 When the vision became a reality, Matt sold his house in Austin, left his job, and moved to Tyler to help with the task of taking the brewery from the garage to the masses. After considering several different locations, the Gilstrap's finally settled on a former tire service center just off downtown on S. Broadway. After several months of hard work, the vast majority of which was done themselves, the crew at ETX Brewing Company opened their brewery and taproom in January of this year to rave reviews and thirsty crowds.
With art from local artists hanging on the walls and beer brewed on site in the facility visible from the bar, flowing through the taps, ETX Brewing Company has the feel of something you'd find on either South Congress in Austin or downtown Ft. Worth. There is a decidedly modern feel, but not so much that the character of the owners doesn't show through. Brian and Matt kept the roll-up doors of the former service center in place, which allows the bar area to have a more open feel and beckons passersby on South Broadway to stop in and take a break from their hectic schedules.
I recently sat down with Matt and Brian to talk with them about the Brewery and sample some of their libations.
Johnny: Of all the things you could be doing in life, why a brewery?
ETX Brewery: Brewing quality beer has been a hobby and a passion for the brothers for many years now. Four and a half years ago Brian and Annie had twins born prematurely at 25 weeks gestation weighing in at 11 oz. and 9 oz. They were immediately care-flighted to a higher level NICU in Dallas, where they spent the next 4.5 months. Matt made the drive every other weekend to spend time with them in the hospital. At that point, perspective on life, in general, changed forever. Life is far too precious and short to not be spending it doing what you love.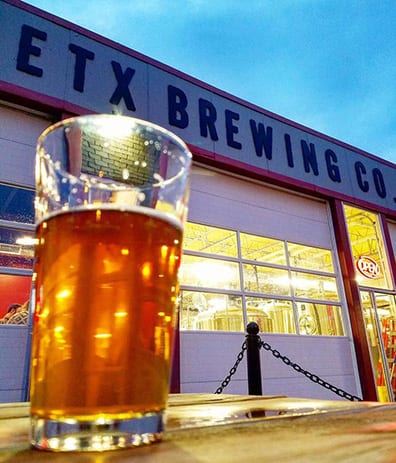 Johnny: What was THE beer that hooked you into the craft scene?
ETX Brewery: Unanimously, Dogfish Head 60min IPA was the beer we all shared together and loved.
Johnny: How did you get from your first batch of homebrew to a full blown brewery?
ETX Brewery: A lot of reading and educating ourselves on new techniques. We were constantly striving to make better beer each time. Practice! Practice! Practice! And of course, sampling the product and asking others for feedback.
Johnny: What have been some of the biggest challenges to get to this point?
ETX Brewery: With any new business, there are challenges of finances and construction, but the nature of opening a brewery brings additional legal hurdles, deciding on the size of equipment, and what beers to commit to brewing. Add to that the fact that we pretty much did all of the work on the brewery ourselves, it gives us a deep appreciation of where we are now.
Johnny: How much of a foothold does craft beer have in east Texas at this point?
ETX Brewery: Craft beer is just on the cusp of becoming big here in east Texas. For a large majority of east Texans, they are new to experiencing craft beer and especially to visiting a brewery. Our goal is really to provide an education to help people understand more about craft beer and what to look for when choosing a brew.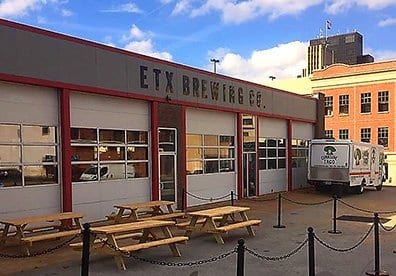 Johnny: How important was the location in the downtown area?
ETX Brewery: We were thrilled to have found a location in the downtown area. We love being a part of the revitalization that is happening Downtown! With all of the amazing businesses going in on and around the square, Downtown Tyler is turning into a "must see" for locals and visitors alike.
Johnny: What will customers be able to do at the brick and mortar location? Buy beer? Drink beer? Fill growlers? Hear live music?
ETX Brewery: Our tap room will have a variety of beers available at all times, which will be changing on a regular basis. Customers will be able to come in and sample or purchase these varieties by the pint. We will have live music on a regular basis, too. Our goal is to be a fun, laid back atmosphere to relax and enjoy a good brew with good company. We are also currently in the works to plan monthly events where a majority of the proceeds will go back to local charities here in east Texas.

Johnny: What is the beer lineup currently?
ETX Brewery: We currently have 6 beers on tap:
Test Batch 1 – An American Pale Ale, a bright filtered Golden Ale
Red House Wheat – An American Wheat unfiltered with slight notes of orange
1846 IPA – Easy drinking and flavorful from the heavy dry hopping with El Dorado hops
Test Batch 2 – Blonde Ale, unfiltered and dry-hopped after fermentation to add a floral aroma
Coffee City Stout – A Stout made with coffee, chocolate, and oatmeal (made with Belgian chocolate and locally roasted coffee from Coffee City USA)
Hitching Post – Amber Ale, a perfect balance of malt and hops producing caramel notes and a malty sweetness
Coming soon: Black IPA – A Mexican Lager, American pale ale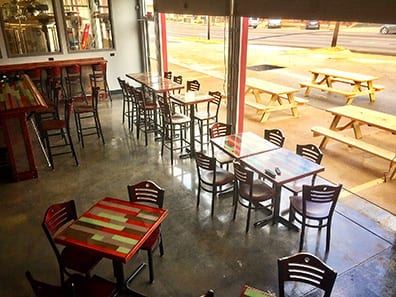 We also have a non-alcoholic Root Beer which we make in house.
Johnny: I know you just opened, but what's next on your agenda for ETX Brewing?
ETX Brewery: We'd like to improve the site and make a friendly space for food trucks, so we have something in the works for that as well as an area out back for live music and more seating. The response has been fantastic so far, and the atmosphere downtown is bringing more traffic back to the area, so we want to make sure we're in a position to take care of the people who decide to spend their time hanging out with us.
Johnny: What kind of experience are you hoping new customers will take away from ETX Brewing?
ETX Brewery: We hope they will walk away with a better understanding of craft beer. A lot of people are afraid to try a craft beer when they see it on a menu at a restaurant. We want to take that fear away and empower the customer to know what they are looking for in craft beers.
ETX Brewing Company is located at 221 S. Broadway in Downtown Tyler. For more info call (903)630-7720, find them on www.facebook.com/ETXBrew or go to etxbrew.com.

XL'N on Fifth: Excellin' "Classic Rock 'n' Blues-a-billy" Music and More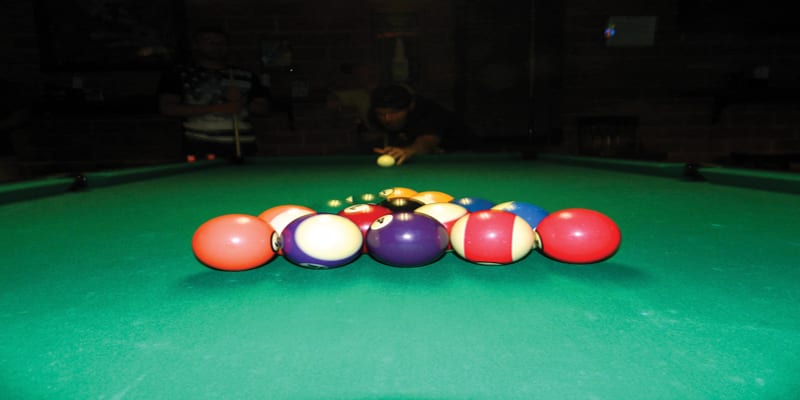 ---
By Amanda Main
Some patrons have dubbed XL'N On Fifth the "Cheers" of Tyler. The club started out of a love for billiards, but out of necessity grew to include a members-only bar and live music venue.
Owners Donald Griffith and his wife, Robin, opened the club and pool hall in January 2006. The Griffiths have two grown children, Kelly, 26 (EGuide's own "Family" writer), and Marshall, 20, who is a bartender. The Griffiths also have two grandchildren.
"Neither of us have backgrounds in running a bar. This was our first rodeo," Robin says. "He's big into pool — he plays in a pool league, but the pool hall is not the main business, it's the club."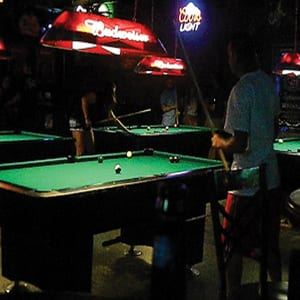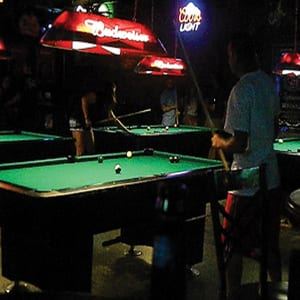 Donald chose the name XL'N, which stands for 'Excellin'. "We didn't want a cute little name like 'Corner Pockets' or 'Side Pockets' or 'Rack 'Em,' or anything like that," Donald says. "I told her that it doesn't matter what the name is, if you have a good place, then the name won't matter."
Robin chimes in with sarcasm: "I think it proved it, didn't it? 'XL'N.' Yeah, I think you proved that theory."
Robin says the business was a huge undertaking for the couple (now married 28 years) to open. In the beginning, the only thing she liked about the building when Donald first showed it to her was the painted wall, where musicians now play. That's because the wall is the original, outside wall of an old lumber yard from, she estimates, the 1950's. When they purchased the building she says, "there was a pile of lumber with nails in it and there were no lights. There was an extension cord with light bulbs on it, but somebody had come in and taken all the copper out to sell. They just stripped all the wiring out of the place. It was just a gutted mess of a place, and we spent three months working on it before we opened."
But that was more than eight years ago and the business has come together nicely. What makes the establishment truly special, the Griffiths say, is the people — the people who work there and the people who frequent there.
"It's a family of friends," Robin says. The business' motto is "Where Good Friends and Good Times Come Together."
By design, her staff, all considered family but some by blood, are a tight-knit group. She says the club rarely has staff turnover. Usually if someone doesn't work out, it happens within their 90-day probationary period, which is a time spent seeing how well a person will fit in with the rest of the staff.
As a showing of love and appreciation for their employees, Robin and Donald take all of them, about 10 people, on an annual vacation to a private piece of land her mother bought years ago in Texas Hill Country. For about a week, the doors to XL'N On Fifth are shut so the staff can bond and have a good time in the outdoors together.
Robin says they consider their regular customers like family, as well. "We're a comfortable, laid-back place. Anybody can come here. A woman can come in by herself and not feel weird."
XL'N has music every Saturday and sometimes on Fridays. Robin has created her own genre to describe the types of bands XL'N attracts. "I like to call it a new thing called 'Classic Rock 'n' Blues-a-billy.' But really, nothing hard metal. It's just good classic rock, Southern classic rock and even some modern to spice things up. It's a little bit of country. Bluesy. It's 'Classic Rock 'n' Blues-a-billy.'"
"I pick out the bands myself. We have great local talent in East Texas, well, all over Texas. But I've had many of East Texas Music's Award-winning bands play here. And I like to support them. I like local bands. We also bring some in from Shreveport, or Texarkana, (and sometimes Dallas and Austin, Donald adds), but the bands are always good and it's always free to see them."
"Always free" meaning there is never a cover charge, except on one night of the year: New Year's Eve, when Robin will fix up a big feast including shrimp, black-eyed peas and cabbage, among other foods. But even that night, the cover is only $10, and she says it's well worth it since it includes her home cooked delicious (and legendary) food.
One of Robin's favorite parts of her job is designing the flyers for shows. "It's a lot of fun to create the 'look' for the shows, it gives me a real chance to express my creativity and have fun," she states.
On other note, she also adds, "I don't like to be called a mom and pop joint, but I guess we really are. We are about the people, our customers, our friends. As with any business or club, if you don't like the people that hang out there, you're not going go there but that's not the case for us. We have lots of great regulars. And we don't allow any craziness. Our regulars know that if you cause any problems you will be banned from here. I'm like the mama hen when it comes to keeping XL'N fun for everyone."
For those who get hungry, XL'N offers food. "We have chicken strips, cheese sticks, jalapeño poppers, French fries and French bread pizza. We have the best corn dogs in town," Robin says. "What's unique about us is what we cook them in. It's a small oven, greaseless, ventless, 110-volt, like a convection oven. So everything comes out crispy. It's not fried (except when it was manufactured, Donald says). And it's good. And the French fries, oh my! They come out like they're supposed to – crispy and not greasy."
XL'N is home to six custom, 8-foot Olhausen pool tables. The playing rates are a super deal from 12 noon to 5pm. Two people can play unlimited games for a total of $5 between those hours. After 5pm the pool rate is $6 per hour for two players.
Happy hour starts early at XL'N from 12 noon to 5pm. On Mondays through Thursdays, XL'N offers $1.75 domestic beers; Rolling Rock beer and PBR Longnecks for $2.75 all the time; and Jell-O shots are always $1.
Robin and Donald are proud to host amateur American Poolplayers Association (APA) Leagues at their bar. They meet to play at 2pm on Sundays and about 7:30pm on Monday and Tuesday evenings. XL'N has been featured in the APA Magazine as the best place to play pool in East Texas.
The league players play "8-ball and 9-ball," Robin says. "There are always teams that are looking for someone to play. They need all skill levels, from beginners to put-your-kid-through-college kinds. They rank them because a team can not have too many high-rankers."
For those wanting to show off their vocal abilities, XL'N offers karaoke from 8pm to 12 midnight on Sundays.
XL'N is open seven days a week, all year long with the opening time pushed back to 4pm on major holidays.
Donald's and Robin's love for the community show by their giving back in ways such as an annual Toys for Tots benefit, fundraisers for friends that are cancer patients, and giving to many other charities.
XL'N is located at 2109 E. Fifth St., Tyler, (903)535-7956. You can
follow them on Facebook at
facebook.com/XLN.Pool.Hall. They post their bands and special weekly.
XL'N is open 12 noon to 12 midnight Sundays – Fridays and 12 noon to 1am on Saturdays. All ages are allowed before 7pm; 21 and older only after 7pm.