True Vine Brewery: Three Men on a Mission of Integrity, Love and Community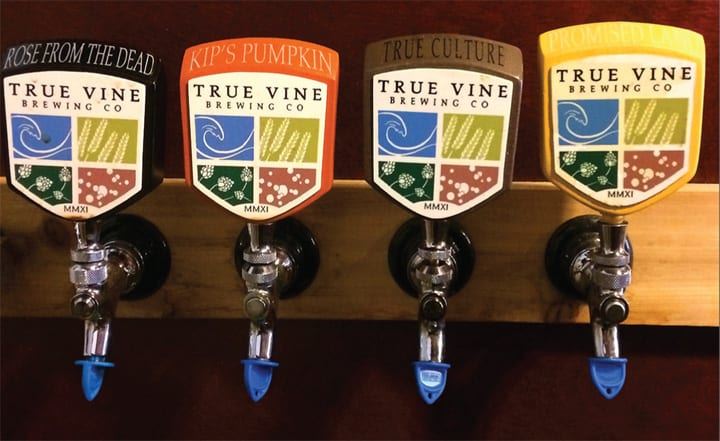 ---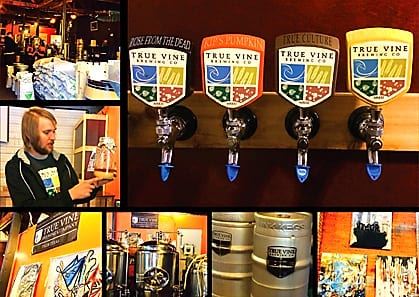 By Barbara King
You won't find a big flashy sign on the front or any glimpse of a thriving small business inside. Just off the beaten path in a warehouse district just west of downtown Tyler, is a full-on tiny beer factory with a difference.
You will find three young, dedicated men with a mission, hence the aptly named True Vine Brewing Company. As co-founder Ryan Dixon explains, "we began with the three of us and a silent partner. As Jesus said, 'I am the true vine, apart from me you can do nothing.'" The three friends in life and in business have taken the bull by the horns, and with vision and purpose have begun a growing partnership centered on God, beer and family. It might seem a strange combination, but the trio brings all the core elements of integrity, love and community to the crafting and distribution of their one-of-a-kind brews.
Ryan Dixon, Stephen Lee and Dan Griffith have a unique partnership grounded in faith, family and hard work. Each of them have their own "real pay-the-bills" full time jobs and originally considered opening a brew pub with food service, deciding instead to concentrate on their passion to open as a production brewery.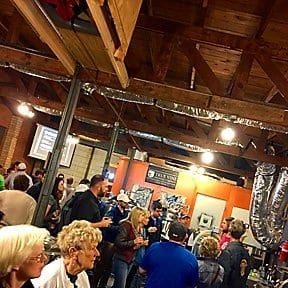 In April of 2013, they established the brewery in a warehouse Ryan describes as "a derelict, unloved space full of old wood and dust" that now houses the tiny beer factory consisting of a one barrel system and three barrel fermenters, but as Ryan says "this is just the beginning of our branching out to Phase II." Recently purchasing the building, the men have big hopes and plan to "add equipment and grow the brewery to double its size," explains Dixon.
With a world-view on beer, the end result is to "never settle, and keep producing a product of excellence," Dixon says. The history of beer throughout the ages is a fascinating look at a drink that equalizes, bonds and brings people together in times of joy and sorrow. The labor of love that is True Vine Brewery includes a vow to produce the best quality hand crafted brews, to educate and to promote the sense of the "cool community and to bring a piece of Tyler to our beers."
Crafting beer is a painstaking and arduous process, but the results can be incredible. With the smell of wheat and hops filling the warehouse space, the brewing process is in full swing. Recipes are in constant flux, with taste-testing, changes and tweaks throughout the process. "The three steps in brewing always consist of combining water, some kind of cereal grain, hops for balance and, of course, yeast," explains Dixon.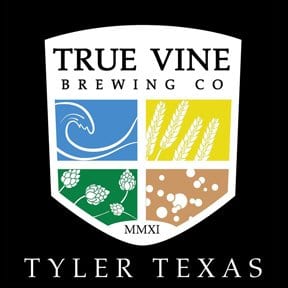 Dixon is taste-testing a new batch of sour beer, while proudly explaining the virtues of True Vine's flagship beer, the Rose City Pale Ale, a homage to the city they call home. The citrusy brew appeals to all genders, and is a mellow smooth ale.
Also on the shelves is a unique collaboration with a neighboring business, Porch Culture Coffee Roasters, resulting in a coffee-infused porter accurately monikered, the "True Culture Coffee Porter."
The trio released a Belgian strong blend, The Promised Land, paying homage to the land flowing with milk and honey. This creamy blend also adds the sweetness of milk, sugar and local East Texas honey.
Kip's Pumpkin Ale pays homage to one of Ryan's personal heroes, his late father-in-law. Part of the "Hero Series," this seasonal favorite is a spicy malt, based on the classic Octoberfest/Marzen style. Pumpkin ales are noted back in history as one of the first ales brewed in America by the early settlers and still very popular today.
Yearning for a beer while out and about in Tyler? You can savor one of True Vine's specialties featured on tap at Stanley's, Juls, Soju, Fresh by Brookshire's, BJ's Brewhouse, Wasabi, or Breakers – so literally in all areas of town.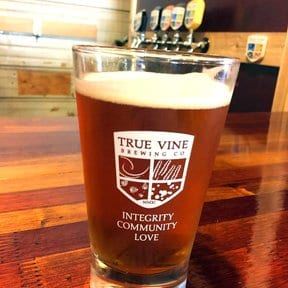 Building community is core to the expanded vision of the enterprise and a walk out the back door will give you a look at what the next step is all about.
Currently, the trio hosts a "cool community Open Taps event the last Saturday of every month," explains Dixon. Bring a chair and a friend (or 20) and join the vibe at the brewery. Every Open Taps night is chock full of music, food, local art and, of course, beer. The fun starts at 5pm and it is a family event, with root beer made on-site for the kids. For a mere $10 in advance, guests can enjoy two different beers, go home with a unique True Vine Brewing Company glass and be part of a vibrant, fun community.
"Last month we had over 350 people join us outside with live music, a food truck and great beer to taste," says Dixon. "Our monthly Taps just keeps growing and growing and we are so honored to be a part of the Tyler community and make people aware of what's happening in other areas of the city."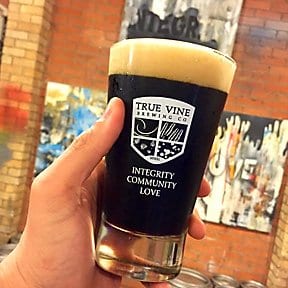 Plans for the backyard include an expanded patio, additional seating and a stage to host some of the local artists who love being part of the event. A tap room and outside beer garden are part of the Phase II dream for the beer trio. Food and fellowship make these Taps nights unique to Tyler.
The tiny brewery 'that could' is growing…but with a purpose. True Vine's passion is to give back to the community, grow in faith and vision and continue to distribute a product to be proud of.
True Vine Brewery is located at 219 S. Englewood Ave., west of downtown Tyler, just off Front St. Come early to get a parking spot close by.
For more information about the brewery, Open Taps night or about beer in general, visit them at truevinebrewing.com or on Facebook at truevinebrewing.
(#tylertexas #tylertx #eguidemagazine)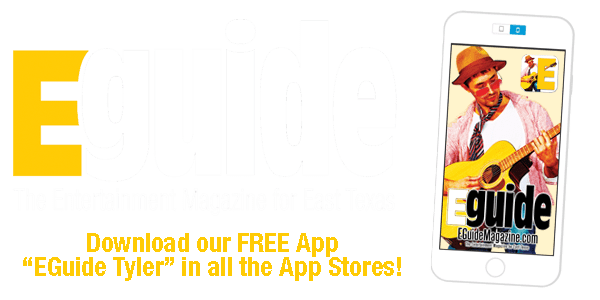 Summer is in Full Bloom with Fresh Tyler Produce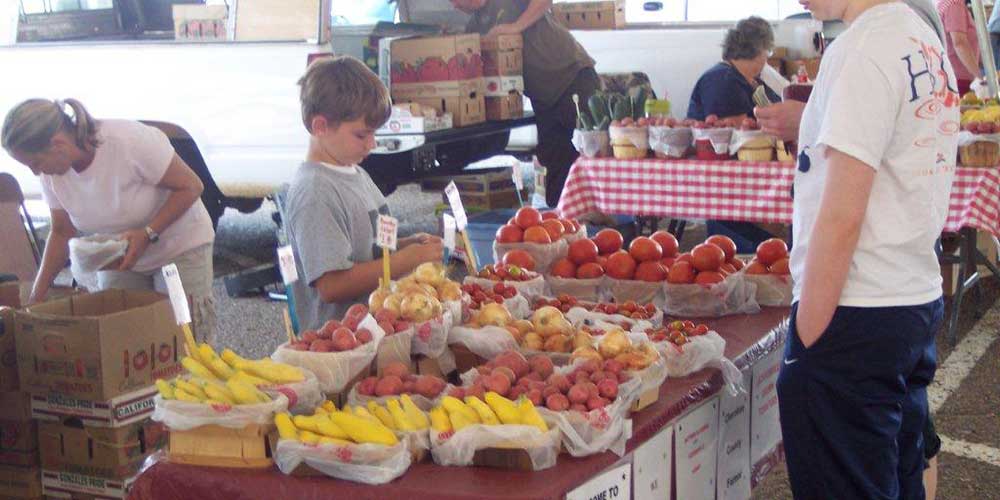 Everything is blooming, growing, and flourishing in East Texas, and it's time to head back to your local favorite farmers market. Be sure to check one of these out for all kinds of goodies.
Rose City Farmers Market, Downtown Tyler
Saturday mornings, 8am-12 noon, the Rose City Farmers Market is a neat, unique experience for the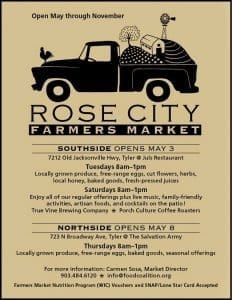 whole family. Located just a block from the Square, in the Unclaimed Furniture parking lot in Tyler (236 S. Broadway), the market brings all that's fresh straight to you: fruits, vegetables, and herbs all grown within 75 miles of Tyler. That includes pasture-raised beef, lamb, pork, chicken, and turkey, free-range/non GMO eggs, and goat cheeses. Treasures from East Texas fields like arugula, carrots, kohlrabi, radishes, beets, turnips, strawberries, new potatoes, mustard greens, kale, lettuce, cilantro, onions, swiss chard and parsley will be on hand as the crops come in.  Also, everything from fresh bread to flowers, coffee, jams and jellies, baked goods, Texas olive oil, handcrafted art, and Texas fruit wines are on hand. Local musicians will be showcased every Saturday, plus the new, exciting addition of rotating food trucks. Visit them on Facebook, and at rosecityfamersmarket.com and foodcoalition.org.
East Texas State Fair Market
East Texas State Fair Farmers Market, located at the Fairgrounds, 2112 W. Front St., Tyler, is located under the large pavilion. They are open Tuesdays and Saturdays, 7am-1pm starting May 5th.  The East Texas State Fair Farmers Market is sourced from 100% local farmers who grow all of the food they sell on their own land. This is a covered/open air market, with local grown, fresh fruits, veggies, and flowers. There are also crafters, homemade baked goods, preserves, and fresh eggs. This farmer's market is located right behind the Rose Garden.
Ruby-Farm
Located at 1057 County Road 2732, Alto, (936)225-2969, this farm is open Monday-Saturday 8am-5pm, and offers pick your own peas plus grows and has for sale farm fresh tomatoes, purple hull peas, southern peas, pinto beans, eggplant, okra, peppers, melons, squash, figs, and other vegetables. They also sell good quality square baled hay.
Barron's Blueberries
Located at 16478 CR 431, Lindale, (903)312-8538, offers a variety of crops available for sale and you can pick your own for blueberries.
Tyler Farmers Market
Tyler Farmers Market is located in the parking lot of the Broadway Square Mall located at 4601 S.Broadway Ave., Tyler. The Tyler Farmers Market is open Tuesdays, Thursdays, and Saturdays 7am-2pm.They feature seasonal items under a big white tent.
Lindale Farmers Market
Ongoing every Saturday (9am-1pm) – Lindale Farmers Market will be held at Parrott Park at the Old Mill Pond Museum, 2900 S. Main St.., Lindale. Lindale Farmers Market is dedicated to provide locally grown produce and items personally created by hand within a 100-mile radius of Lindale. Fruits, vegetables, artisan wares, and more are featured each week. Everything is home grown, home made, and hand crafted by artisans, ranchers, and growers. For more info go to facebook.com/Lindale-Farmers-Market.
Blueberry Hill U-Pick Farm
Blueberry Hill Farms is a local farm and market located just outside of Edom, Texas, that opens up its fields during the summer months for blueberry picking. It's a great place to go to pick fresh blueberries
and also shop at their country store, which sells amazing pies and more. If you're looking for a fun day trip to spend in the sun and enjoy some blueberry treats, Blueberry Hill Farms is a great destination. It's a true farm with red barn buildings, and rows and rows of blueberry bushes as far as your eyes can see. Just grab a pail and make your way out to the fields. Once you have your bounty, you can take them into the store to have them weighed and sorted. The staff are friendly, helpful, and will even sell you a huge bag of blueberries that have been professionally picked. Also, there are plenty of outdoor picnic tables under the trees. There is no admission fee. Blueberry Hill Farms opens Memorial Day weekend through July 31st. For more info go to blueberryhillfarms.com.
Dory's Garden: Inspiration Awaits Beyond the Lavender Gate…Literally!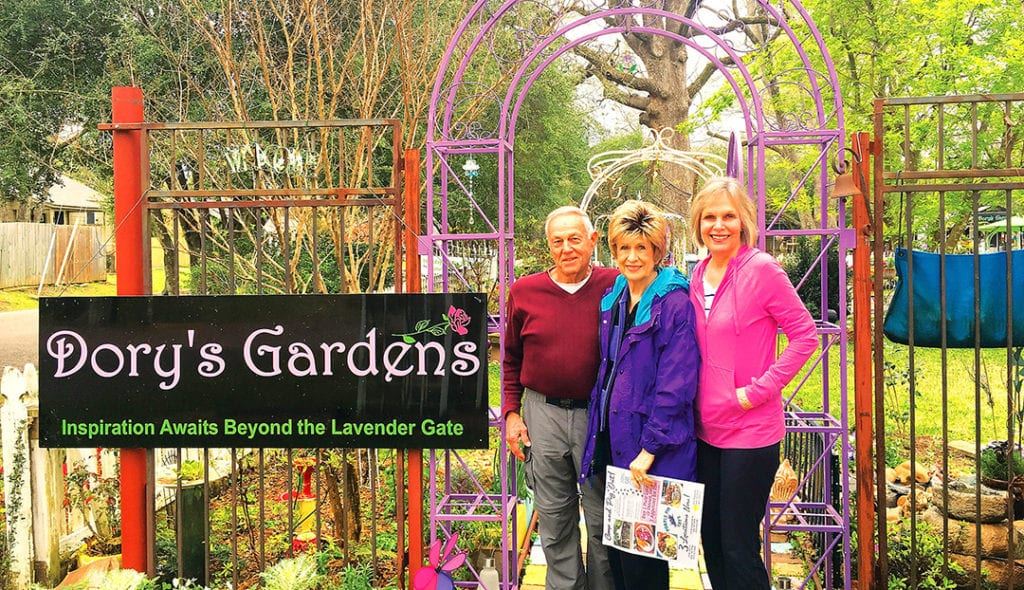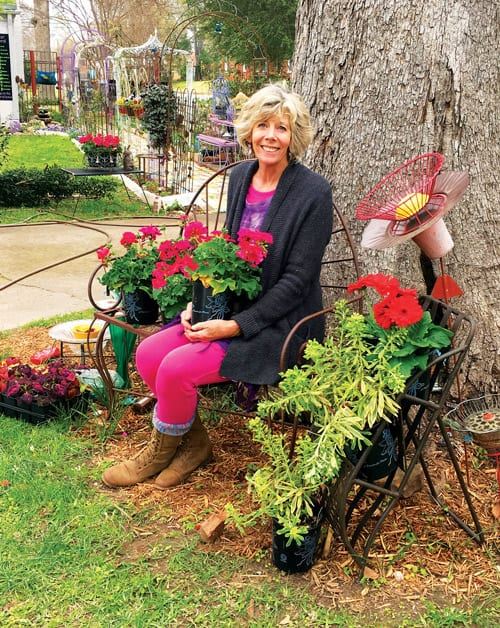 By Barbara King
It's literally a cornucopia for the gardener's imagination, and it's right off the Brick Streets of Tyler.
What was originally a hobby for landscape architect, Dory Hersey, has bloomed into a flourishing "backyard oasis," meant specifically for stop and smell the flowers moments.
Garden artist Dory is celebrating the one year move from the Brick Streets to her current home and garden location and loving every minute of sharing and inspiring others to visit and enjoy the park-like setting. Driving up to the corner of Augusta and Rusk Streets, guests are immediately made welcome by the outside porch entrance to the "Garden Fancy" boutique shop, which is literally in Dory's front parlor. Here you will find everything garden from colorful clothing and Seattle spiced tea to candles to succulents. It's a warm, inviting cozy space where you will want to wander and discover scents and images. Dory has also created her own unique cards and calendars featuring her striking floral photos.
Dory's passion for people and plants as living art is apparent around every corner in the outdoor space. Your entrance to the "secret garden" begins by entering under the lavender gate as Dory's personal mantra becomes apparent: "Inspiration Awaits Beyond the Lavender Gate." Following the gate is a colorful Morse code walkway leading to a ½ acre visual plethora of pots, plants, and garden paraphernalia. Signs throughout the garden tell the story, "Smell the Roses," "Perennial Picks," and "Under the Sea-dum."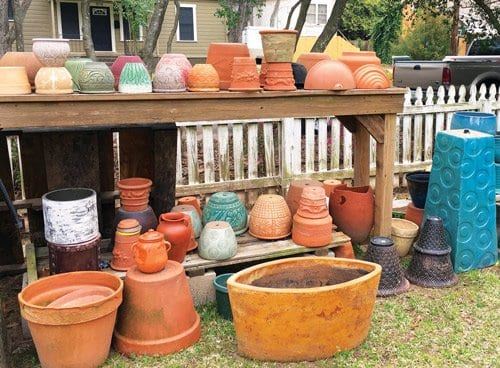 It's a peaceful, lush space designed for sitting, walking, and gazing, complete with tables and chairs, where guests are encouraged to "bring their lunch and coffee and stay and enjoy the outdoors," said Dory. The garden is the perfect tactile experience, as Dory says, "I wants my guests to touch and feel the flowers, pots, and plants and imagine how they would look in their own home."
Dory's Gardens was created for the exchange of ideas and inspirations, and Dory is the conduit for your gardening dream to become a reality. Dory's personality looms large in the garden, and visitors are greeted with warmth as the conversation turns into a one-on-one tour of the garden. Dory inspires networking and sharing, so once a month she hosts a "stalk exchange" on the second Saturday of the month, and the garden transforms into a plant swap meet. Refreshments are served while you roam around to find new flowers, and gardeners are encouraged to bring extra starts and bulbs to trade.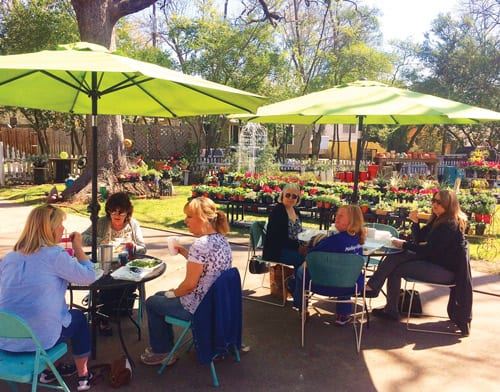 Mother and daughter duo Morgan Chaney and Karen Nelson, who live in the neighborhood, love the "peaceful spirit" of the garden and Dory's knowledge of "what works and what doesn't in a garage apartment space," said Morgan. They have also taken advantage of Dory's unique workshops, held on the fourth Saturday of the month, recently finishing a colorful terrarium, utilizing different varieties of plants that look great in the apartment, according to Karen. The classes change monthly, usually ranging from $15-$20 with all material supplied, and you walk away with a floral treasure for your home. Private classes are also available with a minimum of four guests.
Bring your own container or buy a pot at the garden, and Dory will help pick out the perfect arrangement of plants suited to your lifestyle. The first Friday of every month, Dory picks featured flowers in their prime, so choice is great for new blooms to add to your beds.
The garden is the perfect destination for a family outing too, with hands-on play areas including a maze for kids and the very kid-friendly pond with the opportunity to feed the goldfish in the fountain. The garden has tons of seating areas to relax, but it's not too spread out that you can't keep an eye on the kids.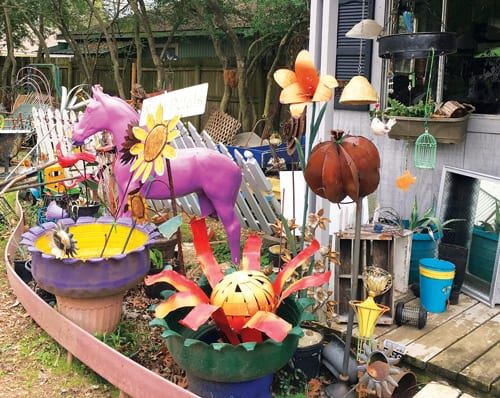 Dory promotes her love of the community by featuring ceramics, jewelry, birdhouses, and other items by local artisans. The garden is chock full of unique plants, herbs, shrubs, garden décor, outdoor furniture, tools, pots, and vibrant color as far as the eye can see.
Troy and Hillary McFarland, who were touring Tyler on a day trip from Dallas, did a Google search on "flowers" and found Dory. They brought their coffee and took a leisurely stroll around the garden, even though Hillary said, "We kill all of our plants and definitely don't have green thumbs." The couple said they were "amazed that this garden existed in an established neighborhood like this; what a great surprise! We were so thrilled that Dory spent the time to visit with us and explain the gardens," said Hillary. The Dallas couple left happy with succulents and church window art for their home.
You can plan a private party in the garden or a dress-up birthday tea party with crumpets for kids with Dory's guidance and creativity for a memory that will never be forgotten.
"Guests who visit become my new friends, and most come back and will sit and read, knit, enjoy a hot drink, or sit under the trees to feed birds and squirrels," Dory said.
Visit Dory's Gardens, and let your imagination soar! Dory's Gardens is located at 600 W. Rusk St. (at Augusta). Dory's Gardens is open Thursday-Saturday, 9am-5pm. For more info call (903)330-4663, dorysgardens.com, or look for Dory's Gardens on Facebook.

Come Learn About Wine & Food:
TJC Continuing Education Classes
Did you know that anyone can take cooking classes through TJC's Continuing Education Classes? Offered this spring are:
February 27th (6:30-8:30pm) – Wine and Dine at Kawa's – Come experience a one of kind wine class hosted at the gorgeous Kawa's Hibachi Grill & Lounge. This class is a treat for the palate and the eyes. Class will include five different wine pairings and a four course meal. Course #CULN-2048. This class costs $85.
March 6th (6:30-8:30pm) – Southwest Seafood Cooking Class – Celebrate the taste of the Southwest with instructors Jack Lewis and Danny Case. With easy to follow steps, they will show you how to make Cozumel Shrimp Cocktails, Tortilla Crusted Mahi, salads, sides, and desserts. This will be held at the TISD Career Training Center in Tyler. This class is $55. Course #CULN-2047_001.
If have questions call (903)510-2900 or sign up at live-tjc-continuing-education.pantheonsite.io.