---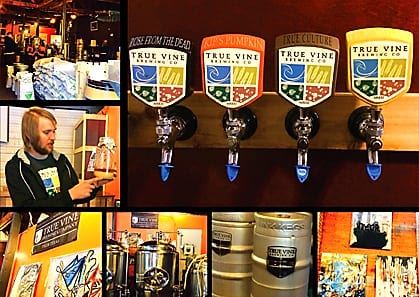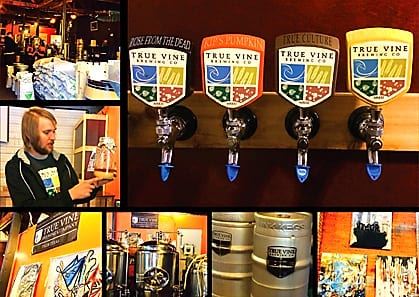 By Barbara King
You won't find a big flashy sign on the front or any glimpse of a thriving small business inside. Just off the beaten path in a warehouse district just west of downtown Tyler, is a full-on tiny beer factory with a difference.
You will find three young, dedicated men with a mission, hence the aptly named True Vine Brewing Company. As co-founder Ryan Dixon explains, "we began with the three of us and a silent partner. As Jesus said, 'I am the true vine, apart from me you can do nothing.'" The three friends in life and in business have taken the bull by the horns, and with vision and purpose have begun a growing partnership centered on God, beer and family. It might seem a strange combination, but the trio brings all the core elements of integrity, love and community to the crafting and distribution of their one-of-a-kind brews.
Ryan Dixon, Stephen Lee and Dan Griffith have a unique partnership grounded in faith, family and hard work. Each of them have their own "real pay-the-bills" full time jobs and originally considered opening a brew pub with food service, deciding instead to concentrate on their passion to open as a production brewery.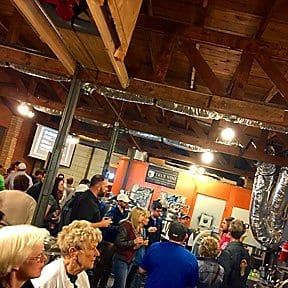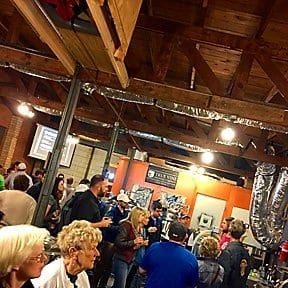 In April of 2013, they established the brewery in a warehouse Ryan describes as "a derelict, unloved space full of old wood and dust" that now houses the tiny beer factory consisting of a one barrel system and three barrel fermenters, but as Ryan says "this is just the beginning of our branching out to Phase II." Recently purchasing the building, the men have big hopes and plan to "add equipment and grow the brewery to double its size," explains Dixon.
With a world-view on beer, the end result is to "never settle, and keep producing a product of excellence," Dixon says. The history of beer throughout the ages is a fascinating look at a drink that equalizes, bonds and brings people together in times of joy and sorrow. The labor of love that is True Vine Brewery includes a vow to produce the best quality hand crafted brews, to educate and to promote the sense of the "cool community and to bring a piece of Tyler to our beers."
Crafting beer is a painstaking and arduous process, but the results can be incredible. With the smell of wheat and hops filling the warehouse space, the brewing process is in full swing. Recipes are in constant flux, with taste-testing, changes and tweaks throughout the process. "The three steps in brewing always consist of combining water, some kind of cereal grain, hops for balance and, of course, yeast," explains Dixon.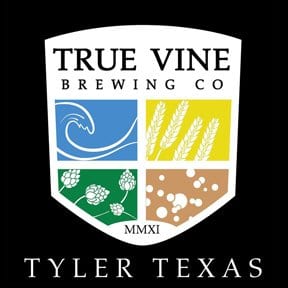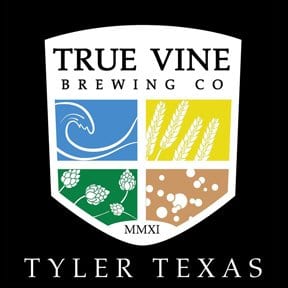 Dixon is taste-testing a new batch of sour beer, while proudly explaining the virtues of True Vine's flagship beer, the Rose City Pale Ale, a homage to the city they call home. The citrusy brew appeals to all genders, and is a mellow smooth ale.
Also on the shelves is a unique collaboration with a neighboring business, Porch Culture Coffee Roasters, resulting in a coffee-infused porter accurately monikered, the "True Culture Coffee Porter."
The trio released a Belgian strong blend, The Promised Land, paying homage to the land flowing with milk and honey. This creamy blend also adds the sweetness of milk, sugar and local East Texas honey.
Kip's Pumpkin Ale pays homage to one of Ryan's personal heroes, his late father-in-law. Part of the "Hero Series," this seasonal favorite is a spicy malt, based on the classic Octoberfest/Marzen style. Pumpkin ales are noted back in history as one of the first ales brewed in America by the early settlers and still very popular today.
Yearning for a beer while out and about in Tyler? You can savor one of True Vine's specialties featured on tap at Stanley's, Juls, Soju, Fresh by Brookshire's, BJ's Brewhouse, Wasabi, or Breakers – so literally in all areas of town.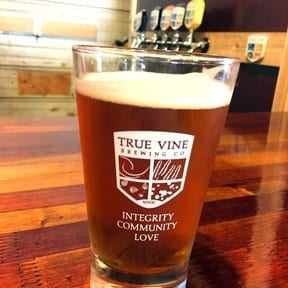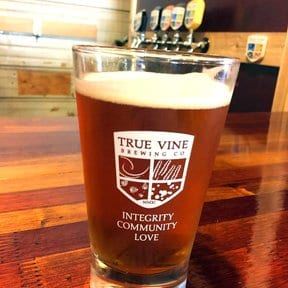 Building community is core to the expanded vision of the enterprise and a walk out the back door will give you a look at what the next step is all about.
Currently, the trio hosts a "cool community Open Taps event the last Saturday of every month," explains Dixon. Bring a chair and a friend (or 20) and join the vibe at the brewery. Every Open Taps night is chock full of music, food, local art and, of course, beer. The fun starts at 5pm and it is a family event, with root beer made on-site for the kids. For a mere $10 in advance, guests can enjoy two different beers, go home with a unique True Vine Brewing Company glass and be part of a vibrant, fun community.
"Last month we had over 350 people join us outside with live music, a food truck and great beer to taste," says Dixon. "Our monthly Taps just keeps growing and growing and we are so honored to be a part of the Tyler community and make people aware of what's happening in other areas of the city."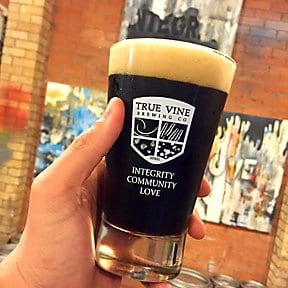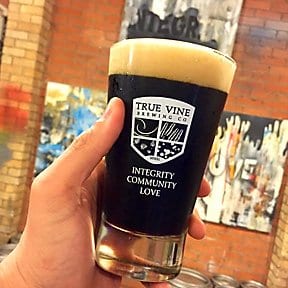 Plans for the backyard include an expanded patio, additional seating and a stage to host some of the local artists who love being part of the event. A tap room and outside beer garden are part of the Phase II dream for the beer trio. Food and fellowship make these Taps nights unique to Tyler.
The tiny brewery 'that could' is growing…but with a purpose. True Vine's passion is to give back to the community, grow in faith and vision and continue to distribute a product to be proud of.
True Vine Brewery is located at 219 S. Englewood Ave., west of downtown Tyler, just off Front St. Come early to get a parking spot close by.
For more information about the brewery, Open Taps night or about beer in general, visit them at truevinebrewing.com or on Facebook at truevinebrewing.