Dedicated to "Keeping it Local" and Fresh
By Barbara King
The Forge in Ben Wheeler is a bit of an enigma; a cool blend of funk with a Texas laidback vibe mixed with eclectic food and drink guaranteed to make you stay awhile.
Sara Briscoe is the mastermind chef/owner behind the popularity and staying power of the Forge, located in the heart of Ben Wheeler on the corner of the main drag. The restaurant is an old brick blacksmith shop, and at the center of the dining room is the forge itself. The ambience is a neat blend of brick, cedar bar, and huge garage doors that open wide in the warmer months so folks can enjoy live music as they socialize on the wrap-around patio.
Sara is the creative, energetic no-holds-barred brains behind the success of the Forge, coming on board five years ago to partner with the late Brooks Gremmels, the man with the vision who reenergized the artsy, cultural bend in the road known as Ben Wheeler.
Sara, a self-proclaimed foodie, is a passionate chef who combines creativity with great natural foods to offer a varied menu that highlights local produce and meats.
"We have awesome local folks who are regulars and know that we put our hearts into everything we do and serve," she said.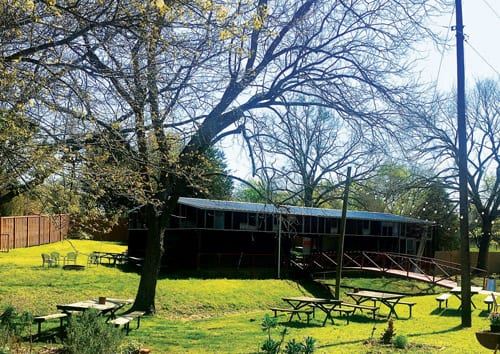 The kitchen is her domain, and today it's full of fresh produce, pizza dough, and fixings, with the prep work beginning at 8am. "This is a passion for me, and it's an 80-hour a week proposition," she explained. "But I have a great team in the kitchen, and we all put a lot of love into every dish."
Behind the scenes, in the kitchen, you won't see freezers or heat lamps, just cutting boards full of fresh veggies and herbs that are grown right behind the restaurant in the three acres of land adjacent.
"Our goal at the Forge is to get everything we serve from a 30-mile radius of where we are today and be a true farm-to-table, supporting organic growers," explained Sara. Right now, the beef used in burgers comes from the Happy Cattle Company in Murchison and is grass fed, and hormone free. When fried, it is in non GMO (all natural) sunflower oil.
Sara is an experimenter and food artist, essentially gathering ideas on her travels and implementing them in the ever changing Forge menu. The breakfasts are spectacular at the Forge and include homemade tamales, eggs benedict (with homemade hollandaise sauce), eggs Florentine, migas, fried egg sandwiches, brunch pizza, breakfast burritos, breakfast tacos, the Farmer's Special (two eggs, country potatoes, with toast or biscuit), or the Lumberjack (two eggs, two pancakes, and country potatoes or grits, three slices of bacon, two sausage patties or slice of ham, with toast or biscuit and gravy).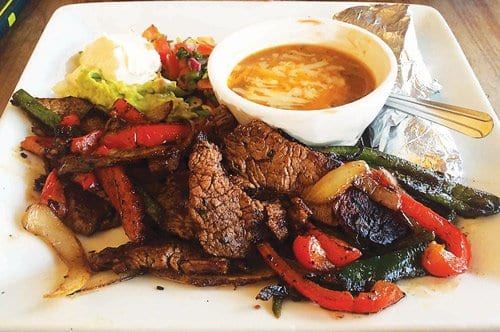 If that doesn't sound appetizing enough, the Sunday brunch is served 8am-3pm and is also very appealing to the pocketbook with the most expensive item on the breakfast menu sitting at $11. Omelets are a favorite, with unique names like The Hippy (three eggs with mozzarella, cheddar and ricotta cheese, spinach, mushrooms and sautéed onion, red bell, and poblano pepper), Cowboy Up (three eggs with mixed cheese, bacon, beef, sausage and sautéed onion, red bell and poblano pepper), Fire Breather, (three eggs with habanera jack, chopped razor backs and bacon) and the one named in honor of the famous Ben Wheeler Hog Festival: The Hog (three eggs with cheese, caramelized onions, breakfast bacon, Canadian bacon and ham).
Everyone raves about the Forge's pizza, with thin, luscious crusts made on the pizza sheeter in the back kitchen. Pitas are also handmade, with meats hand-cut and smoked, and gravies and sauces made from scratch.
"We consider our kitchen a bit of an art studio," said Sara. "We are constantly trying new recipes and ideas, and if we find something that works, we try to incorporate it into one of our dishes. We are constantly trying to grow."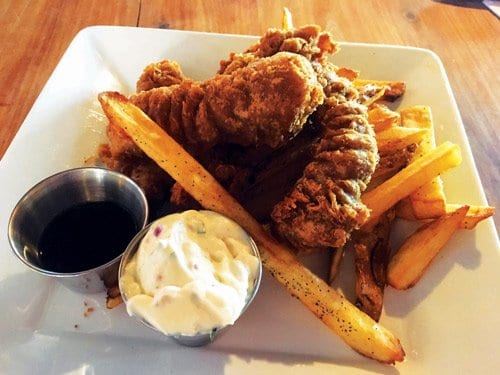 Gluten free pizzas are a menu option, with other mouth-watering items including The Fajita, Buffalo, Greek, Caesar, and Spinach Artichoke. The Mayor (grilled chicken, brisket, and mozzarella on marinara), King (brisket, gouda and mozzarella with shiner BBQ and potato chips crushed on top), Razorback (smoked bacon, jalapenos, cheddar, cream cheese and mozzarella on marinara), and Vegetarian (red bells, black and green olives, sun-dried tomatoes, spinach, mushrooms, garlic infused ricotta and mozzarella on marinara), and there are even more varieties!
Sara and her team also cook up sandwiches and wraps, incredible-looking salads, and more entrees than you can imagine. The Forge's Fish & Chips are beer battered, crunchy, soft, and succulent, served with hand-cut fries and tartar sauce. But there's still more on the menu: Chicken Americana, Brisket Quesadilla, Wild Caught Salmon, and Fajitas, along with the cut of the week: rib eyes, filets, and steaks.
The burgers are stupendous, huge, and all are half pound, made to your liking: Plain Jane, Bacon & Bleu, Bacon & Cheddar, Razor, Guacamole Habanera, or Mushroom Swiss.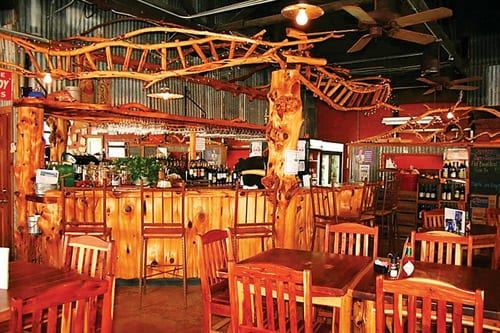 There's lots more to the Forge. More than 80 new Texas musicians have shared their talents there over the past year, and it's also home to the Junebug Festival and the infamous Barstool Races.
The gorgeous cedar bar creates specialty drinks like Tiwana Healers, Kickapoo Sunrise, Longhorn Lemonade, Noonday Martinis, and the Country Cosmo.
Sara is proud that the Forge has become "a hub for conversation, a resting place where folks can pause and enjoy the food, company, and music around them."
The Forge is located at 1610 FM 279, Ben Wheeler and is closed Monday and Tuesday. Hours are: Wednesday and Thursday, 8am-10pm; Friday and Saturday, 8am-11pm; Sundays, 8am-9pm. For more info and a live music schedule go to theforgebenwheeler.com, on Facebook at The Forge Bar and Grill, or call (903)833-5970.