By Johnny Griffith
There's a new, old sound being heard across venues in East Texas the past couple of years that is part push-back from mindless "Bro-Country," part ghosts of troubadours past, and part simple expression of the roots of East Texas. Call it Outlaw Country, Train Music, Old-School Country, or Honky-Tonk music, the music brings back shades of old Willie, Waylon, Johnny, Merle, and others when country music was more like a sit-down with an old friend over a beer, as opposed to a night at the club drinking cosmopolitans.

One of these new troubadours is Lee Mathis and his band The Brutally Handsome. Longtime friends, Lee Mathis and Philip Griffith have been showing up at local venues spreading the gospel of good music across the barrooms, taprooms, and pretty much anywhere with enough room for a few guitars and people willing to listen. We tracked down the duo recently to get some background on what this new revival is all about:
Johnny: I've got to ask this first: Lee Mathis and the Brutally Handsome, I'm assuming that's a reference to "Life In The Fast Lane" by The Eagles. How did you guys come up with that name?
Lee: I've been an Eagles fan for years and years, and we wanted a band name that was tongue in cheek, but gave reference to some of our influences. It was either that or Lee Mathis and the Knights in Satan's Service, which now that I think about it…
Philip: Yep, "Life In The Fast Lane" was the inspiration for that. I always thought that was a cool line: "…he was brutally handsome, she was terminally pretty," so when we were kicking around ideas for a band name, I just threw that one out and it stuck. We all love the Eagles, so it seemed fitting. Also, we've got some pretty solid self-esteem going on.
Johnny: Speaking of the Band, besides you guys, who rounds out the rest of the full band, and how did you all meet?
Lee: Phil Howard is our other guitarist, and we've known each other since high school. Jon Morrow is
our bass player, and I met him through a mutual friend. I didn't realize at the time, but I grew up with his little brother. Marcus Jones, our drummer, came along, and added some instant chemistry and light-heartedness to the band.
Johnny: When did you two first get into music, and who were some of your early influences?
Lee: I got my first guitar Christmas of 1993, and I actually still have it. It's an old Sears acoustic that still keeps perfect tune. I honestly didn't grow up listening to a lot of music. I was kind of sheltered in that regard. When I did start listening, I remember my first two biggest influences were Hank Williams JR. and Travis Tritt. I kind of fell into that 90's country stuff that I'm glad I fell out of later on. I had some friends that introduced me to the Eagles, Tom Petty, and Stevie Ray Vaughan. Wow, I was a sponge after that.
Philip: I've always been into music in one way or another, even before learning to play. Phil Howard and I shared a love for the Beatles and Guns n' Roses, and in 9th grade science class he declared that he would teach me to play guitar, and we were starting a band.
My earliest musical influences were probably the Statler Brothers, the Oak Ridge Boys, the Beatles, James Taylor, and others. Not long after picking up the guitar, my brother in law turned me on to Steve Vai and Joe Satriani. Next came a lot of progressive rock, metal, grunge, and rap. Def Leppard is hands down my favorite band. I just love those guys.

Johnny: What were some of the things you guys were doing musically before the current collaboration?
Lee: I was lead guitarist and co-lead vocalist in a band that just didn't make it. After that, I reached out to Philip, and he and I did some acoustic stuff for quite some time after that. In fact, our acoustic shows are still some of the most fun things we do. You never know what we may play.
Philip: Just before we decided to put a full band lineup behind Lee, Phil Howard and I were playing in the Gene Evans Band. Lee had been with Blind Mojo. Blind Mojo was ending, so Lee and I were playing a lot of acoustic dates. Gene decided to wrap up GEB to focus on his business, so the time seemed right to throw the band behind Lee.
Johnny: Lee, your sound is very much an homage to a style of country that seems to be enjoying a revival these days. When did you decide to be a "honky-tonk country singer," and do you feel it was an extension of who you always were musically, more of a rebellion against the manufactured "bro-country," or a bit of both?
Lee: It seems like I've been a Waylon, Willie, and Merle fan for as long as I can remember, and that's just home base to me. I remember distinctly going to see a Hank Williams Jr. concert a few years ago in Bossier City, and he had two openers, Eric Church and Jamey Johnson. When Jamey took the stage, I was amazed by his voice and his stripped down but polished sound. It wasn't long after "In Color" had come out, and it amazed me how well written his songs were and his delivery. He probably said two words to the crowd during his hour long set that night, and he even did quite a few covers of people he loved. What do you know, we ended up having a lot of the same of what Jamey called "Honkytonk Heroes." I started picking up guys like Cody Jinks, Whitey Morgan, Chris Stapleton, and Sturgill Simpson. I've never been a fan of the "bro-country" stuff, and all these guys have the voices to go along with that "three chords and the truth" style that I can relate to.
Johnny: About how many shows a month are you guys currently pulling right now?
Lee: My best guess is around 12-18 gigs a month. We've pulled two a day several times, but I love it. I want to be that band that's known as a hard working band. There's a lot of bands that I know of, mostly on a national level, that you just hardly ever hear from. They'll take a two-year hiatus or more, but I can't see us doing something like that, even if I just have to grab my guitar and go play with some buddies in Longview or do a song swap, that's what it's all about to me.
Johnny: How much of your set is original stuff as opposed to covers?
Lee: Right now, we've got four originals in the set. I've got a binder full of lyrics that are looking for melodies. It's fun to me when we take an old song that I wrote in 2002 and put music to it. We're going to eventually get more and more originals in the set, but I still want to pay homage to Merle, Waylon, and the guys that paved the way.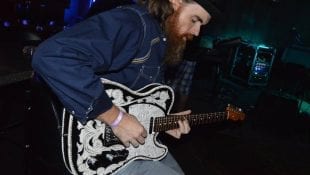 Philip: Currently, we're playing about four hours worth of material, and we've only had time to work up four of the originals with the band. That will change very soon, but rehearsal time is critical, and we're always looking for ways to change the set in response to the audience. The other originals that we want to add to the set will take higher priority over the next few weeks as time permits.
Johnny: Where do you pull inspiration from for your originals?
Lee: Well, life is where you get the best stuff. However, I've written some that were too autobiographical at different points in my life. I've written a couple where it's about situations friends have gotten into. I've written some where it's stuff I've gotten into. There's love songs. There's blues songs. There's country heartache songs. I've never run short on ideas.
Philip: When writing together, Lee usually comes in with most of the lyrics sketched out really well, so my role is generally to form a musical framework with just the right arrangements. Then, we beat our heads against the wall refining the lyrics to best convey the ideas while still fitting with meter, inflection, and so on.
Johnny: What's been your best on-stage memory, so far, with this project?
Lee: I used to sit around just wondering why gigs were hard to book. They still are at times, but not as much anymore. But when it was hardest, and I was having a hard time playing anywhere, out of the blue, a musician from Longview named Allen Wayne Nichols, messaged me and asked if I'd be willing to play a show at Memphis Bar in Longview opening for his band, Outbound Train, who was opening for a reunion show of Flyin' Kornbread. I gladly accepted. I had no idea what to expect. I had never met Allen Wayne, much less any of the people that would be there that night. Philip played that night with me, duo acoustic. We got there; Al was so nice, like we'd known each other for a while. He introduced me to some guys that I literally call some of my best friends now. I met his band, the infamous Doghouse Dave Stopani and Kevin Blalock, as well as other musicians there that night, like David Baxter who was the lead singer of Flyin' Kornbread as well as David Smith, lead singer of Double Nickel Band. All those guys are just aces in my book. Another thing that made that evening so great for me was getting up on stage and not knowing what to expect. We had a great show, and after every song, people were hooting and hollering and loving it. All of the musicians were really supportive as well, and to this day, we all support each other and try to lift each other up.
Philip: I think our first show and a place called Pinky's really stands out in my mind, because it showed us that if we keep working at it this band can be something good.

Johnny: What's been your best off-stage memory?
Lee: In August of 2016, my wife and I met Hank Williams Jr. before a show in Houston. I didn't actually get a whole lot of time to talk to him, but I said, "Man, I have been waiting for this moment to meet you for 30 years!" He has this charisma about him that's larger than life on stage, but he's very personable. We shook hands, and I have a great photo and memory of that meeting.
Philip: Lee and I went to the Generation Axe tour and did the meet and greet with Zack Wylde, Yngwie Malmsteen, Nuno Bettencourt, Tosin Abasi, and (my hero) Steve Vai. Lee offered his condolences to Steve for losing the guitar battle to the Karate Kid. It was great!
Johnny: Who in music gets you excited when you listen to them right now?
Lee: Musically, I'm all over the place. Just today I listened to an old Merle Haggard album that just struck a nerve and made me say, "Damn, Merle!" I really get excited when I hear guys like Blackberry Smoke, and I still love guys like KISS. I dig a lot of the local guys too such as Outbound Train, Double Nickel Band, Nick Brumley, and the Mansion Family.
Philip: Ian Moore, Devin Townsend, Biffy Clyro, Celldweller (Klayton/Circle of Dust), Bruno Mars, Justin Timberlake, Anneke Van Giersbergen, Dream Theater, and tons more.
Johnny: What's on the horizon for Lee Mathis and the Brutally Handsome for the rest of 2017 and beyond?
Lee: We've got our first album coming out at the end of July that we're excited about. It may very easily replace Michael Jackson's "Thriller" and the Eagles "Greatest Hits 1971-1975" as the best selling album of all time, that is if I can afford to buy that many. We're going to keep playing as often as we can, broadening our radius of how far we play. In November, we're opening for Jason Boland & the Stragglers at Love & War in Lindale; we're psyched about that one! We're so proud of the name we're building and the places that we've played that has embraced our music and what we do.
Philip: We've got an album coming out July 29th, and we've got Phil Howard moving to second electric guitar. Phil adds tons more energy to the show as a guitarist. He and I have always worked well together as a guitar team. He had been playing keys with us, but we felt that asking him to move to guitar would be a good kick in the seat of the pants for all of us.
Johnny: What would you tell a first time fan to expect at your show?
Lee: It's not a straight up country show. There's a lot of southern rock as well as blues in our show. Just when you think we're fixing to take you to George Jones town, we'll play "The Thrill Is Gone" by B.B. King. It's a high energy show, and I'm so fortunate to have two amazing guitarists, a rock steady melodic bass player, as well as a great drummer, and I play guitar too. It's real Americana music but there's no categories that we stick to. You'll hear Waylon, Blackberry Smoke, Led Zeppelin, and there's some of the newer country guys that you'll hear too, but they all sing country the way country used to be played and is finally being played again. I'm also really proud of our originals, and each show, I see people singing along to songs I've written. That's one of the greatest feelings in the world for a musician.
Philip: Expect to hear some of the great country classics mixed with newer country artists that are keeping "real country" alive. Of course, the Brutally Handsome is a rock and roll band at heart, so expect some good ol' southern rock and a bit of blues. Our goal is to keep upping the ante with our onstage energy.
Upcoming Shows:
June 2nd – The Catch, Longview (Acoustic Show)

June 3rd – The Garage Bar, Tyler (Full Band)

June 23rd – ETX Brewing, Tyler (Acoustic Show)

June 24th – Pinky's On The Bayou, Bossier City, La (Full Band)

June 30th – The Catch, Longview (Acoustic Show)

July 15th – The Bar C Club, Queen City (Full Band)

July 29th – CD Release Party at The Memphis Club, Longview (Full Band)
For more info go to facebook.com/LeeMathisSolo.