By Johnny Griffith
Cody Wayne just doesn't know how to stop. Since we last spoke to him, almost two years ago, Cody has been on a mission to bring seriously good music to anyone who will put him on a stage. With a high energy show, one of the best bands around, and a growing list of superb originals, Wayne feels like his best days are in front of him. We sat back down with Cody this month to get an update on what's new in his world.
Johnny: It's been a couple of years since we last talked and it's been a busy couple of years we've got to catch up on so let's start with the band. What is the current lineup?
Cody: I am very lucky with the group of musicians that are in our current lineup. Trent Procell plays bass and is the guy who really put everything together. I've known him for about 10 years and I started trying to get him to play bass for me since 2011. I finally convinced him to join me and he brought in Zach Early on guitar and Tyler Williamson on drums. Vic Andrews is our fiddle, harmonica, dobro, shoe string, spoons, and pretty much he can get his hands on. Trent, Zach, and Tyler have been playing together for their entire lives and it's amazing to watch what they can do on stage. Music has been a huge part of these guys' lives since birth and it shows when they play. I'm very lucky and thankful to have them. 
Johnny: About how many shows a month are you guys averaging these days?
Cody: Usually we average anywhere from 10 to 15 shows a month. Like any business having a band is up and down. We've had times where we've played 20 shows in 7 days all the way from Texas to Minnesota. We've been very lucky for that demand for our music and we are very thankful for that. 
Johnny: What has been the most memorable gig the last couple of years?
Cody: Honestly, there have been so many amazing, landmark, and bucket list shows it's hard to pinpoint one. One that really made me sit back and say "Man! Did we really just do that?" Was getting to open for Alan Jackson at the San Antonio Rodeo. I never sat down and thought about what we were actually doing until he got on stage and sang every song that I grew up on. I still get goosebumps thinking about it. 
Johnny: What have been the biggest challenges you and the band have dealt with since we last talked?
Cody: Being away from my/our families. The band is great and everyone gets along so well that it makes the road life a lot easier. We are all also very family-oriented and being away is hard. Family comes first and the band comes second. 
Johnny: What is the biggest thing that helps you push through the grind and sacrifice being a professional musician extracts?
Cody: Family! My beautiful wife Tamra is really the method behind the madness. She knew how to turn a hobby into a career. She also keeps the schedule full, merch stocked, social media up to date, and keeps the house running while I am gone. And that goes for all of our member's families. It takes a lot of hard work, sacrifice, and love to keep the band moving. 
Johnny: So you've recently enjoyed a pretty good run on the Texas Regional Radio Report Top 100 Chart with your single "Small Town." Tell us a little about that experience, how it feels to be a top 20 artist in Texas, sitting above some rather legendary names by the way.
Cody: I still can't believe it honestly. Tamra and I do all of our radio promotions as well. To have our name next to the likes of Randy Rogers Band, Aaron Watson, Kevin Fowler, and all the greats is mind blowing. I honestly could never imagine that a song I wrote sitting at my kitchen table would be a Top 20 single. 
Johnny: Your next single set to release is "Remember The Lost Ones." What inspired the song and how do you feel you being a Marine gave you a unique perspective in the writing process?
Cody: I started writing this song when I got back from Iraq. I wanted to tell a first person point of view story about the war that up until that point hadn't been done that I knew of. It had always been from the 3rd person perspective. However, once I started writing I had an overwhelming sense of grief and selfishness. It was almost like shame because I made it back. I could tell my story. There are so many service members that don't have a voice anymore because they gave their lives for me/us to be here and be able to write songs. So I let the song say what it felt like it wanted to say. Literally up to when I was driving to the studio the words were still changing and becoming something those who are no longer with us would be proud of. Also, I wanted the listener to see and feel this song before they heard it. From the first note of the lone dobro, to the kick drum that sounds like a distant mortar shell exploding, to the snare drum that sounds like a 5 round burst from a machine gun, I wanted the listeners to be able to close their eyes and see the dirt, smell the sweat, and hear the sounds of war and get the first person perspective that way. It's still hard for me to sing this song but I hope it gives a voice to the ones who gave it all up. 
Johnny: You've got some fun shows coming up the back half of the year. Anything you're really excited about?
Cody: Absolutely! On July 27th, we get to open for Koe Wetzel at the Great East Texas Balloon Race. He is a fellow East Texan and one of the hottest acts in Texas currently. This is a huge and professionally run event every year that does great things for our area. To have two East Texas boys playing this year is something I think we can all be proud of. Plus, we have a lot of energy that we bring and they have a lot of energy that they bring so it's gonna be one of the biggest events of the year.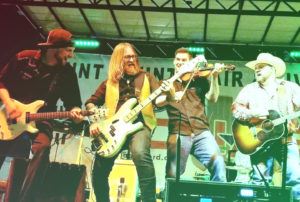 Johnny: What's the next big move for you and the band? New album? Tour more outside of Texas? 
Cody: We are always writing and integrating new songs into the set so we can get an idea if the people like them. My song "Fly High" is going to be in a bull riding documentary coming soon. I am always working with the USO, Boots for Troops, and The Boot Campaign, local VFWs, and other veterans organizations to help bring awareness and help for fellow service members. 
Johnny: Okay, last question: Who do you listen to when you need a break from writing or performing and just want to get lost in some music? 
Cody: My playlist usually consists of Jason Boland, The Cadillac Three, The Black Crowes, Chris LeDoux, and Trent Willmon. One day I am going to write a song with Trent Willmon – he just doesn't know it yet. So Trent if you happen to read this let's make it happen.
Johnny: Anything else on your mind before we wrap it up?
Cody: I want to give credit where credit is due. None of this would be possible if it wasn't for my family. We literally do everything ourselves and I want to give them the "thank you" they deserve. They inspire the songs I write and they are the ones that help them come to life. 
To everyone who has ever come to a show, listened to a song, bought merch, or told someone about a song of ours, I want to give a huge "thank you" as well. Every tomorrow is because of the people who help today.  Thank you for the love and support and we'll see you down the road.
Check out Cody Wayne on the world wide web:
www.facebook.com/codywaynemusic/