---
Tyler has a lot of options if you are hungry for breakfast – from southern classics to Mexican flair. You can definitely find something around town for whatever mood you are in. Here are a few of our favorite places and dishes: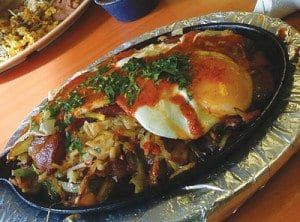 Mi Mexico Lindo Restaurant
Serving Tyler with two locations:
801 SSE Loop 323, Tyler, (903)787-8811 (on the corner of Old Henderson Hwy. and East Loop 323)
2410 E. Gentry Parkway, Tyler, (903)526-5464 (on Hwy. 271, about 2 miles inside the loop)
If you think 'taqueria meets breakfast,' then you will fall in love with these two, locally owned Mexican restaurants. The original, located on E. Gentry (the Hwy. 271 part of Gentry), has been serving up huge breakfast portions and great prices for years, and now the same family has opened a second location in the old Tyler Truck Stop building on the east Loop. In the mood for some authentic migas or a huge breakfast burrito? Then Mi Lindo is the place to go for some breakfast fare. Try the Eggs with Fajitas, which is sizzling fajitas served on a cast iron skillet with eggs on top. Combo plates, as well as classics, are available, and on weekends you can get menudo and barbacoa too. Flavorful salsas, fresh ingredients, warm, from-scratch flour tortillas are always available. Breakfast is on the menu seven days a week.
5201 S. Broadway Ave., Tyler, (903)363-9197, www.corktyler.com
Saturday and Sunday Brunch is simply to die for at Cork. Our favorite is the Spicy Chicken & Waffles or the Nutella Crêpes, or the Mornings at the Farm Steak & Eggs, or the….it's just so hard to choose!
Brunch is served 10am-2pm (Saturdays) and 10am-4pm (Sundays) and also features Bottomless Mimosas and Bloody Mary's.
Most Sundays there is live music.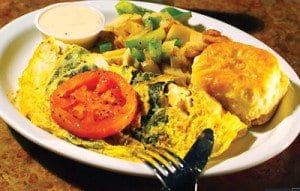 The Diner
7924 S. Broadway, Tyler, (903)509-DINE, thedinertyler.com
Let me just say this… Green Chile Chicken Omelette…one need not say much else, right? But, we will describe it to prove our point. This omelette is huge, light, and fluffy, stuffed full of grilled diced chicken breast and a whole Poblano pepper. You can add cheese, too (we suggest pepper jack). This is served with skillet potatoes or hash browns, and bread, and is topped with a grilled tomato. Swap the bread and potatoes for pancakes or French toast at no charge.
Second fav, the Cinnamon Roll Pancakes, described on the menu as "multi-grain pancakes cooked with candied pecans and topped with vanilla icing, cinnamon, whipped cream and caramel." Or as we like to say, "One big pile of ooey-gooey heaven!"
And don't forget the Crabcake Benedict featuring two large crab cakes, grilled and placed on top of grilled tomatoes, then topped with poached or fried eggs. You can choose between Hollandaise or etoufée sauce to top it off.
The Diner offers other classics such as French Toast, Pancakes, Waffles and Crepes, alongside egg white Frittatas, egg combo plates with meat options of sausage, andouille sausage, bacon, turkey sausage, turkey bacon, pork chops, chicken fried steak, chicken breast or bone-in ham steak. Breakfast Skillets and Tacos are also available in classic and unique combinations too. Variety is abundant to say the least.
400 W. Rusk St., Tyler, (903)617-6083, bhojanajava.com
Cafe Bhojana Java offers delicious coffee drinks and no frills rustic gourmet recipes for breakfast and lunch. Breakfast is a smash hit and our favorite, along with hundreds of other Tylerite's, is the Cinnamon Popover with house made strawberry jam, a slice of breakfast quiche, or house made muffins.
"The menu specializes in house prepared from scratch items, beginning with whole grain stuffed breakfast popovers (your choice of egg, cheese, bacon, sausage, avocado and salsa) cardamom coffee cake, muffins, fruited breads, yogurt and fruit bowl and a newly added breakfast to-go cup that replaces home fries for a popover for those early morning commuters." xxx
Breakfast is available Monday-Friday 8-10am.
525 S. Beckham, Tyler, (903)593-0311, stanleysfamous.com
A little-known fact is that Stanley's does an awesome breakfast! A favorite is the Breakfast Brother-In-Law – grilled hot link, cheese and scrambled eggs on a bun. J. D.'s Breakfast Bowl is awesome as well, featuring scrambled eggs, pan fried red potatoes, your choice of meat (we love the brisket on this) with cheddar cheese all layered in a heavenly bowl. Stanley's recently added Biscuits & Gravy, and they are amazing, and their Breakfast Burritos are huge. If you are there a little later in the mornings and they have stopped serving breakfast items, you could get the Mother Clucker – it has an egg on top so that counts as breakfast right?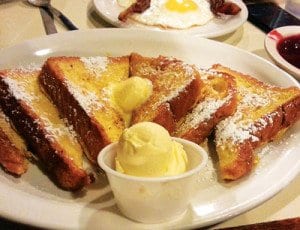 Mama's Restaurant
2105 E. 5th St., Tyler, (903)526-7915
Mama's is hidden in a strip shopping center on the east side of Tyler and could be described as a "loveable dive" or a "hidden gem." This southern-style eatery features all the classic family favorites such as bacon and egg plates, pancakes, waffles, omelettes, biscuits and gravy, and more. The Bacon and Egg Breakfast Plate consists of three eggs, four (yes, four) strips of extra crispy bacon, hash browns and toast. A Breakfast Combo Plate can consist of chicken fried steak with gravy, two eggs over medium, hash browns, and biscuits. There are some Mexican dishes on the breakfast menu as well. Try their Migas! The generous portions and great prices make this restaurant a favorite on our list – plus they serve breakfast all day.
Happy Fish
2202 E. Fifth St., Tyler, (903)944-7921
Happy Fish is now open for breakfast. And their Cajun Egg Scramble is pretty awesome- scrambled eggs with andouille sausage, tomatoes, onions, and sliced jalapenos, served with hash browns or creole potatoes and toast or tortillas. Happy's Sampler's Plate is good if you want a little bit of everything. It includes two eggs cooked any way you want, two bacon strips, two sausage, two slices of ham, hash browns or creole potatoes and two pancakes. Breakfast at Happy's is available 6am to close – all day and night! Their Blueberry Pancakes are a great choice too.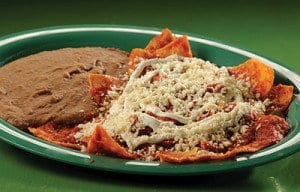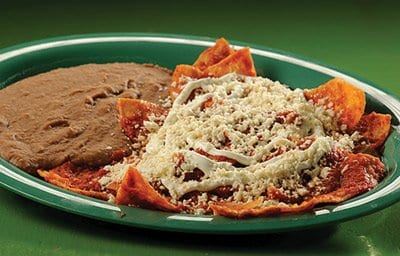 Don Juan's
Serving Tyler with two locations:
1313 E. Erwin, Tyler, (903)526-2999
113 E. Erwin, downtown Tyler, (903)526-0702
If I had to choose my last breakfast meal, I'd choose DJ's Chilaquiles – hand made tortilla chips cooked in red or green salsa, then topped with lots of Queso Fresco and sour cream served with beans. I'd get two eggs over medium on top and a side of bacon. This is Mexican breakfast perfection! A very, very close second would be DJ's Huevos Rancheros – scrambled eggs with ham, onions, peppers all cooked together, light and fluffy, served with a side of salsa verde and corn tortillas. Although not technically open breakfast hours, DJ offers a full breakfast menu daily.
---

‪ #‎eguidemagazine‬‬ ‪#‎tylertx‬‬‬ ‪#‎ilovetylertx‬‬‬ ‪#‎downtowntyler‬‬‬ ‪#‎VisitTyler‬‬‬ ‪#‎EastTX‬‬‬ #TylerArtsDistrict #tylerlivemusic ‬‪#‎TylerTX‬‬ ‪#‎EastTX‬‬
‬‬‬‬‬‬‬‬‬‬‬‬‬‬‬‬‬‬‬‬‬‬‬‬‬‬‬‬‬‬