By Billy Keith Bucher
Most Sundays anymore you might find me at the Forge jamming with Eddie Pardee and the Forgers. It's an enjoyable and relaxed combination of song swapping, jamming and finding new talent. Recently I invited a woman named Loretta Callens to join us. She is hardly a stranger to East Texas and the North Texas music scenes and stages. If you've been to the spring and fall festivals at Edom, for instance, you have probably stood a good chance of finding her doing a set of her own best material. Or, if you are in the Tyler area, you might catch her at the Rose Festival there. Go to Jacksonville and you have a good chance of catching her in a Square Show. Another place where Loretta likes to visit is Rancho Frijoles in nearby Wills Point, which is an outdoor venue where people get together and listen and play music and enjoy the outdoors.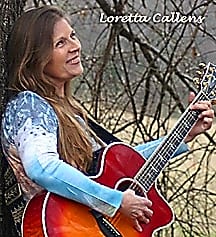 I really have to admit that it had been a long time since I jammed with her at the Sons of Hermann Hall in Dallas for a Thursday night jam. Well, Loretta immediately won my heart by starting the evening with a beautiful rendition a Green Day song, "Good Riddance." Her voice was full and strong, and filled the Forge with a nostalgic-type tone as it played out.
After the jam, we agreed to meet a few days later in nearby Brownsboro for Mexican food and an interview.
"What am I supposed to say," she asked me with a laugh.
"Don't worry about it," I said, "I'll just ask some questions to get started, and we'll be off."
She smiled and said, "That sounds good to me. My first interview was at a radio station and that was pretty frightening being live and all. But then they got me even more nervous by saying, 'now don't say anything wrong.'" She looked at me and said, "Now what is THAT supposed to mean?"
I asked her to start by telling me a little bit about herself. "Oh, I was born in a little clinic over in Grandview, Texas, and grew up in the Keene area, which is near Cleburne on Highway 67."
"Yes, I'm a Texas girl," she said proudly. "You can tell by the accent, can't you?" she added with a smile.
"I started very young. I was six years old and my first gig was in a church in Keene. Some faith-based music, to be sure. We went to a private church school there. It was desegregated, and I didn't even know about segregation until I was grown. Keene was a utopia kind of village at one time, and the Dallas Morning News wrote about us for being just that.
"I had wonderful parents who were very supportive and they got me piano lessons, but I never really followed up on that one. I have written piano pieces and melodies to songs. I am an ear player, after all, and we always had the radio going or were playing records, like Loretta Lynn and Ernest Tubbs. When we traveled in the car, we would sing together. I always sang the soprano part, so I'd have to plug my ears or they would get me off key. Yes, we just loved to sing a cappella."
"My first singing gig was in front of the church with eight hundred people watching me." She added with a laugh.
"Then my folks entered me in a singing contest, and I won third place singing a song called, "Shake Me I Rattle, Squeeze Me I Cry," which was written by Marion Worth.
"I recall that I was starting to get stage fright, so I took a black and white teddy bear that I slept with on stage with me when I sang."
She stopped and laughed, "Now THAT was memorable!"
"Then I got into my teenage years and I found boys," she added with a laugh, "and one of them wanted to show me how to play the guitar. Well, that was fine with me."
"We moved to Tyler in 1976, and I met a woman who taught me how to play classical guitar. I remember she also taught me how to play 'Greensleeves.' I was really impressed with that one. About then, I got into a song circle in the evenings at some people's house. They taught me a ton about music. This guy in the group gave me my first 12-string guitar and, of course, I loved that!"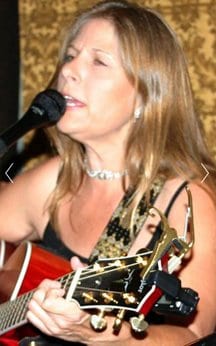 "In the eighties I began singing at the nursing centers in a little duo with this other girl. We called ourselves 'Firelight.' It was great to become involved with senior citizens."
"We've got to get along in life as best we can. After all, when it comes right down to it, we are all frail in the end. Even the toughest of us end up getting frail."
About then, our food arrived, and we scrambled eating with the conversation. It had gotten quiet in the restaurant as some people had left.
"I have a sister and I remember back then that my dad and uncle went into a music store and bought her a mandolin. Within two weeks she had begun to play with us in the bluegrass band that we called the 'Pine Hill Bluegrass Band.' It wasn't very hardcore bluegrass, though. We played a lot of Hank Williams and Loretta Lynn kind of songs, and stuff like – what they used to play on WBAP at the time."
"I remember I loved doing the rhythm guitar work and doing harmony, but I suddenly got my first case of hardcore stage fright so bad that I could hardly stand up in front of the band and sing! The audiences just terrified me."
She sighed and shook her head
"It lasted for the longest time. Our main influence at the time was Saturday night television. We'd watch 'Panther Hall' and the 'Grand 'Ol Opry.' About that time, I remember I had started to listen to the music of Emmylou Harris, Joan Baez, and Joni Mitchell. I particularly loved Joni's jazzy, flowing, kind of sound.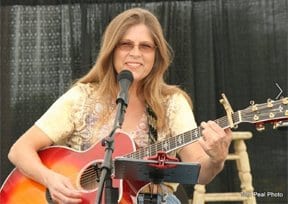 "Our family band was really doing well, and by the 1990's, we were producing Bluegrass Festivals twice a year out on Highway 31 near Tyler, and then we'd also have a fundraiser or two a year. That, finally, was a really good way to get over my stage fright, which I sometimes still had. The stages we used are still up out there somewhere, but I am sure that they are pretty dilapidated by now. Towards the end, I was still playing the 12-string guitar but I realized I had to get a new one since I found I couldn't keep the one I had in tune around the campfire. A friend of mine said, 'Hey, why don't you try my Taylor. They stay in tune.'"
"She was right so I looked around town and found one, and [after getting the guitar] it really inspired me to work on my playing and my songwriting. I didn't have all that many tunes written, but I started writing around the clock and it became an obsession. It ruled my life for a little while. It was like the guitar was contagious and I just couldn't put it down. I couldn't wait to get home from work at night to play the guitar and write songs and it was the first thing I wanted to do when I got up in the morning."
"About then I also bought myself a mandolin and that changed me even more."
Fast forward a few years, Callens says, "another change now is my organization that I created, 'Sentimental Journey: Improving Lives Through Music.' Our goal is to introduce music into the lives of people restricted to skilled nursing care and assisted retirement living. We also do the independent living facilities. Anything like that."
"I wanted to both, create a job for independent musicians, and at the same time, provide music to [those kind of] facilities. I like to focus my attention on the smaller medical facilities. They tend to be smaller homes and the ratio of the money to the volunteers, or those that need to be paid, are in my target for the music opportunities."
"I've had people tell me 'but it's depressing to play in retirement centers' and I say, 'it is only depressing if you don't put yourself into it.'"
"I remember one time I was playing the actual song, 'Sentimental Journey' and when I finished I looked over and saw a guy with tears rolling down his face. I went over to him and said, 'I'm sorry if I made you sad' and he said, 'No, no, those were tears of joy. That was my wife's and my favorite song. Don't be sorry.'"
You won't be sorry if you catch Loretta Callens in the upcoming months. She has a show coming up on August 15th in Jefferson, Texas at the Knight Light Theater 7:30-9:30pm, which I want to make. She also will be performing at the Edom Fall Festival in October. Be sure to pick up her incredible two CDs, "Life is Good" and "Say A Little Prayer For Texas." They are well worth it and it will get you prepared for her next CD that is coming out soon.
To find more on Callens, go HERE.