---
By Noel Weems
Musicians come in all forms these days. Some see their music as a creative release, while others view it as a way to have a good time. Even more find themselves playing their music for a living. Seldom do you find a singer/songwriter who uses their music to fulfill a mission. Ramoth (pronounced Ray-Moth) Gilead, "the really bad" as he's known on stage, is one such performer. It is clear as you listen to him that he is talented. Singing a mix of his personal songs and wonderful covers from other artists, Ramoth is always full of soul, and after hearing his story, it is easy to understand why.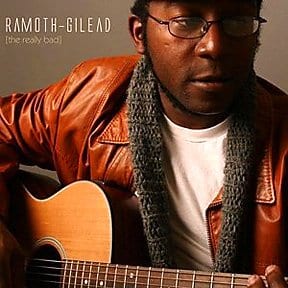 When Ramoth was a boy growing up in Ben Wheeler, he would take trips into 'Town' (Tyler) with his father in a Toyota mini-truck, and he remembers that they would listen to 'Oldies' on the radio. His song choices are highly influenced by those early days, when his father listened to Soul and his mother listened to 80's Gospel. Ramoth expanded his love of music as he was growing up when he began playing the tuba in the school band during his 5th grade year at Van Public Schools. He transferred to John Tyler High School in the 10th grade and continued to play the tuba. After graduation, Ramoth attended Tyler Junior College and Texas College, where he pursued and earned a degree in Music Education. His initial desire was to be a band director in either Middle School or High School, much like the ones that had impacted his life so heavily. However after graduation, he felt as though he was being called to go in a different direction.
After making the decision to follow his heart, Ramoth packed up his Jeep and set off on an amazing journey. He played his first show on the road in Louisiana while staying with his 'Christian family,' Josh and Dwan. After that, he zigzagged across the country for a year playing open-mic nights and street corners and never having any real plans. Because he was on the move he did not have steady employment, so he was living off his tip jar. Ramoth says that he learned that he could make it on the road, recalling that he never went hungry or lacked a place to sleep, even if that place sometimes was his Jeep. His faith was strong because he knew that he had something special.
It was that faith that helped get him through some of the tough times and scary situations that he faced on the road. He was detoured from his journey for about 6 months due to his Jeep having mechanical issues. Thankfully, he was able to stay with his Christian family again and use this time to grow spiritually and musically along with all other areas of his life. Once he was back on the road, Ramoth says that he knew that God was protecting him. His Jeep was broken into 3 times, almost 4, when the would-be thief walked away after realizing that Ramoth was in it. He walked down sketchy, unfamiliar streets with nothing but his guitar and the Good News, knowing that God was leading him. He was blessed by many people with money, places to sleep, and car repairs. Ramoth believes that these blessings were not coincidental. They allowed him to continue on his journey, carrying his upbeat, positive music everywhere he went.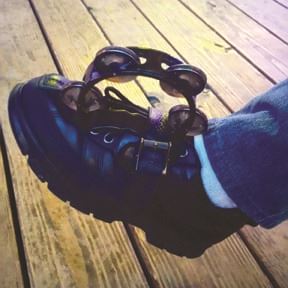 Ramoth's music is not only positive, it is also distinctive, with a soulful voice and guitar melodies that make you want to sing along, and the addition of harmonica and tambourine make it a unique listening experience. The idea to add the tambourine came to Ramoth after he had a unique experience of his own. One day, during his time spent traveling across the United States, Ramoth was singing on a street corner in New Orleans and while he was setting up, he was approached by another street performer. The man was apparently a regular entertainer in the Big Easy and he informed Ramoth that he was positioned in "his spot." The local, a puppeteer, offered Ramoth one of his marionettes' tambourines in exchange for the place on the corner. While Ramoth says that he would have moved for free, he was intrigued by the tiny tambourine and wondered how he could use it. It took some time and the proper shoe, but he eventually incorporated it into his act. Together with the harmonica that his father gave him, Ramoth really is a one-man-band.
He has great renditions of the songs that he covers (everything from Stevie Wonder and John Mayer to Outkast and Snoop Lion), but Ramoth's true passion lies in writing and performing his own songs. He says that some of his songs come easily and were a more involved process. He described a time, shortly after he got married, that he developed writer's block. With a smile on his face and a sparkle in his eye, he said, "I loved the time with my wife, but it was difficult to write. I need solitude to write." He was able to work his way past that block, partly with the help of a local group called East Texas Songwriters that meets the last Tuesday each month at Panera Bread on S. Broadway (anyone can attend), and he is once again writing, currently working on not one, but two, albums. The first will be a hip-hop album, produced by Orlando Williams of No Greater Love Productions. It will feature original tracks like "My Hoopty," a fun, upbeat song about the trials and blessings of driving an old car, and the second album will be an eclectic mix of original tunes produced by Dre Philips of APRecording.
You can see Ramoth frequenting many stages in the East Texas area. He is currently playing every Monday night at Stanley's Barbecue and is also a regular at Jakes, Shogun's, Cork, The Forge, and others. You can follow him on Facebook at www.facebook.com/RamothGilead, or find his music on www.reverbnation.com/thereallybad.