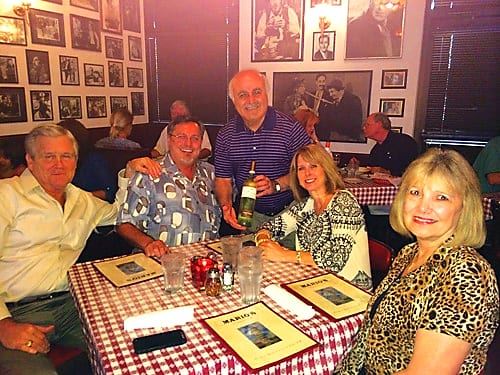 Written and Photographed by Barbara King
Old world charm and ambience is what you'll feel the minute you walk in the door. Pair it with the most charming and effusive owners who make everyone feel like family, and you will know you are in for a rare dining treat.
Veronique and Mo Rezaei have owned Mario's Italian Restaurant and Club since 1997, and have over the years built it into a tradition in Tyler, which is evident tonight as guests arrive, are called by name, hugged, and steered towards their favorite dining tables.
Tonight, the restaurant is an oasis from the work week, and you could literally be in any big city in the world. The walls are plastered with iconic movie stills and posters, tabletops adorned with checkered cloths and glittering candles, while the strains of Frank Sinatra play in the background.
As Mo meets and seats diners, he says, "We treat everyone like friends and family, not customers." As he stops to check on a table, Mo runs over to the fully stocked bar to pick out a special bottle of wine he recommends.
Cue the singer up front (live music Friday and Saturday nights), laughter and conversation, followed by fantastic food, and it's evident why folks keep coming back.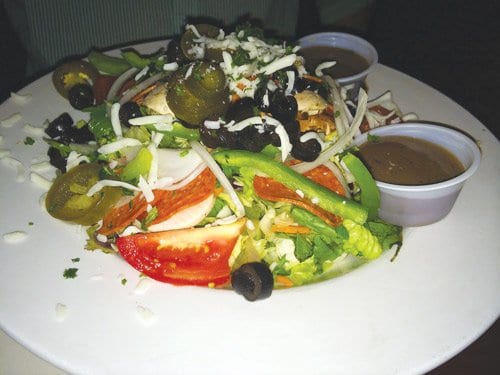 Elaine and Roy Crawford make it a date every Friday night, and since coming to Tyler 12 years ago, have made their end of the week dinner at Mario's a tradition. "We love the great wait staff and service and everybody knows us by name," explained Roy. "The food portions are large," added Elaine, "and we always have plenty to take home for lunch the next day." The live music and ambience is unique they add, "and it's the most authentic Italian food within 50 miles. We just love everything about Mario's."
The family run restaurant prides itself on authentic Neapolitan cuisine, and the menu is extensive. Appetizer selections are tempting including bruschetta, sautèed mushrooms, fried zucchini, calamari, and jalapeños stuffed with cheddar cheese. Dinners are served with salad and their delectable, crunchy house bread, with olive oil and seasonings for dipping, Of course, there is pasta galore, including spaghetti and linguine, eggplant parmigiana, fettuccine, lasagna, cannelloni, and fettuccine Alfredo.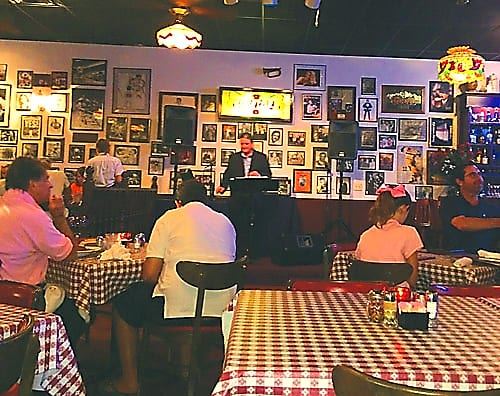 We're not done yet…shrimp and chicken delicacies include chicken marsalas, chicken piccata, shrimp Alfredo, shrimp marinara, scampi, and parmigiana. Veal lovers can take their pick from veal parmigiana, Milanese, marsalas, or piccata.
The chef's specialties are a rich presentation of entrées including blackened snapper, chicken tetrazzini, rib-eye, shrimp primavera and chicken broccoli Alfredo. And don't forget their out-of-this world pizzas made to order, with toppings including pepperoni, mushrooms, sausage, hamburger, onions, black olives, anchovies, jalapeños, and green peppers.
This evening, every table is full, and kids are scampering around, one family saying that their kids couldn't wait to say "hi to Mo." Kids are taken well care of too, with a special Bambini menu all their own, with lasagna, spaghetti, fettuccine Alfredo and manicotti in kids' size portions.
Veronique advises that reservations be made on the weekends for parties of six or more, "so we can take good care of you." Mario's caters too, with a buffet-style setup, so with their help, a unique menu can be set and delivered with a few days notice.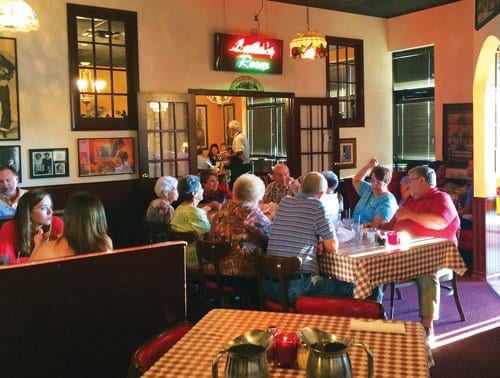 Mario's has a private party room, Laila's Room, named for one of their three grown children, that can seat up to 30 people for special occasions and events. "We have been the spot for so many proposals, anniversaries, birthday parties, and other life events," said Veronique. "We have been lucky enough to see a few generations of families celebrate their lives with us."
Greg and Jennifer Samsa, from Tyler, are enjoying a dinner date night, and, "have been to Mario's more than twenty times. We love the atmosphere, the fantastic food choices, and the fact that you know that your meal will be perfect each and every time," said Greg. "You feel like it's a special evening out, but the prices are reasonable, and the portion sizes are great," he added.
Not only are the returning clientele a testament to the restaurant, they also have wait staff that are truly family as well. Afshin Khalatbari has been with the restaurant for 35 years, and as he holds the door open and wishes patrons a good night, he says, "It's all about the people we meet and the relationships we build."
Yvonne and Kent Sturrock call themselves "frequent flyers" at Mario's and are here tonight to celebrate the 33rd wedding anniversary of their cousins, Russ and Aris Obar. "We always run into friends here," said Yvonne. "It is always a lot of fun, we love the music, and of course, Mo and Veronique." Mo is invited over for a picture, warm wishes for the anniversary couple and hugs all around.
You can't beat Mario's for a taste of old world charm and days gone by.
Mario's is located at 7916 South Broadway in Tyler and is open Monday- Thursday 5-9:30pm, Friday and Saturday 5-10:30pm. For reservations, catering or private party bookings, call (903)581-2309 or find them on Facebook at Mario's Italian Restaurant and Club.