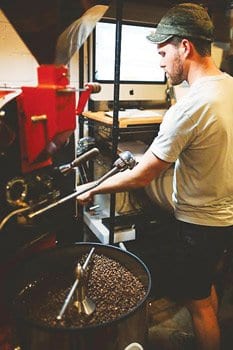 By Johnny Griffith
"I have measured out my life with coffee spoons." -T.S. Elliot
"What goes best with a cup of coffee? Another cup." -Henry Rollins
To say that coffee has become an integral part of our culture would, for some people, be akin to saying that air is integral to breathing. While that might be a bit superfluous in its metaphor, it might not be that much of a stretch as I'm sitting here with a gargantuan cup of coffee within arm's reach while I type. In an increasingly fast-paced world, artisan coffee has become the latest trend with its own language and culture, which isn't necessarily reflective of all that's good and right about the mysterious dark brew. But tucked away just west of downtown Tyler, there is a local company that is trying to encourage people to stop and smell the coffee.
Porch Culture Coffee is a small, craft roasting coffee company owned and operated by Jonathan and Shelly Ramm. Since 2012, Porch Culture has been offering slow roasted coffee sourced from the world's best coffee regions, in some cases direct from the growers based on relationships cultivated, much like the coffee bean itself, with patience, hard work, and a good environment. With emphasis on quality, Porch Culture believes that coffee should be more than just a quick-start in the mornings, but should be reflective of moments and stories that have happened over a cup or three for as long as the bean has been harvested.
Recently, I had the chance to talk with Shelly Ramm to get more of their unique story and how Porch Culture is working to be a part of the craft community in East Texas: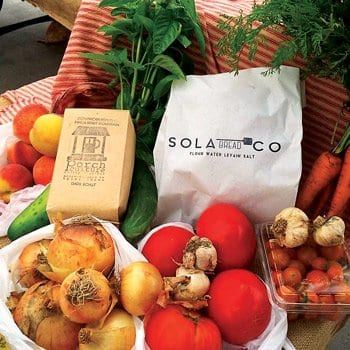 Johnny: Give us a little of the backstory of how you and Jonathan met.
Shelly: Jonathan grew up in Tyler, and I grew up in the Marietta, Georgia. We met while both working in the development office at the Doulos Discovery School in the Dominican Republic in 2008. We were married in the fall of 2009 and continued in our work for the school through the spring of 2011.
Johnny: How did that journey expose you to the coffee industry and the idea to change paths and start a new narrative as a coffee roasting family?
Shelly: When we made the decision to move back to the States, we sat down and brainstormed about what we would like to do, what could keep us connected to the school in some way, and what Tyler, Texas 'needed.' Our work with the school had introduced us to coffee cultivation through its connection with a nearby coffee farm, Finca Spirit Mountain. The farm acts as a learning extension for the school, where students learn the connections of the outdoors and our everyday life: not just coffee, but ecosystems, trees, birds, leadership training, spiritual retreat, water quality, and on and on. Jonathan and I were often chaperones on those trips, as well as our own recreational camping trips to the farm, each visit connected more and more to the place and the people.
Johnny: What's the significance of the name "Porch Culture?"
Shelly: Porch Culture comes from our experience with Dominican hospitality. It's pretty common to see Dominicans out on their porches sipping coffee with their family and friends. We were often invited to join in on the typical afternoon cafecito. It's also a slower way of doing life that we appreciated in our Dominican friends. There is always time to be with people.
Johnny: Describe a little of the process between moving to Tyler and the Porch Culture startup.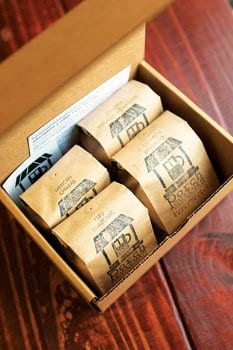 Shelly: We moved to Tyler in the fall of 2012, after having spent a year in Akron, Ohio, in a roasting apprenticeship. We had already established Porch Culture as an LLC, we had a website, and a couple hundred pounds of Spirit Mountain green coffee that had been carried back in suitcases from a recent trip our friends had taken. We started out small in Jonathan's parents garage on a grill roaster as a side gig, but over time our traction grew. Six months in, we were able to rent a small production space (the building we are in now) and through the generosity of family, we were able to upgrade to a commercial roaster. The beginning of 2015 is when we made the jump to full-time coffee roasting.
Johnny: It seems as if you guys try to work as closely to the growers as possible and place a big emphasis on sustainable practices. What is the philosophical difference between a bag of Porch Culture and a bag of Starbuck's Breakfast Blend?
Shelly: It's not just flavor, but 'big picture differences,' as well. We definitely concern ourselves with the story of each of our coffees. The story we are closest to, and our only direct trade relationship, is Spirit Mountain in the Dominican Republic. We have 'direct trade,' meaning we have visited the farm and communicate directly with the owner for pricing. The other coffees we carry are what we call 'relational trade.' This means that we depend on the trusted relationship with our green buyer and the work he does to source coffees that pay a fair wage to workers, use farming practices that protect the land and the surrounding community, and ultimately tastes awesome in the cup.
Johnny: What's the difference between a craft roaster such as yourselves and a volume roaster?
Shelly: The biggest difference is scale. It's a much different business model and a much different product when roasting over a million pounds of coffee a year versus 12,000. As a small scale craft roaster, we are able to source coffee from smaller, specific regions which translates to a higher quality crop, and more complexity in the cup. With a smaller roasting operation, we are able to hone in on the quality of the roasted product. Freshness makes a HUGE difference, and with our roast-to-order policy, our coffee is super fresh. Nothing goes in the roaster unless an order is placed. Most volume roasters have a "best by" date somewhere on the bag, which is typically 3-6 months after it was roasted and sometimes even up to a year. Our bags are stamped with a "roasted on" date, and we recommend drinking it within 2-3 weeks, ideally.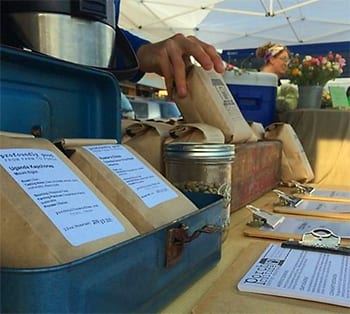 Johnny: On your website, you make a specific point about the coffee you roast being 'Shade Grown.' Can you explain that, and why it should matter to coffee drinkers?
Shelly: Coffee is naturally a shade plant. Unfortunately, most commodity coffee is grown in full sun. For a coffee plant to produce fruit (which contain the beans) in full sun requires the extensive use of chemical fertilizers and pesticides. This in turn depletes the soil life and creates chemical runoff into local water sources. Coffee grown in the shade works in a symbiotic way with its surroundings. The shade canopy gives the coffee plants the proper light exposure, and that same canopy creates leaf litter that enriches the soil. To go further with it, shade trees create homes for birds, which are a great help to coffee plants by keeping certain insects at bay. I will clarify and say that not all shade grown coffee is necessarily organic; however, coffee grown in its natural shaded environment needs less chemical intervention. Shade grown is the only way coffee can be grown organically. Shade grown matters to us because it directly affects coffee workers and surrounding communities.
Johnny: Speaking of community, Porch Culture collaborated with another local craft business, True Vine Brewing on one of their creations. Give us a quick story on how that came about.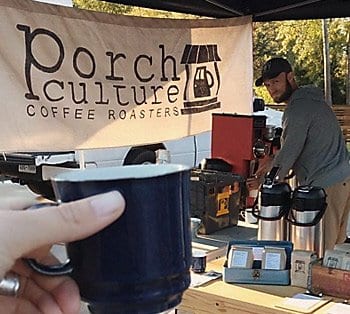 Shelly: We found Ryan through an internet search when we first arrived to Tyler and were seeking out other like-minded craft businesses. True Vine was a garage project at the time, just like us. When we stumbled upon the warehouse space it was too big for just us, and we thought of True Vine. We've been neighbors ever since. It was a natural collaboration as the two craft beverage makers in town.
Johnny: What is the ideal story for a bag of Porch Culture coffee after it leaves your business?
Shelly: Quite simply, we want it to be enjoyed. On a more profound level, coffee is so much more than fuel, and we hope that even on the busiest of mornings something delicious at the breakfast table or on the way to work would allow for a moment (or more) of inspiration.
Johnny: Thanks for your time and input, I just have one more question for you: 'What is your favorite way to enjoy a cup of coffee?'
Shelly: Slowly, preferably on a porch.
Porch Culture offers subscription services to have coffee delivered to your home or office, and offers local delivery for certain areas. Porch Culture Coffee can be found locally in several stores and restaurants as well as at the Rose City Farmers Market every Saturday morning.
Check out Porch Culture Coffee on the World Wide Web for more information:
www.facebook.com/porchculturecoffee