By Johnny Griffith
Jazz. All that jazz. Jazz hands. DJ Jazzy Jeff. Jazzed up. If you ask a statistically significant number of people in this area, the previous phrases will probably exhaust their personal encyclopedic knowledge of the genre. They might be able to name a few performers over the years which you had to have been living under a rock (or a pine tree) to not recognize like Armstrong, Miles, Brubeck, Coltrane, and Ella; beyond that and it gets sketchy. There isn't the knowledge of the complexity, spontaneity, and democracy within the music because you really have to experience jazz live and in person to gain a better understanding of the music and the musicians who play it, and unfortunately, there hasn't historically been a plethora of opportunities in the area.
Fortunately for East Texans, the genre is experiencing a growth trend locally and the movement is being led by the collective known as Purple Velvet Fox (PVF).
PVF is comprised of core members Sarah Roberts on alto and soprano sax, Alex Blair on bass, Joe Snider on percussion, and founder and band leader Gary C. Hatcher on guitar while often performing with guests on various instruments. One of the most acclaimed local acts, they've taken home the award for Best Jazz Band in East Texas on three different occasions and routinely play shows all over the region in their attempt to play great music while educating people along the way.
Professionals in every sense of the word, the "core four" have the credentials to step on stage with the most seasoned musical veterans and have accumulated an amazing amount of knowledge in one band. Hatcher holds a Master of Fine Arts from the University of North Texas and is a Professor of Art at UT Tyler and the B.J. and Dub Riter Professorship in Art. Alex Blair plays 4, 5, and 6 string electric bass, fretted and fretless, is thirty-five years into an ever expanding dynamic music career that includes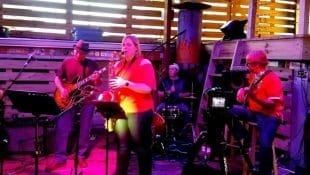 teaching, composition, live and studio performance, music audio production, and recording studio owner of WindWord Studio in Tyler. Dr. Sarah Roberts keeps a very active teaching and performance schedule as Professor of Music, Jazz Studies, and Saxophone at UT Tyler and holds a Doctor of Musical Arts in Saxophone Performance from the University of North Texas. Finally, Joe Snider is a lifelong percussionist and graduate of UT Tyler where he holds a Bachelor of Music degree in percussion and performance. A sought after performer, teacher, and clinician, he supports himself as a full-time musician. On Sundays he is the percussionist at Green Acres Baptist Church in their Contemporary Service and in addition to performing regularly in Purple Velvet Fox, he plays in the Dallas-based indie band, Metrograde.
I caught up with Gary this month to get some more insight on Purple Velvet Fox and how they're changing the local music scene in East Texas.
Johnny: So who came up with the idea to start a jazz band, and when did that original brainstorm happen?
Gary: Over the last decade it has been apparent that jazz is a growing genre in East Texas with an increasing interest among both young and old. Baby boomers who grew up on rock are finding the more complex and sophisticated sounds of jazz compelling. Gen X and Millennials as well are being drawn to jazz as much contemporary music has roots in the complex modal harmonies and structure established in jazz. In the various iterations and membership of Purple Velvet Fox over the last decade, we have had members as young as 20 up to baby boomers such as myself. Most of the musicians who play jazz are also in other bands as well that play other genres of music. So I started PVF as a desire to hear and play jazz as it has increased in popularity.
Johnny: Who were the original members?
Gary: Original members of PVF were myself, Gary Hatcher on guitar, Jacob Wellman on sax, Joe Snyder on drums, Suzie Carter with vocals, and Eric Pardoe on bass. Joe Snyder is the only member who is still in the band that began with the band many years ago. Jacob Wellman was in the band until last year when he moved to Big D, and Suzie Carter performs with the band occasionally. People move, ambitions change, life evolves and moves on, so we have had probably a dozen or so different members in the past years. Of course, we always have other musicians come and sit in with the band. Trumpet, congas, flute, trombone, we even had a great spoon player sit in with us one night. That was really cool until he laid his special set of spoons on the table and the bus boy picked them up and took them to the kitchen. Poor guy spent about an hour digging through trash in the kitchen!
Johnny: Where did the name Purple Velvet Fox come from, and how tough of a sell was that to the rest of the band?
Gary: The first jazz band I formed was called Off Season Jazz, and we were looking for a name that did several things. First, we wanted something a bit exotic, something that said smooth, something iconic that sparked people's imagination. As a friend once commented, what could be cooler and more exotic than a "Purple Velvet Fox."
It wasn't a tough sell at all. Sometimes people look at us a little funny, but they remember the band and the name.
Johnny: When and where was the first PVF gig?

Gary: Wow, we have played literally hundreds of gigs over the last six years although I am pretty sure our first gig together was in Athens at Tara Winery, six, maybe seven years ago.
Johnny: So there are a few jazz projects playing in and around the Tyler area, but this is still a region dominated by country and rock. How challenging has it been to find decent gigs around?
Gary: We have had very little trouble booking gigs, and I think that is for several reasons. First, we have some of the best musicians in this part of the country playing with the band. Second, we are organized, professional and have a reputation for putting on a great show. Third, the venues expecting exceptional, quality music is growing. We have played at most of the wineries in East Texas as well as restaurants, festivals, and clubs. And we play weddings and parties as well. We play most venues that do not necessarily want country or rock.
Johnny: How has the reception been locally for what you guys are doing?
Gary: We have a growing and steady following. Those who appreciate jazz, seek us out and watch our calendar on Reverbnation.com and come to our performance because they know they are going to hear a first-rate jazz band.
Johnny: How often do you play out of this area, and what kind of success have you found outside the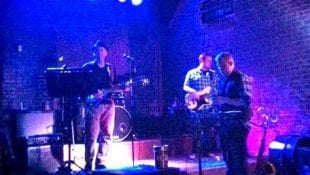 local audience?
Gary: We play primarily in the East Texas area 3-6 times per month. Although we all approach the band as professional musicians, we all have other jobs or commitments that limit how many performances we want to do. Same for venues further away. We have played in Dallas, Shreveport, Houston, and Austin but don't cultivate areas that far away since it usually involves a two-day commitment due to the distance. We could go on tour, but then as I mentioned, our other interests would have to be changed and significantly adjusted.
Johnny: What have been some of the other challenges you've faced along the way?
Gary: When you have a band with 4-6 members, coordinating schedules is always a challenge as we all play in other bands and have other interests, and then we are invited to play and at times it is hard to get all the core members together for the date requested. For that reason, there are always the core members, currently Alex Blair bass, Joe Snyder drums, Sarah Roberts, and then I have other great musicians that I invite to sub. So scheduling is the biggest challenge.
Johnny: What are some of the influences of the band stylistically?
Gary: We all enjoy and play the jazz classics from Miles Davis, John Coltrane, Herbie Hancock, Horace Silver, and many more, but then we have other sounds, bands, and genres that inspire us. For me, I listen to bands such as Galactic, EST, Gov't Mule, Medeski Martin & Wood, Al Dimeola, and many more. Of course, I am also influenced by classical music and play classical piano in addition to jazz guitar. The piano works of Chopin, Beethoven, Mozart, and Bach are beautiful and inspiring in their own way. Bach was really the father of contemporary harmony, so we all owe a lot to J.S. Bach. If you asked each band member you would get a pretty diverse list I am sure.
Johnny: Does PVF do more recognizable jazz songs to get people engaged, or do you rearrange other genre music to fit your format in order to engage audiences that are less familiar with the classics?
Gary: Our set lists are driven by works that we enjoy playing, areas of performance we are challenged by or interested in at the moment, and of course by the music our audience wants to hear. Lately, we have been moving more in the direction of funk, Latin, and fusion jazz.
Johnny: What's on the radar for PVF for the rest of 2017?
Gary: The band is sounding great. We have a number of gigs booked into the fall, and we are always exploring new tunes and original compositions. We have been nominated once again for Best Jazz Band in the East Texas Music Awards, which we have won for three years and the future looks bright for the Purple Velvet Fox Band.
Upcoming Shows:
July 22nd: Kawas Hibachi Grill and Lounge, Tyler

August 25th and September 15th: Fresh by Brookshire's, Tyler
Purple Velvet Fox On The Web:
reverbnation.com/purplevelvetfox

facebook.com/purplevelvetfox