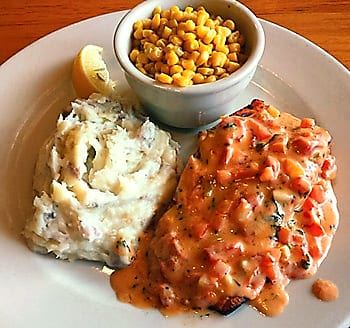 By Toni Bloom, Foodie
I find that eating has become a hobby for me these days. Not only do I plan my food, I seem to obsess about what I am going to eat next and when. I spend countless hours dreaming of "what was in that dish, and how can I manage to get more." This new found hobby needed some funding, so I created this fun list of "My Ten Favorite Dishes in Tyler."
Clear Springs Restaurant
From Clear Springs, located at 6519 S. Broadway Ave, Tyler, I have found that I love their Pan Seared Tilapia. If you are in the mood for some good fish that is not fishy, this is a must try. It is two generous sized fillets, seasoned, and quick seared. It is served with crawfish tails, fresh tomatoes, and Dijon peppercorn sauce. It was really delicious! Clear Springs offers many seafood dishes, Cajun dishes, as well as chicken and steaks and a friendly staff. If the weather is cooperating, you can sit on the outside patio. It is quite lovely in the evenings.
Burger Grind
Burger Grind, located at 1700 SSE Loop 323, Tyler, has a burger for every taste. I love their Texan Burger. Burger Grind's burgers are always juicy, and the bacon has a great flavor. The Texas Burger comes with a big pile of crunchy jalapeños and grilled onions. You can choose the type of bun – I like the Texas Burger on the Toasted Onion bun. The Turkey Burger is also a good one. It is made fresh daily and has a great flavor. If you are looking for freshly prepared burgers and not pre-made frozen patties, Burger Grind is the place to go. You will absolutely love them!
The Black Pearl Oyster Bar
New to downtown, Rick Eltife's latest venture is The Black Pearl Restaurant, located next door to Rick's at 106 W. Erwin, downtown Tyler. This is a seafood place like nothing else in Tyler. Most of the menu is served fresh and cold, and is prepared right in front of you. Black Pearl has many different kinds of oysters like blue point, pink moon, and summer side oysters. They all have a different taste, and I am in love with trying them all. Judy Means said, "It was like sitting at a sushi bar watching all of the creations made right in front of you. [There is a] premier fresh oyster selection that shames putting with a cracker! Prices for quality is unmatched in this area."
"I love oysters – I always have," says Eltife. "I love the East Coast oysters and the West Coast oysters and the Gulf oysters and the Canadian oysters." The Black Pearl has five or six varieties of oyster every day that are listed on the blackboard just inside the front door. They also have classic cocktails, ceviche, crab, lobster, shrimp, tartar, carpaccio, and more. Dishes are in the unique style of a classic New York Oyster Bar.
Roast Social Kitchen
Still fairly new to the restaurant scene is Nick and Jen Pencis' Roast Social Kitchen, located at 1125 E. 5th St., Tyler. Everybody around town is talking about the Bee's Knees pizza, so I had to try it. For me, a thin crust brick oven pizza is the best, and Roast delivered a perfect creation. The Bee's Knees has roasted garlic, a special in-house blend of four kinds of cheese, soppressata (Italian dry salami), house made sausage, Mike's Hot Honey, fresh thyme and fresh orange, all served up on a perfect crust. I have to admit, I wasn't sure about 'honey on a pizza' but it totally works and it is delicious. Now I know why everyone was talking about this pizza – it is fantastic.
Roast is open for lunch and dinner as well as late night on weekends, Fridays till 1am and Saturdays until 2am. Roast has wine on tap, craft beers, and signature cocktails. The Frequent Flyer is a favorite (Vodka, Elderflower Liqueur, blackberry puree, fresh lemon juice, and sage).
Athena's Greek Restaurant
Yeah, I eat out a lot, I say it's for work, and I joke that I am supporting my habit but sometimes it's just for fun. And I love food. Today I want you to branch out, and get out of your comfort zone and try something new and different. And that "something different" is Athena's Greek Restaurant, located at 1601 WSW Loop 323, Tyler. There are tons of new and exciting places to try all over town, so how about a little Greek?
We absolutely loved the Gyro Platter and the warm friendly people at Athena's. The Gyro Platter is a delicious blend of rotisserie beef and lamb slices, served with tzatziki sauce. The meat is always super tender and seasoned with lots of wonderful Greek flavor. It is served with warm pita bread that is perfect for this dish. It also comes with french fries and a Greek salad. We opted for the Greek oven potatoes instead of fries (remember something different). Go and enjoy a relaxed dinner with someone you love.
Cork Food & Drink
In the mood to just "Brunch it up" with some great food and a cocktail or two on a weekend morning? Then Cork Food & Drink, located at 5201 S. Broadway Ave. in Tyler is the place to be.
I have had good chicken and I have had good waffles before, but when you put these two together it just makes you wanna dance (or it could have been the mimosa, I'm not sure). But as you can guess by now, I love Cork's brunch Spicy Chicken and Waffles. The chicken is tender and moist on the inside and has a crunchy crust on the outside, which makes this chicken dish a hit. The waffle, oh the waffles are always light and fluffy, cooked golden brown and served with just a bit of fruit and some butter.
What better way to celebrate Saturday or Sunday mornings!
El Charro on the Ridge
While at FRESH getting some Cotton Candy grapes, I decided to pop into one of my favorite Mexican food places, El Charro on the Ridge at 6899 Oak Hill Blvd., Tyler, and grab some dinner. We all have our "go to" items at our favorite places but that day, I strayed from my regular (Old Fashioned Tacos) and got the Steak Rellena. I have to admit that I thought this was steak stuffed in a pepper; well I had that backwards. That's right folks – this is a Fajita steak stuffed "with" poblano peppers, red onions, and mushrooms, sautéed in a garlic butter and wine sauce. And it is heavenly, and my new favorite. It was fantastic; the meat was tender and the mixture inside was rich and full of flavor. This dish also comes with, you guessed it, rice and beans, pico de gallo, and sliced avocados.
The Ramirez family has been feeding my family for many years and will continue for years to come. The El Charro's Sangria Swirl Margarita is legendary.
Daniel Boone's Grill & Tavern
Daniel Boone's Grill & Tavern, located at 1920 ESE Loop 323, Tyler, is all about country, from the memorabilia on the wall to the food and the service – this restaurant will take you back to a time gone by. Many standard country-cooking items are on the menu like Country Fried Steak, Fried Catfish, pork chops, burgers and more, but have you tried Boone's Deluxe Grilled Chicken Sandwich? This is a tender and juicy grilled chicken breast covered with melted Swiss cheese and crispy bacon, all piled on a warm toasted (ask for Texas toast) bun with honey mustard dressing. We also love the big stack of homemade onion rings and good old fashion sweet Texas tea – just like Grandma used to make!
At Boone's you can "git ur grub on" country style!
Stanley's Famous BBQ
Stanley's Famous BBQ, what legends are made of! Stanley's is located at 525 S. Beckham in Tyler and simply is an institution in my book. Although many have said that the Mother Clucker is their favorite, my favorite is the Jumbo Brother in Law on a jalapeno cheese sourdough bun. I eat this huge pile of heaven at least once a week. The Brother in Law has chopped brisket, sausage, and cheese. You will need a fork!
The Mother Clucker is a "spiked and smoked chicken thigh fillet with spicy bbq mayo, cheddar cheese, topped with an over-easy fried egg and served on toasted jalapeno cheese sourdough. Upgrade it to the Cadillac Clucker by adding house-made guacamole and candied bacon (thick cut bacon dredged in our rib rub and then smoked until it caramelizes)."
I say to myself every time that "I am going to get something different" and many swear by the Shrove – grilled ham, cheese, chopped brisket and sauce. So far, I have not succeeded in trying it.
Republic Ice House
It is starting, it's football season and in this foodies' book, that means it is time for wings! Republic Ice House, located at 3807 University Blvd. in Tyler, has both boneless and with the bone wings in about six flavors. I love the 666 Fire Sauce wings but be forewarned, these are not for the faint at heart. They will light you up! If you are a wimp, I mean don't like your wings as spicy, the regular ones are quite tasty too. They come in Original, Lemon Pepper, Garlic Parmesan, and Honey BBQ.
There is a TV everywhere you look at Republic, as well as a gigantic (16 foot by 9 foot HD Projection screen) TV where football becomes larger than life! Wings, ice cold one in hand and a gigantic TV – welcome fall! It's football time again! Republic has 19 HD TVs and the NFL Sunday Ticket.
For more dining favorites, go online to EGuideMagazine.com!