The Experience in Edom, A New, Groovy & Totally Cool Spot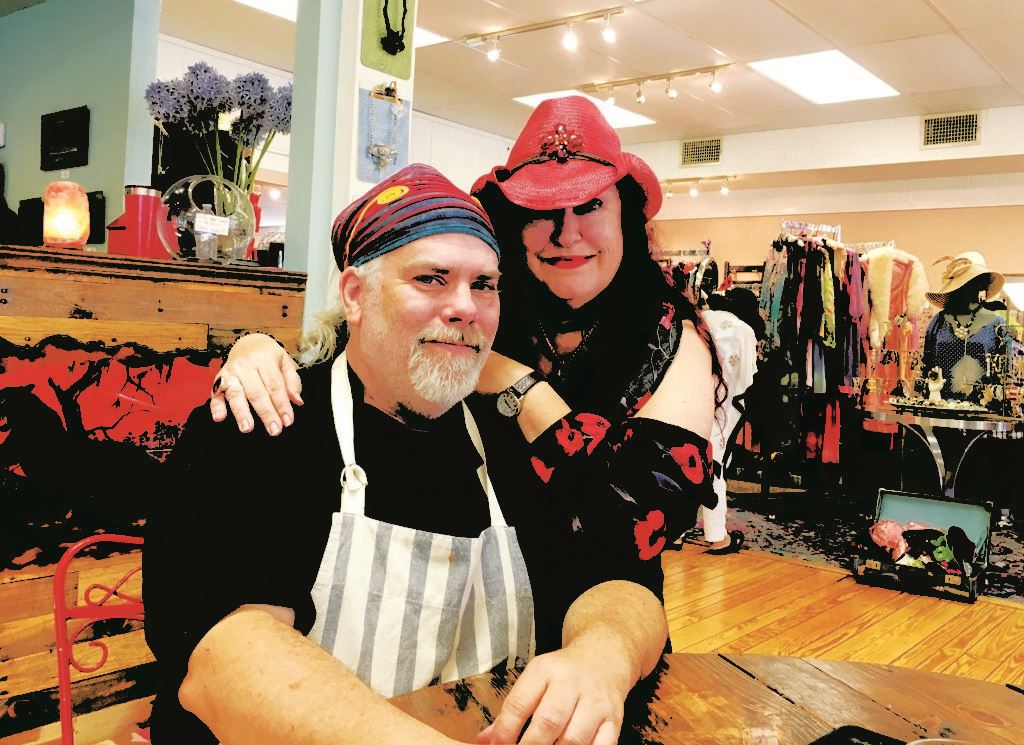 By Barbara Greenbauer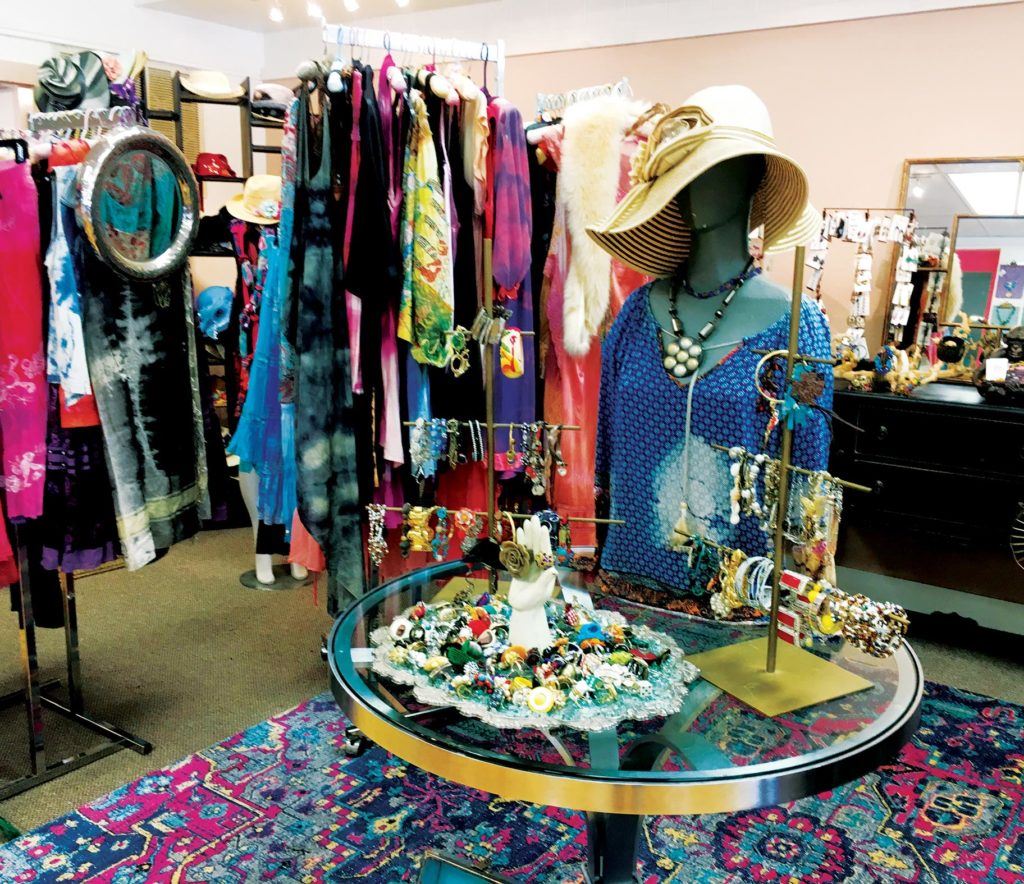 Open the front door to a cacophony of color, fabrics, and the most inviting space imaginable and you've entered "The Experience," nestled in the heart of Edom, just a mere 25 miles from Tyler.
It's an artisan's dream come true, and is the vision of Kelli "Cayenne" Holmes and her husband, Don Hendrickson, longtime community collaborators and supporters of Edom. Moving into a much larger space across the main drag in Edom has given Kelli the room to enlarge, expand, and focus on her own personal style and passion; and grow "The Experience" into a space that embraces art, great food, and community.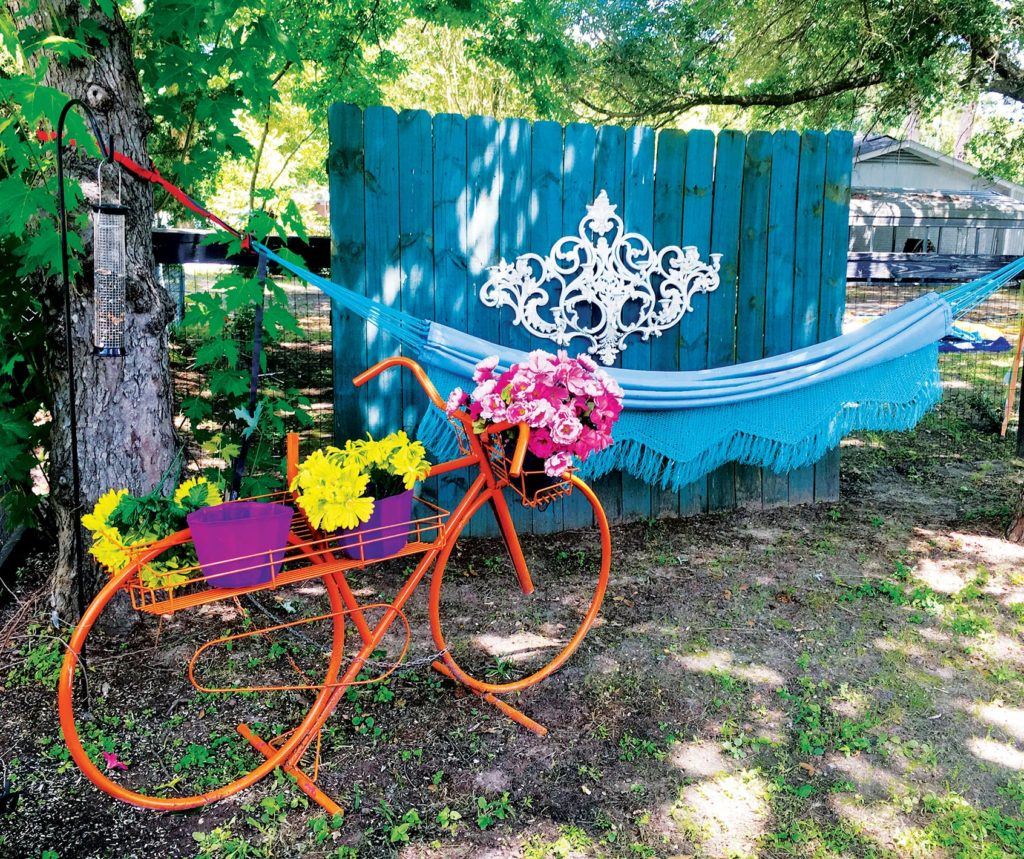 "I like to describe it as "fun-shui" says Kelli, who is a fireball of energy, humor, and huge personality combined. The space is definitely an outlet for Kelli's creativity, love for life, and appreciation of everything with flair and funk. "It's kind of a mix of 70's Jimi Hendrix motif, and the signature vignette seating arrangements reflect a kind of bohemian, eclectic style," explained Kelli.
The Experience begins on the outside patio space where you can grab a cup of coffee or tea and hang out to watch the goings-on in Edom. Beautiful metal sculptures by local artists Jan & Craig Blackmon are featured in the front area with loads of room to spread out and read or play games.
Inside is a tasty treat for the senses, with riotous artwork lining the walls; and the most inviting seating areas, including couches, settees, and an armoire filled to the brim with games and puzzles.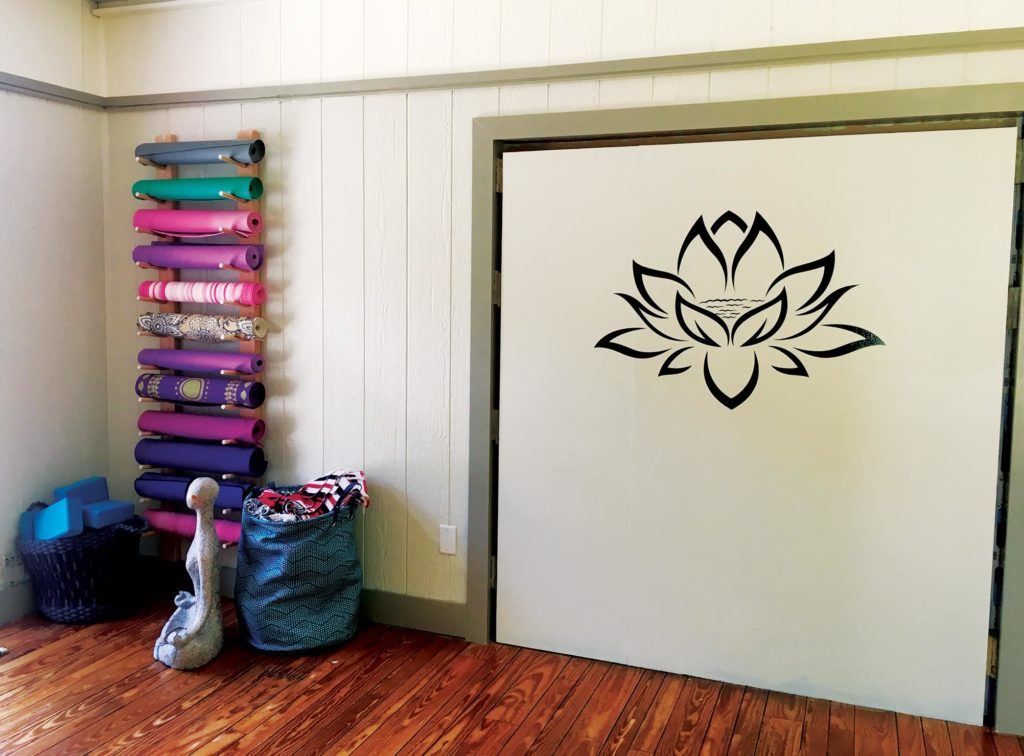 It's definitely a space that is fluid and organic; every corner you turn has a different feature and feel. Kelli's own "Buffalo Clover" assortment of frilly, whimsical garments feature repurposed vintage slips, gowns, and bedjackets re-envisioned into edgy, romantic outerwear that are truly masterpieces in themselves.
Hand-dyed and lovingly fashioned, they are designed to bring out the feminine, funky version of yourself. You can choose a hat and match it with jewelry and a headband, or pick up a hand-dyed tie if the mood hits you. "No two pieces are the same," Kelli said, "and I travel all over to find unique embellishments for each one."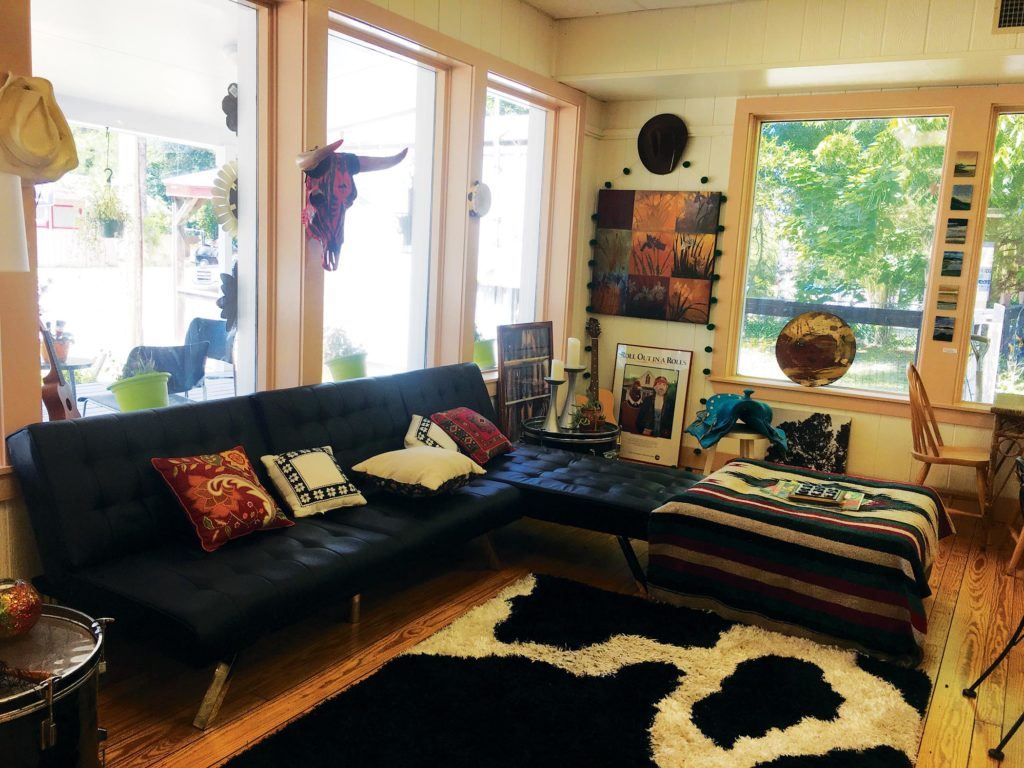 Friends and neighbors Sharon Thompson and Mark Mynatt from the Dallas area were "enjoying this new beautiful space. We have always appreciated Kelli's taste, style, and uniqueness and are just loving the creativity and openness of this new place," said Sharon. Sharon and Mark found a treasure trove of items they loved and left happily with original pieces of jewelry and a tie.
No space could be more perfectly named, from the ambiance to the offerings. You can soak up the atmosphere while feasting on some incredible edibles as well. Kelli and Don have brought in chef Michael Smith, affectionately known as "Chef Hobbles," to work his magic with fresh, creative concepts and food fusions.
"The BrouHaHa Bistro food experience is a mix of Southern California meets East Texas," explains Chef Hobbles. "It's a wild and wonderful food adventure, almost a play with food, with lots of different taste options," he said. Starting the day off with one of Chef Hobbles' hand-made "Doe-nuts," available at 6am, including taste sensations like mocha cappuccino, maple, and brown sugar cinnamon, will forever spoil you with their richness and flavor.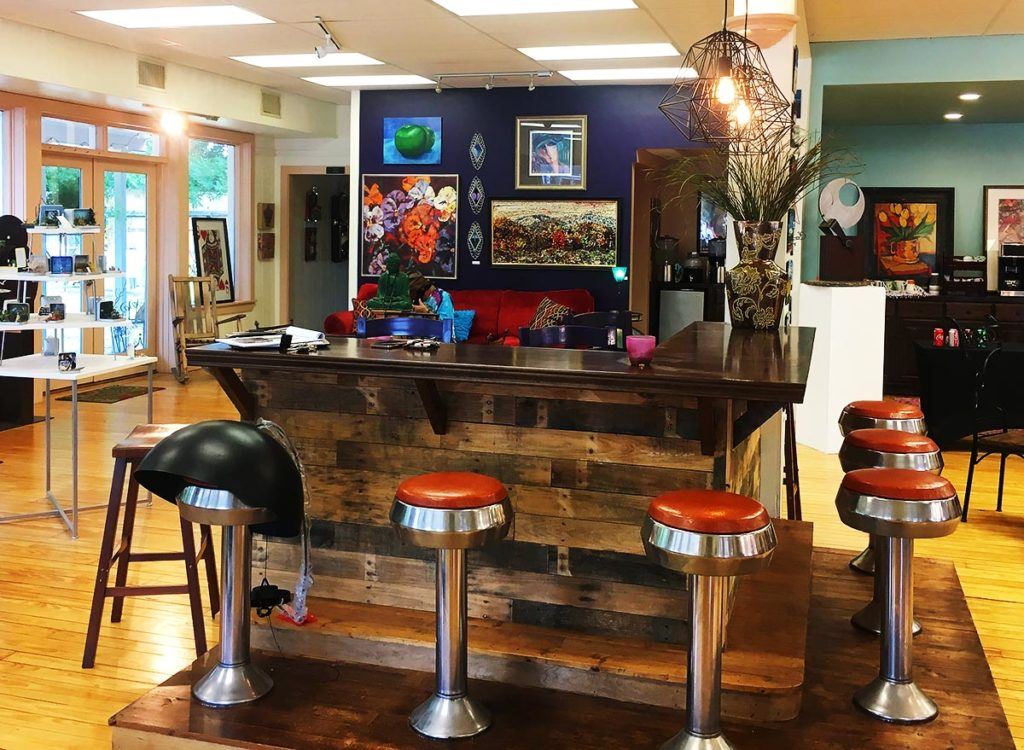 "We hope to have the first-ever drive-through in Edom in the near future, where travelers through town can pick up a doe-nut and coffee and start their day," explained Kelli.
The doe-nuts are incredible, but wrap your brain around some other delights, like breakfast "trucker" tacos named The Three Little Pigs, The Tractor Pull, The Long Haul, and the Early Riser. Tempting Toasts may entrance you with options like Avocado, Green Tomato, and Sausage Egg and Cheese Biscuit. Chef Hobbles cooks all day and night and the neat thing about the menu is that he will cook you almost anything at any time. Fancying breakfast for dinner, talk to the Chef and he will make it happen!
Fresh and delicious sandwiches are what's on tap for lunch, with fresh meats and cheeses and a soup of the day. Dinner is divine and on the menu are appetizers like sea pig crostini, brushetta, smoked okra, and loaded hummus. Main entrees are magnificent, including spaghetti with marinara or meat sauce, sage and garlic pork chop, chicken picatta or steak rolls.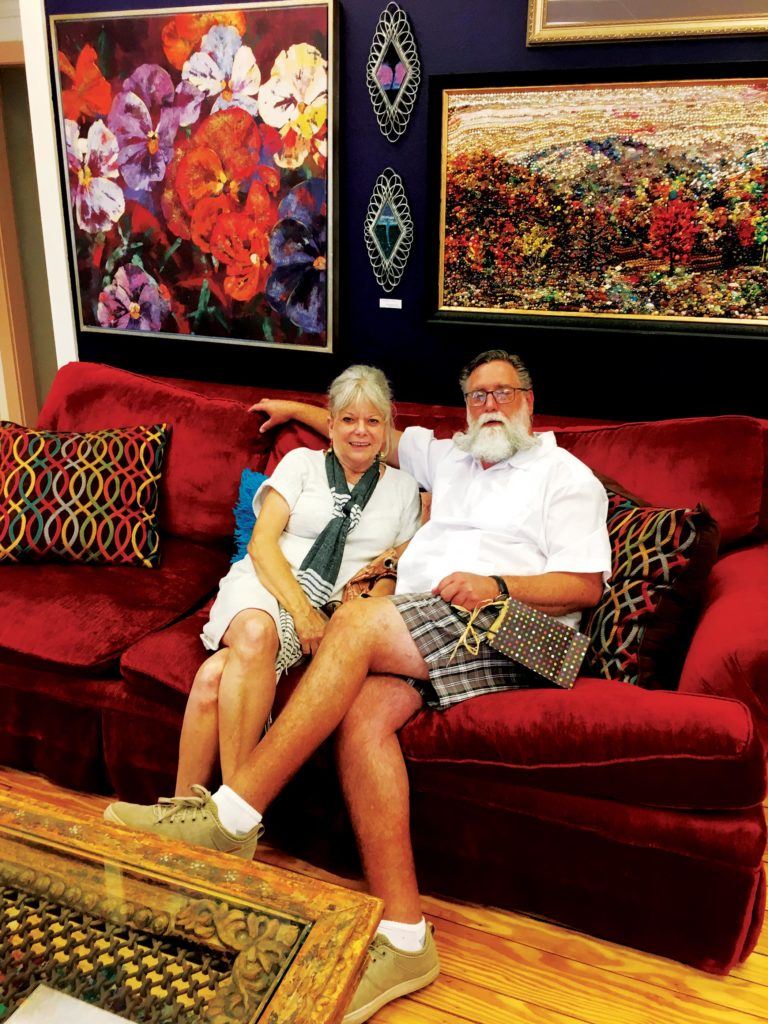 Chef Hobbles and Kelli are constantly cooking up new events to showcase their "foodie" ways, including a recent Father's Day brunch featuring succulent Prime Rib and a "Whole Lot of Italian/Little Bit of Greek Feast with selections like Linguine with Greek Tomato Sauce and Bacon Carbonara. Currently, it's a BYOB scenario with reservations appreciated for the special event dinners.
So, we've covered the art, food and wine…now on to the inner core and the serenity aspects of The Experience. Walk to the back of the space and you'll be enraptured by the peace, calm, and beauty of the yoga studio.
Shanti Gypsy Yoga is offered in the quiet, calm space. Certified instructors Regie Williams and Linda Crocker offer classes in stretch, chair and gentle yoga that benefit everyone, from the beginner to the more advanced. The first class is free, and subsequent classes are only $10 a session. They can be reached at (281)433-8573 or (903)513-3490 for more information about classes.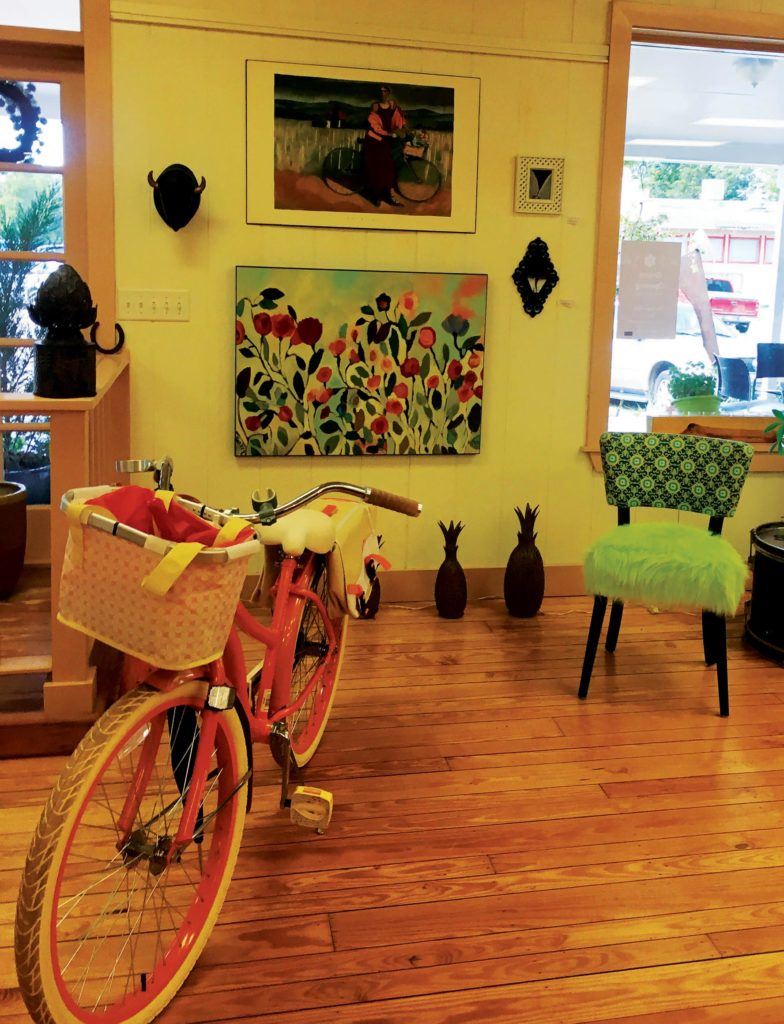 There's another great space at "The Experience" to explore. An outside relaxing side yard makes for a great spot for live music and is full of plants, bird feeders, a star-shaped fire pit, and seating galore. Kelli has ambitious plans to create an old-time ice cream parlor (the original parlor chairs are already in place), and The Experience will be home to all kinds of hands-on art classes and cooking events in the future. 
Kelli and Don's philosophy is always centered around giving back to the community, so you will see a variety of featured local artisans and exhibits within "The Experience" setting. "We want The Experience to be a gathering spot for everyone," said Kelli. 
Take a break, get out of the rush and visit "The Experience" in Edom, Texas.
Take a look at upcoming calendar events on Facebook or call (817)721-7778.
The Experience hours are Wednesday-Thursday 6am-2pm, Friday 6am-9pm, Saturday 6am-9pm, and Sunday 10am-5pm, with brunch served till 3pm. They are closed on Monday and Tuesday.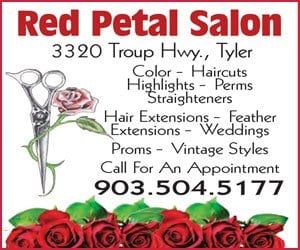 Rose City Strong: Buy Cool Swag & #supportlocal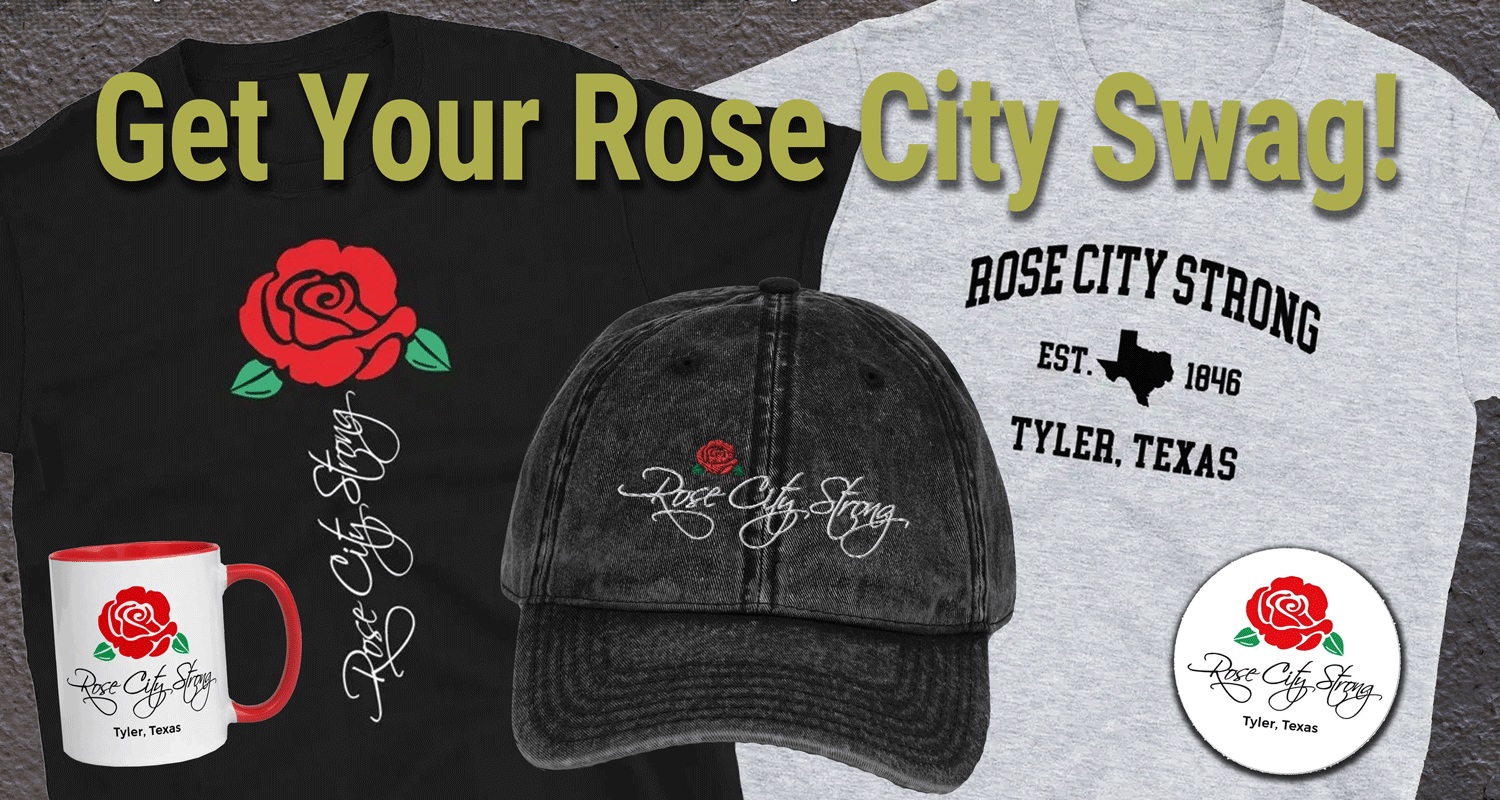 In these trying times, everyone wants to help and do their part. One way is to support local businesses. You can do so and get a cool t-shirt in the process!
VisitTyler and EGuideMagazine.com have teamed up and created a cool line of t-shirts, mugs, stickers, caps, and more!
Check out this cool swag and #supportlocal by being #rosecitystrong!

Enter the "Every Body Counts" Art Contest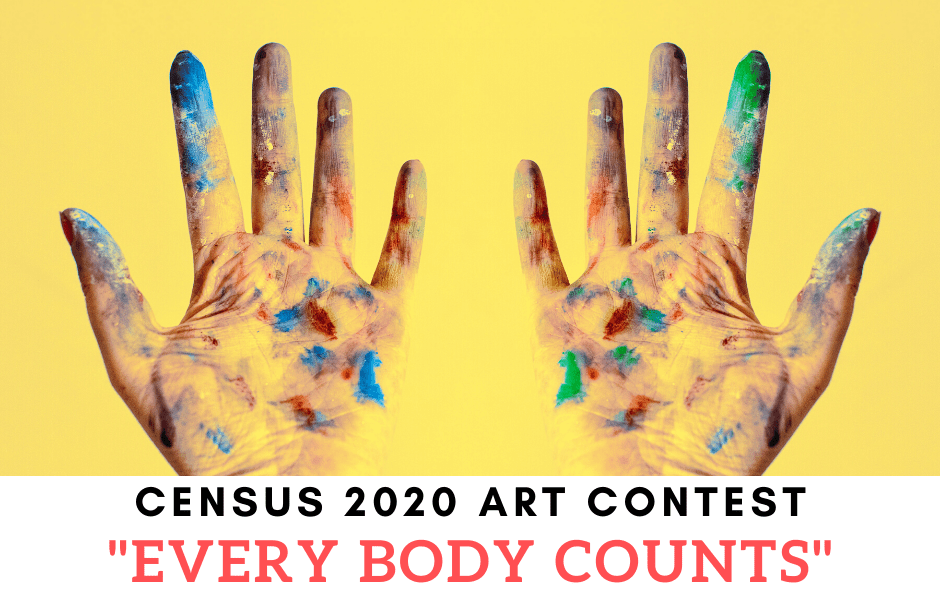 Bored? How about creating some art and entering the 2020 Art Contest "Every Body Counts," sponsored by the Tyler Public Library.
The due date for all entries are now due to the Library by April 1st. Mailed entries can be sent to 201 S. College St., Downtown Tyler, TX 75702. Digital entries may be emailed to ataylor@tylertexas.com.
More info can be found at tylerlibrary.com. The library will be closed until April 1st.

Call for Artists for the Gallery Main Street Spring Exhibit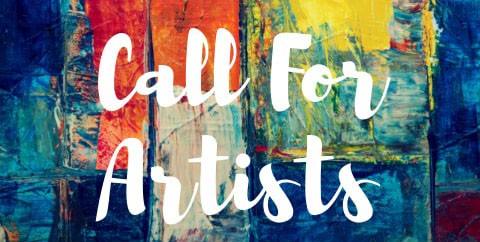 The Details: "Open Theme Exhibit" | Submit by March 29 | Opening on April 11 | Ending on June 1
Artists are invited to submit their work for the jurying phase of Gallery Main Street's spring fine art exhibit.
The deadline for entry is Sunday, March 29th at 12 midnight.
Artists interested in participating should visit DowntownTylerArts.com, where they can find all the information needed, as well as links to the entry service site. The entry process is digital and allows artists to submit up to three pieces, with an entry fee of $20.
The spring exhibit is an open theme to go along with our new open style gallery! This will be the first juried exhibit in the new gallery space inside the Plaza Tower.
Gallery Plaza features a rotating exhibit of original local art. There are two juried exhibits, which means pieces are submitted for review by a jury panel of professional artists. Top-scoring pieces are selected for the exhibit, and the piece with the highest score receives a Best in Show award.
The space provides the artwork to be visible beyond the hours of the Main Street office and by patrons visiting the new first floor retail bays. The Gallery is a valued centerpiece to the beautifully furnished atrium that serves as an inviting gathering spot.
The spring exhibit will host a Reception on April 11th free and open to the public. The exhibit will run through June 1.
Gallery Main Street is a project of the City of Tyler Main Street Department in cooperation with the volunteers of the Downtown Tyler Arts Coalition. Information on Gallery Main Street hours and rules for entering the exhibit jury process can be found at DowntownTylerArts.com or by calling (903)593-6905.