Located on the east side of Tyler just off of Front St., Margarita's has what ails you on these cold, cold winter days – Posole! This home cooked Mexican-style soup is made fresh daily.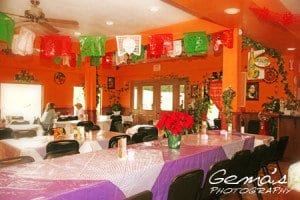 "Posole is a deliciously hearty Mexican stew with hominy and either pork or chicken. The deep red broth is made with dried chiles and aromatics such as onion, garlic and fresh oregano. We used both guajillo and ancho chiles which give it a rich deep smokey flavor. The peppers have a nice smoky kick to it."
Margarita's offers both red (Rojo) and green (Verde) versions of Posole. The green is more of a fiery, spicy, hot flavor than the red, which is our favorite. Shredded pork is served in a rich red broth based soup and is served in a very large bowl – which is plenty for a meal.
Fresh sliced jalapeños as well as tortillas and Spanish rice are served on the side.
Margarita's is located at 1327 E. Front St., Tyler. Margarita's is a cheery, colorful establishment with a patio as well as inside dining with a menu of standard Mexican & Tex-Mex favorites.
For more info call (903)593-5954 or go to www.margaritasmexfood.com.