Carina Alvarado: Inside the Artist's Studio

Dream Until Your Dreams Come True:
Carina Alvarado
By Derrick White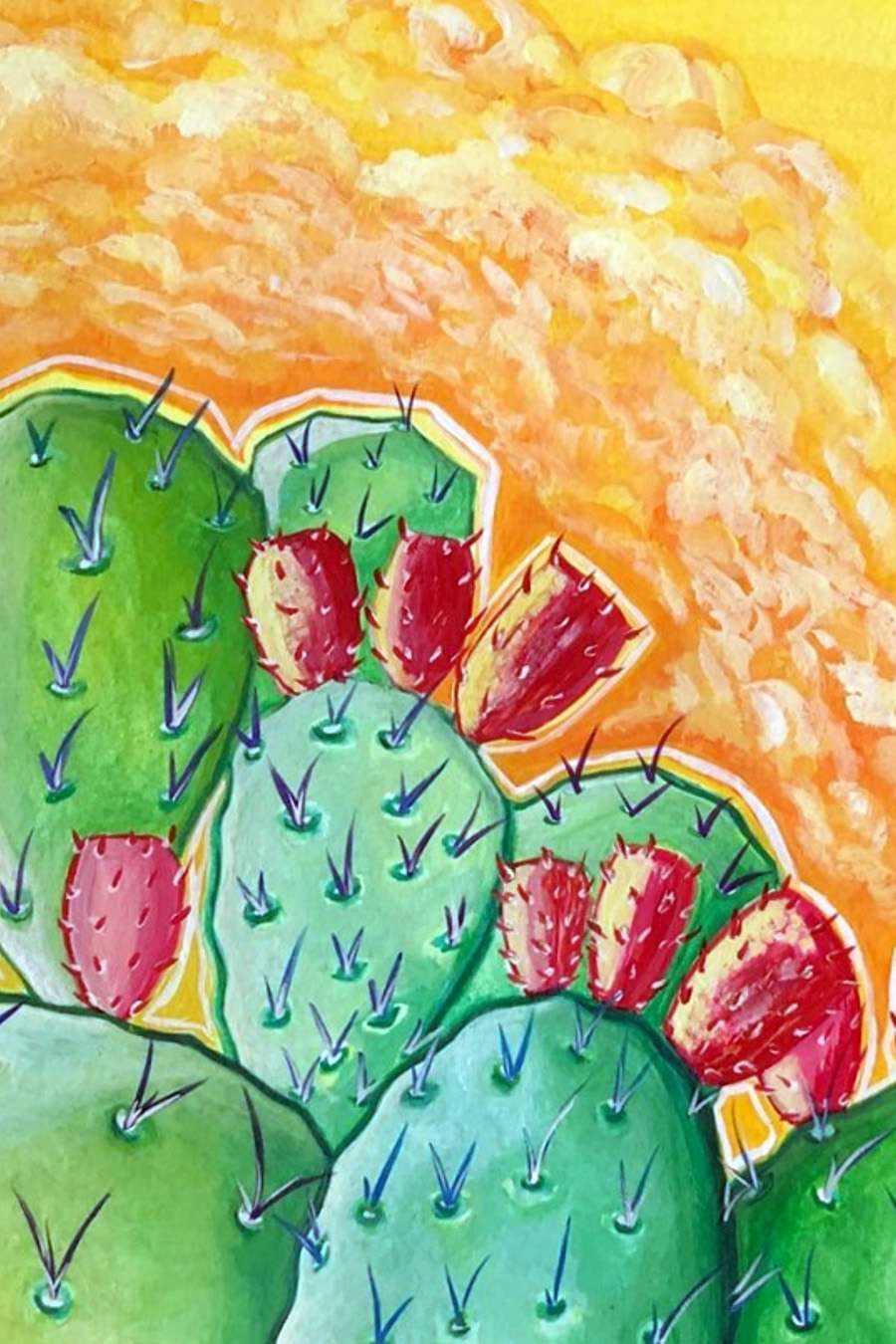 "The most important things art has brought to my life are the abilities to express, communicate, and connect. I am not great with words, especially expressing meaning without getting jumbled. Art is the language in which I feel the most comfortable communicating. I have found a way to express myself freely in a visual way and explain what is in my heart and soul," explains local artist Carina Alvarado. Her artwork is vibrant and uses graphic and bursting compositions of surreal imagery to captivate one's imagination. Carina uses a variety of media. "I really enjoy working with acrylics, but I recently tried watercolor and gouache and I have fallen in love with these materials. I enjoy the way they work together. The process of understanding these collaborations really interests me. I tend to use a little of everything in my pieces," she states.
"When I decided to quit my full-time job and focus on art, it was terrifying. Taking the decision and explaining it to the people around me – to me, felt like the first challenge as an artist. The frustration of feeling like you have to convince people it is what drives you as a person right after you convinced yourself to take the leap towards passion. There is so much behind the scenes in the amount of work, motivation, money – just the whole process of becoming an artist. I understand being an artist is an art form in and of itself, a journey. You can attend classes, you can watch videos, you can ask for advice, but you yourself have to create something. You don't apply to be an artist. The application is progressing and developing in personally growing in this unpredictable life, in your studio hours, experimenting with media and ideas, putting yourself and what you create out there. This application can go any which way; it can be short or long, but you never really get told you are an artist in this process. You, as the artist, have to keep creating. You have to stay motivated. You have to keep exhibiting your art," encourages Carina.
Alvarado took painting, drawing, figure drawing, art history, and ceramic classes at TJC.
She recalls, "While attending TJC, I met inspiring art professors. I remember Paul Jones sketching out new characters and ideas. I remember Derrick White being hands-on, teaching us how to stretch canvases. He was always trying out new techniques and painting. I learned what I needed to understand about art in my classes, but I had such inspiring professors to facilitate my creativity and my motivation outside of class. TJC art professors are active, professional artists and they speak about the things you have to do to show your work. They being enthusiastically productive and helping students understand, realistically, about being a visual artist were enough for me to start my journey into visual art." 
She adds, "In my studio art classes I found my fear of speaking in front of people was very minimal. Being surrounded by art and creative people provided me with so much confidence and provided a beautiful and personal way for me to connect to people. Art has made me push myself. I pressed myself to share the art I had been so private about by creating an Instagram and submitting my pieces to events. I stepped out of my comfort zone, meeting Addie Moore (a founder of "etx creatives"), attending events full of people I did not know. I submitted art to juried exhibitions and was accepted to some and rejected by others. I went on a podcast with "etx creatives" and spoke about my art, I was super terrified to speak and to be recorded but the excitement was much greater. Art has made me grow so much as a person, every day I learn something new about myself." 
Carina finds inspiration in the work of artist Ashley Longshore. "She is a strong, creative, and powerful woman who does not hold back. I admire her fun, colorful, and powerful paintings. Her art represents her so well; she says 'You are in my brain.' I respect artists taking me to another place in their minds and worlds," Carina explains. Alvarado also enjoys Salvador Dali, saying, "My admiration for his dreamlike, symbolic and surreal art made me feel connected to him. I hope one day I can perfect what I see and what I feel in an art form as well."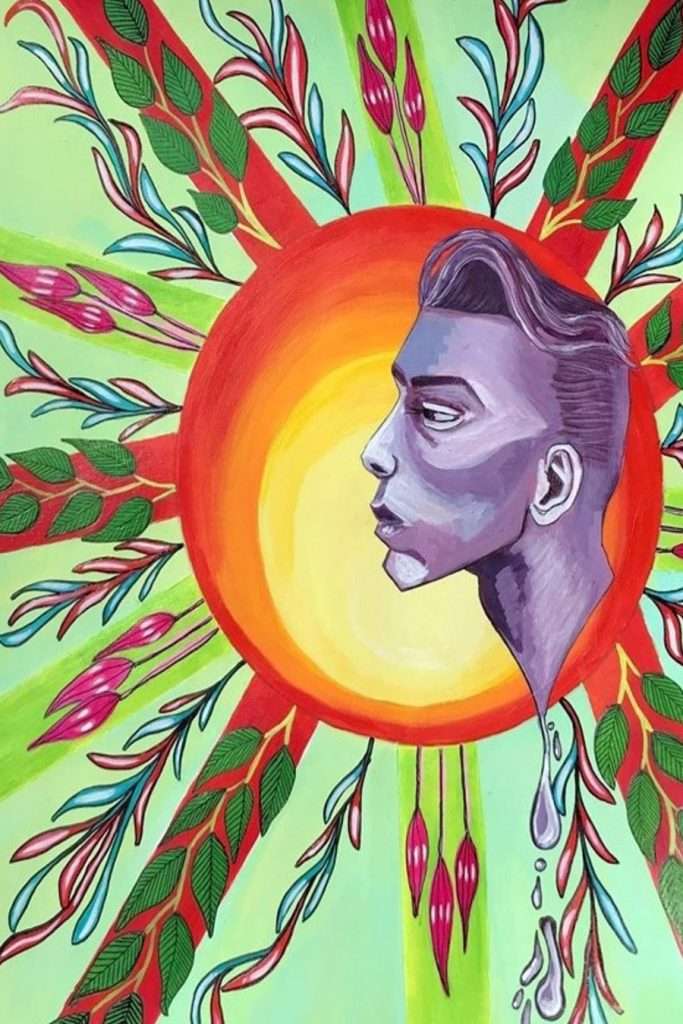 "I suppose my style is colorful surrealism, a glance into my extremely vivid lucid dreams. I have always had a very imaginative mind, but every night ever since I can remember I experienced crystal clear dreams. My dreams are other worlds to me, I know it sounds strange. I always remember waking up and writing down all the strangeness I had seen, all the experiences and the things I would learn. Yes, I would learn. I quickly learned how to control my dreams. I have come to accept these strange dreams which have made them even more mesmerizing. This past year, I lost my grandfather and my youngest uncle. One thing which helped me tremendously with the loss of these two great men was something my mom told me had happened. A few weeks before my uncle had tragically passed, my grandpa had told the family to get everyone together and to prepare for a funeral which would have many people attending. He even spoke my uncle's name and said it was for him, he had dreamed this. A few weeks later my uncle passed away suddenly. He was so loved by many people and many people attended the funeral. Afterward, my grandpa spoke about a little angelic boy visiting and signaling for him to be followed, a few weeks later my grandfather passed away. The day after the funeral there were bees everywhere but they did not sting us. Swarms just landed on plants, walls, and the ground. Later, I researched the symbolism of this event, bees are productive, they stay focused on whatever they are doing and do not get sidetracked. Around this time of the year, I was beginning my huge leap of faith into becoming a full-time artist. So, I decided to dive into my dreams and symbolism of the beautiful and tragic things happening around me."
Contact at:
 Instagram: @carinaoteroalvarado
 Facebook: Carina.Alvarado
 Email: carinaoalvarado@gmail.com


Michael Brundidge: Inside the Artist's Studio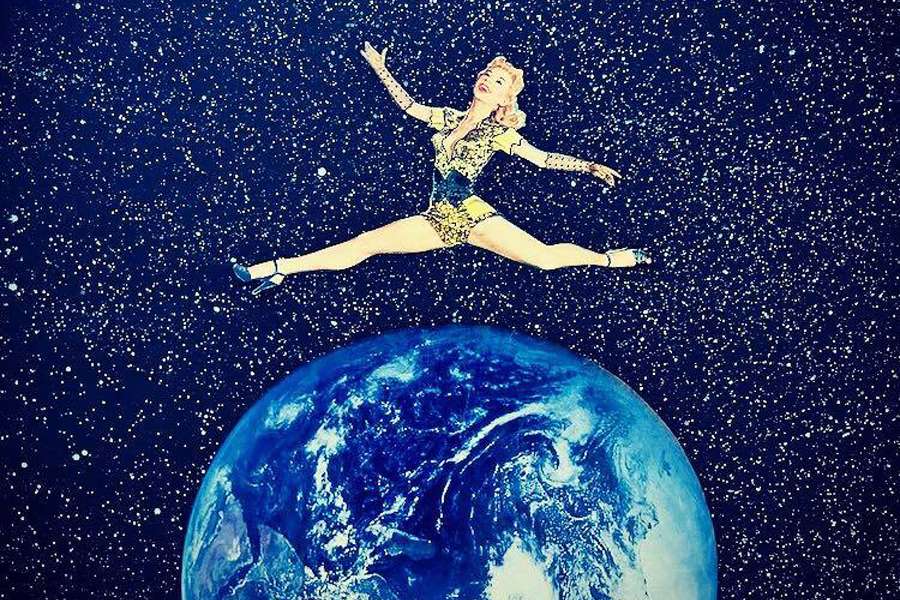 Some People Call Me the Space Cowboy
By Derrick White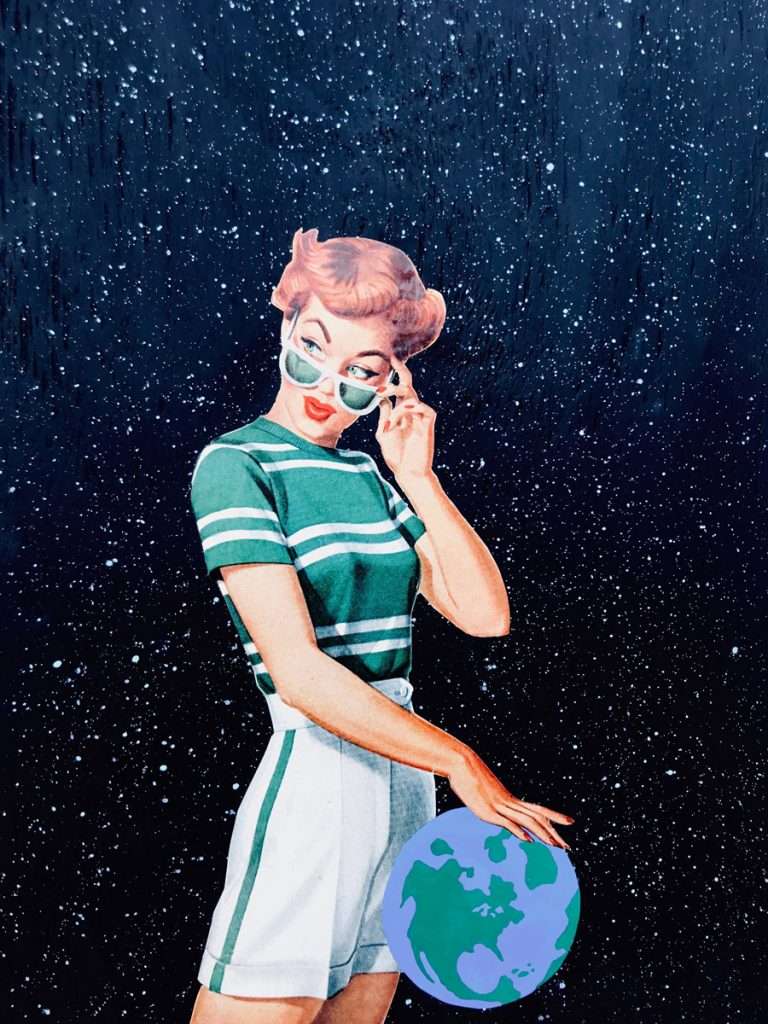 "You are free to do what you want! So go out and get it," exclaims local artist Michael Brundidge. Michael is a cheerful, energetic, friendly, and laid back personality you are more than likely to encounter during your next visit to True Vine Brewing Company, where he works. His artwork may also be seen there, perhaps being displayed in a one-night, pop-up art exhibition or permanently installed in spots around the brewery. Michael's art is primarily collages. This is something I personally value because about half of my own artwork is in the medium of collage and I appreciate it when I see it and when I see it done well.
The word collage comes from a French word meaning "to glue" and it is a prevalent and accessible visual art technique, where the composition is created from grouping different colors, forms, and images and creating a new, and sometimes very different, whole. Collages may include drawings and sketches, magazine and newspaper clippings, ribbon, paint, handmade papers, text lettering or phrases, photographs, prints, and other found objects selected and attached to paper, canvas, wood panels, or other supports. The ancestry of the process of collage dates back hundreds of years. 
Brundidge explains, "My main focus in style lately is mixed media collage artwork. Outer space has been the most prevalent theme and inspiration in my current series "Space Is The Place." I like to mingle Pop Art, Surrealism, and a splash of Neo-Dadaism (an absurdist combination of daily life and art using playfulness, iconoclasm, and appropriation)." He goes on to add, "I use plywood as my canvases (or supports) and acrylic paint for the backgrounds. I love how the acrylic soaks into the plywood. I think the textures really visually pop creating a combination matte and glossy finish to my backgrounds. I use clippings and cutouts of various images found in old magazines from the 1940's, 1950's, and 1960's. I really enjoy the textures and color palettes used in those decades. I juxtapose images of people, places, and things I find interesting onto my painted backgrounds. I like to call it manual Photoshop. The images most often reoccurring throughout my pieces are large ominous hands, planets, women, and astronauts." After Michael creates his collages he then finishes them by creating a custom frame for each individual piece using weathered or repurposed wood, which adds to the charm and content of the work.
Other than elementary school art classes, Michael Brundidge does not have any formal training in visual art. He is a self-taught artist, sometimes referred to as an outsider or folk artist for the unique qualities of style and practice. When making art to make art, there is no critique deadline and no teacher to please. This is one of the open-ended concepts I love about creating art: the fact you can just decide to do it. If you feel inspired to start making, sharing, and selling art, you can put a sign in your yard today and become just as much of an artist as anyone else. No degree or certification, training, or experience required. This does not mean you will automatically have any success, be any good, or make anything interesting, but you might. You get to express yourself and your unique human experience to the rest of us however you feel compelled to do so. This concept applies to everyone, of any age, of any skill set, and by any means. You cannot do this with most other occupations. You cannot decide to randomly put a sign in your yard and start practicing dentistry, for example. Or as Michael Brundidge puts it, "You are free to do what you want! So go out and get it."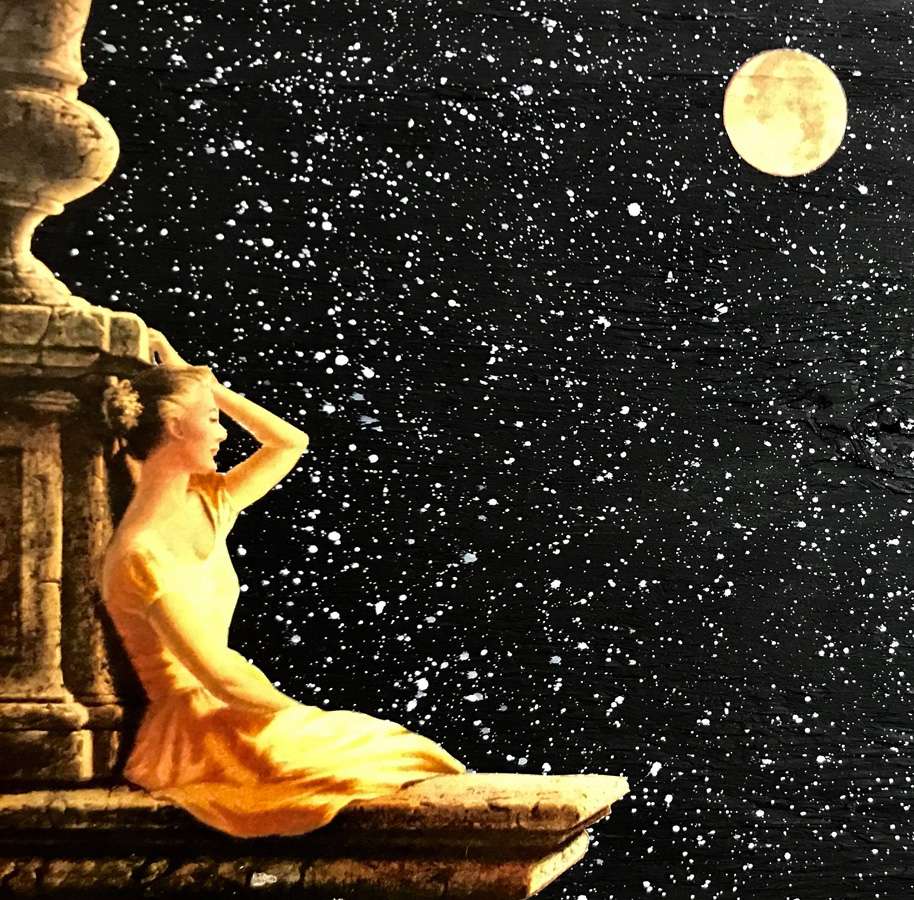 What inspired Michael down the path of pursuing art was, as he states, "Honestly, it was loneliness and alienation. I know it sounds dismal and depressing but I was truly hard-pressed to do something. I did not feel as though I had much of an identity. Making art brought back vitality, confidence, and purpose in my life." Adding, "It has developed my trait of persistence. Art has given me the will to continue on despite ridicule, hang-ups, and depravity." What Michael finds frustrating about being an artist is, in his words, "Exclusivity and competition. I disagree and do not participate in any art based competitions. Art is extremely subjective. Critics and the upper crust held in high regard can make or break an artist. Anyone can make art. I dare and laud them to do so. I truly believe art is a party and everyone is invited.  Make art to make art. Elitism is too common in the art world. The idea that money talks and has unquestionable influence in the art world is a fallacy. Every artist matters and all content must be considered." So everyone could, and I believe should make art. The process is emotionally healing and therapeutic. It doesn't matter if you are interested in playing the game of the big money buying and selling art world, which is an economy just like every other commodity-driven economy in the world. Make art by you for you, and let the rest fall where it may whether you are a joker, a lover, or a sinner.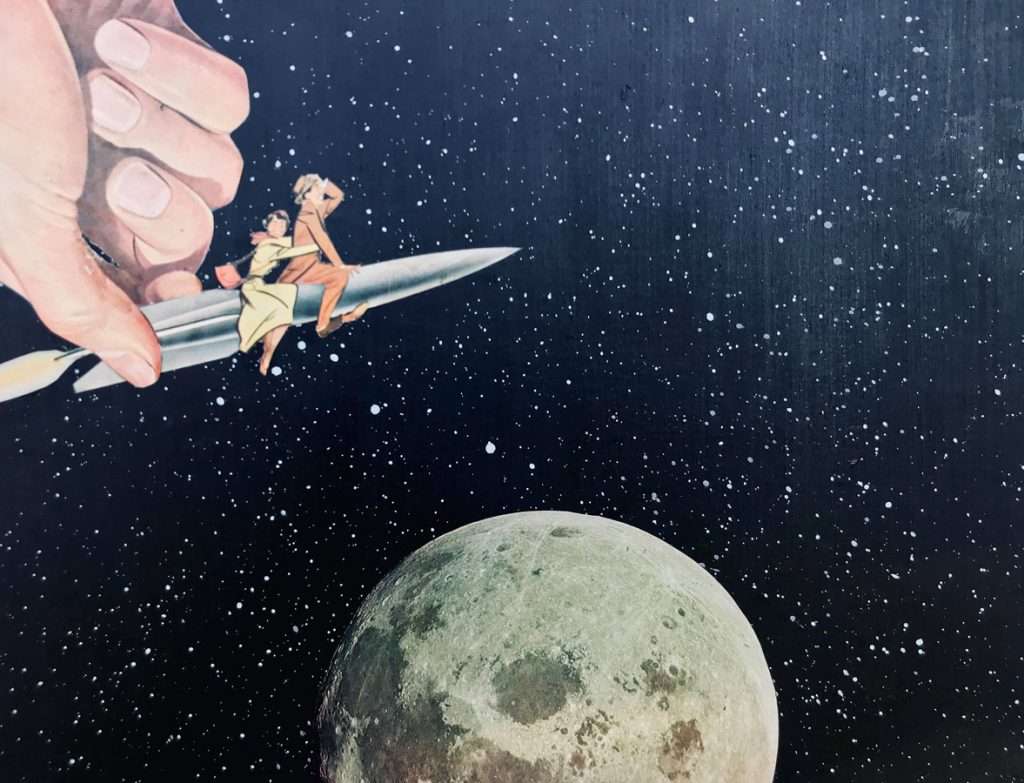 Speaking of jokers, Michael finds inspiration in the works of artist Ray Johnson, who was primarily a collage and correspondence artist. He was described as New York's most famous unknown artist. Michael exclaims, "He was relentless and continuously persistent in his artwork. He was a recluse staying vigilant and persistent in his process. His media ebbed and flowed at his inclination. Johnson was a prankster in expectation. His content was his own and he did not sway his ideology and process. He even determined and called the shots when it came time for him to leave this world." On January 13, 1995, Ray Johnson dove off a bridge and then backstroked out to sea in an apparent suicide or perhaps final performance art piece. Strange aspects of Johnson's death involved the number 13 (date; his age, 67 (6+7=13); his motel room number 247 (2+4+7=13) … and the number of letters in "Me Space Cowboy"). Learn more about Johnson in the documentary film "How to Draw a Bunny." Learn more about Brundidge by going to True Vine and having a beer.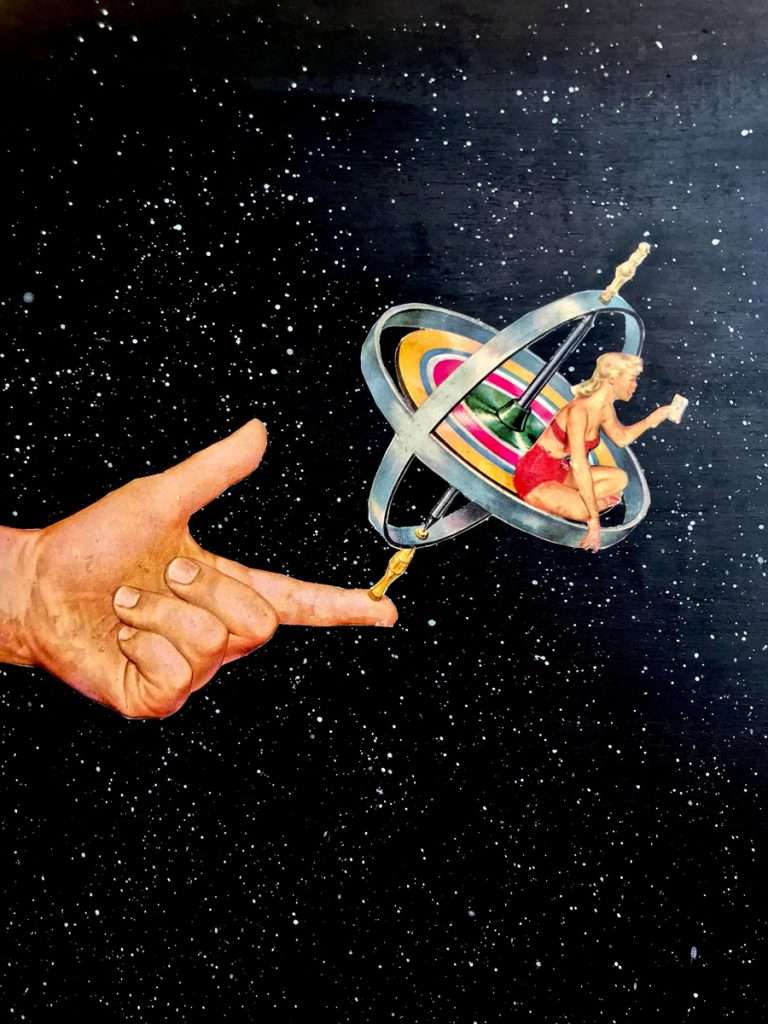 For the Love of Art: Art Events, Classes & Exhibits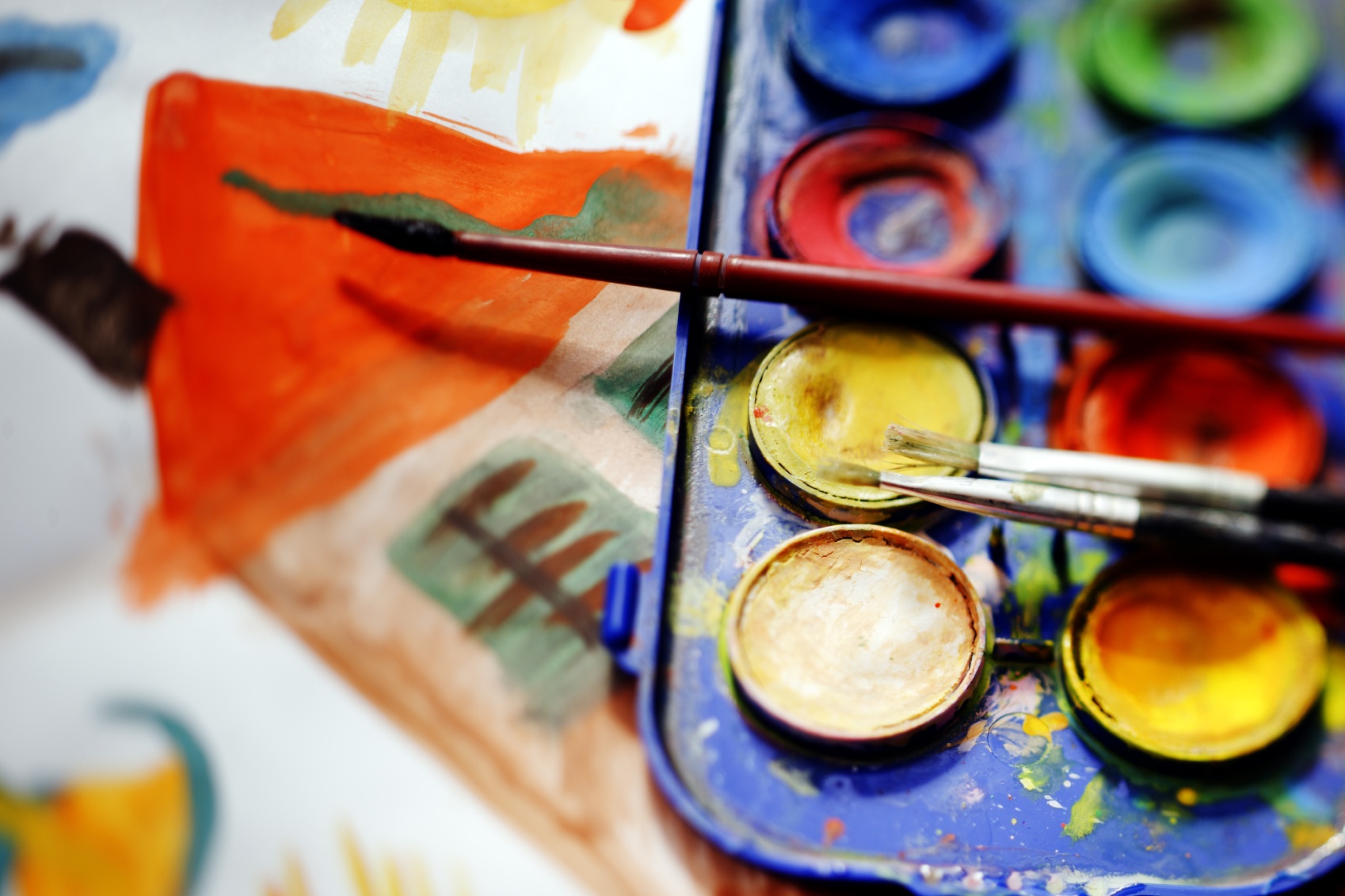 Discover your inner artist by taking a fun class ! These are for all ages and all experience levels!
For more events, check out EGuideMagazine.com 's entire



Lauren Pitre: Inside the Artists Studio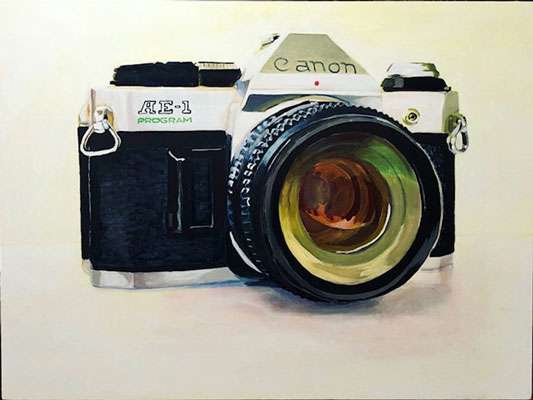 Painting the Town: Lauren Pitre
Derrick White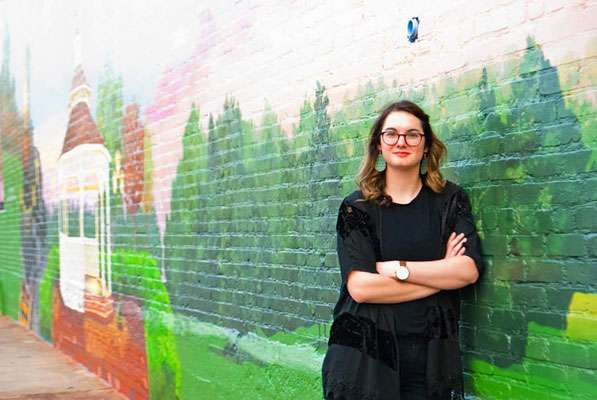 "I can say without a doubt art has brought me confidence. I always struggled with confidence growing up but it seems after each milestone I pass within my art career I gain more confidence, in particular with my murals," affirms local artist Lauren Pitre. You may have experienced Lauren's work even if you were not aware of it at the time. If you've been to the Longview Mall, downtown Mineola, The Discovery Science Place in Tyler, or the Lindale Candy Company, you probably noticed her dynamic and engaging murals. Lauren received her Associate's degree in Art from Tyler Junior College and received a Bachelor's degree in Fine Art from the University of Texas at Tyler, focusing on painting. She prolifically creates beautiful and enchanting still lifes of antiquated objects but during her time at UT Tyler she gained experience in painting murals. Now murals and commissioned portraits are Lauren's full-time job.
"The Importance of Community Murals" is an online article from the website productcare.org stating, "From the 30,000-year-old animal murals in France's Chauvet-Pont-d'Arc Cave to Banksy's Balloon Girl, murals have been part of our cultural landscape for thousands of years. Community murals are a mode of expression for artists in every graphic style imaginable: abstract, photorealistic, surrealist, expressionist and graffiti, to name just a few. Most recently, murals have become community centerpieces bringing people together to celebrate the heritage and history of their home. They create vibrant neighborhoods people want to visit and live. Murals attract new local businesses, help bring customers to pre-existing locations, and boost the economy of an area. Murals encourage people to slow down and admire your surroundings. Part of slow living involves appreciating our surroundings and their beauty. Murals create important conversations and expand thought. They also act as collective thought spaces. A great example of a dialogue-provoking mural project is American artist Wyland's Whaling Walls. Over a 30 year period, Wyland painted 100 life-sized whale murals across the globe to help people appreciate our oceans through art."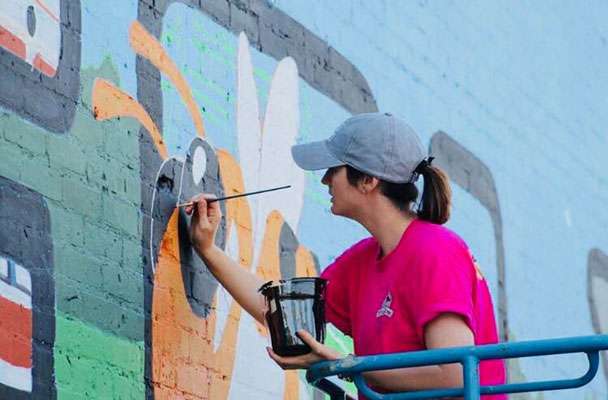 Lauren has an excellent painting skill set, creating works quite capable of attracting and holding the viewer's attention while provoking conversation and thought in her murals as well as her fine art. "My vintage still lifes are mostly painted on wood panels with acrylic paint. I use wood panels so I can get more layers and am able to lightly sand between coats to get a smooth surface I like. Acrylic paint works best with the wood. It dries quick enough to get more layers of detail," Lauren describes. She adds, "The style of my pieces is realistic with an exaggerated use of color as well as the background behind the objects. Typical objects I choose to depict are old cameras, clocks, books, and radios. As far as commissioned portraits and murals I tend to stick to realism as well, depending on what the subject matter is, along with the look and design of the surrounding area I will use a specific color palette directed towards a particular style." 
Lauren grew up always drawing people and facial portraits. After she graduated high school she began working at a local Goodwill store. It is there her fascination with distinctive items began to take hold. Lauren explains, "I enjoyed seeing different objects from different decades, mostly old cameras and clocks. One of the Goodwill tasks specific to me was creating displays for end-caps, toppers, and windows and I usually ended up using the older items, to give them a new life. I decided to collect these vintage items and make still lifes of them and paint them. Another one of my jobs was to paint the outside of the windows for holidays and special sales, the more I did them the more elaborate they became. It was then I felt this was where my path as an artist was truly starting."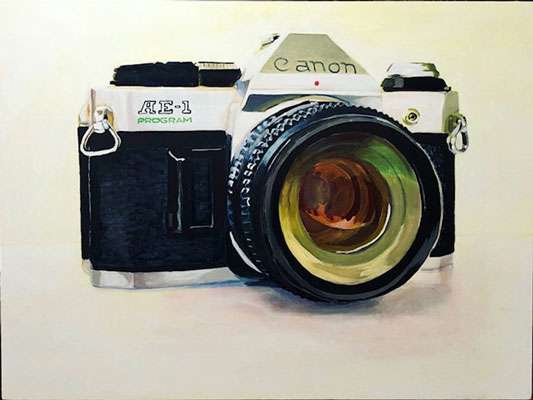 Lauren took a mural painting class at UT Tyler with Professor Alexis Serio Hughes: "We planned out and painted one of the exterior walls of the Discovery Science Place in Tyler over the span of one semester. After that semester I was hooked. I spent a later semester working on a mural there at UT Tyler in the Biology building. I was able to come up with a design, color palette, and work schedule, as well as assigning tasks to the three of us working on the mural," she states. 
After graduating, Lauren was able to start her first large commissioned mural downtown in her own hometown of Mineola. Soon after she completed the mural in Mineola, she was commissioned for multiple murals in towns around East Texas. "As an introverted person, I never really saw myself branching out and doing large projects like city murals, but art has given me the confidence to do things like that. Although art has given me the confidence to branch out and do large projects around our region, it brings problems along with it, like talking to people, in particular groups of people. I can say the path to get my degree in art helped me tremendously in preparing to speak in front of people but I have noticed, as an introvert, it takes a while to get over. However, after speaking in front of crowds a few times I have come to see it gets a little easier each time," describes Lauren.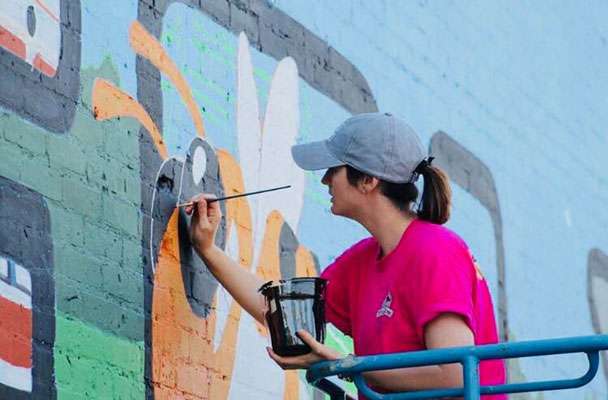 Lauren finds inspiration in the work of other artists like Christopher Stott (contemporary still life painter). She states, "He uses a lot of vintage objects in his work and highlights all the formal qualities of the objects I find most interesting, like contrasts in surface texture in vintage cameras and the shadows they produce. He adds non-vintage objects like wooden chairs and pencils in his pieces, which add another element of contrast." Lauren concludes, "I also have a favorite muralist, Anat Ronen, who does a lot of work throughout the Texas area and surrounding states. She is a massive inspiration to my mural work; keeping up with her and her work pushes me to keep expanding my work throughout East Texas." 
For more information and to see examples of her work on Instagram, check out: @artbylaurenpitre