Carina Alvarado: Inside the Artist's Studio

Dream Until Your Dreams Come True:
Carina Alvarado
By Derrick White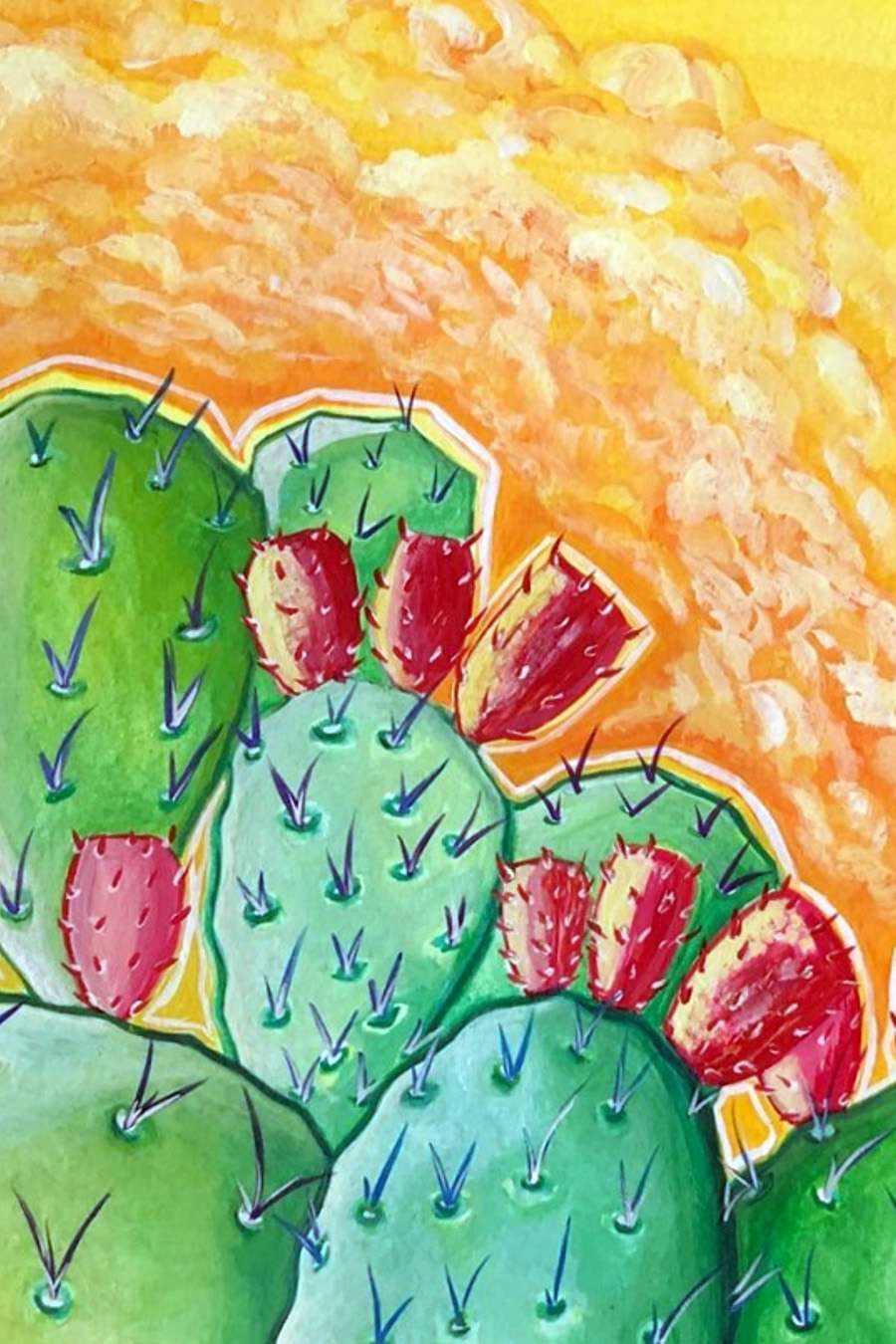 "The most important things art has brought to my life are the abilities to express, communicate, and connect. I am not great with words, especially expressing meaning without getting jumbled. Art is the language in which I feel the most comfortable communicating. I have found a way to express myself freely in a visual way and explain what is in my heart and soul," explains local artist Carina Alvarado. Her artwork is vibrant and uses graphic and bursting compositions of surreal imagery to captivate one's imagination. Carina uses a variety of media. "I really enjoy working with acrylics, but I recently tried watercolor and gouache and I have fallen in love with these materials. I enjoy the way they work together. The process of understanding these collaborations really interests me. I tend to use a little of everything in my pieces," she states.
"When I decided to quit my full-time job and focus on art, it was terrifying. Taking the decision and explaining it to the people around me – to me, felt like the first challenge as an artist. The frustration of feeling like you have to convince people it is what drives you as a person right after you convinced yourself to take the leap towards passion. There is so much behind the scenes in the amount of work, motivation, money – just the whole process of becoming an artist. I understand being an artist is an art form in and of itself, a journey. You can attend classes, you can watch videos, you can ask for advice, but you yourself have to create something. You don't apply to be an artist. The application is progressing and developing in personally growing in this unpredictable life, in your studio hours, experimenting with media and ideas, putting yourself and what you create out there. This application can go any which way; it can be short or long, but you never really get told you are an artist in this process. You, as the artist, have to keep creating. You have to stay motivated. You have to keep exhibiting your art," encourages Carina.
Alvarado took painting, drawing, figure drawing, art history, and ceramic classes at TJC.
She recalls, "While attending TJC, I met inspiring art professors. I remember Paul Jones sketching out new characters and ideas. I remember Derrick White being hands-on, teaching us how to stretch canvases. He was always trying out new techniques and painting. I learned what I needed to understand about art in my classes, but I had such inspiring professors to facilitate my creativity and my motivation outside of class. TJC art professors are active, professional artists and they speak about the things you have to do to show your work. They being enthusiastically productive and helping students understand, realistically, about being a visual artist were enough for me to start my journey into visual art." 
She adds, "In my studio art classes I found my fear of speaking in front of people was very minimal. Being surrounded by art and creative people provided me with so much confidence and provided a beautiful and personal way for me to connect to people. Art has made me push myself. I pressed myself to share the art I had been so private about by creating an Instagram and submitting my pieces to events. I stepped out of my comfort zone, meeting Addie Moore (a founder of "etx creatives"), attending events full of people I did not know. I submitted art to juried exhibitions and was accepted to some and rejected by others. I went on a podcast with "etx creatives" and spoke about my art, I was super terrified to speak and to be recorded but the excitement was much greater. Art has made me grow so much as a person, every day I learn something new about myself." 
Carina finds inspiration in the work of artist Ashley Longshore. "She is a strong, creative, and powerful woman who does not hold back. I admire her fun, colorful, and powerful paintings. Her art represents her so well; she says 'You are in my brain.' I respect artists taking me to another place in their minds and worlds," Carina explains. Alvarado also enjoys Salvador Dali, saying, "My admiration for his dreamlike, symbolic and surreal art made me feel connected to him. I hope one day I can perfect what I see and what I feel in an art form as well."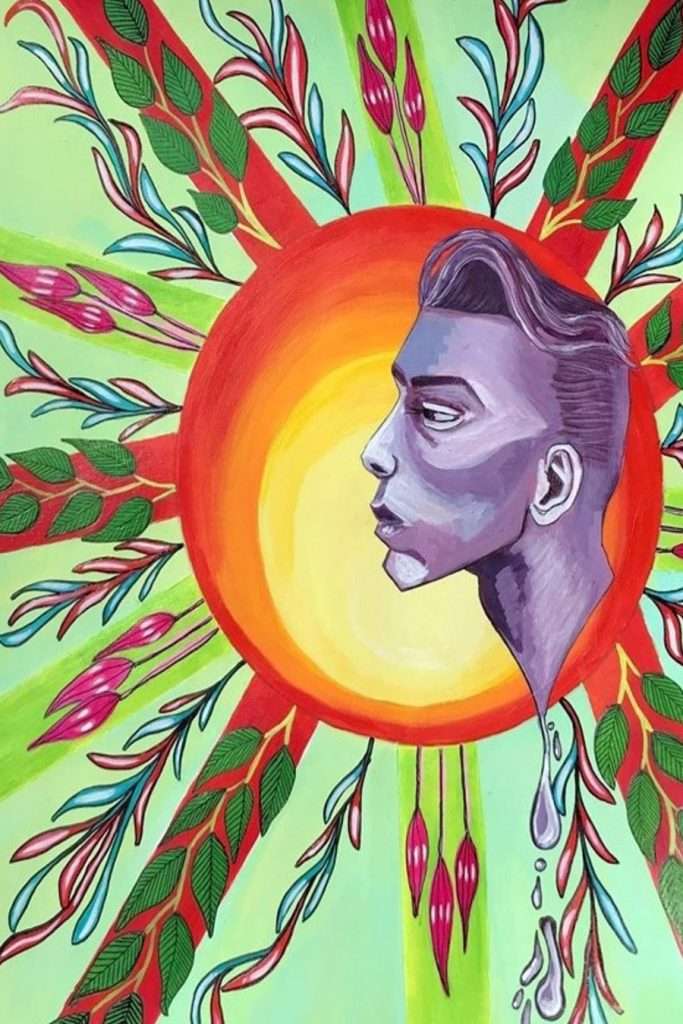 "I suppose my style is colorful surrealism, a glance into my extremely vivid lucid dreams. I have always had a very imaginative mind, but every night ever since I can remember I experienced crystal clear dreams. My dreams are other worlds to me, I know it sounds strange. I always remember waking up and writing down all the strangeness I had seen, all the experiences and the things I would learn. Yes, I would learn. I quickly learned how to control my dreams. I have come to accept these strange dreams which have made them even more mesmerizing. This past year, I lost my grandfather and my youngest uncle. One thing which helped me tremendously with the loss of these two great men was something my mom told me had happened. A few weeks before my uncle had tragically passed, my grandpa had told the family to get everyone together and to prepare for a funeral which would have many people attending. He even spoke my uncle's name and said it was for him, he had dreamed this. A few weeks later my uncle passed away suddenly. He was so loved by many people and many people attended the funeral. Afterward, my grandpa spoke about a little angelic boy visiting and signaling for him to be followed, a few weeks later my grandfather passed away. The day after the funeral there were bees everywhere but they did not sting us. Swarms just landed on plants, walls, and the ground. Later, I researched the symbolism of this event, bees are productive, they stay focused on whatever they are doing and do not get sidetracked. Around this time of the year, I was beginning my huge leap of faith into becoming a full-time artist. So, I decided to dive into my dreams and symbolism of the beautiful and tragic things happening around me."
Contact at:
 Instagram: @carinaoteroalvarado
 Facebook: Carina.Alvarado
 Email: carinaoalvarado@gmail.com

Robert Langham III: Inside the Artist's Studio

Inside the Artist's Studio:
Four Corners, Robert Langham III
By Derrick White
The Anasazi were Ancestral Puebloans, an ancient Native American culture existing about two thousand years ago in what is now the Four Corners region of the United States (southwestern corner of Colorado, southeastern Utah, northeastern Arizona, and northwestern New Mexico). They are thought to be the ancestors of later tribes like the Hopi. Religiously, they were polytheistic and had faith in many gods relating to nature (i.e. a rain god, a sun god, as well as good old mother earth). The Anasazi held many of their religious rituals and political meetings in dark or dimly lit underground rooms called kivas. There was a kachina belief. The central theme being an existence of life in all the objects of the universe and everything having a spirit or lifeblood, and that mankind must cooperate with these forces or fail to survive. This is not unlike the ancient Greek belief of daemon creative spirit guides. The Romans later changed the name to genius in the context of someone artistic, who was not thought to be a really intelligent person but rather had found favor with a disembodied essence who would assist with delivering ideas and the execution of the work.
"I'm beset by ideas, swarmed by ideas, hived, hounded. They pop into my head. They arrive on a piece of trash blown down the street or seep from the edge of a shadow. They pursue me in dreams and arrive during conversations, meals, baths, silence, sex, at 72 mph on the highway, they appear. They lurk in trees, closets, boxes, corners, elevators, concrete, dirt, space and in the pocket-lint of my jeans. Seductive or repellent. Arrowing, cascading, collapsing like lost children and salesmen. They fall from the sky, spurt from a shower head in places public and private. They keep no schedule, crowding in without appointment or announcement, elbowing, jostling through the press, caring neither for consciousness nor condition. Oblivious to budget or schedule, 10,000 angelic demons, seeking me, seeking me always," states local artist Robert Langham III.
Robert comes across as a shrewd and relaxed guy. I can easily imagine him in New Mexico having a deep philosophical conversation or maybe just hanging out and having a beer with Terry Allen (an outlaw, autonomous artist working in a diverse range of media including music, sculpture, painting, and video and who, it is worth mentioning, has a song titled Four Corners). Robert Langham is a fine art and commercial photographer and some of his works are mystic, while others are ghostly and reminiscent of cyanotypes, a photographic process generating a cyan-blue image. His subject matter seems to twirl and move in an unworldly, spiritual way: the blue being there to calm the viewer down, to help quiet the mind while the eyes look and the intellect wonders. Some works involve multiples: pieces of items both organic and man-made, stacked, melting, bundled, bound, attached, or whirled in a tornadic force. Other photographs have animals presented not in their natural habitats but instead in an encounter with mankind. 
Robert achieves these shuffling still-life photographs not with a computer but by using long-established traditional film, camera, and darkroom techniques. He uses big roll film and sheet film in large cameras. He composes visual dances with multiple exposures and controlled trickeries. Robert Langham shows viewers how ability, artistry, and patience are essential to composing filmic captivations. When one views his images, it is easy to believe they too have some sort of kachina – a sense of life in these inanimate objects happening to shift and cavort with an unseen life-force and reminding us of all the connections in our world and objects; or the manipulation of nature, which were at one time human concepts and thoughts, asking how are we to collaborate and persist together.
Langham earned a degree in photography and art from Sam Houston State University. He has taught at both TJC and Sam Houston. What started Robert down the path of becoming an artist was that, in his words, "I was seduced and then betrayed by an older woman," but art has brought purpose and understanding to his life. He explains, "It is the search for truth, isn't it? Art becomes the refining of one's self, the piercing of veils, and the shedding of layers. Art is the way you walk in the world. You soak yourself in your subject matter and then an idea appears, a new idea. Maybe it is a new stupid idea, but it is new. You somehow failure it into the world and all of a sudden, like snapping your fingers, something new exists. It is a miracle. When you look around yourself in the world almost everything you see is not most importantly a physical thing, it was someone's idea first. I am a little tender and adoring of new human ideas and the sheer adventure and exhilaration of the process. It's fun." He adds, "Anything worth doing is worth doing badly, at first. If you can't embrace, anticipate, celebrate, and enjoy failure you are going to have a rough time with art."
Robert Langham III gets inspirations from his daily life and all he encounters. He likes the early work of Man Ray (American visual artist and photographer contributing to both the Dada and Surrealist movements of the early 20th century). Robert advises, "I look at other media besides photography. Never look too much at your own media. If they are good, they drag you off to their lair and eat you. If they are bad, it is a waste of time. Look at something else." He continues, "My best advice is to find your subject matter and look at it. I look at paintings but mostly enjoy ones not made from photographs. I like paintings from the artists' imaginations." Robert visited the recent Claude Monet exhibition at the Kimball Museum of Art in Fort Worth twice and says he got photographic ideas from the show. He states he is crazy about the Anasazi and also likes Inuit and Pompeian art.
I like this idea of the Anasazi of all things and people being connected, and the reverence they had for nature, objects, and our earth. Robert's photographs of pirouetting feathers remind me of their philosophy and I wish we could all cooperate more with all things, all people, and good old mother earth… and perhaps survive. But sometimes I worry the four corners reference actually comes from Revelation 7:1, "I saw four angels standing at the four corners of the earth, holding back the four winds of the earth to prevent any wind from blowing on the land or on the sea or on any tree …four angels given the power to harm the land." 

Call for Submittals for the "Hello Future!" Gallery Exhibit

Artists are invited to submit their work for the jurying phase of Gallery Main Street's "Hello Future!" fine art exhibit.
"Hello Future!" invites you to explore what greeting and embracing the future means to you. It may reflect your interpretation of the distant future or the very near future. What are your predictions or prophecies for the future and how will you approach or embrace them? As always, your art is your voice and we would love to hear what you have to say.
Artists should visit Client.SmarterEntry.com/COTT to enter their work by midnight on Sunday, Nov. 3.
The exhibit will run from Nov. 16 through Dec. 29, with an opening reception on Nov. 16 from 10 a.m. to 4 p.m. This free event will feature the opportunity to meet many of the featured artists and join in the celebration.
On Exhibit at Tyler Museum of Art: "Passing Through" & Books"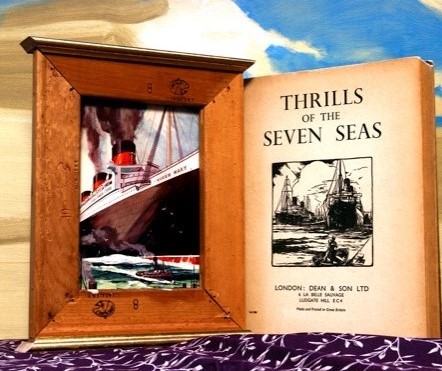 The Tyler Museum of Art (TMA) is located at 1300 S. Mahon Ave. on the Tyler Junior College main campus. Regular TMA hours are 10am-5pm Tuesday-Saturday, and 1-5pm Sunday. The Museum is closed Mondays. For more info call the museum at (903)595-1001, tylermuseum.org, or email info@tylermuseum.org.
"Passing Through" on Exhibit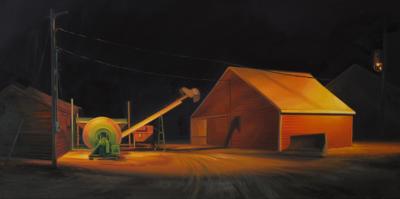 "Passing Through: Works by Lloyd Brown, Pat Gabriel, and Sarah Williams" is organized by the Tyler Museum of Art. As the title suggests, the featured works explore scenes from the American landscape one might encounter while "passing through" a town or area. Despite the similar subjects, each individual artist has captured these overlooked spaces in their own unique way – elevating the mundane and making the ordinary extraordinary.
Support for "Passing Through" is provided by Collectors' Circle Gold Sponsor Julietta Jarvis Foundation, Inc., with special thanks to Valley House Gallery, Artspace 111 and Foltz Fine Art, Talley Dunn Gallery, and Moody Gallery.
This will be on exhibit through December 1st.
"Books, Books & More Books: Works by MANUAL"
The Tyler Museum of Art is embarking on another historic collaboration with a fellow Smith County nonprofit while exploring the printed word as a work of art in its next major exhibition, "Books, Books & More Books: Works by MANUAL," presented in collaboration with Literacy Council of Tyler. The exhibition runs through November 10th in the Museum's Bell Gallery.
Organized by the TMA and curated by Caleb Bell, "Books, Books & More Books" spotlights a series of photographic works from the ongoing "Book Project by MANUAL," the artistic collaboration of Suzanne Bloom and Ed Hill that began in 1974. The photographs from this series spotlight a wide variety of books in dynamic compositions, "visually exploring their importance in our lives," Caleb Bell said.
Though created within the classic genre of still life, the artistic duo sees its work in the "Book Project" more as "staging discrete dramas on a very small stage," they wrote. "What we may be doing in this extended project is just a different form of 'romance' with the book than is reading and researching."
The idea of an exhibition celebrating the physical, bound book as a work of art in and of itself – and as a gateway to the imagination – attracted not only the TMA staff but the LCOT leadership as well, and seemed a natural fit for the occasion of two organizations that share complementary educational missions to collaborate for the first time.
"Many of our students, like others in Tyler, have never had the chance to interact with visual art in a museum setting, and to be able to introduce them to this world through the medium of books is a uniquely approachable and relatable opportunity," said LCOT Executive Director Nancy Crawford. "I think this exhibition reveals the true nature of books as works of art, from the standpoint of the content inside, the cover art, and even the tactile experience of holding a book and turning its pages. We think the exhibition will show our students that reading is truly an artful experience that they can begin to enjoy and appreciate on so many new levels as they pursue their educations at Literacy Council of Tyler."
Support for "Books, Books & More Books" is provided by Collectors' Circle-Platinum Sponsor The Byars Foundation and Media Sponsor Tyler Today Magazine, with special thanks to Moody Gallery, Houston.
Special Days & Tours
Special events in connection with current exhibitions include a free First Friday tour. The first Friday of each month, 11am-12:30pm, the TMA offers a full day of free admission plus guided tours of its spotlight exhibitions. 
Family Days will be from 2-4pm the second Saturday of each month. Free admission, interactive art projects, light snacks, and a festive atmosphere for all ages are on the menu for the second Saturday of each month with the Tyler Museum of Art's Family Day.