Carina Alvarado: Inside the Artist's Studio

Dream Until Your Dreams Come True:
Carina Alvarado
By Derrick White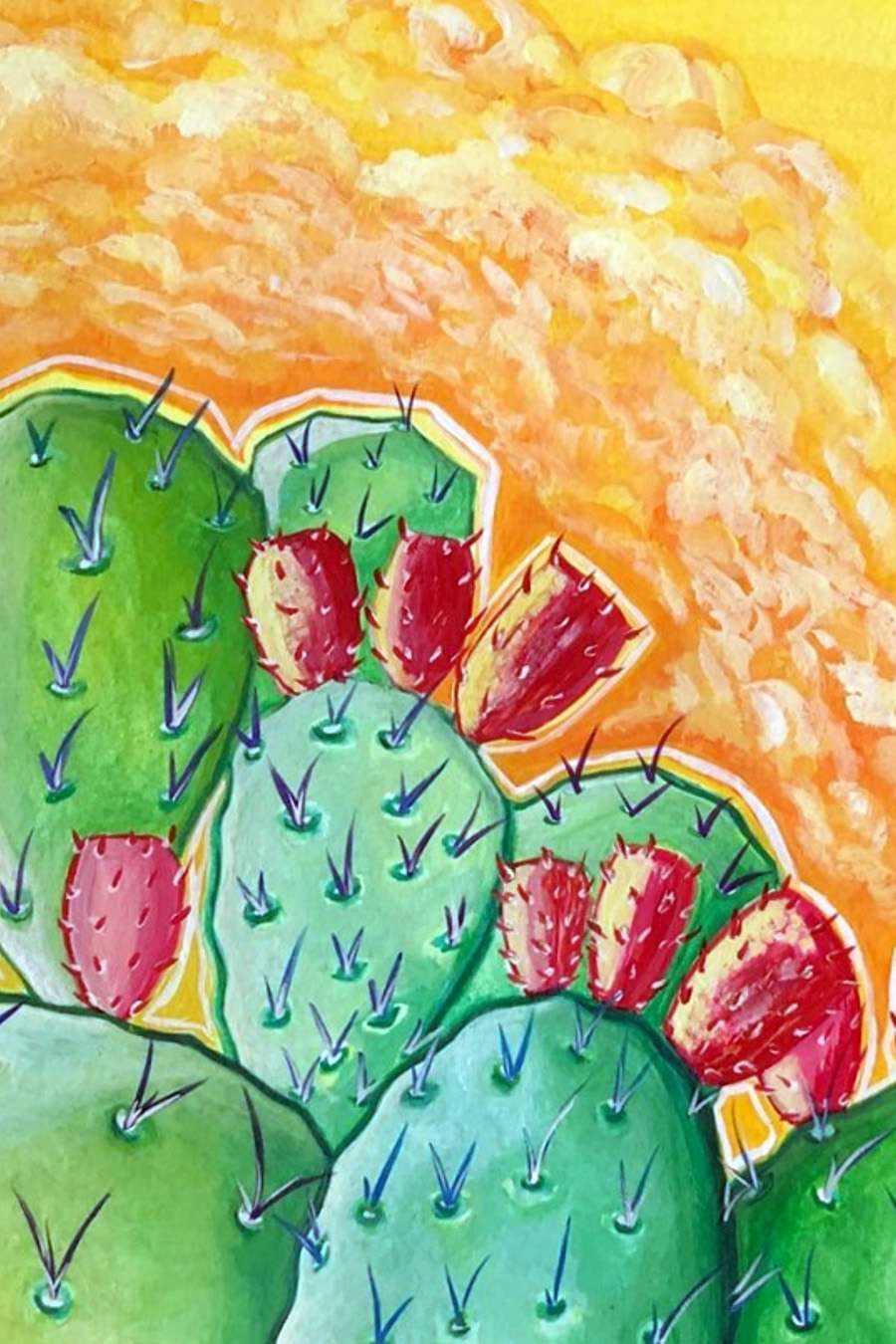 "The most important things art has brought to my life are the abilities to express, communicate, and connect. I am not great with words, especially expressing meaning without getting jumbled. Art is the language in which I feel the most comfortable communicating. I have found a way to express myself freely in a visual way and explain what is in my heart and soul," explains local artist Carina Alvarado. Her artwork is vibrant and uses graphic and bursting compositions of surreal imagery to captivate one's imagination. Carina uses a variety of media. "I really enjoy working with acrylics, but I recently tried watercolor and gouache and I have fallen in love with these materials. I enjoy the way they work together. The process of understanding these collaborations really interests me. I tend to use a little of everything in my pieces," she states.
"When I decided to quit my full-time job and focus on art, it was terrifying. Taking the decision and explaining it to the people around me – to me, felt like the first challenge as an artist. The frustration of feeling like you have to convince people it is what drives you as a person right after you convinced yourself to take the leap towards passion. There is so much behind the scenes in the amount of work, motivation, money – just the whole process of becoming an artist. I understand being an artist is an art form in and of itself, a journey. You can attend classes, you can watch videos, you can ask for advice, but you yourself have to create something. You don't apply to be an artist. The application is progressing and developing in personally growing in this unpredictable life, in your studio hours, experimenting with media and ideas, putting yourself and what you create out there. This application can go any which way; it can be short or long, but you never really get told you are an artist in this process. You, as the artist, have to keep creating. You have to stay motivated. You have to keep exhibiting your art," encourages Carina.
Alvarado took painting, drawing, figure drawing, art history, and ceramic classes at TJC.
She recalls, "While attending TJC, I met inspiring art professors. I remember Paul Jones sketching out new characters and ideas. I remember Derrick White being hands-on, teaching us how to stretch canvases. He was always trying out new techniques and painting. I learned what I needed to understand about art in my classes, but I had such inspiring professors to facilitate my creativity and my motivation outside of class. TJC art professors are active, professional artists and they speak about the things you have to do to show your work. They being enthusiastically productive and helping students understand, realistically, about being a visual artist were enough for me to start my journey into visual art." 
She adds, "In my studio art classes I found my fear of speaking in front of people was very minimal. Being surrounded by art and creative people provided me with so much confidence and provided a beautiful and personal way for me to connect to people. Art has made me push myself. I pressed myself to share the art I had been so private about by creating an Instagram and submitting my pieces to events. I stepped out of my comfort zone, meeting Addie Moore (a founder of "etx creatives"), attending events full of people I did not know. I submitted art to juried exhibitions and was accepted to some and rejected by others. I went on a podcast with "etx creatives" and spoke about my art, I was super terrified to speak and to be recorded but the excitement was much greater. Art has made me grow so much as a person, every day I learn something new about myself." 
Carina finds inspiration in the work of artist Ashley Longshore. "She is a strong, creative, and powerful woman who does not hold back. I admire her fun, colorful, and powerful paintings. Her art represents her so well; she says 'You are in my brain.' I respect artists taking me to another place in their minds and worlds," Carina explains. Alvarado also enjoys Salvador Dali, saying, "My admiration for his dreamlike, symbolic and surreal art made me feel connected to him. I hope one day I can perfect what I see and what I feel in an art form as well."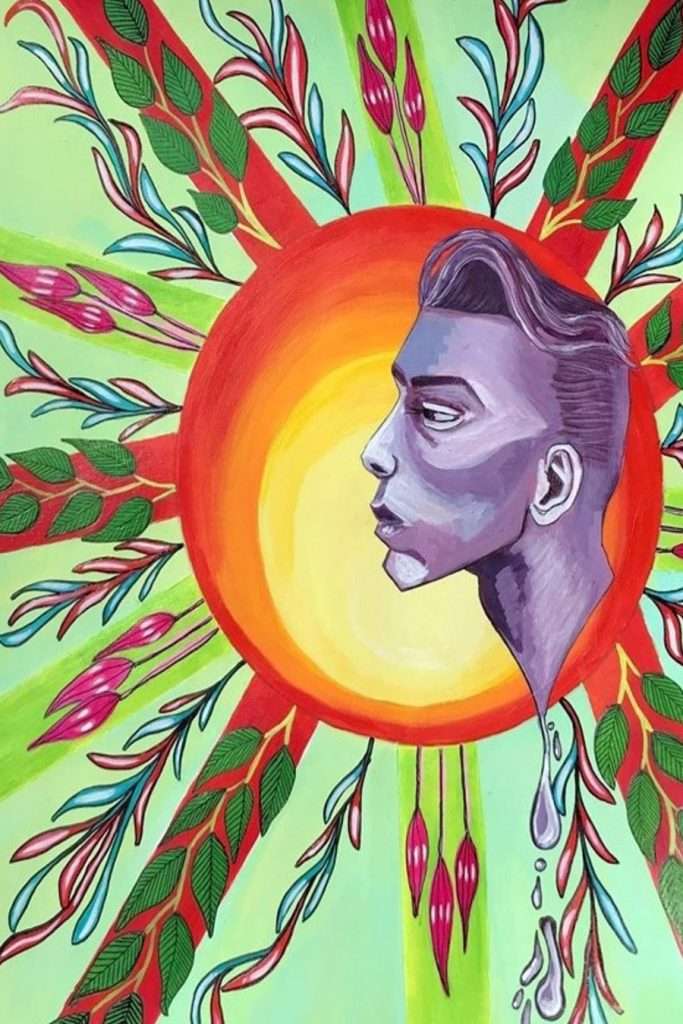 "I suppose my style is colorful surrealism, a glance into my extremely vivid lucid dreams. I have always had a very imaginative mind, but every night ever since I can remember I experienced crystal clear dreams. My dreams are other worlds to me, I know it sounds strange. I always remember waking up and writing down all the strangeness I had seen, all the experiences and the things I would learn. Yes, I would learn. I quickly learned how to control my dreams. I have come to accept these strange dreams which have made them even more mesmerizing. This past year, I lost my grandfather and my youngest uncle. One thing which helped me tremendously with the loss of these two great men was something my mom told me had happened. A few weeks before my uncle had tragically passed, my grandpa had told the family to get everyone together and to prepare for a funeral which would have many people attending. He even spoke my uncle's name and said it was for him, he had dreamed this. A few weeks later my uncle passed away suddenly. He was so loved by many people and many people attended the funeral. Afterward, my grandpa spoke about a little angelic boy visiting and signaling for him to be followed, a few weeks later my grandfather passed away. The day after the funeral there were bees everywhere but they did not sting us. Swarms just landed on plants, walls, and the ground. Later, I researched the symbolism of this event, bees are productive, they stay focused on whatever they are doing and do not get sidetracked. Around this time of the year, I was beginning my huge leap of faith into becoming a full-time artist. So, I decided to dive into my dreams and symbolism of the beautiful and tragic things happening around me."
Contact at:
 Instagram: @carinaoteroalvarado
 Facebook: Carina.Alvarado
 Email: carinaoalvarado@gmail.com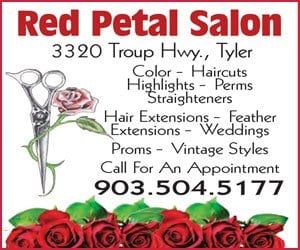 Think Outside the Box with "Beauty & The Box"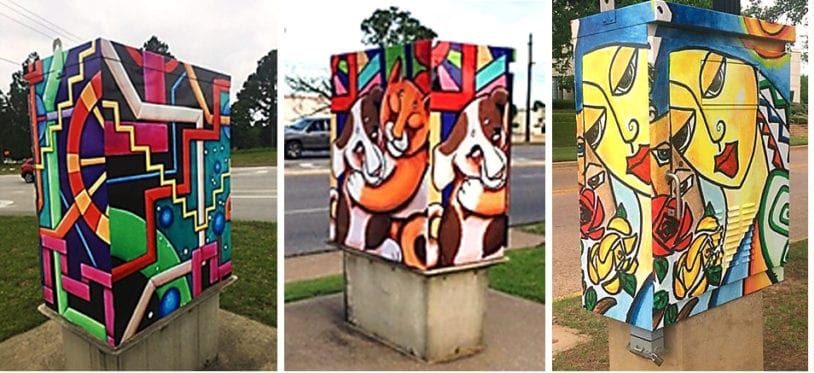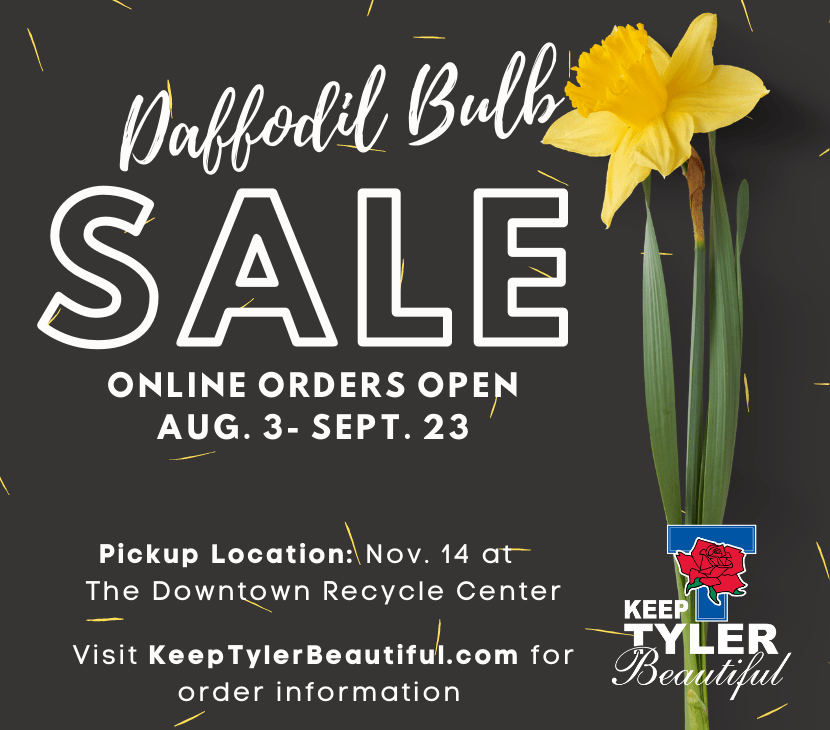 Keep Tyler Beautiful started the Beauty in the Box program in 2015 as a way to support local artists and bring artwork to all corners of Tyler. The Beauty and the Box program connects sponsors with local artists and transforms traffic signal boxes in Tyler into pieces of art. The artwork, submitted by local artists, is transformed into a vinyl wrap that covers the traffic signal box. If you are interested in sponsoring a box or submitting artwork for the program, please fill out the contact form or call (903)531-1335.
To add more boxes or additional info on any boxes, please email eguidemagazine@gmail.com.   #KeepTylerBeautiful  #BeautyandtheBox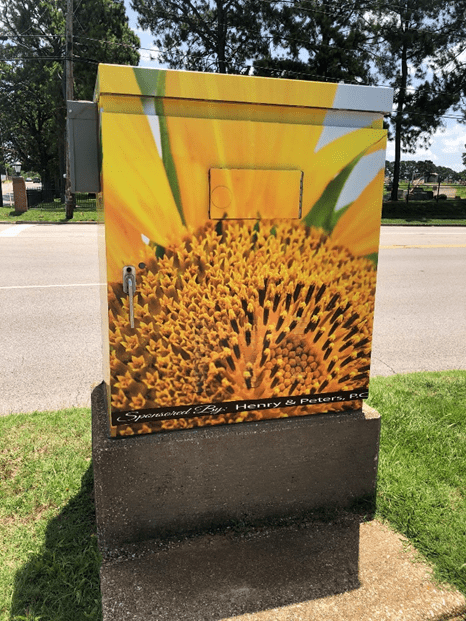 Located at Broadway Avenue and Old Troup Highway: Sponsored by Henry & Peters, P.C. Artwork by David Di Paolo.
---
Located at Troup Highway and Golden Road: Sponsored by Linda Davidson. Artwork by Linda Davidson.
---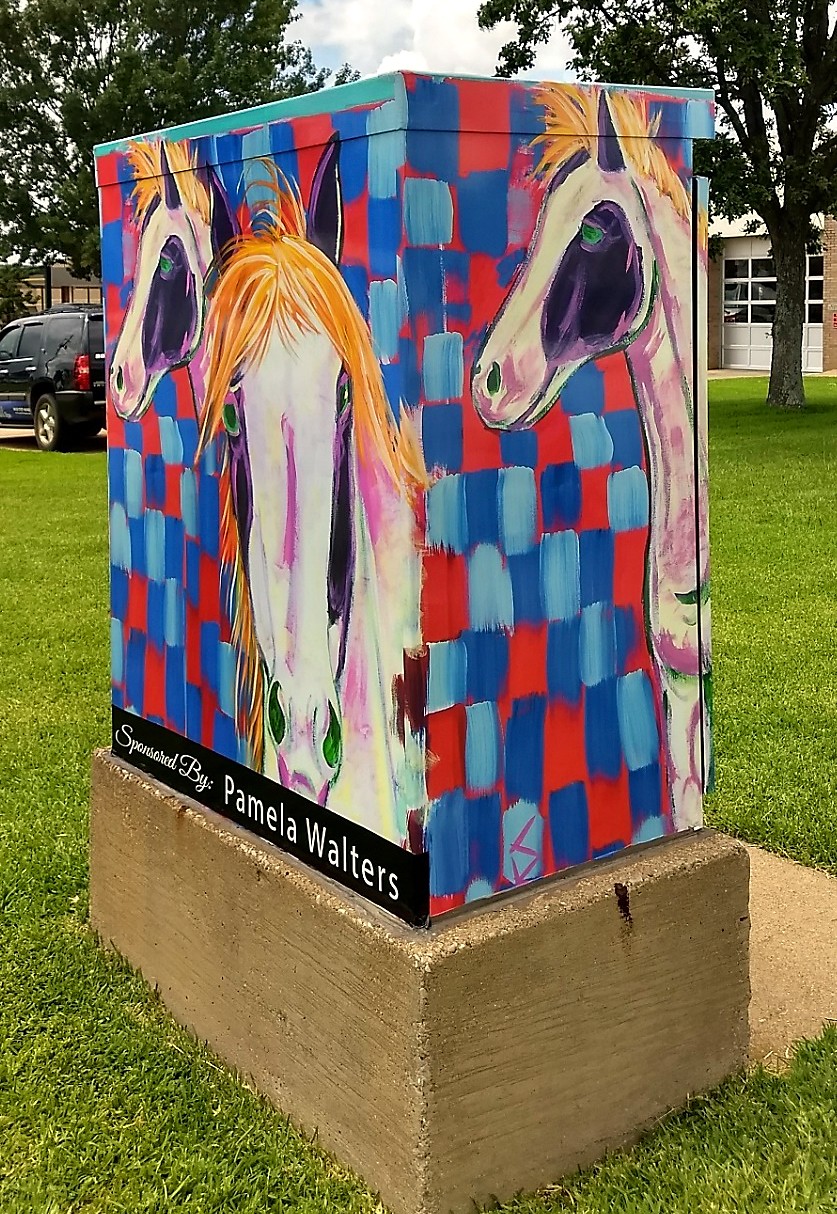 Located at Old Bullard Road and Rieck Road: Sponsored by Pamela Walters. Artwork by Sam Brown.
---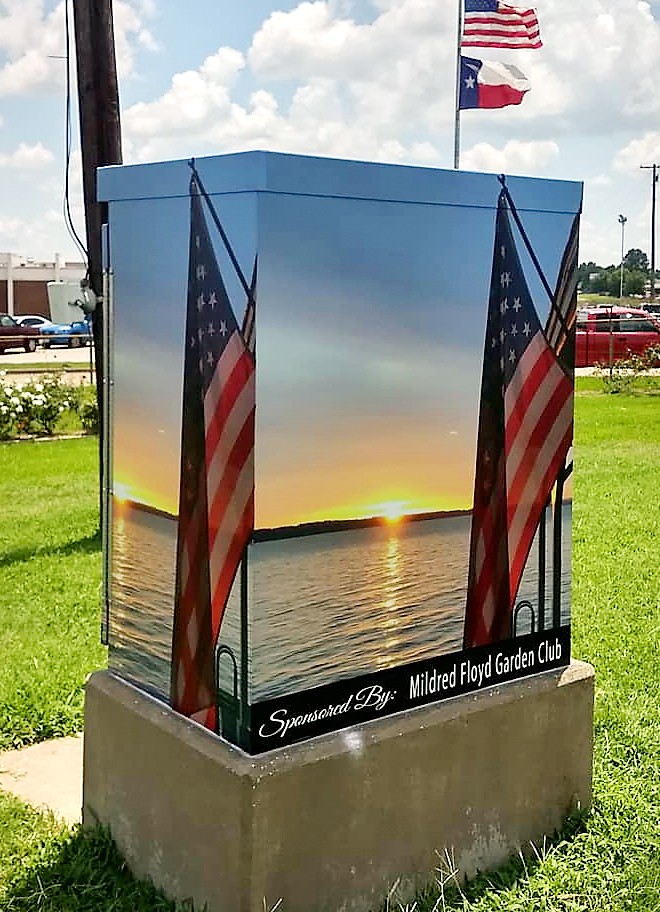 The traffic signal box at Old Jacksonville Highway and WSW Loop 323 has been sponsored by the Mildred Floyd Garden Club in memory of Marsha Harrison and other late members of the garden club.
Before her passing, Marsha presented the idea of sponsoring a box to her club and brought her original photograph to be considered as the image. The photograph is of the American flag flying over Marsha's family lake house on Lake Tyler. "The box is intended to serve as a loving memorial to Marsha and the other lovely ladies we have lost in the past years," a club spokesperson said.
Marsha Harrison had a strong presence in the Tyler community and is remembered for her involvement in many organizations. She participated in the Tyler Rose Festival, Tyler Chamber of Commerce, the Parks Board, the Transportation Board, the Tyler Symphony League and the Cattle Barons. She was also a member of the Tyler Literary Club, the Mildred Floyd Garden Club and was one of the original co-founders of the Discovery Science Place.
"The Beauty and the Box program has had a very positive impact on the community and has reached so many people," says Keep Tyler Beautiful Coordinator Angela Bennis. "We feel very privileged that the Mildred Floyd Garden Club has chosen to honor Marsha and others through this program."
---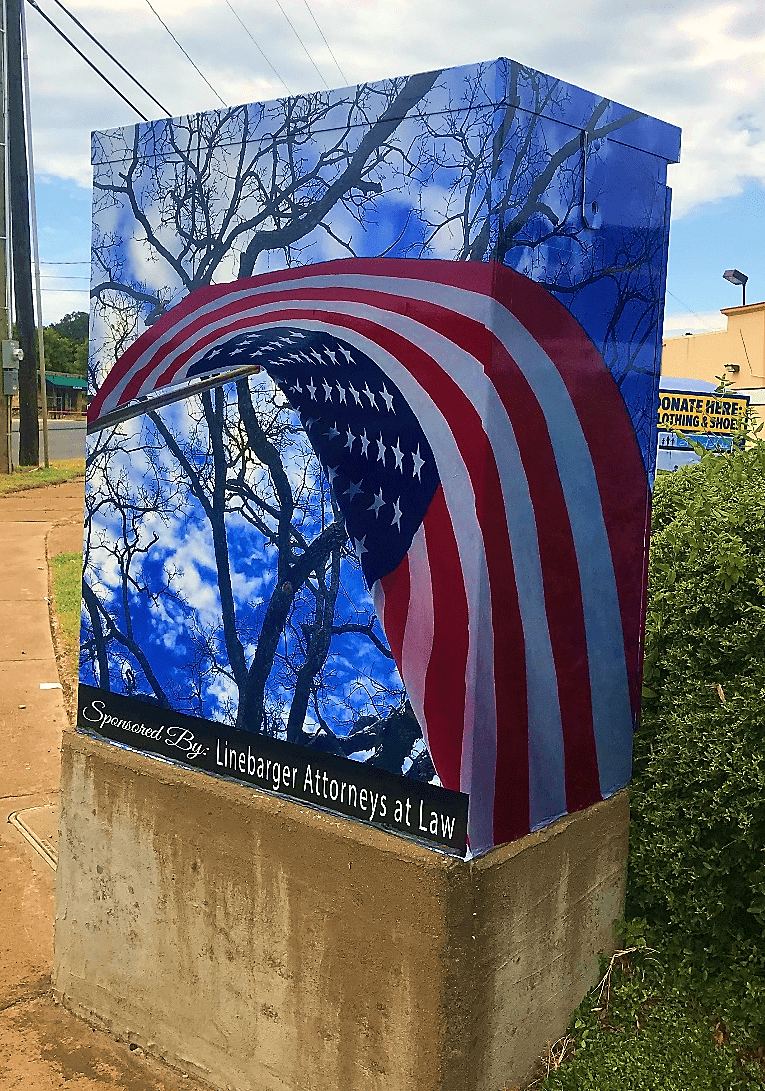 Located at Front Street and Glenwood Boulevard; Sponsored by Linebarger Attorneys at Law. Artwork, photograph of the American Flag, is by Dorothy Hersey.
---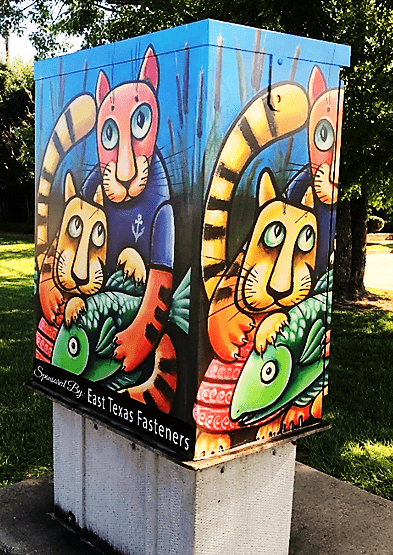 Located at South Broadway Avenue and East Heritage Drive: Sponsored by East Texas Fasteners. Artwork by Valeria Barnhill.
---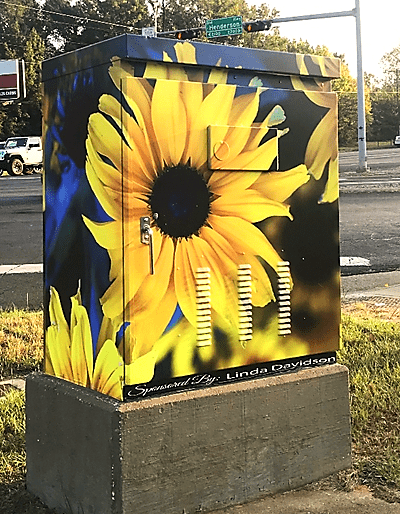 Located at East Front Street and Old Henderson Highway: Artwork and sponsored by Linda Davidson.
---
Located at South Beckham Avenue and East Houston Street: Sponsored by Tyler Museum of Art. Artwork by Courtney Wrenn.
---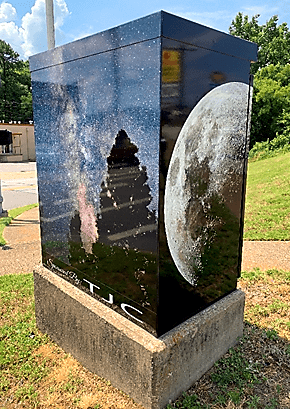 Located at East Fifth Street and South Fleishel Avenue: Sponsored by Tyler Junior College. Artwork by Tom Hooten.
---
Located at University Boulevard and Lazy Creek Drive: Sponsored by Ogle Constructions. Artwork by John York.
---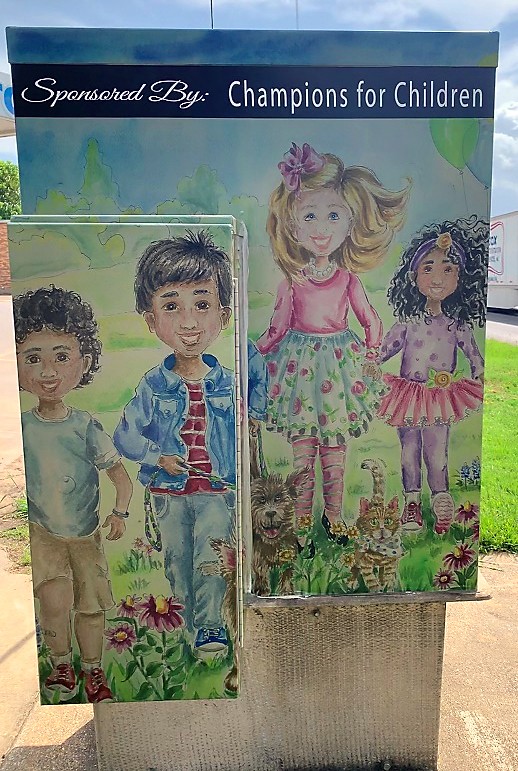 Located at Loop 323 and Paluxy Drive: Sponsored by Champions for Children. Artwork by Susan Sellars.
---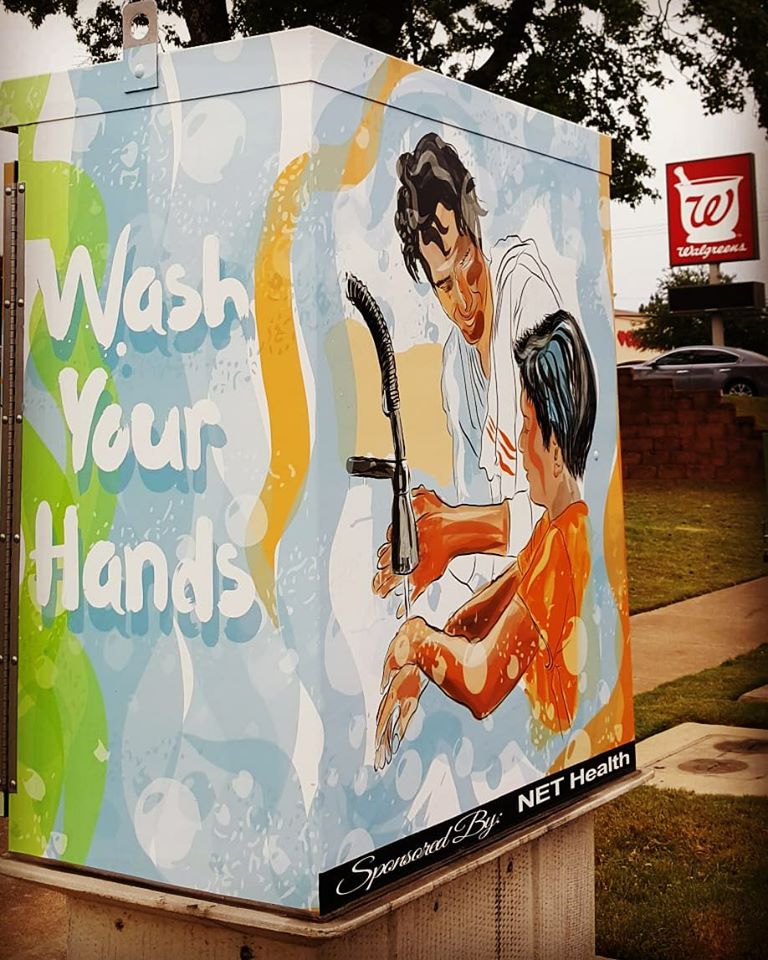 Located near Bergfeld Park on South Broadway in Tyler.
---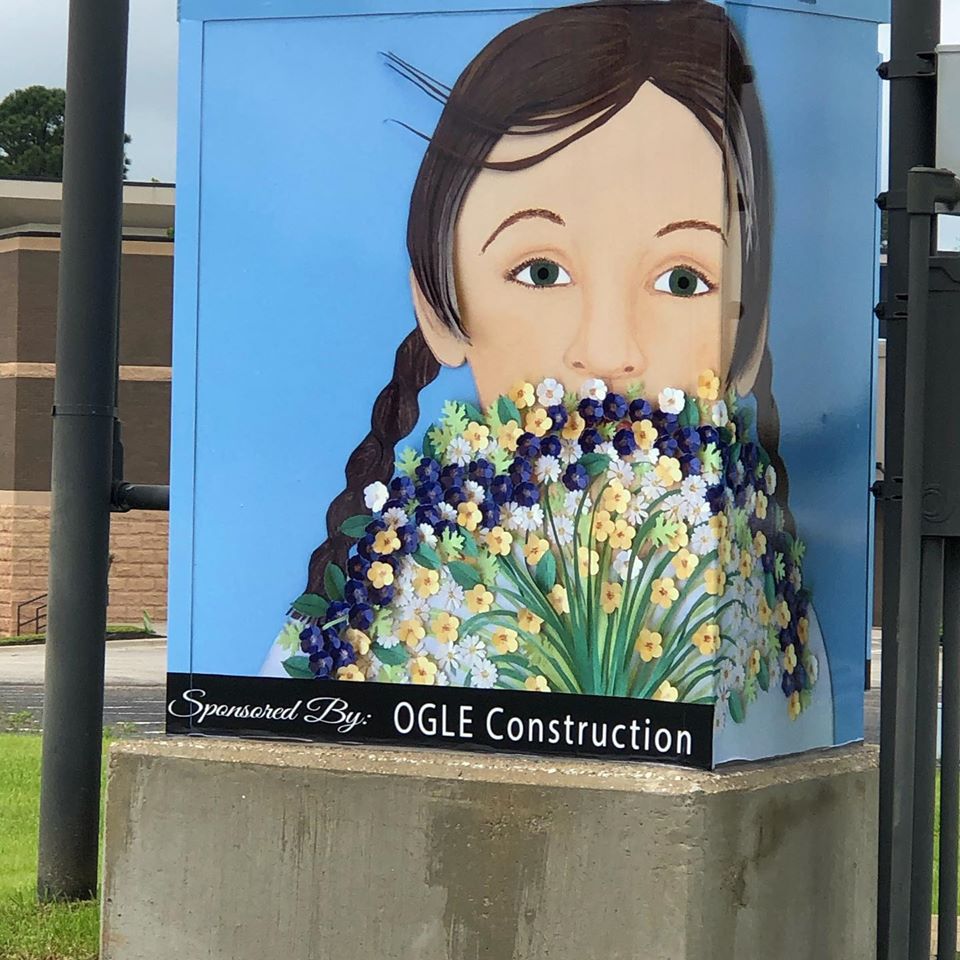 Located at 5th and Beckham St: 'Daisy"is sponsored by Ogle Construction. Artist unknown.
---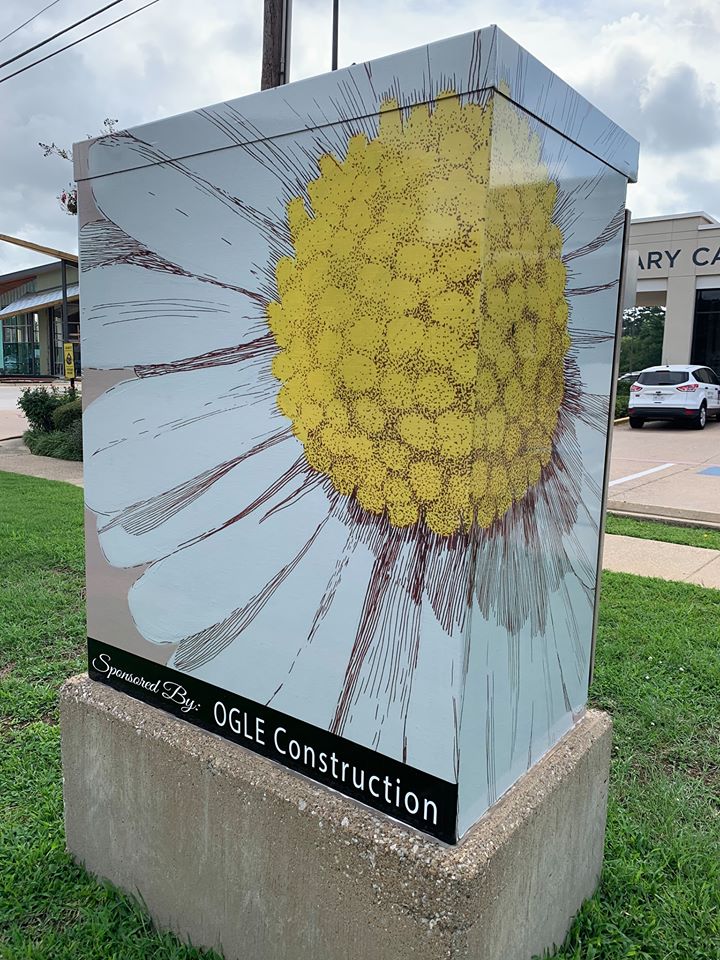 Located on Broadway and Old Grande: Sponsored by Ogle Construction. Artwork by Joel Joel Nichols.
---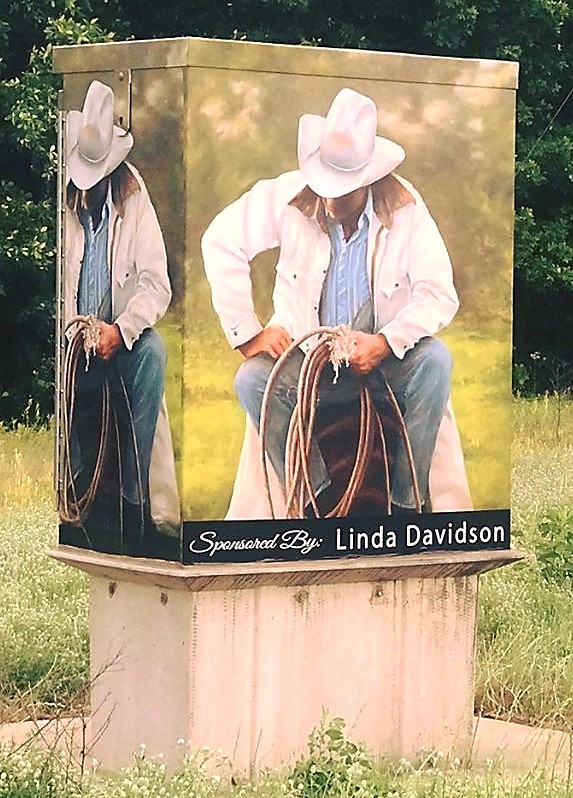 Location unknown. Sponsored by Linda Davidson. Artist is unknown.
---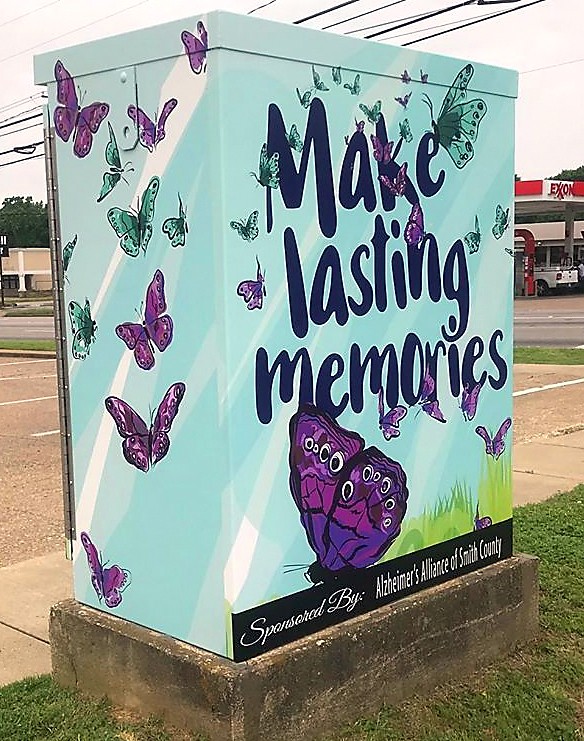 Located at Broadway and Amherst St. Sponsored by Alzheimer Alliance of Smith County. Artist is unknown.
---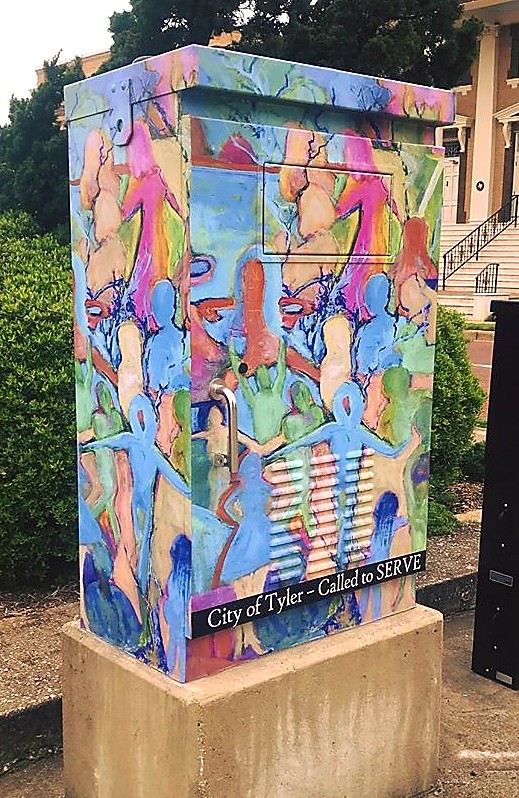 Location unknown. Sponsored by City of Tyler Call to Serve. Artist is unknown.
---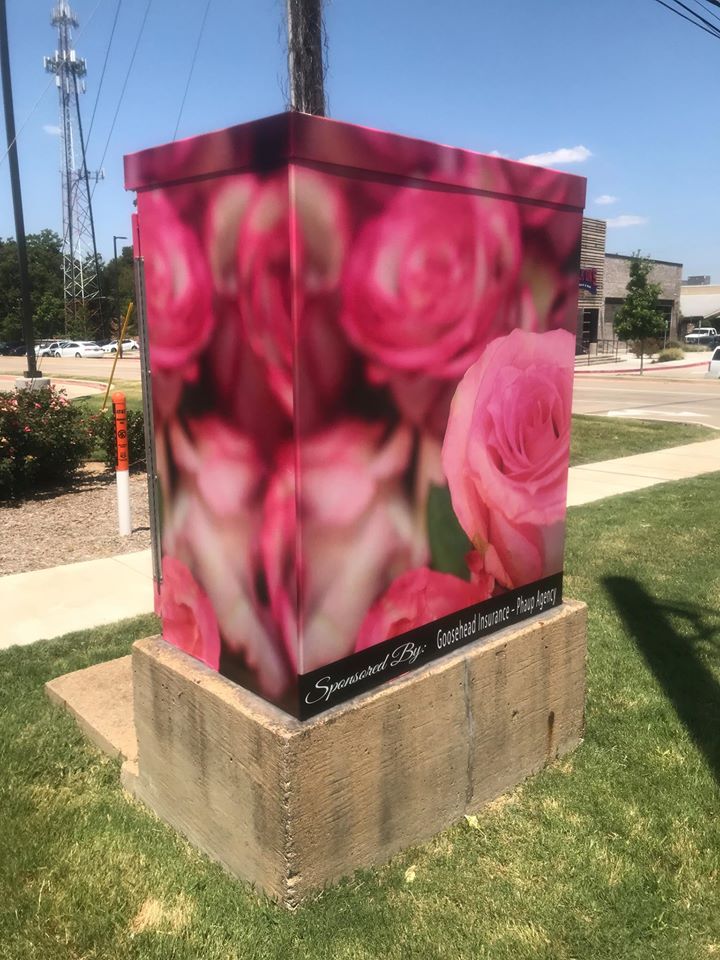 Location unknown. Sponsored by Goosehead Insurance – Phaup Agency. Artist unknown.
---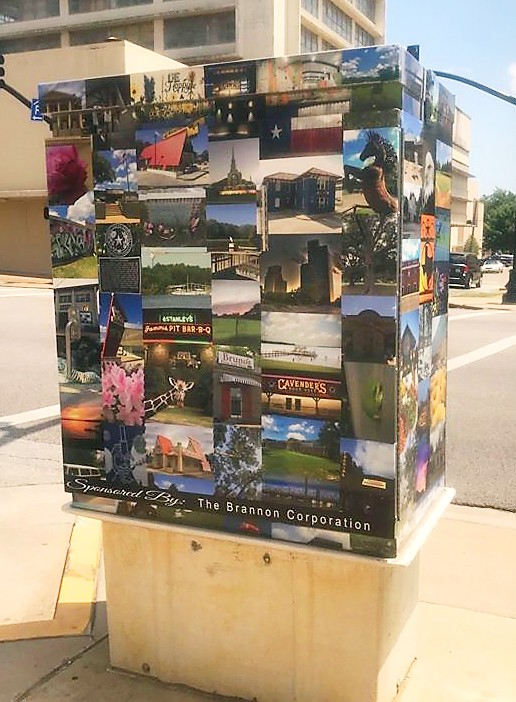 Located at Elm St. and Broadway, downtown Tyler in front of the FREE parking garage.
---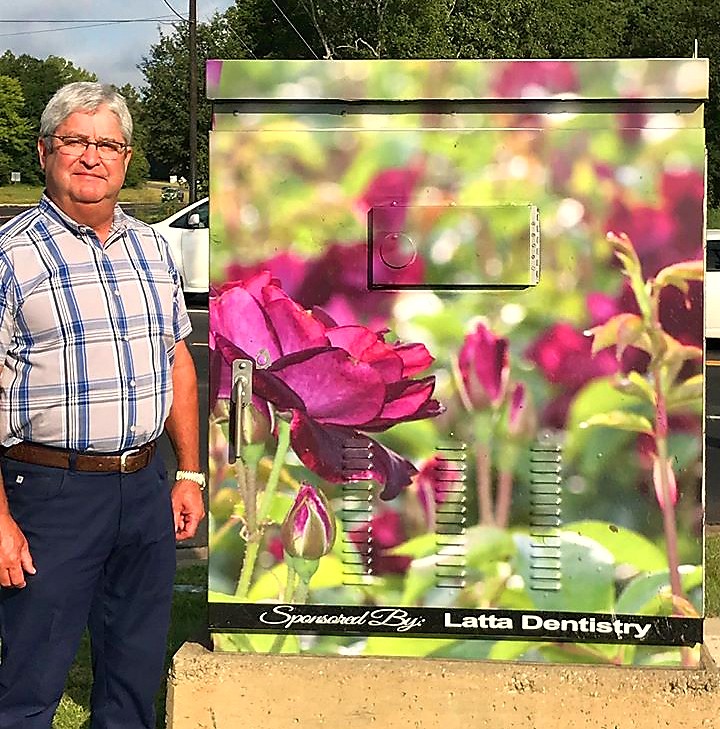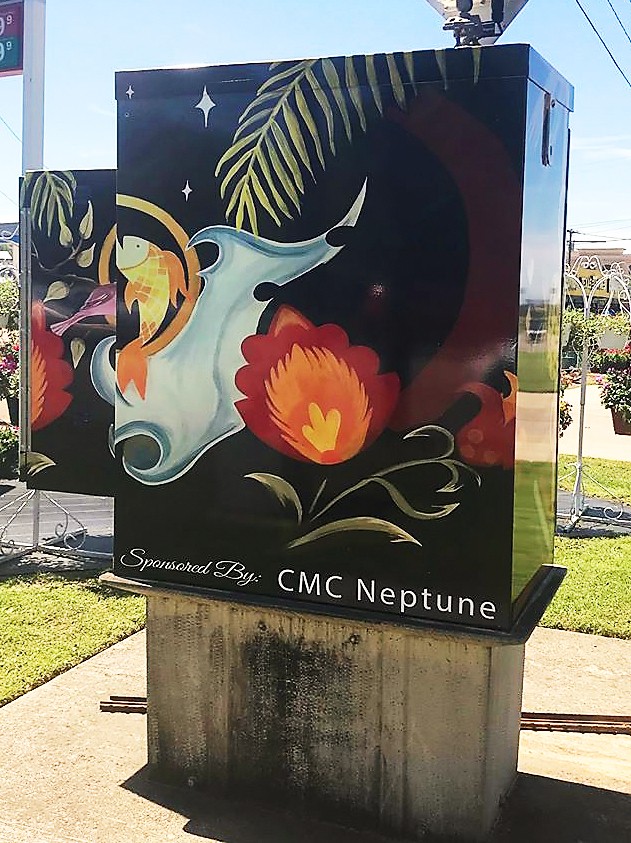 Location is unknown: Sponsored by CMC Neptune. Artist is unknown.
---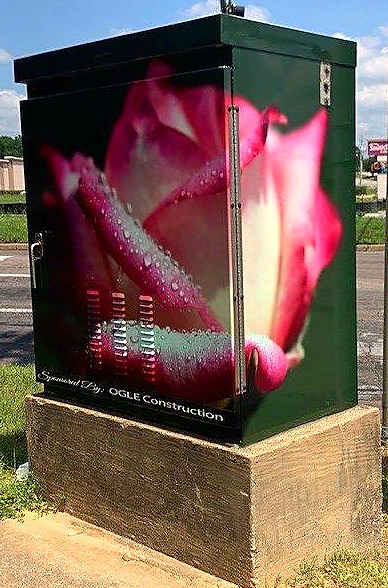 Location is unknown: Sponsored by Ogle Construction. Artist is unknown.
---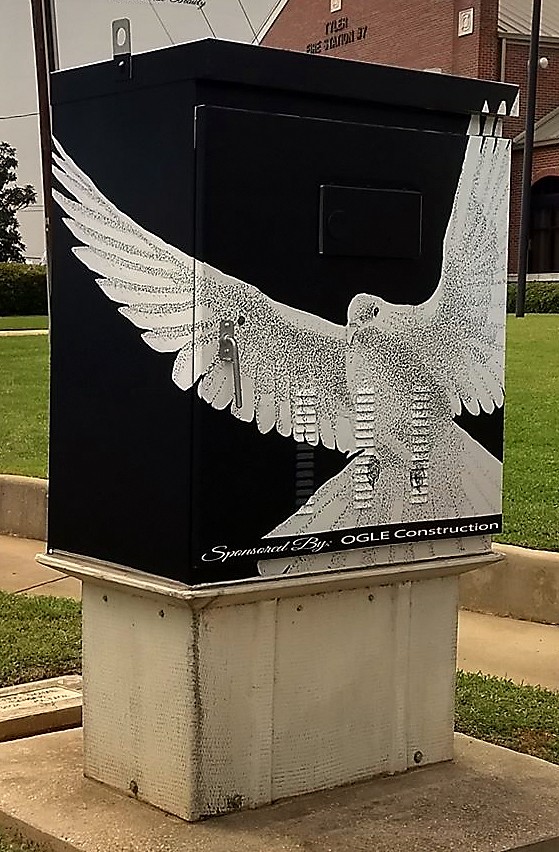 Located at Old Troup Hwy and Donnybrook in front of the Firestation: Sponsored by Ogle Construction. Artist is unknown.
---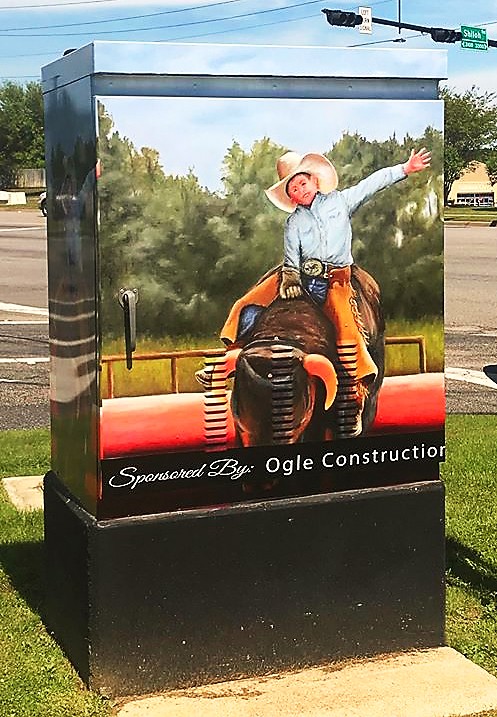 Location is unknown: Sponsored by Ogle Construction. Artist is unknown.
---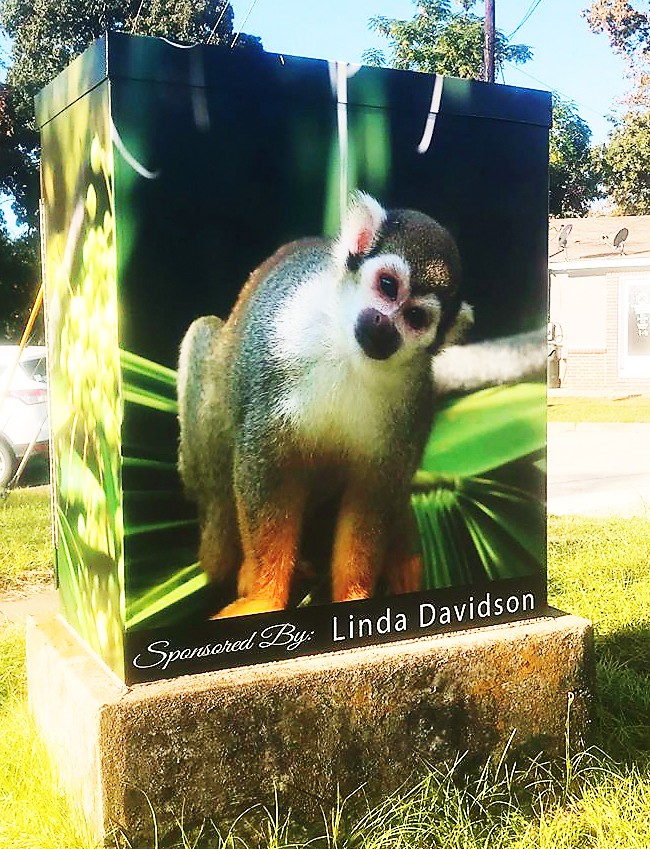 Located at Gentry Pkwy and MLK Jr. Blvd.: Sponsored by Linda Davidson. Artist is unknown.
---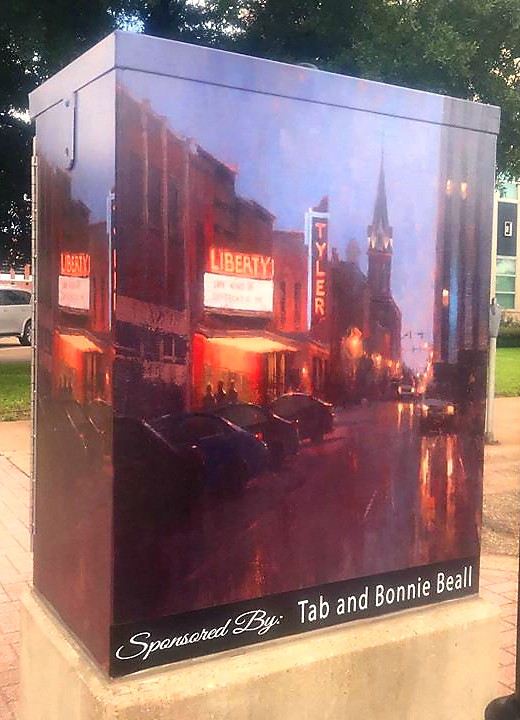 Located at N. Broadway and Erwin St., Downtown Tyler: Sponsored by Tab & Bonnie Beall. Artist is unknown.
---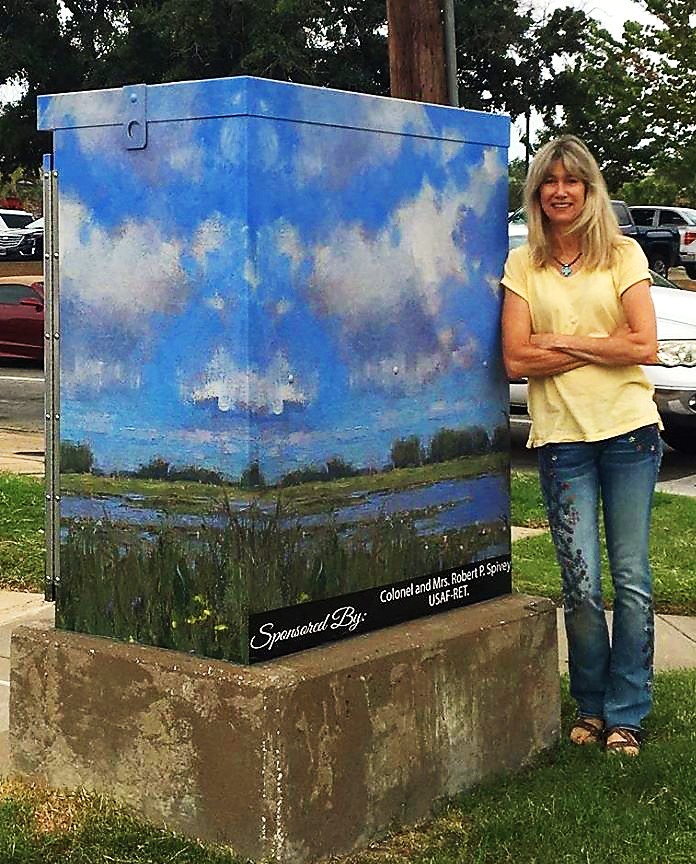 Located on the corner of S. Broadway & Chimney Rock: Sponsored by Col. & Mrs. Robert Spivey. Artist is Diane Ditzler Frossard.
---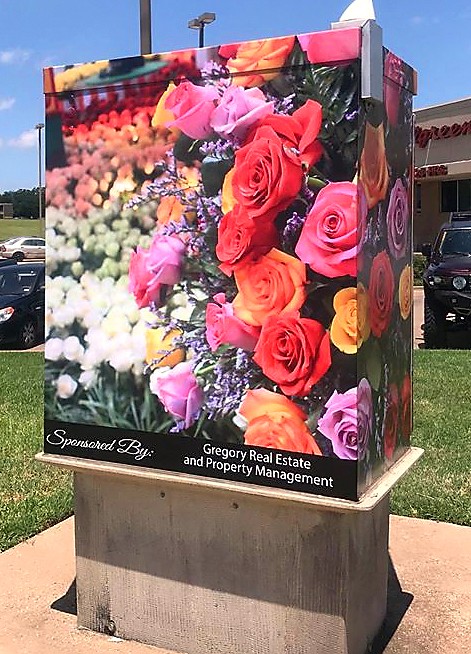 Location is unknown: Sponsored by Gregory Real Estate & Property Management. Artist is unknown.
---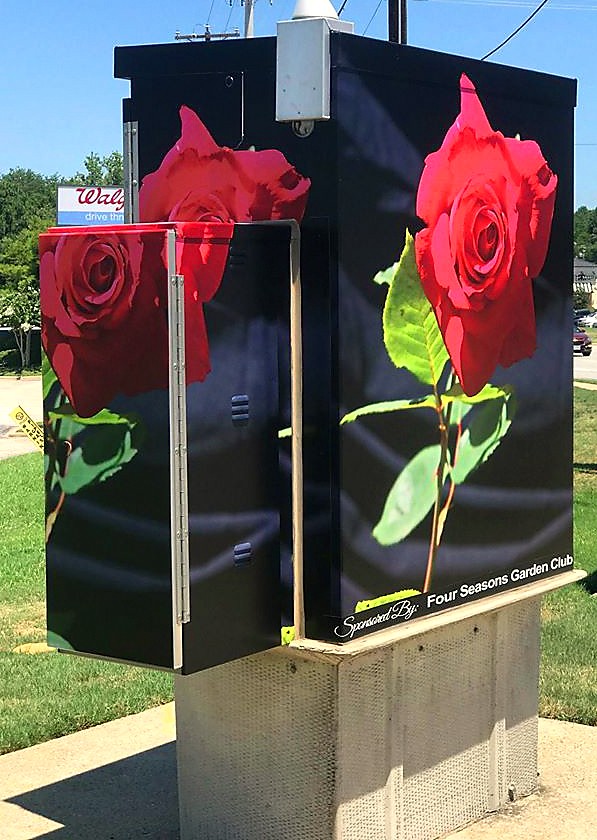 Location is unknown: Sponsored by Four Seasons Garden Club. Artist is unknown.
---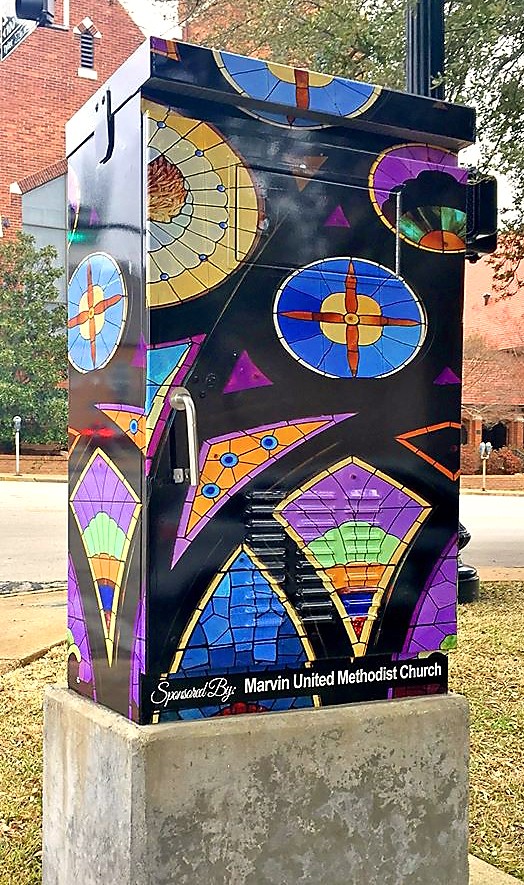 Location and sponsorship is in front of Marvin United Methodist Church: Artist is Artwork by Linda Davidson.
---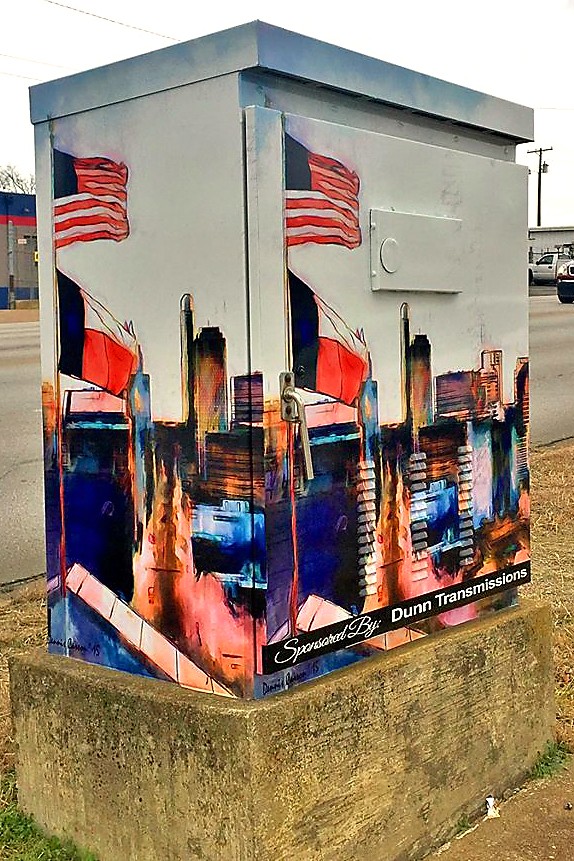 Location is unknown: Sponsored by Dunn Transmission. Artist is unknown.
---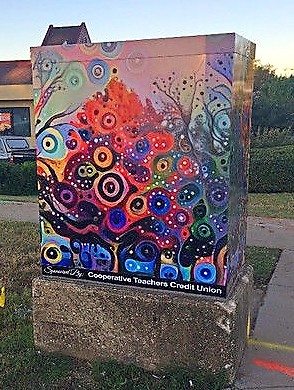 Located on the corner of Broadway Avenue and Southtown Drive: Sponsored by Cooperative Teachers Credit Union. Artist is William Wright.
---
Keep Tyler Beautiful is always looking for more sponsors to help expand this program. Fill out the form to become a sponsor HERE!
Sponsors receive:
Choice of one piece of artwork submitted to the Main Street Art Gallery for installation as a traffic box wrap.
Choice of installation locations from those available.
Logo and Sponsor name on the Keep Tyler Beautiful webpage.
City of Tyler issued press release with the Sponsors name and location of the sponsored box.
If you are interested in sponsoring a box or submitting artwork for the program, please fill out our contact form or call (903)531-1335.
Looking Arty: Murals Around Downtown Tyler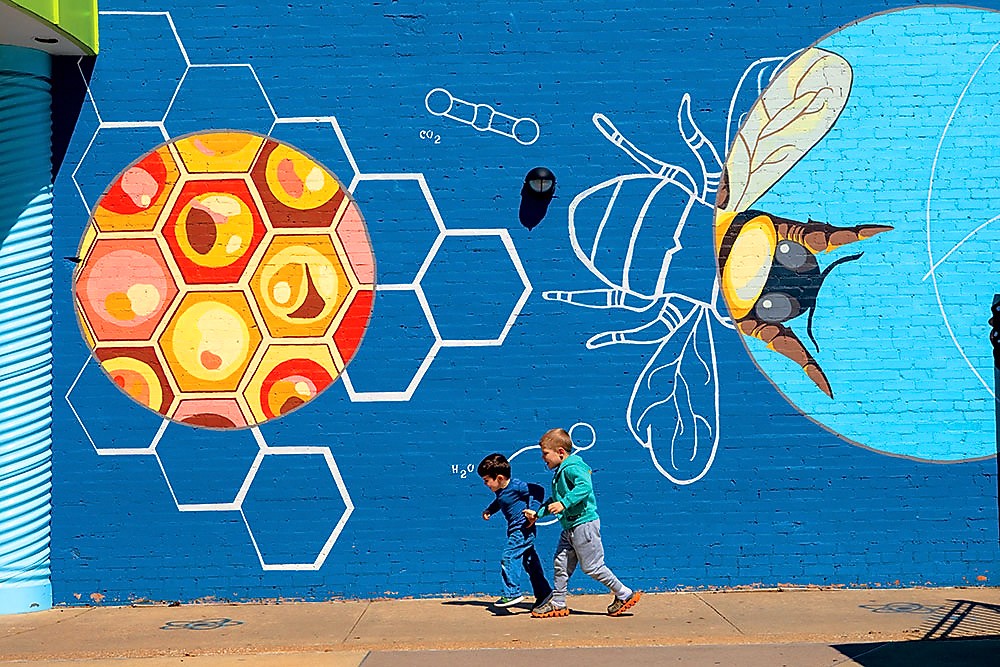 There is a lot going on in the art community around Tyler, TX. Here are some of the beautiful murals. Take your photo with one (or all) of them and tag #BeautifulTyler! To list more murals here, contact EGuide at eguidemagazine@gmail.com.
"Eyes of Tyler"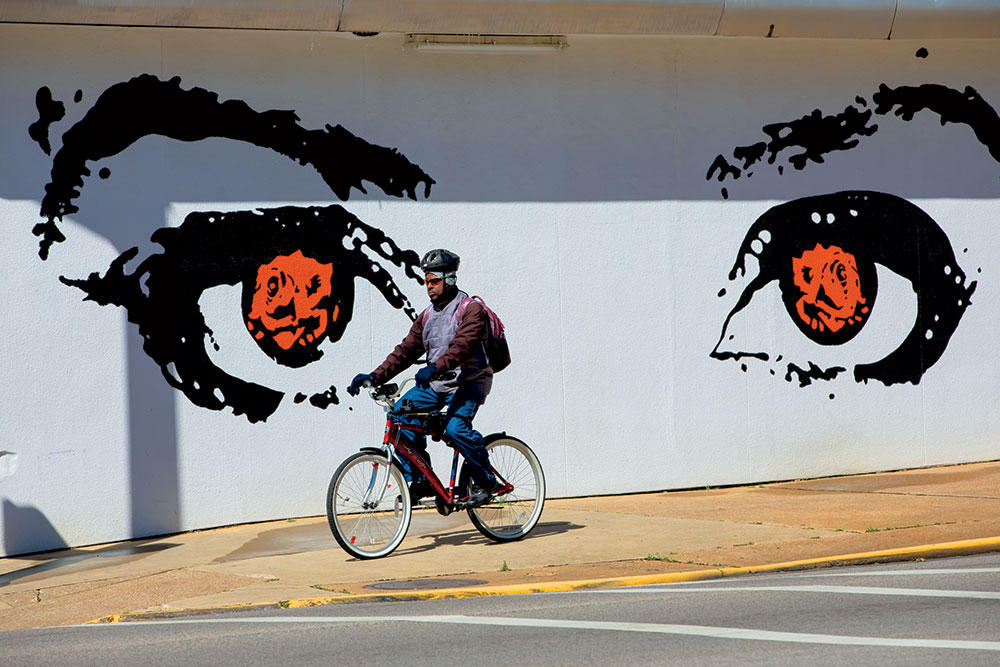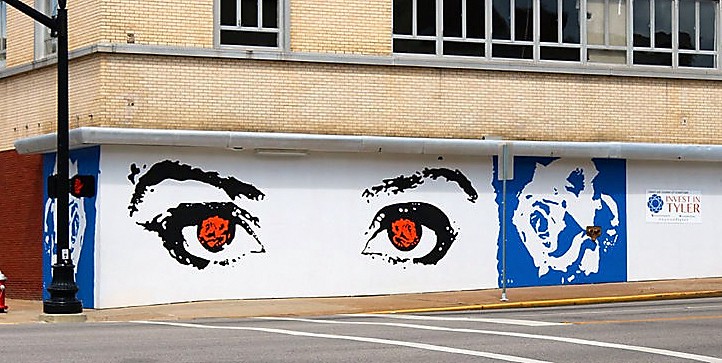 Located at the corner of Elm Street and Broadway Avenue just south of the Downtown Square, #tylertx alongside the Lindsey Building. Painted by Dace Lucia Kidd in 2017. Dace said, "My image, 'Eyes of Tyler,' is inspired by the concept of shared beauty. It is intended to communicate that there is beauty within all of us if you just look. My goal is to encourage everyone to create what is next in their life, to search for what is beautiful within everyone, while being aware of the beauty in Tyler, and particularly in the downtown area."
"Wings of Tyler: Welcome!"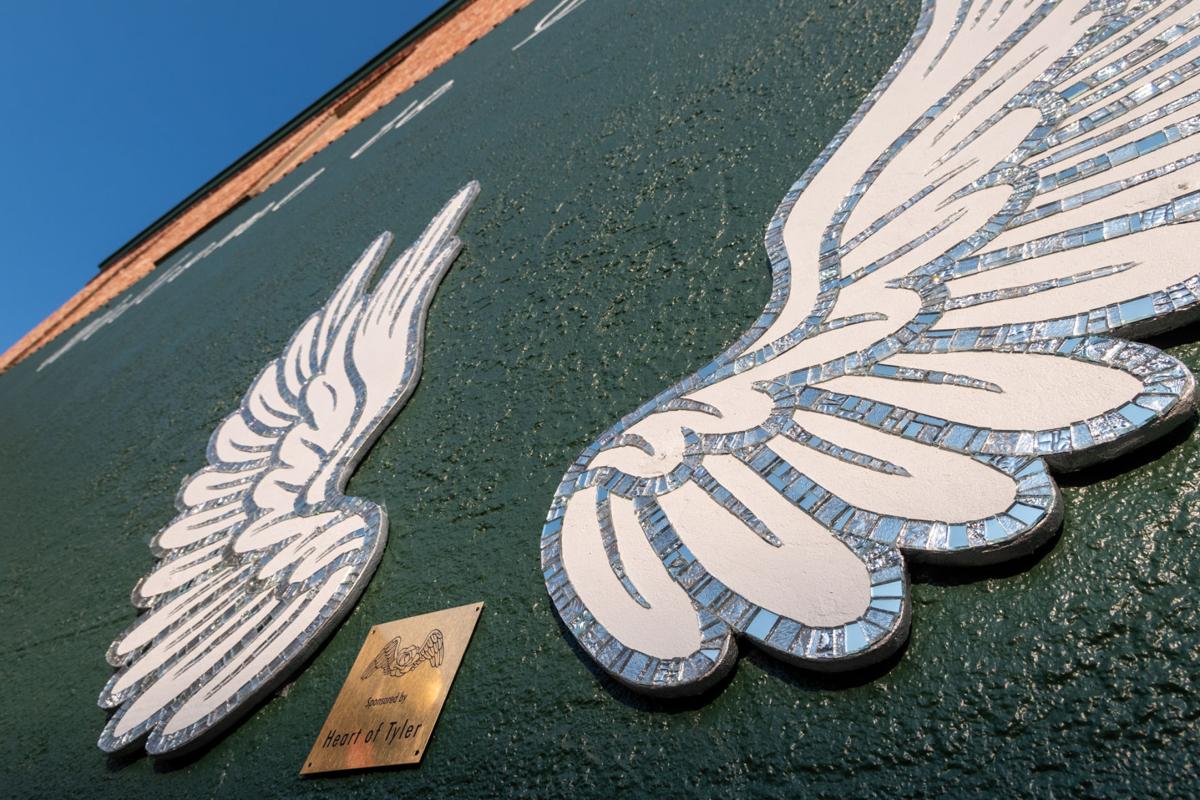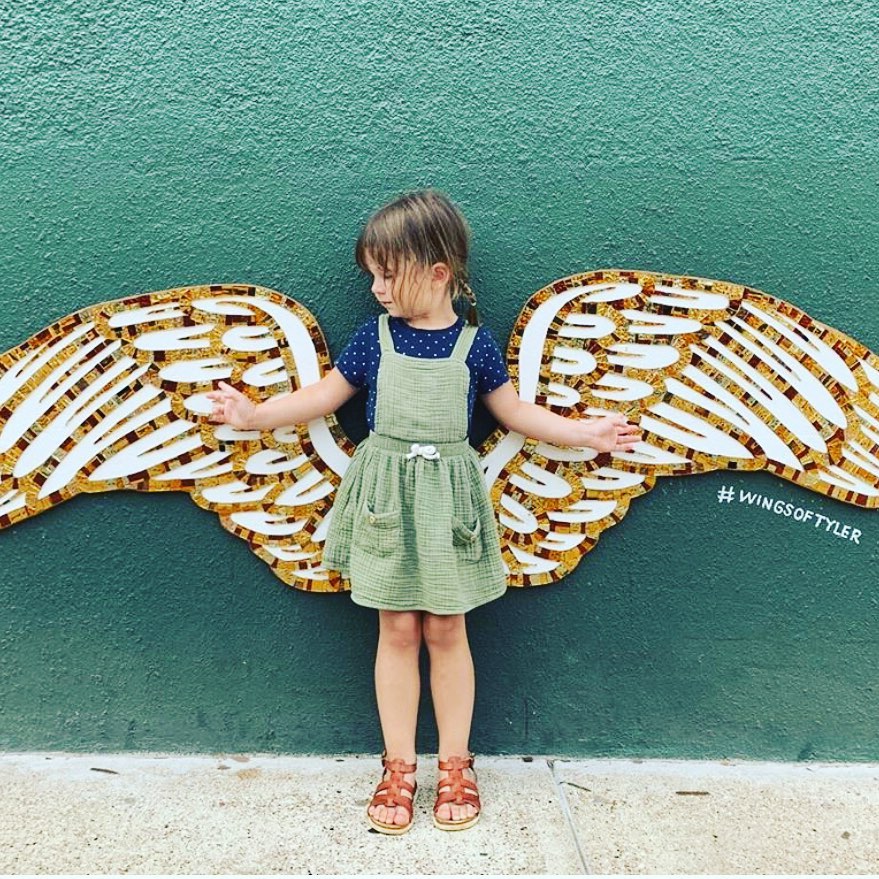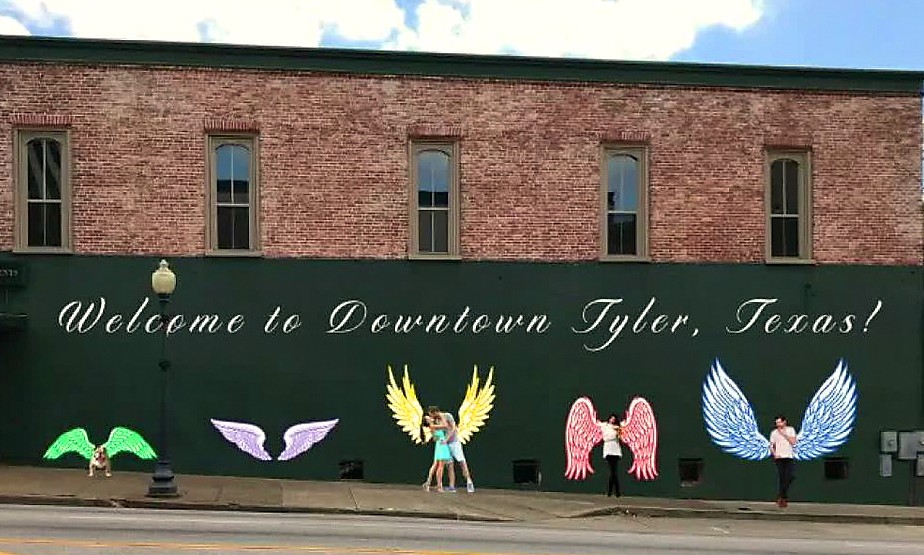 Wings of Tyler is a project by local artists Cassie Edmonds and Dace Kidd.
Wings of Tyler is a mural on the exterior wall of a building leased by Edward Jones Investments on the southeast corner of Broadway Avenue and Erwin Street. The art faces west, which is Broadway Ave., just a few feet south of the downtown square.
According to the artists' rendition, there is five sets of wings painted at various heights and lengths along the wall, allowing individual or group photo opportunities. The wings are finished in Venetian mirror-glass.
The idea is to make the wall "the most photographed" spot in all of East Texas, Dace Kidd explained. "Somebody can bring their pet, their kid, somebody disabled, groups of photos; two groups of people will be able to pose in front of the wings," said Kidd.
"Be Happy"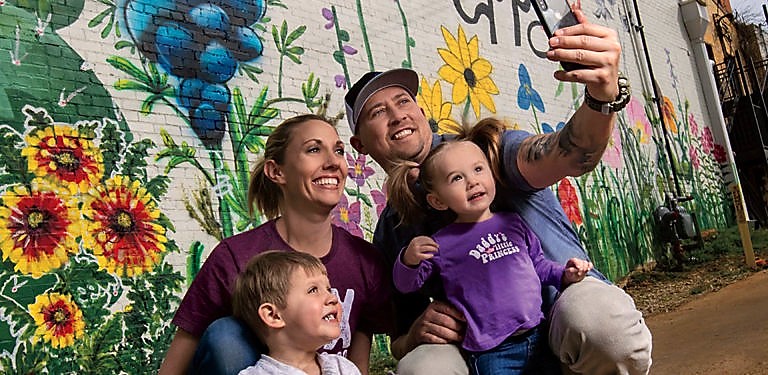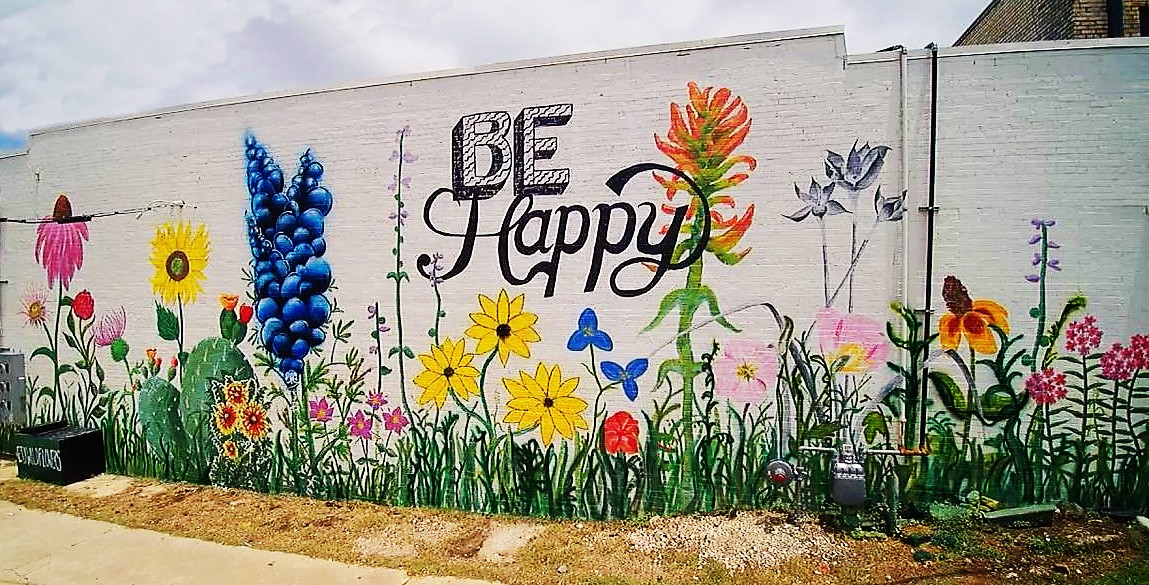 Tyler native Lindsay Boone led the project. She says there are at least eighteen different East Texas native wildflowers on the wall because she wanted people to "see something that looks familiar." In addition to the flowers, "Be Happy" is inscribed in the center.
Annie Gilstrap with the ETX Brewing Company says the tag line for East Texas Brewing company is 'Beer Happy,' so it was an easy decision to shorten the line to 'Be Happy.' "You can't look at the wildflowers and not be happy, they just bring a smile to your face because they're just joyful and bright," said Gilstrap.
The 13 artists involved include Lindsay Boone, Mikayla Willis, David Maldonado, Kate Googins, Tyler Shelton, Justin Fasulo, Rady Randall, Becky Martin, Maddi Travis, Jennifer Vaughn, Julianna Wynn and Chasity Erbaugh. The artists ask that if you take photos with or of the mural, that you use #ETXWildflower when sharing on social media.
"Peace Mural"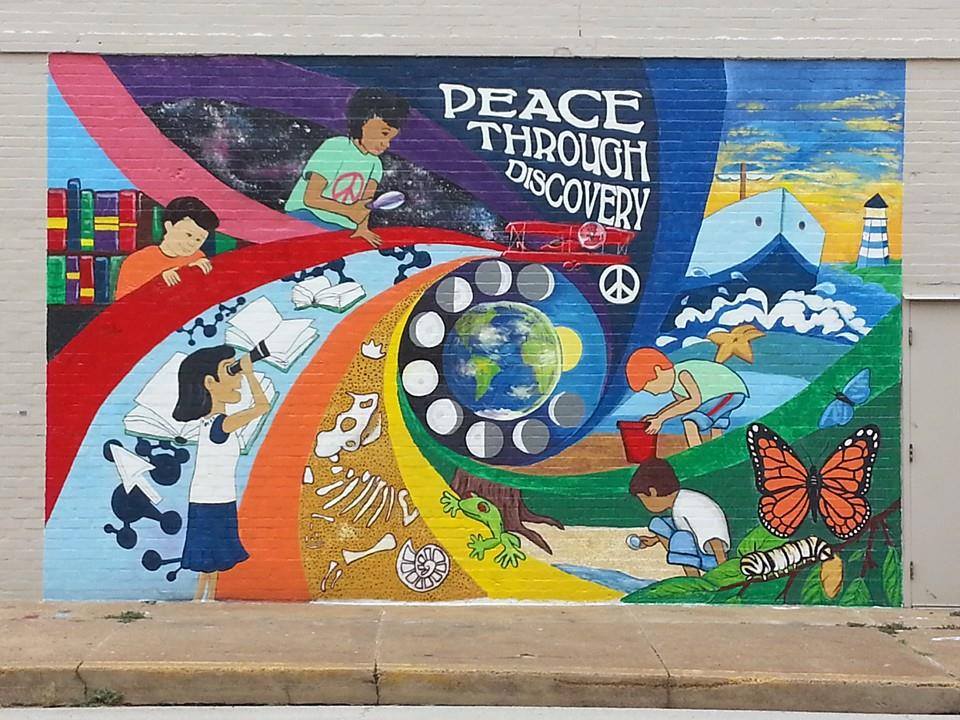 How do East Texans celebrate Peace? With art, film, poetry, conversation, joyful gatherings, worship, photography, meals, dance, shopping, community service, children's activities, and peace pole installations….and at the Peace Mural, located at 308 N. Broadway next to Discovery Science Place in #downtowntyler. Find out more at tylerpeace.com.
"Discover Art"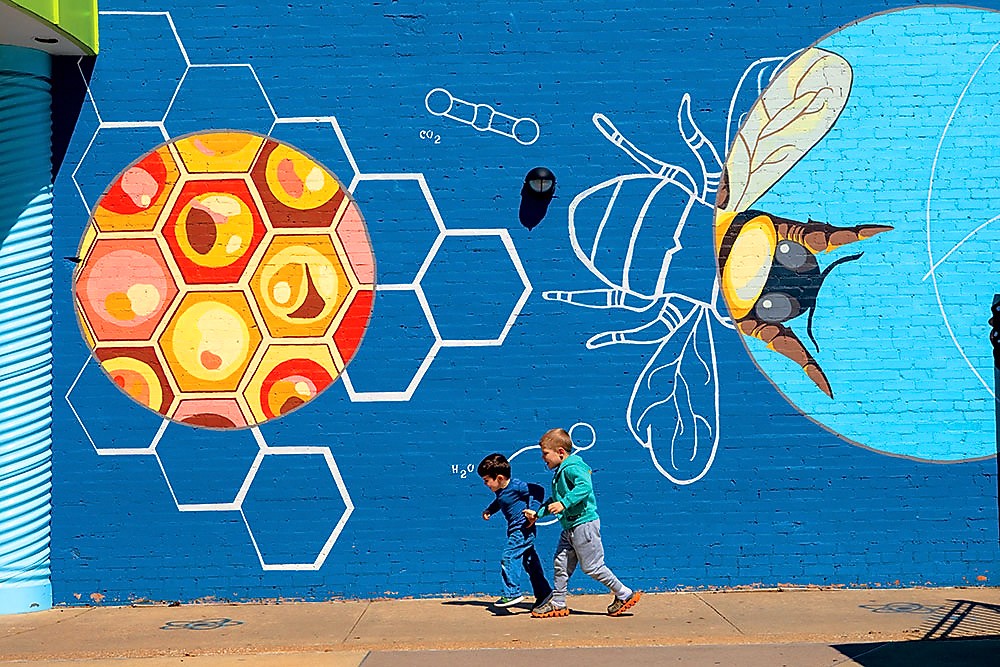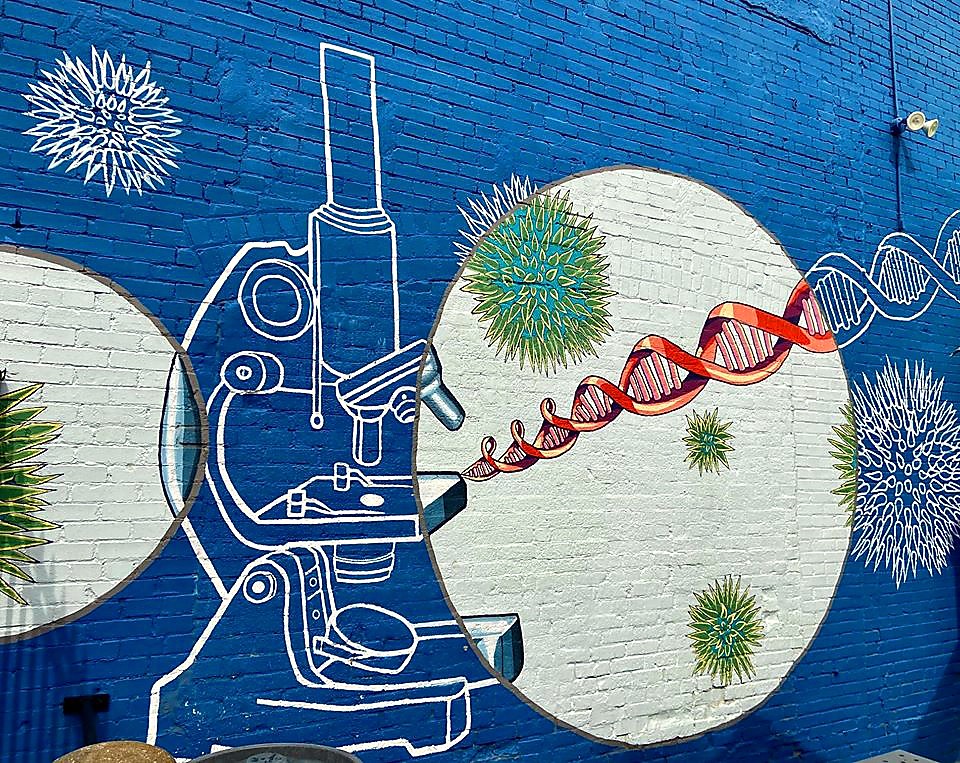 "Spread a Little Kindness…And Cake"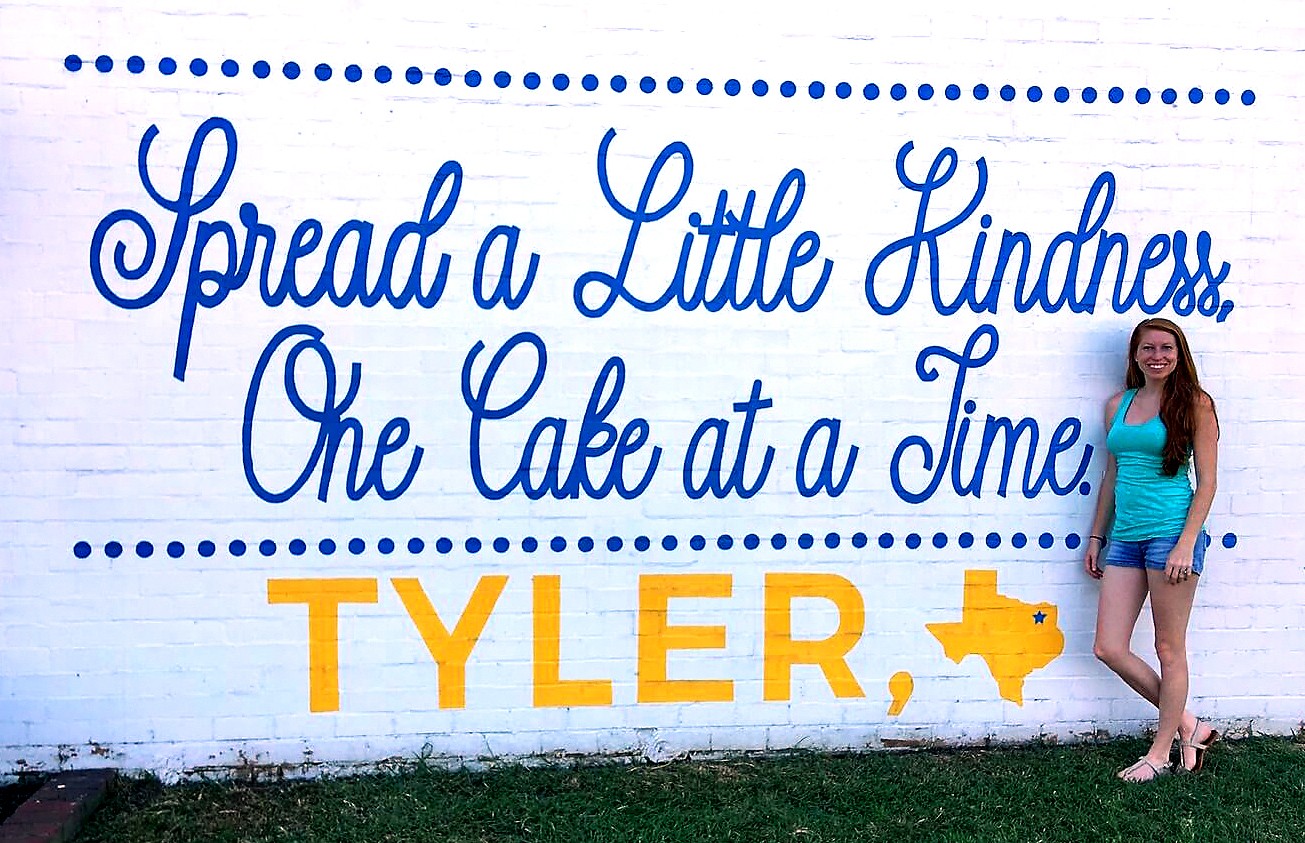 This cool mural is located on the east wall of Janie's Cakes, 308 E. Front St., Tyler.
"At Janie's Cakes, we make an old-fashioned pound cake. And the tagline that we use on a regular basis is that we want you to spread a little kindness one cake at a time. So it was a natural thing for us to paint this on a wall of our building," said Janie Clapp, owner.
"Like all good Southern girls, Janie learned baking and meal making from her great-grandmother. 'Papu,' as Janie called her, made every lick of her baked goods from scratch using plenty of real cream, real butter and real cane sugar. That little slip of a girl grew up to be quite a cook in her own right. After honing her skills at the Culinary Institute of America in Hyde Park, New York, Janie returned to Tyler, Texas, where she opened Janie's Cakes in 1987. Today, Janie makes every pound cake the same way she made her very first: from all-natural ingredients, farm-fresh eggs, real creamery butter and with a huge dollop of her great-grandmother's abiding love."
They make 26,000 pound cakes a year, in a variety of sizes with different fillings, enjoying busy seasons like the holidays and Mother's Day. Check out their unique story HERE.

Bloom Where You are Planted, Buy Local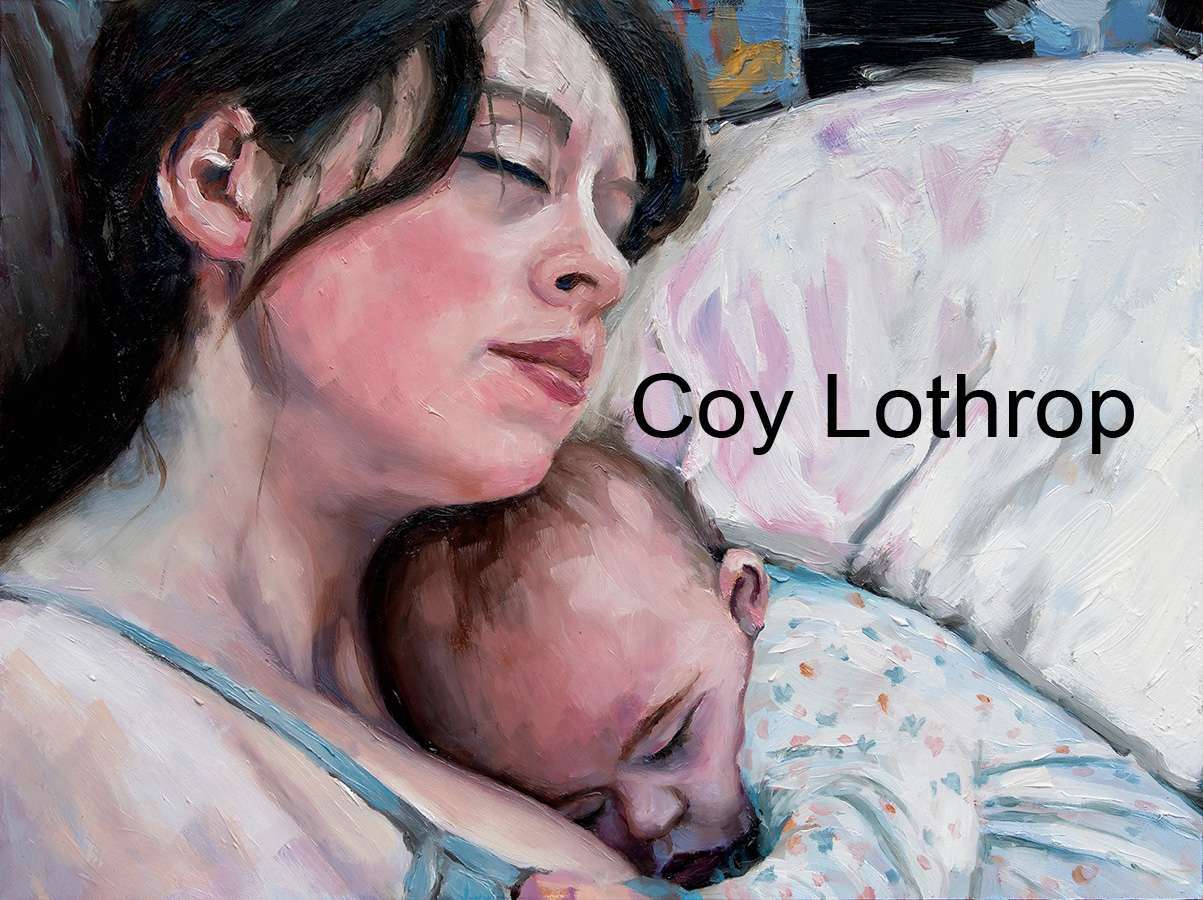 By Derrick White
Glasstire is an online art magazine covering topics in Texas contemporary art. They produce thoughtful art criticism and are the journal of record for our extensive Texas visual art community. The website's name is a reference to the glass tire sculptures of East Texas native Robert Rauschenberg (1925 – 2008), who was from Port Arthur. Glasstire holds the belief that great art can come from anywhere. In the last few years the website has expanded into the realm of podcasts. In their podcast titled Art Dirt: The Personalities of Texas' Art Cities, Publisher Brandon Zech and Editor-in-chief Christina Rees discuss what makes each of Texas' distinct art regions tick and the potential for success for visual artists. 
Rees was the juror for the University of Texas at Tyler's 34th Annual International Exhibition and witnessed some of the dynamic art aspects happening here. As you might imagine, the bulk of the podcast is devoted to the larger visual art market cities of Dallas, San Antonio, Austin, and Houston; but they also talk about the panhandle, West Texas, southern border cities, and East Texas gets a shout out towards the end.  
Christina states, "What happens if you go out to East Texas, with a place like Tyler, is you've got the universities, you've got schools, you've got faculty. They are there to stay. They make art and they are bringing up students through their programs and it's sort of a 'bloom where you are planted' thing. Start your own art scenes. Have an art community, busy making work and making it for its own audience – you know, those aren't necessarily places to move to if you don't already live there but if you are there, there is a way to make something, however small, feel quite thriving and to have dialogue and to have a community, an actual working community." 
Brandon Zech responds, "Or maybe they are places to move to depending on if you have this really cool idea as long as you can get local support and you can band together with people who also think your idea is awesome, especially if you are moving into a community you don't know. But the real crux of this: it only takes one person to really change and make an impact on an art scene, be it in Tyler or in Brownsville, or really even in Houston." 
Rees concludes, "Once you reach a certain age you will have friends who have moved to big art centers, New York or Los Angeles, and have burned out. They got up there and they had to work two full-time jobs and they stopped making their art because they were too busy making a living and paying rent. They want to come to Texas, or come back to Texas, or figure out a way to be able and have a studio and make work and live comfortably and be creative. I don't think being completely stressed out by having to make a living all the time and not getting to make your work is necessarily ennobling. I don't think it's creatively inspiring, and I think this whole character building up exercise of moving to New York City and living in a (dump) and working sixty hours weeks and trying to get some traction is not necessarily the only way to go anymore. There are a lot of different art worlds and you can make your own art world. Things are changing rapidly."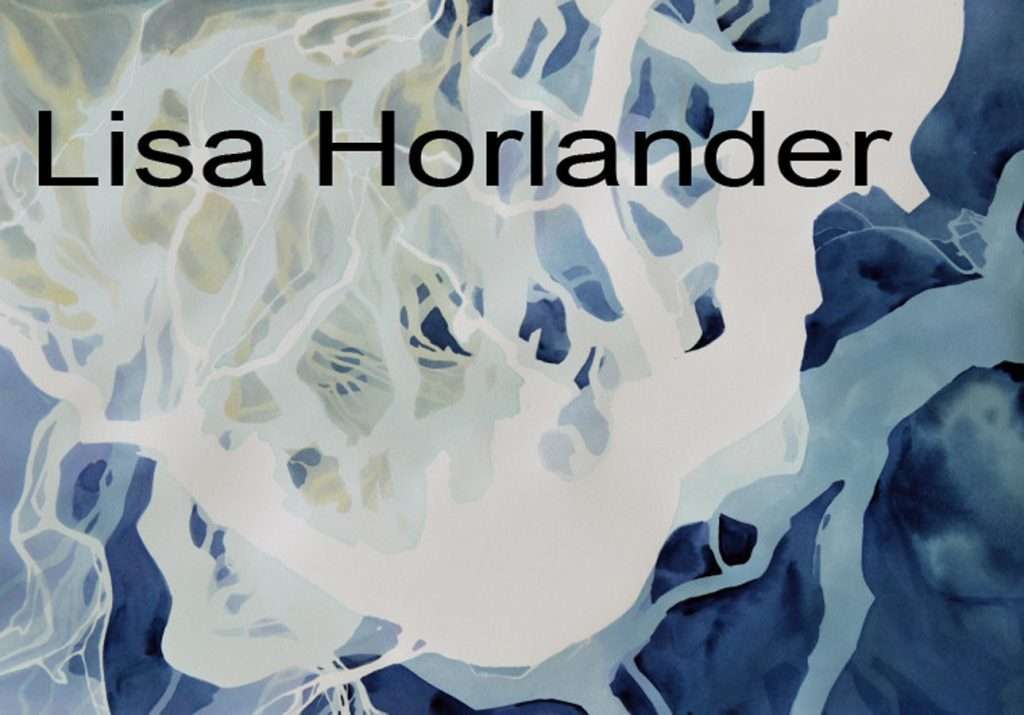 Things are changing rapidly. That statement struck a sympathetic chord with me and reiterated a belief I stated in a podcast interview with ETX Creatives founders Addie Moore and Lisa Horlander. "I like what is changing in East Texas and in our visual arts community and the arts community in general. It's got legs and a driving force it hasn't had before. East Texas, in general, is changing for the better and I think there are more opportunities coming for visual artists in our region than before. Sixteen years ago, if I had an aspiring visual art student in class, the best advice I could give them was … move. Go to Dallas, go to Austin, go to Houston, go to Abilene, all these different communities supporting their arts so much better than we used to. I really believe this is changing now better than it ever has been, and if we could introduce some of the money here in East Texas to some of our local creatives and get it all off the ground, then I think the sky's the limit for what is coming in the future," I declared. 
We are at critical mass for visual art. We have excellent regional museums, universities, and colleges with inspiring art programs filled with professional artists, and we have amazing emerging student artists who are sticking around and building supportive, innovative communities. We have support from new and established locally owned businesses and civic communes throughout East Texas giving opportunities to local visual artists. What we need is collector financial support, people willing to invest in budding talents here at home. Start buying original, local art.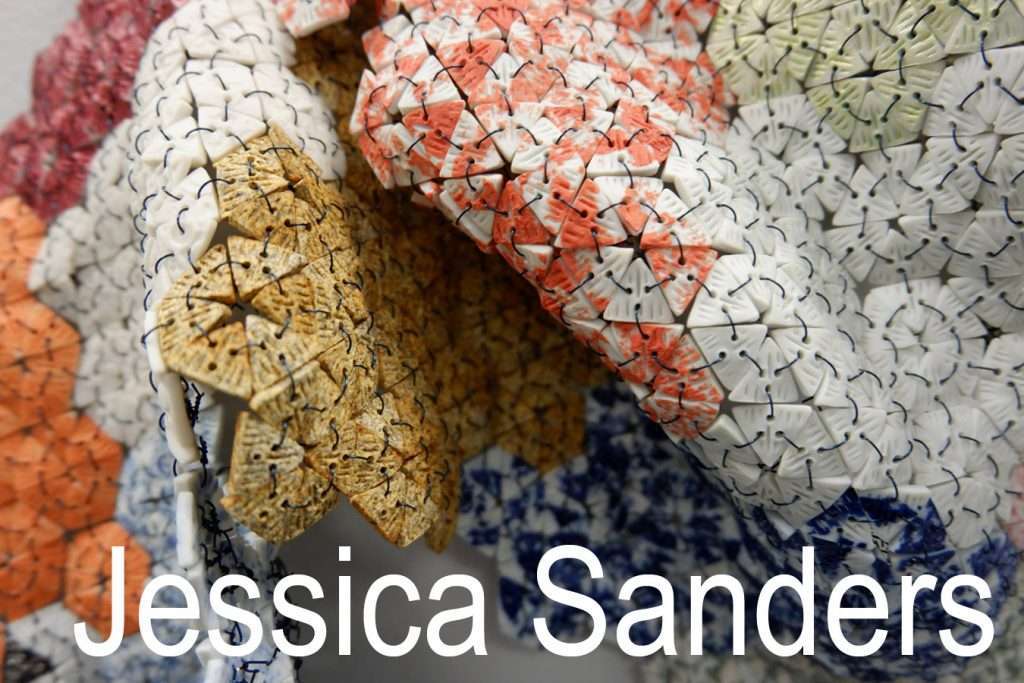 There are many reasons original art brings fulfillment to those who collect. When purchasing art, you may think about décor and how it will fit into your home. Are you looking for an exciting piece, something comfortable and welcoming, or are you looking for something striking out as a room's focal point? Whatever original art you choose, you will eventually find yourself enchanted by how it becomes a part of your home and a part of your life. By seeking out and supporting emerging artists, collectors may find the pieces they have bought increase in value as emerging artists become established. 
Owning original art enriches your life and has the potential to make you happy. You enjoy the satisfaction of having a good eye for what fits your personal aesthetic. You get the gratification of having helped and encouraged a local creative who may have depended on your purchase as sustenance they needed to keep going. You have added to the cultural enrichment of our region. You own one of a kind art not existing anywhere else in the world. 
Writer's note: The Art Guys, a collaborative performance art duo based in Houston, sadly lost Michael Galbreth, who died in October 2019. Galbreth was married to Rainey Knudson, the founder of Glasstire. Condolences.