Eating Out, Literally: Dining Outside Becomes Abundantly Popular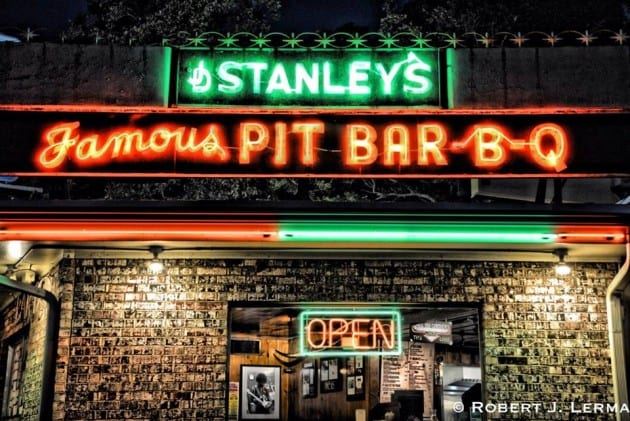 By Gini Rainey
What is it about the great outdoors that just seems to make everything better? Is it a primal need to escape the brick and mortar that we have surrounded our lives with in recent years? Or is it that fresh air, friends, great food, and live entertainment are the perfect ingredients to create a relaxing evening under the stars? Whatever the reason, you'll be happy to know that Tyler is finally coming into its own as far as great patio venues are concerned.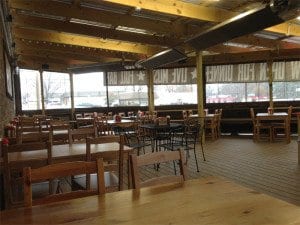 Stanley's  Famous Pit BBQ                                             
525 S. Beckham, Tyler
Now this is one great patio! Not only a major contender for the best BBQ in Texas, Stanley's has been in business for 50 years and current proprietors Nick and Jen Pencis intend to keep the great Mom & Pop atmosphere that was established by J. D. Stanley when he first started serving up some great BBQ.
As if the food isn't enough to get you to the Stanley patio, there's also some really great live music happening three nights a week that gets the patio jumping!
Rick's  On the Square
104 W. Erwin St., downtown Tyler
Another great place in downtown Tyler, Rick's patio will make you feel like you've jumped over into Louisiana with all the raw wood and iron grillwork. One of the first businesses to begin the trend of great downtown venues, Rick's full bar and great menu includes seafood and steaks, and will remind you once again why you love downtown Tyler. Rick's also features live entertainment on Thursday, Friday, and Saturday nights that will add to the enjoyment of your patio experience.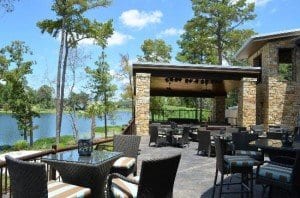 Lago del Pino
14706 CR 1134, Tyler
Relatively new to the Tyler scene, Lago del Pino is another "must do" destination patio to visit. Touting its spectacular lake view and distinctive fountain show, Lago is fast becoming a favorite place in east Texans. With a menu loaded with fabulous dishes from fine steaks to vegetarian options, a great bar, and super service, Lago del Pino boasts a large patio area with live music featured on weekends. The view and history of this place makes Lago a favorite and definitely money well spent!
FRESH by Brookshires
6991 Old Jacksonville Hwy., Tyler
Well, Brookshires' has gone and done it. Not only have they built a place for a wonderful shopping experience, they have expanded and created a terrific outdoors dining and live entertainment venue. Every Friday evening, they serve up live entertainment along with craft beer and wine and light meals.
Go early if you want to score a table. FRESH has become a popular gathering place on Fridays for folks in south Tyler.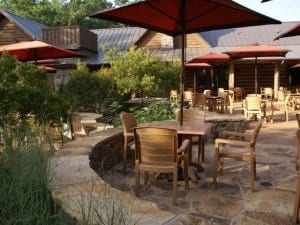 Coyote Sam's  Bar and Grille
5424 Old Jacksonville Hwy., Tyler
Now if you're looking for a great food experience combined with a hunting lodge experience, you need to go to Coyote Sam's! Not only do they have great food, but the atmosphere is incredible. There's so much to look at, you might just forget to sink your teeth into their incredible ribs or Kobe burgers. And, add to that a patio out back that has a creek running alongside and you'll think you've been transported to Montana or Idaho. Occasionally Sam and Marsha also have live entertainment for your enjoyment.
And, add to that a patio out back that has a creek running alongside and you'll think you've been transported to Montana or Idaho. Occasionally Sam and Marsha also have live entertainment for your enjoyment.
What About Kabob
713 WSW Loop, Tyler
Offering up some of the most hip food to hit Tyler, WAK also has a little patio space out front that occasionally hosts some really terrific live music. I promise you that you won't put any food better than the Narnia's in your mouth and you won't receive any better service anywhere else in Tyler. This place is amazing and is so moderately priced, you'll double check your ticket.
In addition to all of these great restaurants, there are plenty of others who offer patio dining, although not necessarily live entertainment. Among those are:
Andy's Frozen Custard, 6106 S. Broadway Ave., Tyler
B.J.'s Brewhouse & Restaurant, 210 WSW Loop 323, Tyler
Cheddar's, 6701 S. Broadway Ave., Tyler
Chiptole, 4751 S. Broadway Ave., Tyler
Chris & Sam's Bar and Grill, 2210 Three Lakes Parkway/Old Jacksonville Hwy., Tyler
Chuy's, 5935 S. Broadway Ave., Tyler
Clear Springs Texas Seafood, 6519 S. Broadway Ave., Tyler
The Egg & I, 150 E. Ninth St., Tyler
Fuzzy's Taco Shop, 1871 Troup Hwy., Tyler
Gus' Mexican Restaurant, 16700 Old Jacksonville Hwy., Gresham
Happy's Fish House, 2202 E. Fifth St., Tyler
The Jalapeno Tree, 420 WSW Loop 323, Tyler
Juls Restaurant, 7212 Old Jacksonville Hwy., , Tyler
Margarita's Mexican Restaurant, 1327 E. Front St., Tyler
Newk's Express Cafe, 3985 Old Jacksonville Hwy., Tyler
Oliveto Italian Bistro, 3709 Troup Hwy., Tyler
On The Border, 4301 S. Broadway Ave., Tyler
Panera Bread, 5755 S. Broadway Ave., Tyler
The Purple Pig Cafe, 9785 State Highway 155 S., Flint
Razzoo's, 7011 S. Broadway Ave., Tyler
Rusty's Taco (2 locations) 1714 S. Beckham and 7920 S. Broadway Ave., Tyler
Salsarita's Fresh Cantina, 3316 Troup Hwy., Tyler
Shogun of Japan Steak House (2 locations) 3521 S. Broadway Ave. and 5515 S. Broadway Ave., Tyler
Smash Burger (2 locations) 3314 Troup Hwy. and 7484 S. Broadway Ave., Tyler
Traditions (Bistro), 6205 S. Broadway Ave., Tyler
Villa Montez, 3324 Old Henderson Hwy., Tyler
There are more patios in the Tyler area. These are just a few to get you started. Grab your spouse, your partner, your best friends and get yourself outdoors to enjoy all of the wonderful food and entertainment that Tyler has to offer. I'm guessing you won't regret it.

"Cooking: A Way of Life" Cooking Classes Continue Through the Summer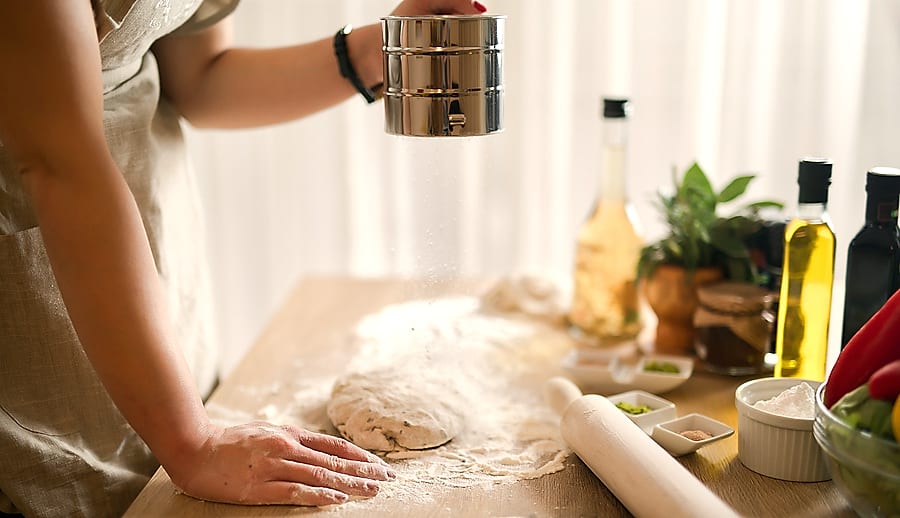 Cooking classes are available to anyone who wants to both learn to cook and increase their culinary skills. All classes are held at the Harvey Convention Center in Hall 3 from 6-8pm. Pre-registration is required for all classes. These classes include a cooking demonstration and recipes; plus you can enjoy a great meal. These classes are for adults. The cost is $15 per person per class. Registration can be made by calling (903)531-1214 or register for classes at parksandrec.cityoftyler.org. Dates and guest chef information is below. 
July 23rd: CLASS VII: "Southern Cooking with a Twist" featuring Guest Chef Cody Baschnagel, The Grove of Tyler

August 6th: CLASS VIII: "Four Day Meal Plan in One" featuring Guest Chef Chef Kat Santos, Founder, Food Works of Tyler

October 11th: Special Longtable Dinner in the Garden: "Rose to Table" at the Tyler Rose Garden. Tickets are $75 per person. Registration required. Tickets go on sale August 16th.

Foodie Events in July: Yum Yummy Good
Farmers Markets Around East Texas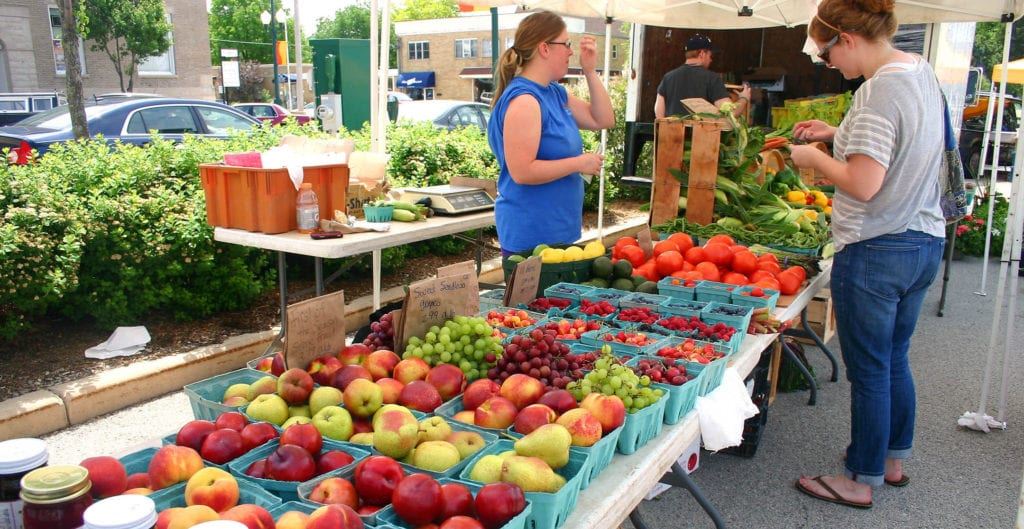 Everything is blooming, growing, and flourishing in East Texas, and it's time to head to your local favorite farmers market. Be sure to check one of these out for all kinds of goodies.
Rose City Farmers Market, Downtown Tyler
Saturday mornings, 8am-12 noon, the Rose City Farmers Market is a neat, unique experience for the whole family and even your furry four-legged friends. Located just a block from the Square, in the Unclaimed Furniture parking lot in Tyler (236 S. Broadway), the market brings all that's fresh straight to you: fruits, vegetables, and herbs all grown within 75 miles of Tyler. That includes pasture-raised beef, lamb, pork, chicken, and turkey, free-range/non GMO eggs, and goat cheeses. Every Saturday, the available selections are different featuring treasures from East Texas fields as the crops come in.  Also, there's fresh bread, flowers, coffee, jams and jellies, baked goods, Texas olive oil, handcrafted art, and Texas fruit wines on hand. Local musicians will be perform every Saturday. Visit them on Facebook, and foodcoalition.org.
Tyler Farmers Market
Tyler Farmers Market has moved to a new location at 2700 WSW Loop 323, Tyler, adjacent to Peltier Chevrolet. The Tyler Farmers Market is open Tuesdays, Thursdays, and Saturdays 7am-2pm. They feature seasonal items under a big white tent. You can visit them online at tylerfarmersmarket.org.
East Texas State Fair Farmers Market
East Texas State Fair Farmers Market, located at the Fairgrounds, 2112 W. Front Street, Tyler, is held under the large pavilion. They are open Tuesdays and Saturdays 7am-1pm. The East Texas State Fair Farmers Market is sourced from 100% local farmers who grow every last bit of food they sell on their own land. This is a covered/open air market, with locally grown fresh fruits, veggies, and flowers. There are also crafters, homemade baked goods, preserves, and fresh eggs. This farmer's market is located right behind the Rose Garden.
Lindale Farmers Market
Open through August 31st, this ongoing farmer's market occurs every Saturday (8am-1pm). Lindale Farmers Market will be held at the Picker's Pavilion, 205 E. North St., Lindale. Fruits, vegetables, artisan wares, and more are featured each week. Everything is home grown, home made, and hand crafted by artisans, ranchers, and growers. For more info go to www.facebook.com/Lindale-Farmers-Market.
Stillwater Farm Market Store
Located at 109 W. Main St. in Chandler, Stillwater Farm Market Store features locally fresh produce, pecans, local meats, baked goods, lunches, and ice cream! This is a destination for "all things fresh" and a great place to pick up locally grown produce. Stillwater Farm is the name given to their family land that is contiguous to the section of Fitzgerald farmland.  The farm features a pecan, peach, and fig orchard. Approximately 10 acres of irrigated row crop vegetables are also grown including onions, watermelons, tomatoes, peas, squash, okra, peppers, and more. For more info call (903)515-3502. They are open Monday-Friday 10am-6pm and Saturday 10am-5pm.