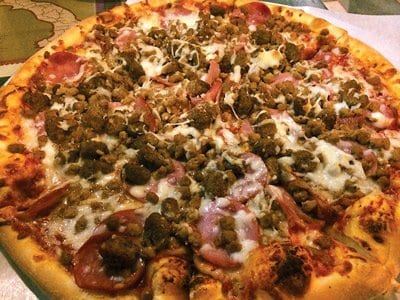 Written and Photographed by Barbara King
If you've lived in Tyler for any length of time, you've probably visited this quaint, old-world restaurant on S. Broadway and feasted on the tantalizing Italian fare.
Opened in 1995, Little Italy has become a familiar favorite over the years, with consistent food, service, and an atmosphere that hasn't changed much over the years.
Assistant Manager, Texas Ladd says, "Our goal is to keep folks coming back for good variety, fresh Italian options, and a family environment." Most of the staff – including the owner, general manager, and one of the cooks – have been part of the restaurant from the very beginning, and are proud to continue to be part of one of Tyler's choices for dining.
The restaurant is typically a busy beehive of activity, especially during the lunch and dinner hours, seating 93 guests at 23 tables. It is always crowded but the atmosphere is never loud. "We get a lot of regulars who have been eating here forever," explains Ladd, "because they know our standards and tastes don't change, and they will leave full and satisfied."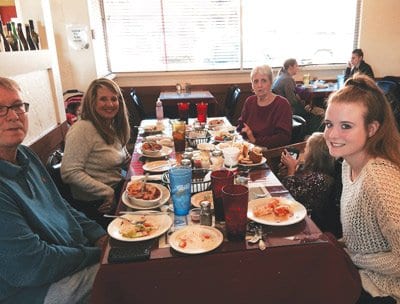 The daily lunch specials are a great bang for the buck, all available for $7.95, with all specials served with choice of soup or salad, accompanied by their super fresh, hot from the oven, garlic rolls. All soups are prepared fresh, and their original house tomato vinaigrette house dressing is legend. Lunch specials are available seven days a week, 11am-4pm, and include a very extensive list of options including cannelloni, ravioli, lasagna, manicotti, meatball parmigiana sub, baked ziti, and stuffed shells. Alfredo choices are $8.95 and feature cannelloni, lasagna, manicotti, or spinach lasagna.
Start out with some scrumptious appetizers like fried mozzarella cheese, fried calamari, or fried mushrooms. Larger parties might want to share a combo platter; shrimp cocktail, and shrimp or scallop scampi are available as well.
You might have a hard time picking a favorite item for your main meal as the menu serves up everything from subs, pizza, seafood, chicken, veal, and of course an abundance of pasta dishes.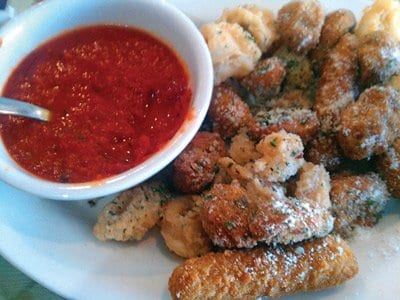 Homemade baked pastas are a huge hit, including cheese or meat ravioli, tortellini, eggplant parmigiana, fettuccine Alfredo, manicotti, and of course, angel hair or spaghetti with meat sauce.
Chicken dishes include Alfredo, cacciatore, Florentine, marsala, primavera, and piccata. For seafood lovers, the catches are calamari, clam linguini, red snapper, and scallop scampi.
A highlight of the menu,you can build your own pizza! Little Italy has toppings available including Canadian bacon, hamburger, pepperoni, sausage, black olives, green peppers, mushrooms, and onions. Specialty pizzas like spinach and chicken Alfredo are ready when you are.
Hot subs might hit the spot on colder days, like the cheese steak, meatball parmigiana, sausage and pepper parmigiana, or veal parmigiana.
Soups are fresh, hearty, and made every morning. The daily lineup is terrific. Soups of the day are Sundays cheese tortellini, Monday pasta ravioli, Tuesday chicken and rice, Wednesday creamy potato with broccoli, Thursday cheese tortellini, Friday is Florentine, and Saturday beef and cabbage is available.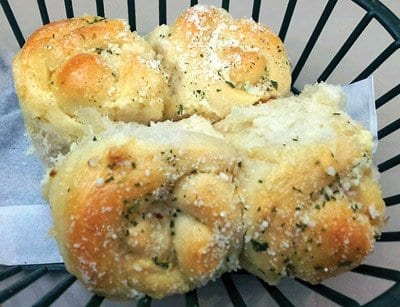 Rounding out the menu are the house specialties including fettuccine carbonara, rigatoni Alfonzo, (rigatoni sautéed with Alfredo and marinara sauce and fresh basil) and tortellini a la Para (with fresh broccoli in Alfredo sauce).
Families are more than welcome at Little Italy, and youngsters can either feast on side orders like a side of shrimp, meatball or spaghetti, or choose from their special menu for kids 12 and younger that features a choice of a slice of pizza with one topping, a side of chicken Alfredo, chicken spaghetti, or cheese or meat ravioli. All these kid's menu items come with a free drink.
Little Italy caters for larger groups too, and only needs 48 hours to whip up an Italian feast for your party or corporate event. They can work with you to design a special menu everyone will be talking about.
Kelli DeShazo was enjoying lunch as a special treat for her mother's birthday. "This is one of our favorite places," she said. "We love the spinach lasagna and the eggplant parmesan, but especially the house dressing. It is our favorite." To go boxes covered the table as portions are substantial.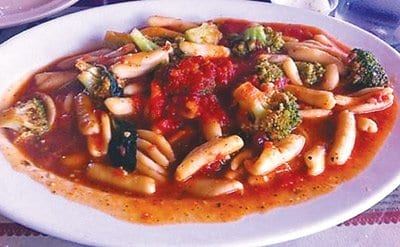 Lots of folks take their best and favorite drinks with them, as the restaurant is BYOB, and it's the perfect setting for an anniversary, birthday, or date night. The menu proclaims, "bring your own best and we'll do the rest" for BYOB options.
Ladd says people absolutely love the desserts and keep coming back for more. "We get a lot of positive feedback about our Tiramisu (ladyfingers dipped in espresso, liquors, cocoa and topped with a layer of marscapone cheese)," Ladd explained. "Other exquisite desserts include tres leches cake, all kinds of cheesecakes (black forest, New York, strawberry, amaretto, and triple chocolate) and cannoli (baked pastry shell filled with cocoa, cinnamon and vanilla crème cheese)."
Come in and dine the Italian way at Little Italy, located at 3320 S. Broadway, Tyler, (903)595-1184, www.facebook.com/pages/Little-Italy.